Always carrying a pocket snapshooter with me wherever I go comes in so handy so frequently, occasionally catching a unique shot for this website. Most mobile phone cameras are still not up to the quality I try to maintain here. But these little high-tech gadgets, pocket-size cameras, can be temperamental and come up with surprisingly weird defects.
My former, old pocket camera started vibrating permanently last year, like a mobile phone buzzing non-stop. It still worked fine while vibrating, but all pictures were totally blurred, of course. After a provisional repair, it worked, kind of, but displayed all pictures rotated 90 degrees on the screen. So I donated it to Nick the Bookman, paying it forward, to take pictures for his music reviews. But as a life-long Luddite still struggling with handling his Gmail, he never got the hang of actually using it.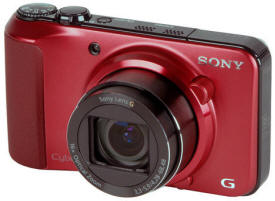 My current pocket camera (Sony DSC- HX 10V) recently started adding random, bright-pink, horizontal stripes to most of my pictures, see above. I kind of liked this shot above, so here it is, shot from aboard the Star Ferry. They repaired my girly, pink-loving camera free of charge in the Repair Centre as it was still under 1- year warranty. It's OK now, no more "Bad Contact of Optical (CCD/CMOS) Block". But the customer service lady couldn't refrain from adding some dissing remarks to the "Official Receipt" for repairing my almost-new camera:
"Cab and LCD protector scratched, stained. Cab seriously discoloured."
Well, fortunately I've still got my ancient, reliable, sturdy, but heavy Nikon D80, now 6.5 years old and still working OK most of the time. The external flash unit leaked battery fluid recently, short-circuiting its electronics. My fault, they said. Plus, the camera body AND the zoom lens have electronic problems, according to Nikon's techies; too expensive to get it repaired. But they still work ... most of the time. It's time to start saving up to replace the camera body someday, hopefully.
Oh yes, it takes me quite a bit of time, patience and expenses to shoot all the thousands of pictures for this website, but I'm not complaining. Or am I?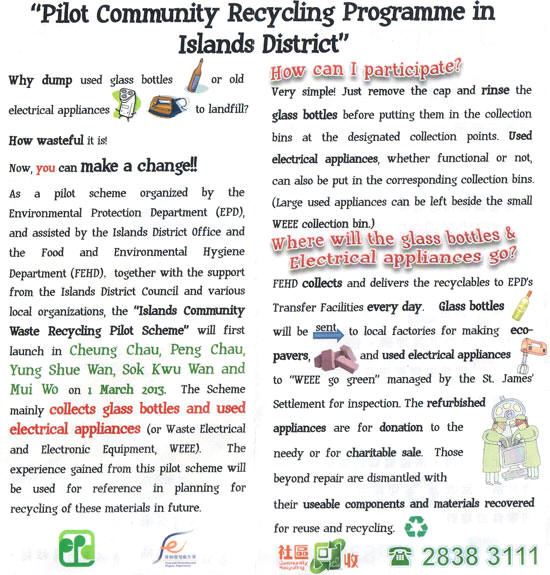 Click above for locations map and details in English & Chinese.
The Lamma-zine loves our advertisers! They've kept this entire website, including the commercial ad-free forums, alive and going. So they get special treatment occasionally here on the home page; for example promoting their events, activities and newsletters to a wider audience, far beyond their own customers and mailing lists. Here are two of their February newsletters. Click below to read more...

By the way, our "Free Ads" promotion is still running and has been extended till Mar 31, due to its great popularity so far.
Welcome to our brand-new advertisers this year:
StilVino, Pizza Milano, Jing Jing, LoSo Kitchen and AA!

Automatic email from ObesityHelp Services (plus my comments - not for the squeamish - added in green; a bit like a fake interview with myself):
"HAPPY ANNIVERSARY !! HAPPY ANNIVERSARY !! HAPPY ANNIVERSARY !!
How have you been?
Great, thank you! No more health problems, feeling fit & fine.
According to information you entered into your profile with us, it was on this day, 5 years ago that you began your new life as a post op after your weight loss surgery.
Correct, Vertical Sleeve Gastrectomy, Feb 25, 2008, removing most of my stomach and then stapling it shut in a half-day laparoscopic operation.
Congratulations on that rebirth! Thank you!
Some post ops are forever eager with boundless energy to share their story with peers. Others have totally moved on in life and cringe at the very thought of being reminded of the topic of obesity. Presumably you are somewhere in between. In between, but still ready to share when asked.
The reason I wanted to thank you is for having set an example for others to follow. To this day, there is fear and ignorance surrounding the topic. People like you who took the brave step of moving forward and doing something positive in your life stand out as an important role model to others. Perhaps, maybe.
Every hour of the day, hundreds of your peers years behind you go through profiles such as yours for inspiration, hope and encouragement. While you might have have grown (or be growing) light years away from your previous life, the mark that you left behind on my web site has touched and continues to touch tens of thousands of people. Really? I'd hope so.
Our community has had no shortage of recent post ops. What is in really high demand, however, is the current wisdom of people 2, 3, 4, or 5 or more years out... Both the general public as well as health care professionals alike are skeptical about the long term outcome of bariatric surgery.
Great so far, 175 pounds lost initially, only 12% regained in last 4 years; keeping steady now thanks to just a bit of exercise, mostly cardio via hill hiking & biking.
---
We have a number of important new sections on the site for which we are collecting information. Below are just a few:
Post Op Clinical Survey: How have your co-morbidities decreased over time?
All my former co-morbidities have completely gone and not returned so far; no more diabetes, sleep apnea, high blood pressure, knee problems, acid reflux. They'd all return if I'd ever regain much of my former weight. This is what really keeps me motivated to maintain my weight, not looks.

Hospital Survey: What can you tell others about your hospital?
Queen Mary Hospital:
highly recommended, due to their recent successes they have started a formal "Weight Control & Metabolic Surgery" programme; actively looking for qualified candidates. See 20-page booklet cover below, in Chin. only (the illustration looks like me before and after!
For English-speaking patients, they're handing out a printout of my Lamma- zine stories.)
Professional Surveys: Have you told us about your PCP, Dietician, Psychologist, etc? Great consultations with all these specialists, pre- and post-op, but no longer needed nowadays. On-going half-yearly checkups for all former co-morbidities: all fine so far, no complications.
Surgery Reimbursement Survey: Did your insurer reward your hospital for supporting a bariatric surgery program?
No insurance. All treatments were almost free of charge in HK's great public healthcare system: $100/day for hospital stays and $60 for the numerous outpatient specialist appointments, no surgery charges.
Only extra item to pay for: titanium stomach staples for several thousands of $s, upfront, just in case you don't survive the surgery (1% probability).
What's your experience with plastic surgery? We are actively developing a plastic surgery section of our site. Chances are good that you might have some experience with that. Most people are ready for this within about 18 months after surgery, if not before. Losing the weight is great, but walking around with all the excess skin left over from your pre-op past life can be a real drag.
Mixed experiences: They had to do my major abdominoplasty operation twice, 3 years after the bariatric surgery, as they had only sliced off half of the hanging skin the first time. Oops!
Also, they won't tell you in advance that there'll be long recovery times, that you're likely never to regain any sensation in some of the remaining skin, that there'll be scars a metre long, and that your now flat stomach might feel a bit tight forever, like wearing a girdle 24-7. But the OK end result was worth it (especially as it was almost free of charge.)
How are you doing on post op nutrition? Vitamins, liquid diets, protein powders ... what's your experience?
No special nutrition or any diet anymore, no supplements, just one multi- vitamin; back to a regular, but health-conscious (mostly Mediterranean) diet, including all foods; plus a single glass of white wine/day and mini snacks, especially nuts and chocolate.
Here's my free e-book (a free-book?):
Only Half The Man I Used To Be
Just in: the latest South Lamma newsletter from the Baroque Team.
No they haven't given up yet on their "visionary project to introduce a low-carbon community embodying eco-tourism, windsurfing and yachting activities" and, last but certainly not least, "low-density residential development." The small but still dedicated Team is diligently working on several small pro bono projects while watching the public consultations and future developments in the ex-Lamma Quarry closely, taking a patient long-term view.
Learn about their latest activities - Mikania cleanup, heritage center and EIA study investigations - in their latest newsletter below. Click to enlarge and post your own comments and opinions: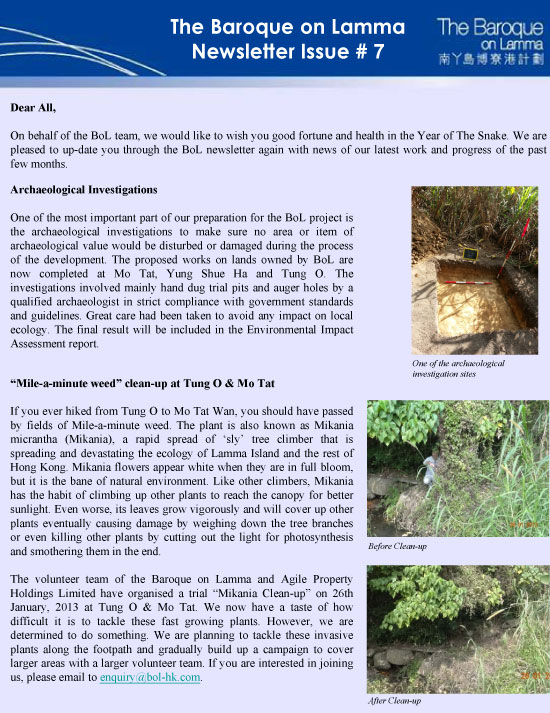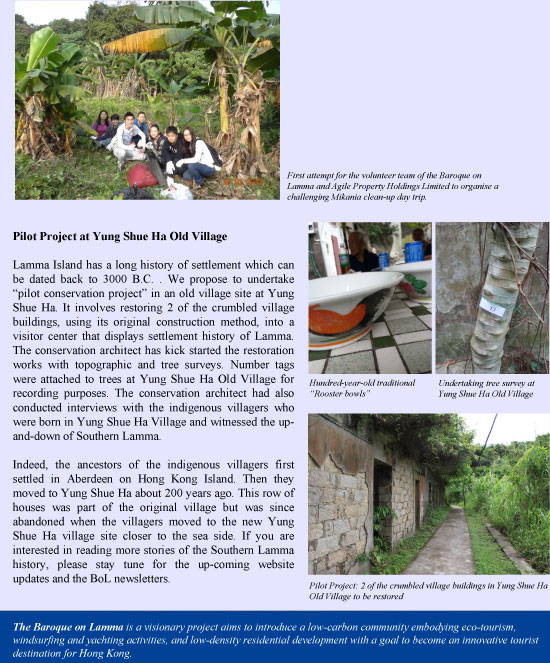 The Blog of Baroque has also just published a pair of interesting articles about their ambitious long-term vision for all of Lamma Island:
"People nowadays look for special travel destinations where one can experience the unique culture, tranquility and breathtaking landscapes. It is easy to find such characteristics in European islands, such as Corsica in Southern France and Sardinia in Italy.
In fact, Hong Kong, as a world-renowned Asian cosmopolitan city, has similar outlying islands that also carry distinctive local characteristics which can produce a brand new travel experience...
... Lamma Island, in fact, has the potential to become a leisure resort just as Corsica and Sardinia. More will be explored in our next blog. Stay tuned!"
Special Tourist Destinations: Corsica and Sardinia (Part 1)
Can Lamma be the Next Sardinia / Corsica? (Part 2)
Look what I found! Still secret plans, a train sim or pure fantasy? You decide. Discuss in our ex-Lamma Quarry forum (that's where the "Lamma Island" MTR station above would probably be located): ex-Lamma Quarry forum.
Chart created by Nick Shearman. Thank you!
These low mobile Broadband speeds are probably similar for all other mobile networks, including the large black spot south of Green Island.
Discuss mobile broadband speed on Lamma in our forum, China Mobile + PCCW + 3 (4G LTE) in Lamma and ferry, or the Facebook group, Faster Broadband for Lamma.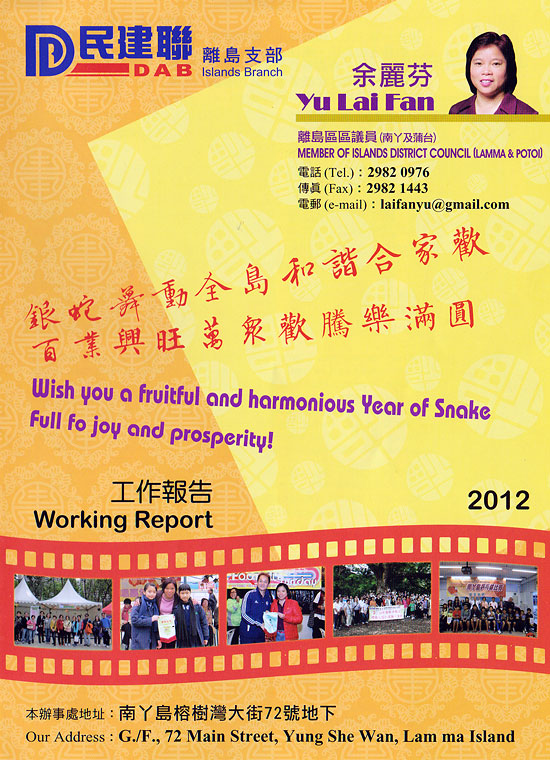 Click above to read this informative, colourful 8-page promotional booklet.
Copies available outside YSW District Council office (besides Lamma Gourmet).
Comments are welcome in our Environment, Politics & Development forum.
TODAY is the last day to submit comments to the Govt.'s plans to build private and public housing for up to 7,000 people inside the former Lamma Quarry, opposite Sok Kwu Wan. Make your comments heard loud and clear, by tonight:

Besides the official website above, a lot more info, photos, videos and lots of opinions can be found in our forum: Ex-Lamma Quarry forum.
P.S. Comments are still welcome after the deadline, submit yours!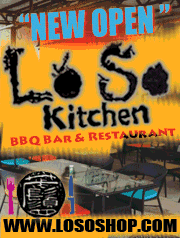 While chatting this afternoon with Violet of the LoSo Kitchen in Sok Kwu Wan (our new restaurant advertiser, welcome!), she introduced me to the woodworks of her uncle Rorry Chan in Lo So Shing. He's one of just a few sculptors and builders living on Lamma who works mostly in driftwood, typhoon leftovers and other distressed wood.
You might meet this friendly guy - maybe the most tattooed man on Lamma? - while he's walking his dogs on the Family Trail on South Lamma, like I did yesterday by chance when walking home from Sok Kwu Wan (55 minutes, including a few short stops). He doesn't speak any English, but seeing me from afar he shouted out, as usual, "Lamma-Gung!"
See some more of his work, courtesy of Violet's bamboo carving-encased iPhone: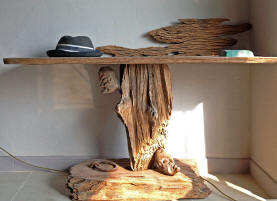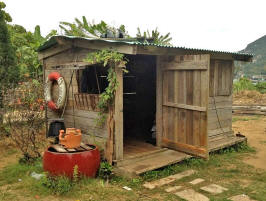 "Custom-made working desk and garden sheds by Rorry Chan. Welcome to order custom-made wooden furniture. Contact lososhop@live.hk"