rkl_77 writes in our new Lamma Sport forum:
"Geocaching is huge worldwide, and here in Hong Kong it's gone out of this world. Last month, there was a geocache found on the international space station, with a dinner in TST to celebrate, as well as the first-ever Geocache Wedding, which was held here in Hong Kong.
Geocaching is an inexpensive, environmentally friendly family game that all can play for the cost of only a few dollars. Geocaching offers a chance to visit and go to places you often walk right by, and seeing views, history and locations that are often overlooked by most.
Every day people from around the world visit Hong Kong and LAMMA ISLAND to go Geocaching. Just watching the cache logs over the last few months, I have noticed that there is at least one Geocacher visiting Lamma every day, and numerous more over the weekends.
Geocaching often runs a CITO (Cache In, Trash Out) cache or event, where cachers (people who do geocaching) carry a trash bag with them and collect trash from around the cache sites as they spend the day caching. A great and fun way to spend your afternoon or weekend as well as helping to keep Lamma clean of trash.
In 2014 we (Hong Kong Geocaching Group) are planning a large CITO geocache event on Lamma to attract worldwide cachers and clean some of the Geosites up. More information about this event will be posted in 2014.
Currently there are over 20 geocaches on Lamma with the aim to increase this to closer to 100 caches prior to the event.

If you want to know more about Geocaching, please go to www.geocaching.com or read below, from the website...."
Read more, ask questions or join in!
P.S. I'll be downloading their app right now to learn more about Lamma's well-hidden, secretive geocaches. Geocaching up in Mt. Stenhouse's caves coming up soon, I hope. I've been invited....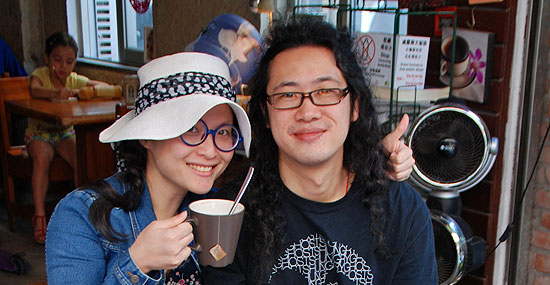 Who was having lunch in their favourite restaurant, Green Cottage, today? Yes, they're the Rambo & Lorraine, the Lamma Families Photographers. I took the opportunity to take their quick "family portrait", after watching them at work last June, taking pictures of Green Cottage's Ron and his lovely family in the exact same seats, very professionally with umbrella lighting reflector: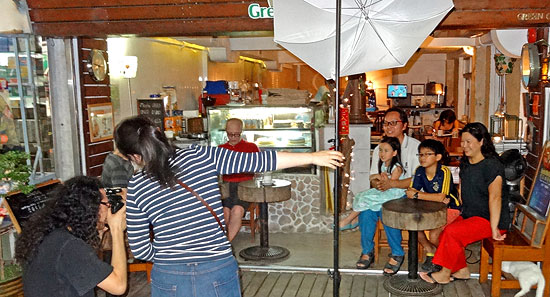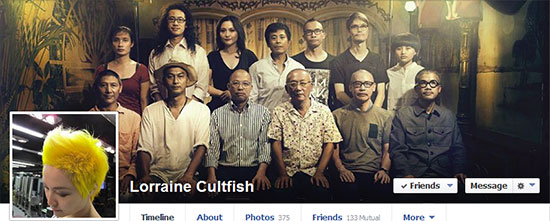 Their Families 300 group exhibition (see all photographers above, on Lorraine's Facebook header) is finished now, but many of their amazing Lamma family portraits are online on their website now! If your family is one of the featured ones, there are print-quality photos to unlock with your password. But the top half of the thumbnail pictures can be clicked on by anybody to enlarge them!
Here's their published photo of Ron's family, shot above, plus one more very well-known Lamma family. For many more Lamma families, check it out yourself.
How many of these Lammaites do you know?
www.RamboLai.com/Projects/Family-Portrait-Project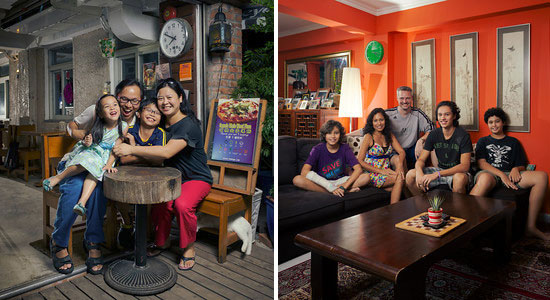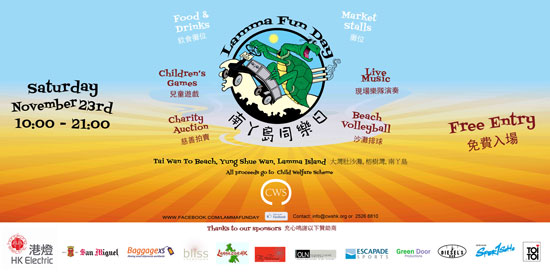 Dear Lamma-zine reader,
Where to go this Saturday to meet Bollands, Bearded Ukuladies, Turing Apples, and Fat Jokers?
On Lamma's Power Station Beach, of course!
This Saturday, it's all about the yearly FUN DAY FUNdraiser, while last weekend was all about fundraising for the victims of super typhoon Haiyan/Yolanda.
Soon, it'll be all Operation Santa Claus events in The Island Bar, and other Christmas-related fundraisers. Yes, fundraising is a very popular activity in our helpful and charitable little island community....
The Lamma Fun Day Organisation Committee and their fantastic flock of volunteers invite us to:
"A Fun Day Out On The Beach!
Live Music, Children's Games, Beach Volleyball, Charity Auction, Food & Drinks, Market Stalls and much more!"
The Lamma-zine is proud to be the media sponsor again this year.
For more info and photos of the 9 (!) live bands performing for free, the photo album of charity auction items, the Lamma Calendar 2014, the children's games, etc., please check out "Lamma Fun Day" on Facebook, or on Lamma.com.hk.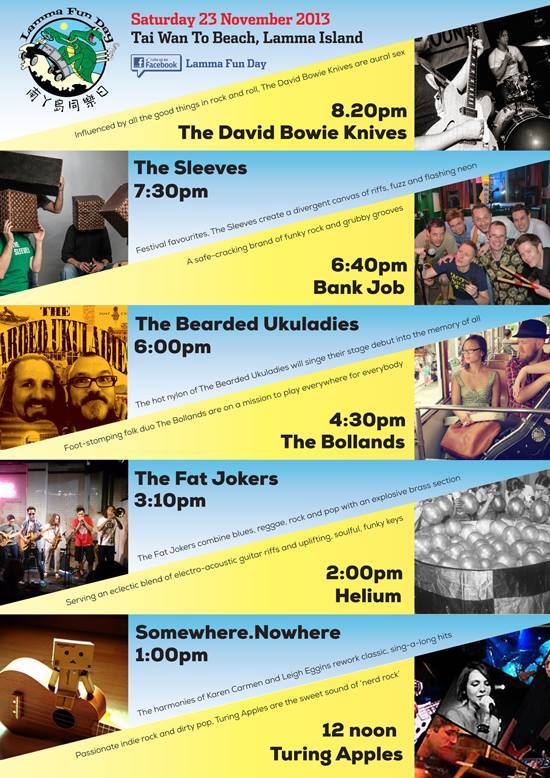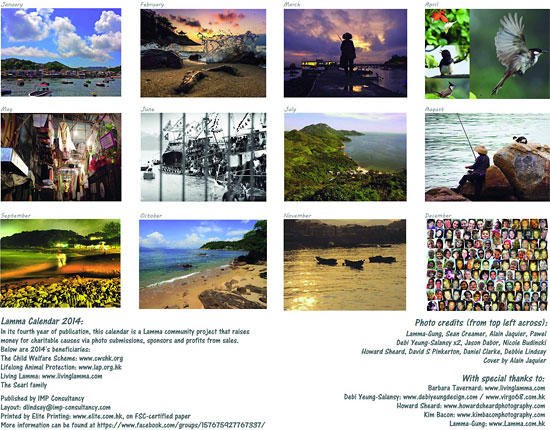 "Here's a sneak preview of the Lamma Calendar 2014.
Please snap them up from the Living Lamma stall at the Fun Day on Saturday.
All profits are going to good causes - details to follow!
You can drop me an email on Facebook, or email me.
Still putting prices together for bulk buys, let me know how many you want....
If you didn't manage to pick one up, they're for sale at Lamma Grill, Diesel's and Maria's shop. All profits going to good causes. Pick up your copies before the Christmas post deadline at the beginning of December!"
Lamma Fun Day writes:
"From 1:40pm, Sat Nov 23, in four lots on the Main Stage on the beach, plus a silent auction. Visit the Charity Auction stall from 10am onwards Saturday to check out all the auction items in advance [see above].
The Charity Auction is always one of the biggest fundraisers at Lamma Fun Day and The Auctioneers are legends and will be on stage between bands Saturday afternoon. If you cannot stay for the auction, leave details of a maximum bid at the auction stall with Claudia.
Over 40+ lots up for grabs including: luxury 5-star hotel accommodation, dining vouchers for some of Hong Kong's best-loved restaurants and bars, comedy tickets and book vouchers, shopping vouchers, a "serious" BBQ from Everything Under The Sun, ESCAPADE Sports vouchers, a 7-night holiday in Nepal, wine, cognac, Champagne, original artwork by Harry Harrison, Clockenflap tickets, a junk trip from Sea Lagoon Limited and a candy floss/cotton candy machine!
You can also email your maximum bid to Claudia - moesathome@gmail.com - before 6pm, Friday, November 22, or go to the Charity Auction stall on the beach Saturday November 23, and leave your bid and contact details in the book there.
Thanks to the generosity of all our wonderful donors, all proceeds from the auction go to CWS HK."
An amazing autumn Sunday in Yung Shue Wan, full of fun, fundraising & frivolity.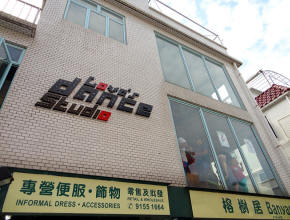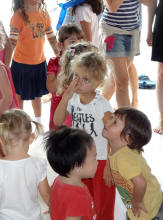 Mr. & Mrs. Love's Dance Studio (Ciaran the Clown & wife Rachel) has opened today, with an Open Day, of course.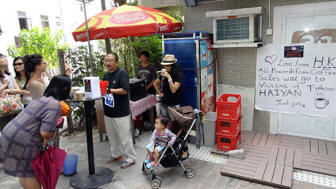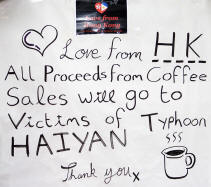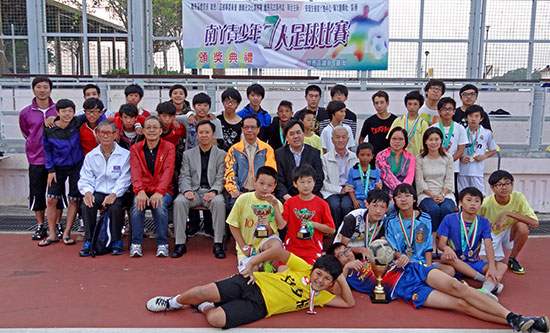 7-a-side youngster football in YSW Football Pitch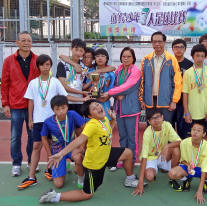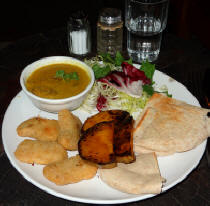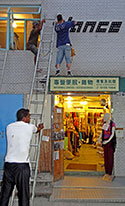 Set Dinner @ Green Cottage - New Dance Studio, night before opening day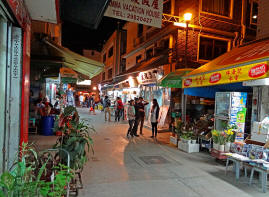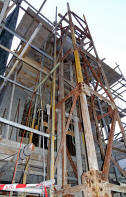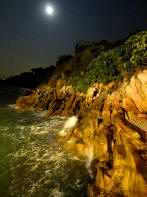 YSW Main Street - One more Village House on Main Street - Pak Kok coast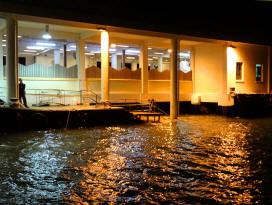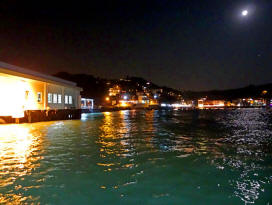 Leaving the YSW pier on the Pak Kok - Aberdeen ferry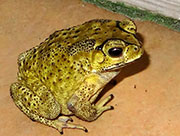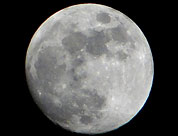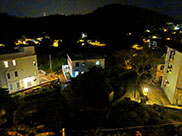 Neighbour greeting me outside our home - Almost full moon - Rooftop view
These are very busy days for Lamma's numerous fundraisers for the victims of Super Typhoon Haiyan (called Yolanda in The Philippines). Several major fundraising events are being organised on and off Lamma this weekend and next week. Click on the posters above for details. Join in and be most generous!
Discovering and playing around with mobile apps is a major pastime for Lammaites, same as for so many HKers. But it's rare to find something really useful AND pretty, so I thought to make an exception to share one with you:
Themer (for Android 4.1+ only, free), replacing your boring old home screen full of square icons with 1-3 themed, fully customisable "home pages". All the major functions, plus your most used ones, on one unique-looking home page. Examples:
My own current preference (HUD UI) on the left. Plus the new, all-flat iOS 7 theme for the dwindling number of people who still consider iPhones to be cool and want to make their much less expensive Android phones look like an iPhone.
This is an especially effective theme on a larger Android phone, showing it off to your friends:
"Look, I've already got the next-generation, larger iPhone with iOS 7!"
See their faces turn red with jealousy and see them rush off to the Apple store in the "YSW Shopping Mall" (ifc)...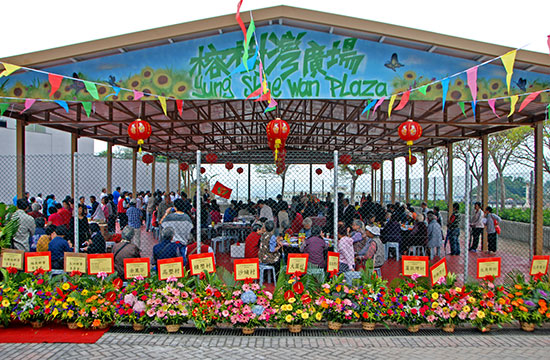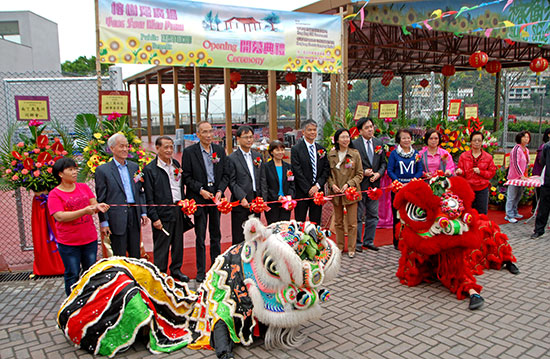 Lamma Outriggers today, circumnavigating all of HK Island - ATIR November 10, 2013 - while the HK Observatory's "Strong Monsoon Signal" was active.
Katie McGregor writes:
"Claudia McGregor Tarr - fearless steerswoman - with super team - Around the Island Race - big sea as a result of the typhoon passing to the south.
Thank you, Dave Donnelly, for photos."
A friend commented: "You're all a tiny bit mad ;-) Well done!"
I agree wholeheartedly, after having followed them myself all around HK Island in the support junk 2 years ago. No traditionally flipped-over Lamma canoe this time. And I miss Gina's photo comics:
Nov 27, 2007: Lamma Outriggers @ Round HK Island Race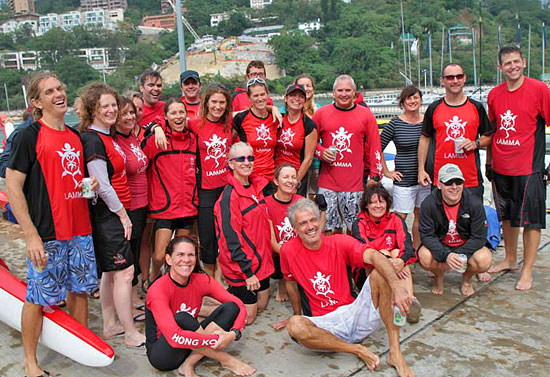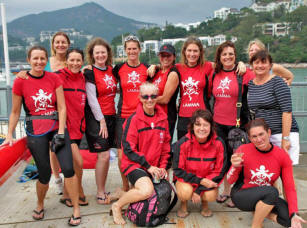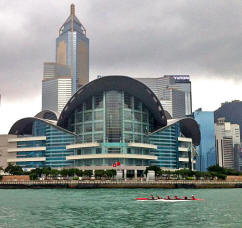 All photos by Dave Donnelly, except the one above right by Katie McGregor, featuring the Lamma Ladies at the 26km mark in front of Wanchai. Many thanks!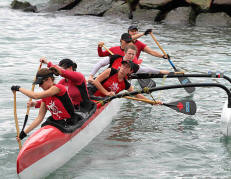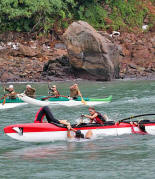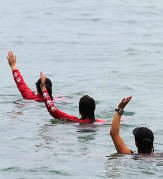 So well-coordinated! - I'm out of here! - (Water) Taxi, please!
Many more great photos by Dave Donnelly (might need permission)
Some of my readers might remember my rather melancholic story about the end of my former rooftop garden: Jul 19, 2013: R.I.P. My Rooftop Jungle.
During these last 3 months in our new home, I've learnt to appreciate the amazing 360-degree, unobstructed views from our new rooftop, especially at sunrise and sunset. It's also great for airplane watching and stargazing late at night, using Google Sky Map to point at and identify stars and constellations. Our new maintenance-free rooftop has no cover, water, light, electricity or plants at all. I intend to keep it that way, like most of our neighbours. No more worries and hassles during and after typhoons and rainstorms...
But I miss my blissful rooftop jungle oasis a little bit, nostalgic not just for all the birds visiting my rooftop pond, but even for the Huntsman spiders and other creepy crawlies I never even knew, but lived and reproduced up there... till we moved out and I was forced to clear it all out, relocating almost all plants.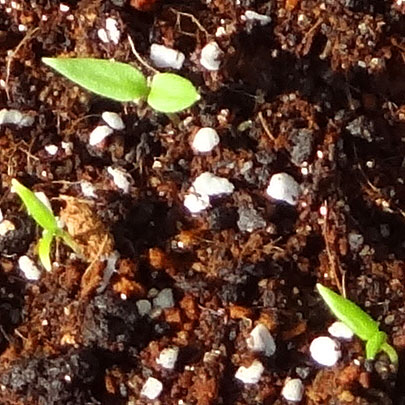 But what about our new, nice, sunny balcony?
Maybe at least a single little planter and great advice from our new neighbours, Bing & Dave, who've just published a book: Microgardening: A Practical Guide (available from them personally). See my modest beginning above, photo taken today, the very first seeds actually sprouting!
But I might need some help and advice from the members of our Gardening forum...
I might keep you updated occasionally how it's going. I wonder what will be growing in there, or not, as it's my own random mix of seeds: mixed flowers, chilies, Persimmon stones, even a few Venus Flytrap seeds, received as a free gimmick from a Halloween T-shirt promotion.
Lamma-Gung's Jungle 3.0TM in the making?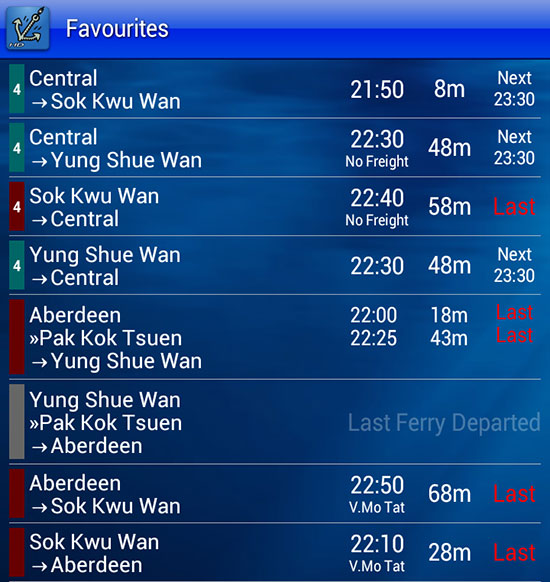 Android/iPhone mobile App HKFerry HD, showing the next ferries leaving for the 4 Lamma ferry routes by 3 different ferry companies. This free app featuring all of HK's public ferry routes. It automatically shows weekday or holiday schedules and will tell you how many minutes are left to the next departure. If you miss it, when will the next ferry will leave and it'll even warn you of the last ferry departure of the day, all on one single customisable Favourites screen, see above.
All Lamma ferry schedules and websites are listed at the top left of every Lamma-zine page, but with this app, you rarely need to refer to it. This app came in so handy recently, on my first day ever of taking ALL 4 Lamma ferry routes in a single day, photographing events in North and South Lamma and on HK Island.
See what I discovered during a hike in North Lamma recently! Deep drilling equipment and works in progress! What could they be drilling for? Email me, SMS or WhatsApp to 6151 5406, PM or post your best guesses in our Environmental forum, or Follow/Friend www.Facebook.com/Lamma.Gung.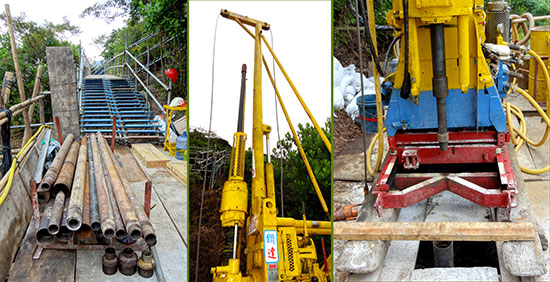 Being an official Google Publisher, they invited me to their DigiCamp in Quarry Bay today. They actually pay me (a little bit, a few US cents per click) for Google Ads on this page - see right column and bottom of this column.
Having worked full-time in the HK Internet and digital marketing industry for longer than the age of some attendees (18 years), I suspect that I might have been the oldest, almost-senior fogey at this young & hip event with colourful drinks and cool demos of the latest Google developments; for example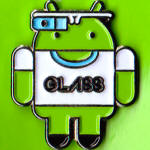 interactive video creation and virtual reality parachuting on Google Earth.
Unfortunately, no Google Glass to take home, just a pin, not even a live demo, even though they promoted Glass heavily. I wanna become a test user!
A few photos and scans from this fun and informative event where I hopefully learned to earn just a few dollars more from the Google ads on this page. Well, at least I got some colourful drinks and their Googlified macaroons! In the meantime, keep on clicking on Google (and other) ad banners on this page, please!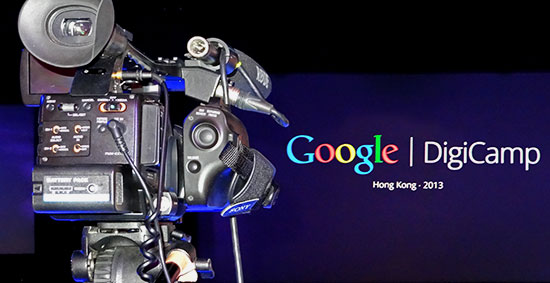 See what I found during my early Sunday morning biking constitutional from Pak Kok to the pavilion above the windturbine: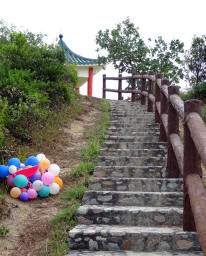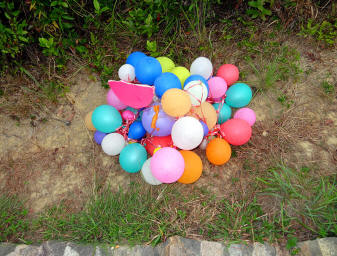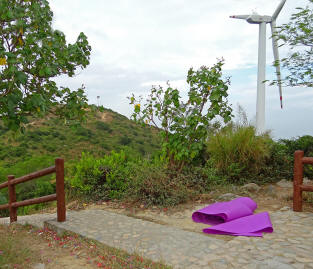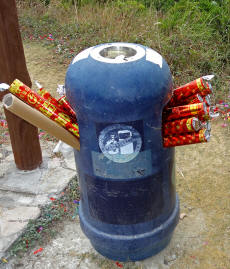 Balloons and a red, err, pink carpet, long enough to cover the entire staircase, plus lots of discharged confetti canons in the trash bin? A wedding on Saturday evening, Nov 2, perhaps? If yes, does any reader have any idea who got married up there and how to get in touch with them, please?
I smell a good photo story, the very first time, to my knowledge, anybody ever had a windy wedding up there! Usually, I've witnessed couples getting married in places like Waterfront Rest., Concerto Inn or The Bay in Mo Tat Wan, but never up there! I want photos!
P.S. By the way, the pavilion has finished renovations now. It's "safe" to go up there again, enjoying the scenic views over HK Island and most of Lamma. Join us on Sunday mornings, from 8am. BYO and share. Dogwalkers most welcome!
Today's sunset generated a real flood of pictures from my mostly Lamma-based Facebook Friends within minutes, from many different viewing locations. Sunset watching is a major pre-occupation of many Lammaites.
Here's my own panoramic version, shot from my Pak Kok rooftop, my favourite sunrise and sunset watching spot: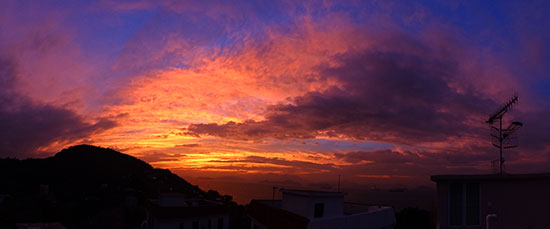 But the best photo award of the day goes to Arnold (clap-clap-clap!) who snapped this "Typically Lamma!" photo above at the YSW ferry pier just a few minutes ago.
Plus a picture from inside my home office. Who needs pictures hanging on the walls with an ever-changing view like that!