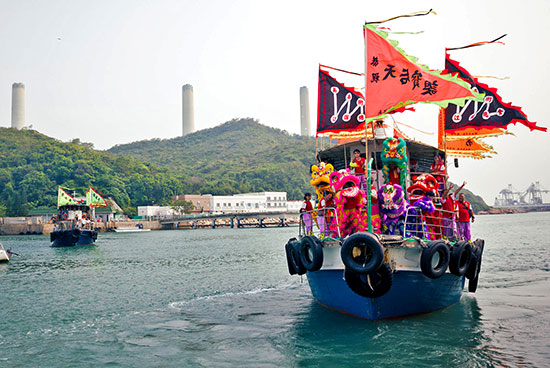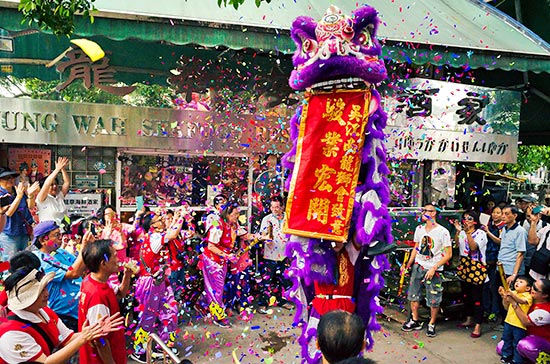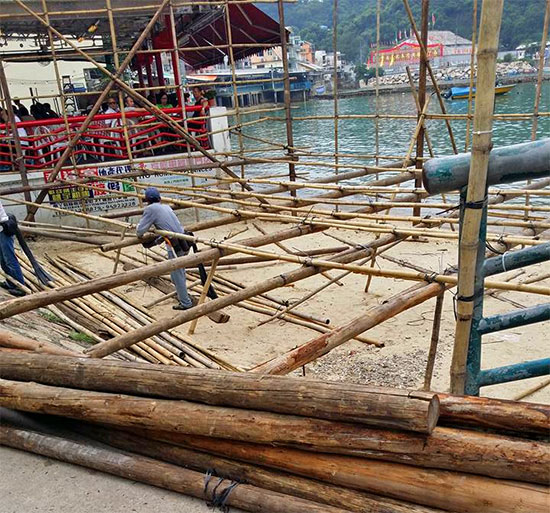 Click on this picture today by Mary Stickley to find out what they're building atop our well-cleaned YSW beach today!
P.S. The aftermath of this bamboo structure's plastic ties, post-event, involving the Lamma Police: 'tjeesing gwai poh'.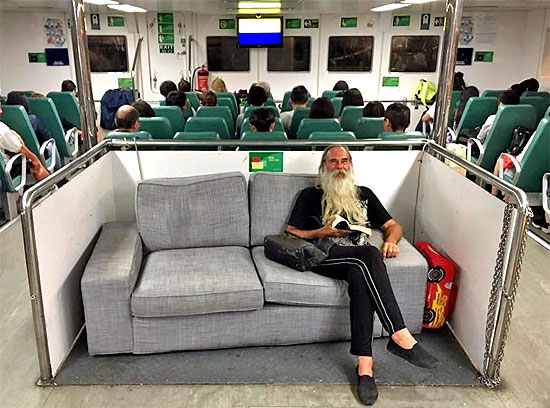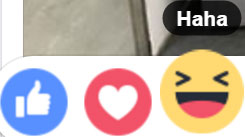 Wow, this looks like a new 1st class ferry service on the YSW-Central route! Or is it only available for VIPs? Photo by Michelle D Chung. Click on the photo above for a lively discussion starting up!
Many more comments and hundreds of Likes, Loves and Hahas!
BTW, here are all the recent reviews by Nick the Bookman.
---
P.S. Wow, they even seem to serve airplane-like "Chicken or fish, Sir?", according to Michelle D Chung (in economy-class)?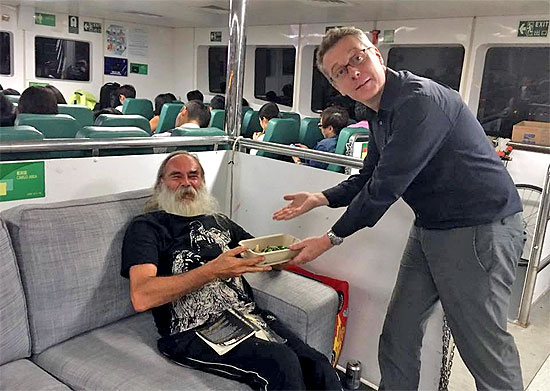 P.S. II: Nick responds to Facebook's 636+ Likes, a first-ever for a purely Lamma-related post, I think! Click my photo to enlarge and read the discussion so far: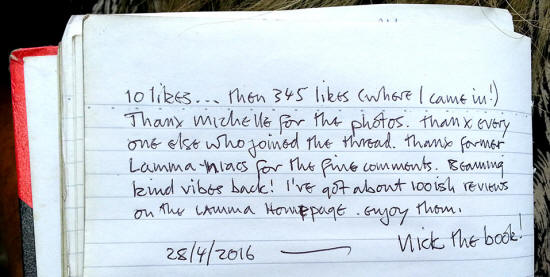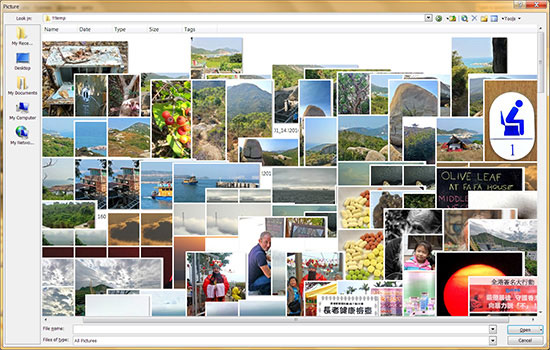 I seem to be shooting too many photos while bike-hiking all over Lamma, even my external hard disks of several terabytes might be filling up soon. It seems to take a lot longer to process than taking all these photos!
Case in point: my 'half-ascent' of Mt. Stenhouse from Jan 1: still working on processing these South Lamma photos. A quick preview: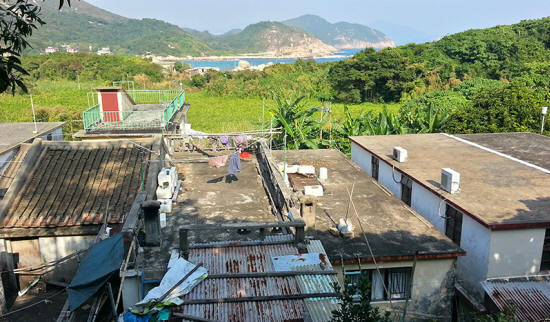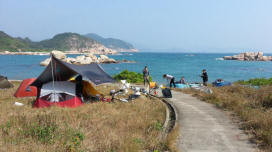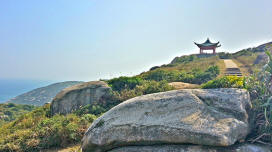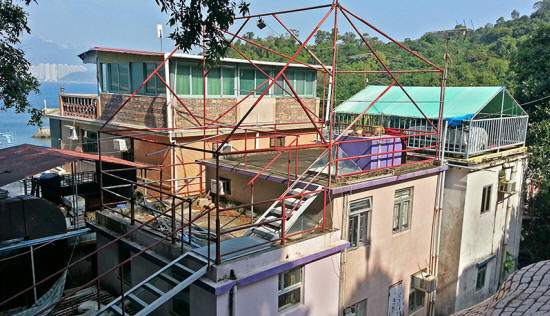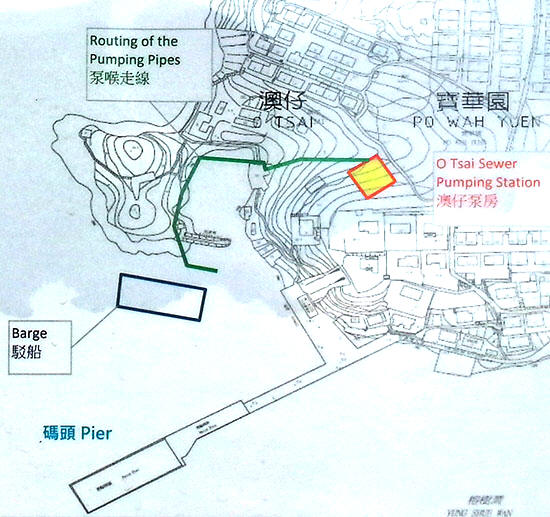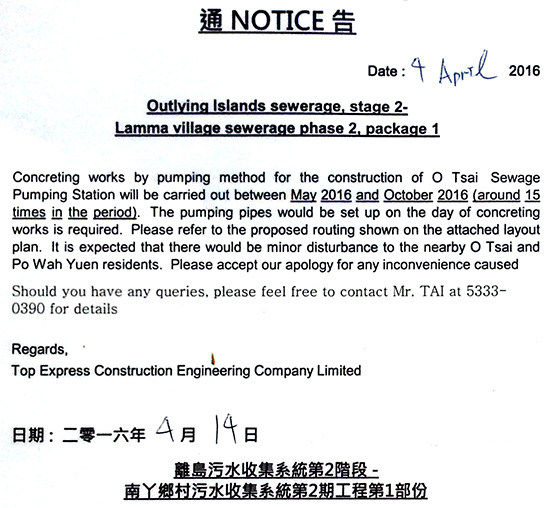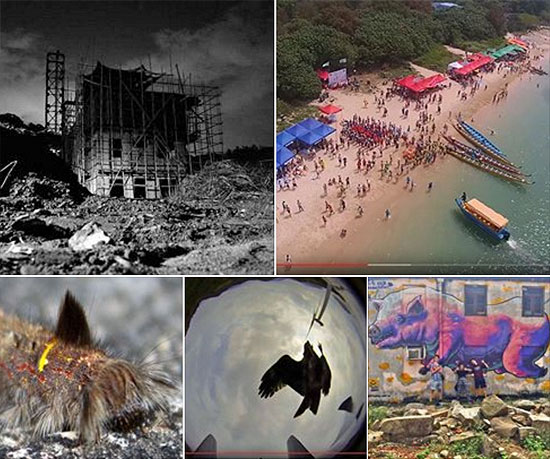 Lamma Spotlights of the Week, April 25, '16:
| | | |
| --- | --- | --- |
| PHOTO | | by Rambo Lai |
| VIDEO | | by Donna Foreman |
| WILDLIFE | | by Jorge Carrete |
| BIRD | | by Joe Yu |
| ARTWORK | | photo by Arya Idan-Cummins |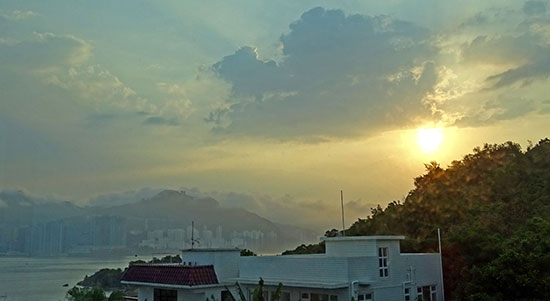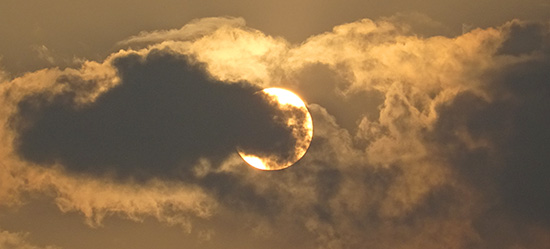 One of the advantages of living so close to nature on Lamma is that you might not even have to leave home to admire many a natural phenomena!
All photos taken from our rooftop this early morning. South HK Island, across the East Lamma Channel: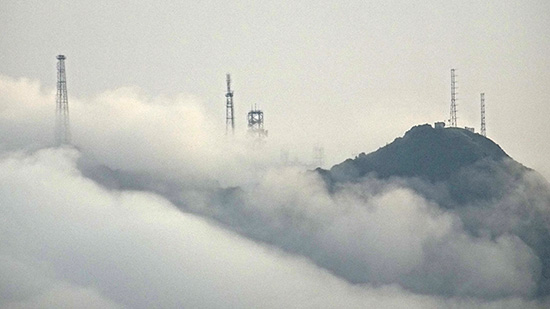 Zooming in on The Peak, this took quite a large number of shots to get the "right" visual balance of fog, peaks and towers.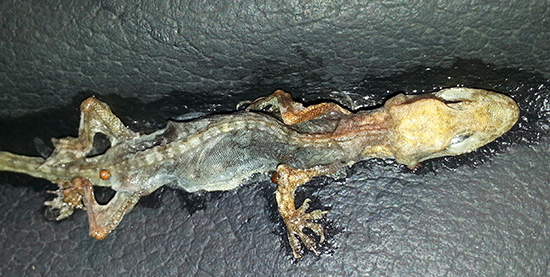 Just noticed one of our ever-present and harmless geckoes on my rarely used rooftop rocking chair. Living so close to nature, we can witness the cycle of birth, life and death...
P.S. One more, Lantau Island in the afternoon: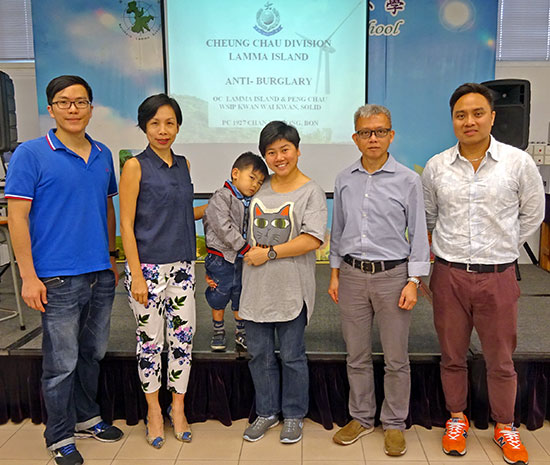 Some of the attendees of all ages of this afternoon's Anti Burglary Seminar in the Northern Lamma Primary School. So what did I learn today?
I met a new rising star (on the left, just besides Solid, our Police Chief) of the Lamma Police Force, who presented the seminar in fluent English and answered all the questions professionally. He represents the new generation of HK Police, very comfortable with computers, creating banners and presentations.
Take a bow, Mr. Yiu Pong Chan, who's signing his emails simply with "Bon - Lamma Police Post"! I loved his 3 banners, displayed right now all over Lamma. My favourite: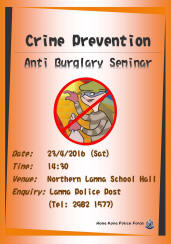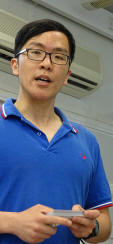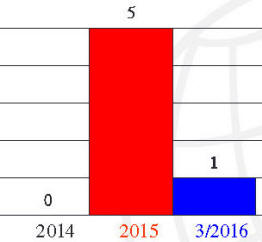 Did you notice this Crime Prevention poster above on Lamma's walls? Bon was presenting...
...and the biggest surprise of the entire presentation:
0 burglaries reported in all of Lamma in 2014!
And only 1 burglary reported so far this year! And no more serious police cases at all recently. We're so fortunate living in such a low-crime area, but it takes our vigilance and care to keep it this way.
A few more of my favourites of Bon's PowerPoint slides: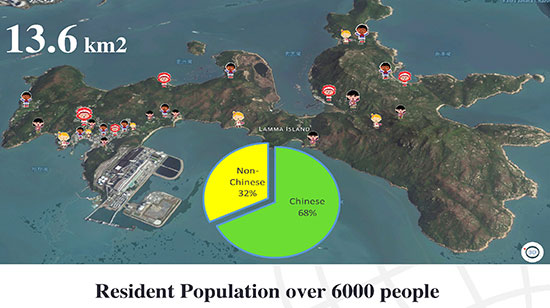 32% Non-Chinese, according to the Govt. census, definitely one of the highest figures in all of HK! The average is less than 4% for all of HK, I believe. And over 70 nationalities living here peacefully, according to our own informal social media polls.

Some of the valuables that we need to protect? Are Lammaites really so well-off as most of these items look very expensive?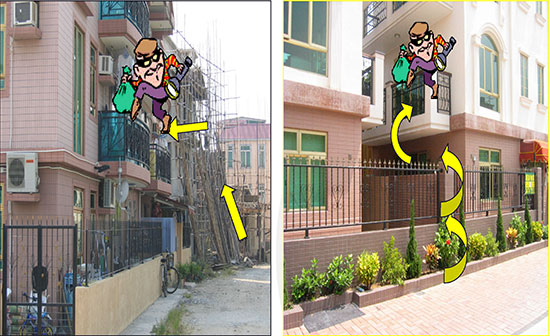 Mr. Burglar enters village houses; upstairs, not just on the ground floor. His legs were scurrying cartoon-like in the presentation.

Get some of the recommended gadgets to prevent burglaries. Have a closer look at them by clicking here.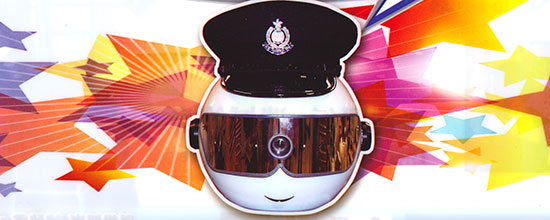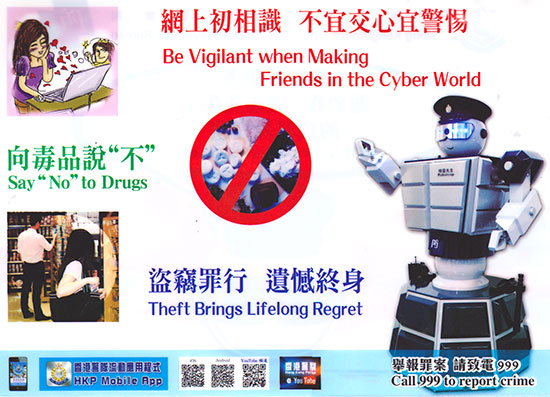 There are usually nice handouts and premiums at police presentations, from the Crime Prevention Bureau (see above). I should definitely be a lot more vigilant as I am "Making Friends in the Cyber World" so easily! Too easily, perhaps??
Well, I ended up moving to HK and being happily married for a quarter century now, by NOT following this great advice and meeting my HK-Chin. wife on the proto-Internet. Stupid me? "Lifelong Regret"? No way!
See illustration above left, but there were no laptop PCs back then...
Want to see Bon's full presentation? Contact me for his PDF file.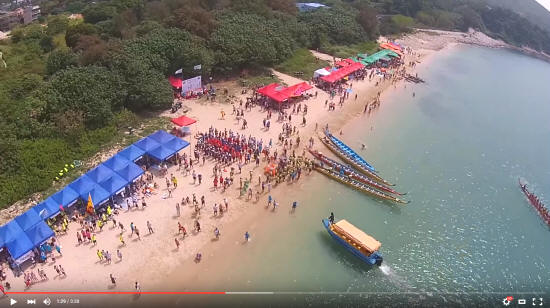 Brad Tarr, Lamma 500 Event Director writes:
"The Lamma 500 is in its 10th year this year and it was a sell out 1 month before the start - 1st May 2016.
As well as local teams, we have USA, Singapore and China competing. 80 teams in total.
We also have the Tin Hau Festival on the 1st May (which finishes at 1pm) - so two Dragon Boat events on the same day is going to be the biggest event day Lamma has ever seen.

I'm inviting media to attend. - We have Localiiz and Lamma-zine... and this is great.
If you have any suggestions or you can help, please let me know." - Full media release & website.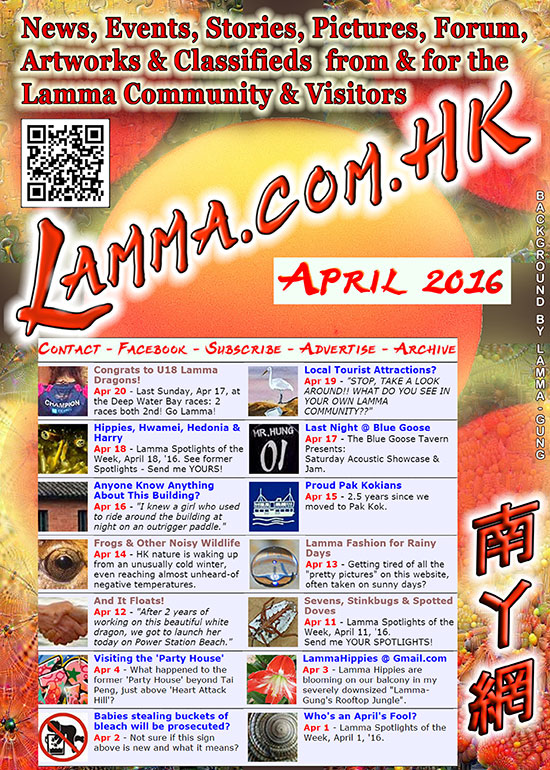 ...plus a new, simplified header on this website's main pages: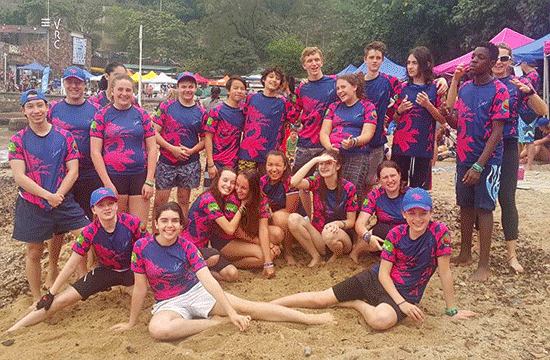 The new generation of Lamma Dragonboaters, the Under-18s! Photos by former captain Dawn!

Last Sunday, Apr 17, at the Deep Water Bay races:
2 races both 2nd! Go Lamma! Congratulations from the Lamma-zine! You are really Champions!
Quite a few of these Lammaites are 2nd-generation Lamma Dragons, making their parents and friends so proud!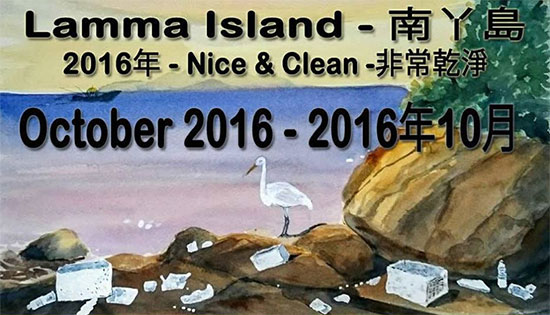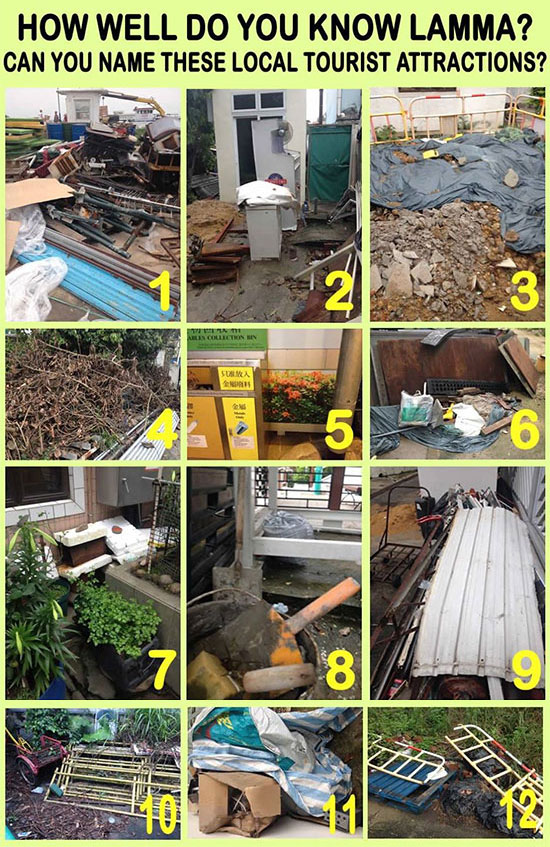 Robert Lockyer writes:
"Lamma is a wonderful and beautiful island; each week 1,000s of tourists come to see the beauty and scenery here.
However, after living here for a while, we tend to walk around without noticing the small things.
Here is a test for you all:
How well do you know Lamma??? Who can name where these 12 wonderful "tourist attraction photos" were taken??
STOP, TAKE A LOOK AROUND!!
WHAT DO YOU SEE IN YOUR OWN LAMMA COMMUNITY??
WE WOULD LOVE TO KNOW.
The Great Lamma Clean Up is looking for team leaders who live in the Lamma villages (we can have more than one team for each village and teams can be as small or as big as you like) to take part in this years Hong Kong Clean Up."
Join the Great Lamma CleanUp
P.S. Even people from outside Lamma are joining in, already helping to clean up some of our many beaches: HK's Clean Up Crew!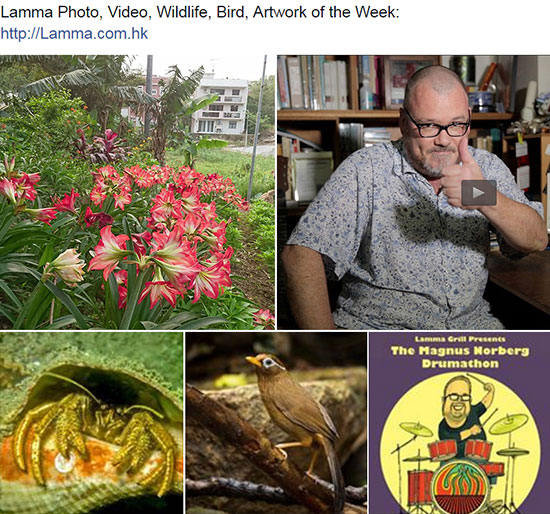 The (almost) only hippies left on Lamma are these Hippeastrum flowers (Hippies, for short), blooming all over the island nowadays, with usually 4 (up to 6) giant blossoms in various shades and patterns between white and deep red: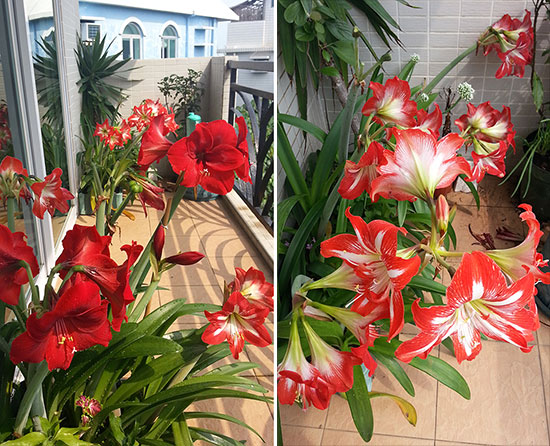 Plus a Lamma Video of the Week on how local VIP celebrity Harry Harrison is creating his internationally famous, editorial cartoons this week.
Plus lots of photos of astounding Lamma wildlife:
Crabs on the ocean floor, Hwamei birds frolicking in their dedicated Bird Pond (famous amongst bird-watchers), and a tribute Drumathon to Magnus, drummer extraordinaire behind probably at least half of all Lamma Bands!
Lamma Spotlights of the Week, April 18, '16:
| | | |
| --- | --- | --- |
| PHOTO | | by Anthony Lo |
| VIDEO | | by SCMP.tv |
| WILDLIFE | | by Krzysztof Kazala |
| BIRD | | by Neil Fifer |
| ARTWORK | | by Harry Harrison |
See former Spotlights - Send me YOURS!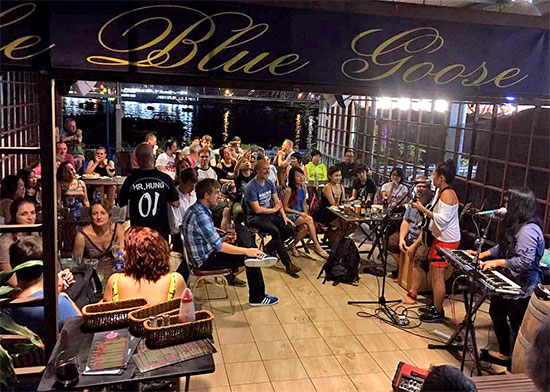 Photo by Dark Himaya, who was soaring high (plus Ivy Fernie (& son) and Tranquil Wednesday) at this great The Blue Goose Tavern Presents: Saturday Acoustic Showcase & Jam".
A first in the Blue Goose, but to be repeated very soon, we hope!
More photos of the performers, people and the food, of course!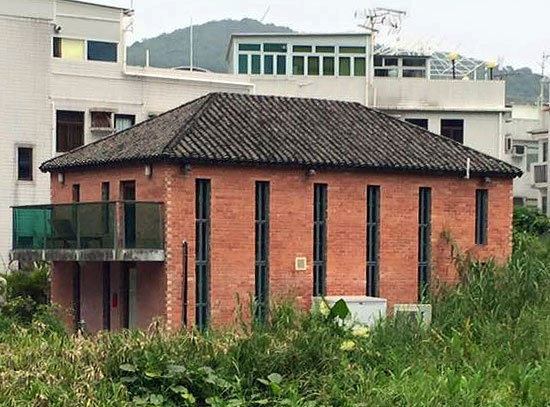 Despite living opposite this mysterious and unique building in Sha Po Old Village before, I never found out what it was.
Click above to find out more about this building and who wrote, "I knew a girl who used to live there, she used to ride around the building at night on an outrigger paddle."
Almost every building on Lamma is either an old Chin. 2-floor house or a newer, standard, 3-floor (illegal to build anything higher), 3*700sqft, off-white-tiled Village House. So it's kind of refreshing to see something, anything different.
Should we start a photo album of unusual houses on Lamma, perhaps?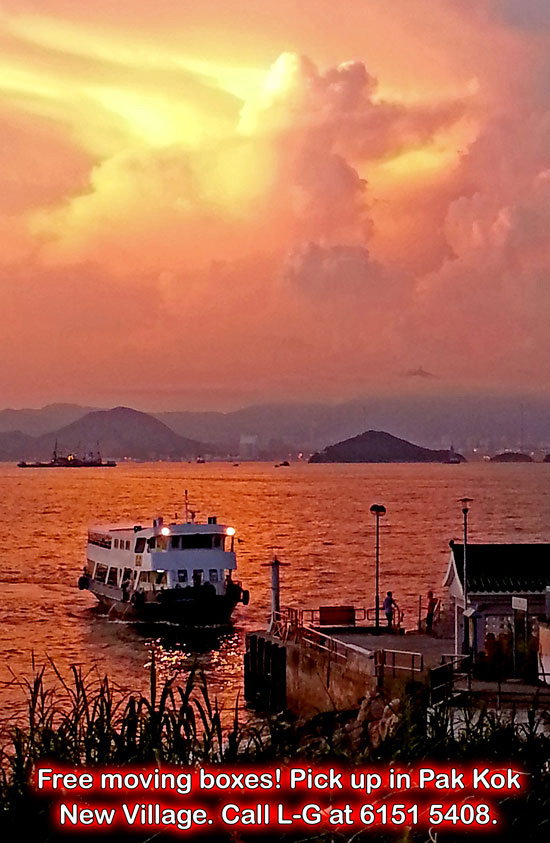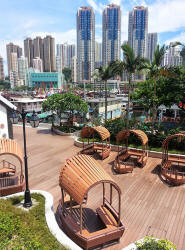 2.5 years since we moved to Pak Kok. After finally unpacking most of our stuff, I made this poster and put it up at the Pak Kok Ferry Pier above. The boxes were picked up right away.
When can we afford to move back to the Big Village (Greater YSW Area), beyond two hills from here? It might take years. For now, just across the East Lamma Channel, bustling Aberdeen/Ap Lei Chau on South HK Island are temptingly close and so convenient for us new Proud Pak Kokians.
3 MTR stations will be opening up over there next year, but none will be close to the ferry piers (at least 20+ minutes walk or Ap Lei Chau ferry), according to our new friends, Aberdeen locals and fishermen, some of them ex-Lammaites.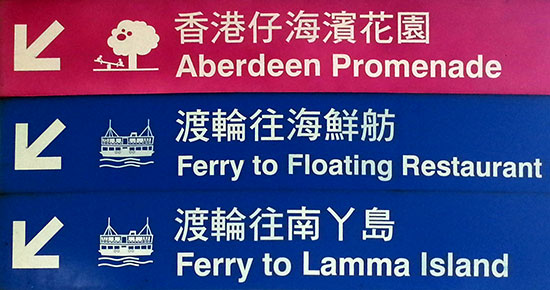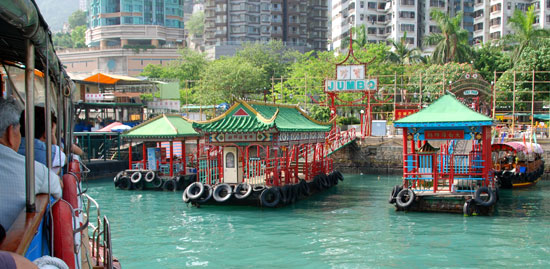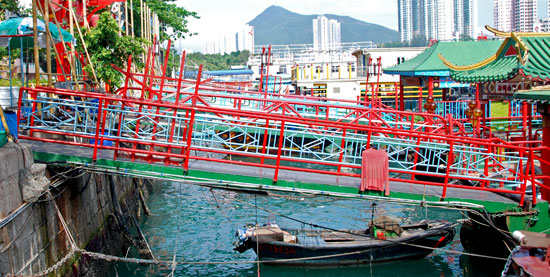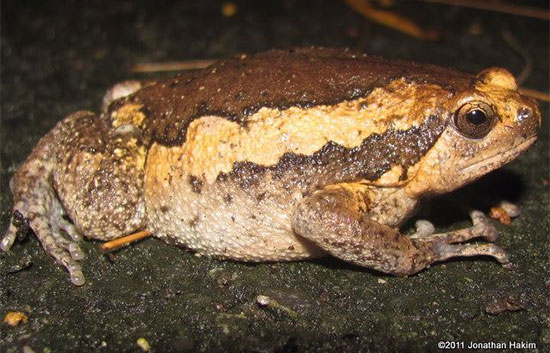 Aaah, springtime on Lamma!!
HK nature is waking up from an unusually cold winter, even reaching almost unheard-of negative temperatures on a few nights. Huge Hippeastrums and other flowers blooming on our balconies, patios and rooftops, 99% foggy humidity, thunderstorms, amazing amounts of rainfall, all making Lamma a paradise for many of the non-human creatures we share our home island (and occasionally our homes) with.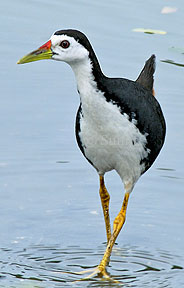 Quite a few of them are very noisy, especially during their mating season, keeping some of us awake.
For example,the Asian Painted Frog (Kaloula pulchra) quite common here, see above. Sounding like a cow's loud, plaintive mooing, they're often mistaken for cows by visitors. Some of us even like to tell Lamma visitors of our (non-existent) hidden herds of cows.
Another noise offender, the White-Breasted Waterhen with very loud ploink-ploink calls for hours, causing another big discussion; from sympathetic voices (Sophie: "You must be kind to them, their swamps are being filled in with rubble, and their chicks are cute and black and fluffy.") to frustrated calls for killing it.
Cuckoos, crickets and regular frogs will soon be joining in Lamma nature's noisy night chorus. Close your bedroom windows, run a fan or aircon, and you might sleep well.

Getting tired of all the "pretty pictures" on this website, often taken in bright sunshine, showing only the sunny side of Lamma Island? Here's something completely different: photos I took during tropical downpours in Yung Shue Wan, causing splashing waterfalls from the low buildings and ankle-deep rivers across the narrow footpaths.
These are 3 of my numerous historic Lamma photo galleries, taken during days like today: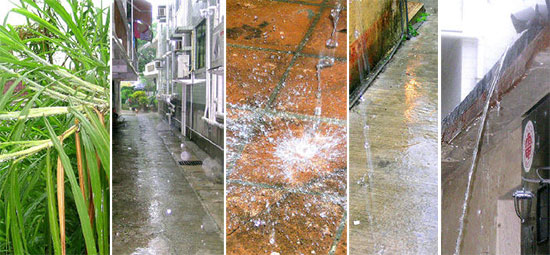 Rainy Day Lamma Fashion:

Rainy-Snaily Monday: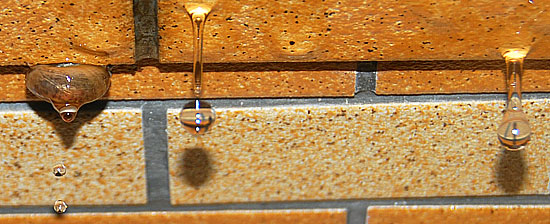 Marckq Schmidt writes: "And it floats!
After 2 years of working on this beautiful white dragon, we got to launch her today in Hong Kong and I couldn't have been prouder. This is such a big moment in my life which I will forever cherish.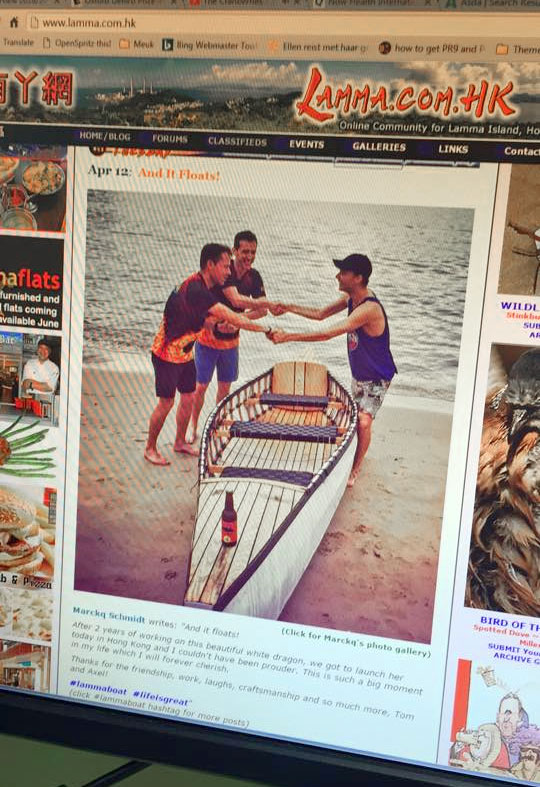 Thanks for the friendship, work, laughs, craftsmanship and so much more, Tom and Axel!
#lammaboat #lifeisgreat"
(click #lammaboat hashtag for more posts)
Major congratulations to all involved!
---
P.S. Marckq really liked being a cover star of the Lamma-zine! 100 Likes so far!
"!!!! My biggest media exposure I've ever had!
So proud to have been featured in the Lamma Magazine!!!
Thanks Lamma-Gung"
---
P.S. II: Notice the other "Made in Lamma Island" product atop the boat: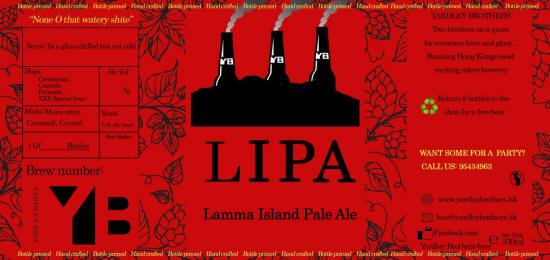 P.S. III (new record for P.S. numbers?), April 18, 2016: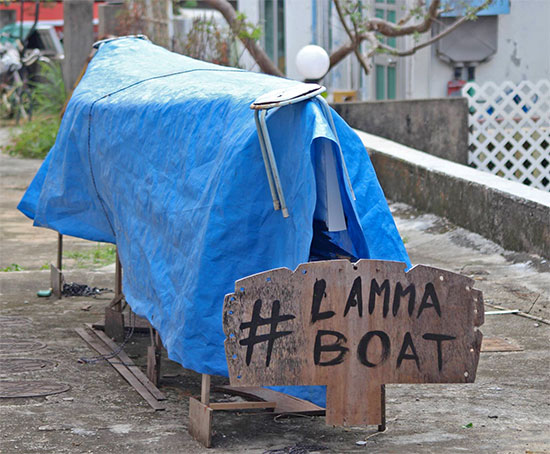 Isn't this such a Typically Lamma! photo?
A home-made boat under a blue tarpaulin, stool on top, even a hashtag? (Photo by Mici Reinold)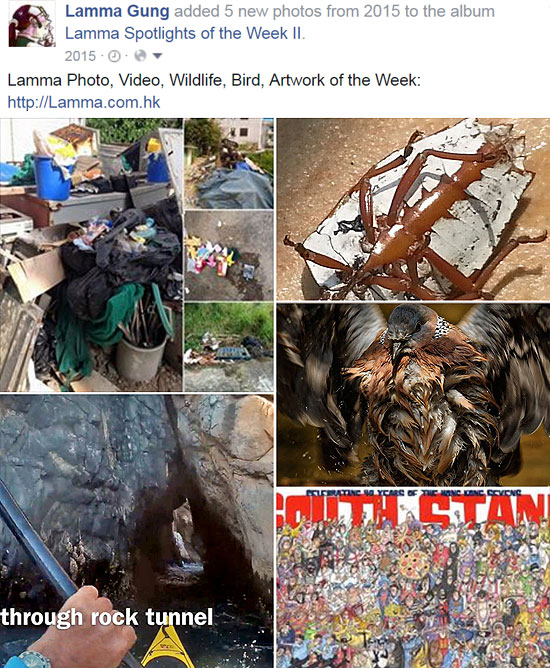 Lamma Spotlights of the Week, April 11, '16:
| | | |
| --- | --- | --- |
| PHOTO | | by Robert Lockyer |
| VIDEO | | by Sea Kayak |
| WILDLIFE | | by Lamma-Gung |
| BIRD | | by Guy R.H. Miller |
| ARTWORK | | by Harry Harrison |
See former Spotlights - Send me YOURS!

How did Nick the Bookman spend his time at the HK Rugby Sevens this weekend? Seeing all the photos/selfies that people are taking and emailing to him, on his eager requests, it seems that he was busy much of the weekend schmoozing with celebrities:
Paul Zimmerman, Severe, Martin Breen, Robin France, rugby players/officials, and many others: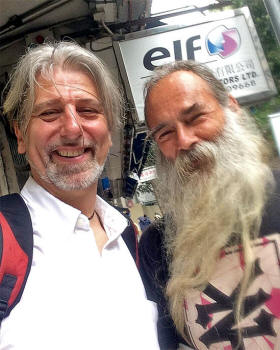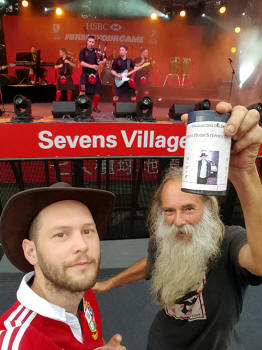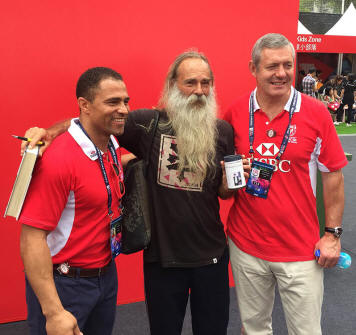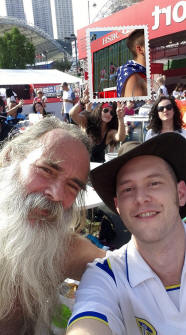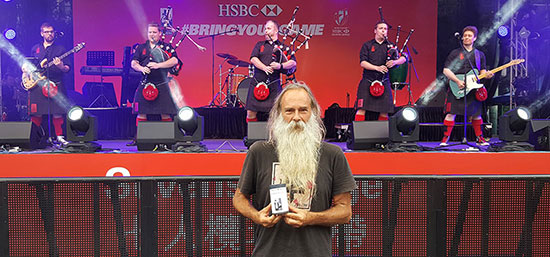 Let's hope that Nick had enough time left to scribble notes into his always-present notebook, for his customary review, coming soon...
---
Plus one more Nick Pic, from one more fan he met at Nick's Corner on YSW Main Street. Published with Kamalesh's permission and his request to link to his various social media accounts: Twitter, Instagram, Facebook albums from his HK trip: Hiking at HK ~ Night, Light, Height of HK ~ Hello HK
"It was pleasure meeting you last month at Lamma Islands. And many thanks for your time and book exchange.
You are an inspiration, with tons of knowledge beneath your aged hair; and I sincerely wish and hope you make impact among many visitors and people there; moreover, to the lives of those dogs and other fellow species.
With the introduction of Facebook, Twitter and other social medias, the concept of pen-friends lost value these days. But still I request you to be in touch.
With smiles, Kamalesh"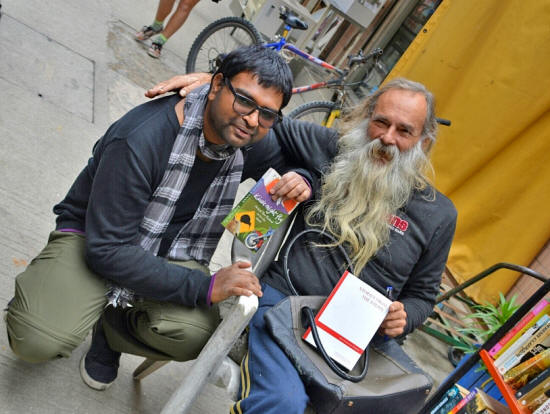 P.S. It's quite entertaining how much online/social media exposure Nick the Luddite is receiving from so many people, despite not having any computer, camera, mobile phone or anything beyond a Gmail account. He uses Gmail exclusively and only once every 1-2 weeks on the free, public PC in the very friendly environment of Green Cottage.
P.S. II: Nick's HK Sevens review!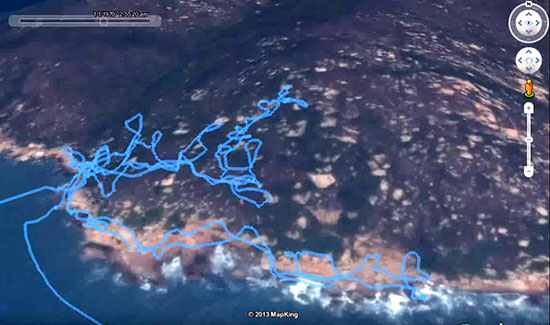 This is the actual path a Four Peaks Race team took from their sailing yachts up and down Mt. Stenhouse a few years back, recorded on their GPS trackers. They prefer to remain anonymous, for obvious reasons. A fellow racer, also anon, writes:
"The team lost where they were in the dark and they dropped their runners in the wrong location, one bay to the west of the waterfall.
Their plan was to pick the runners up again somewhere further east, probably Shek Pai Wan, and so by the time they realised they were in the wrong place their yacht and kayak had gone.
They tried to get round to the right place, but failed as you can see, eventually being picked up and dropped at the right place by a race photographer's speedboat, if I remember correctly.
They completed the climb but had to retire from the race because they'd received outside assistance which is forbidden. They were awarded the Spirit of the Race award for their efforts.
The yacht came in for the drop at 1:03am and ended speeding off with the photographer at 2:54am. Two happy hours of being beaten up by Mount Strenuous in the middle of the night!"

Latest update about the ongoing struggle of our Pak Kok wild boar family to raid the garbage bins at night. View the story so far.
After removing the well-locked Boar Bin, our hard-working, diligent but cheerful Lap Sap ladies have secured these waste bins with bamboo poles, sturdy ropes and big rocks.
So far, to my amazement, these have been holding up against the boars' raids, trying to topple the bins over - unsuccessfully so far - to feed on all these tasty morsels that we've simply discarded. But the boar babies are always hungry...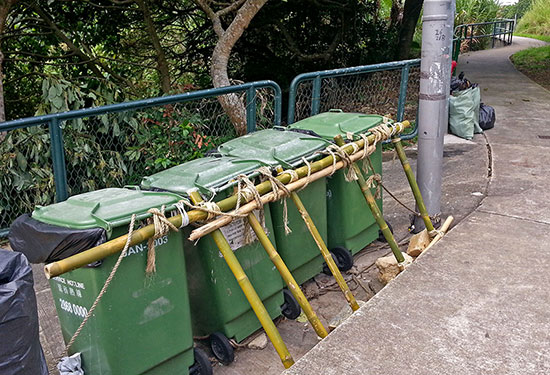 By the way, below is a chart of what can be recycled in our increasingly numerous, designated glass and recycle bins. If the collected materials ever reach the recyclers or simply get dumped into landfills has been a matter of long-running, local debate. Join in!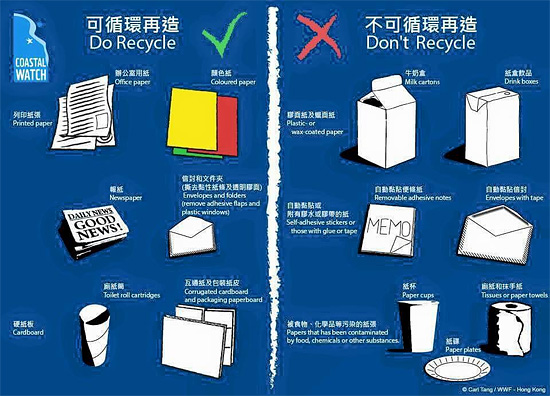 P.S. Germany just beat HK in the Rugby 7s right now as I finish this story while listening to streaming RTHK live radio. After this 1:2 loss of our HK Boars above, this rugby loss is just another unexpected surprise! Next round!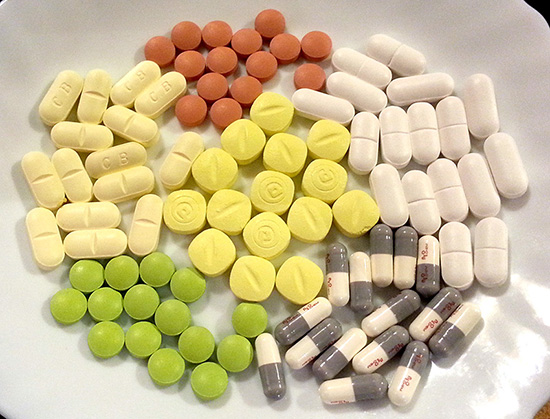 When buying pills in a pharmacy for my severe toothache after an extraction (running out of the only 4 Panadols the dentist gave me), this is what they gave Lamma-Por. All in a single, unlabeled bag:
SIX different, non-descript, probably generic, colourful pills/capsules without names, labels or any description or instructions, besides a verbal-only "Take 1 of each color three times a day." Swallow all or suffer severe pain!
In the Lamma Clinic they'd at least give you free pills and their names. They'd also be individually packed, with instructions on each package and an indication of what each is supposed to do.
But the pain was too severe to ignore these anonymous, mysterious pills, despite my severe misgivings and worries. No side effects noticed and my pains subsided temporarily. Feeling lucky, but I loathe to gamble with my still excellent and usually all drug-free health.
More dentist appointments coming up...

There were a few unwelcome visitors in our balcony garden: brown, angular Stinkbugs flying in very clumsily and noisily, then laying eggs on our laundry. Onto Lamma-Por's jeans this time, laid while they were drying on our balcony railing.
She wasn't amused and slightly spooked when she caught the eggs, fortunately well before wearing the jeans. It's breeding season and Lamma's usually pretty benign nature comes ALIVE and tries their best to invade our homes via any nook, cranny exhaust fan or drainage pipe!
The Stinkbug hatchlings would look like little, red-eyed spiderlings. I saw them hatching on our former rooftop's blue/white/red-striped cloth wardrobe (Photos somewhere in my 15-year archive). The hatchlings would look weirdly charming, like so much of Lamma (wild)life...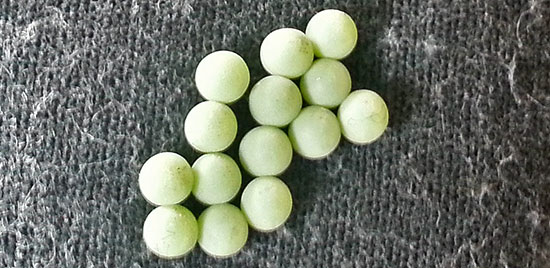 Often flipping over when landing, Stinkbugs seem to have a very hard time getting back up!
My pictures caused some very informative feedback in our pretty new Lamma Island Hong Kong Facebook group!
Above is the Stinkbug I caught in the act of egg-laying this morning on another piece of our laundry, a laundered T-shirt I was just folding!
"Flick, don't pick!", otherwise these bugs might burn you!

Look what I found on AllThatJunkHK.com, by Steve Karlsberg!
(This is obviously a pseudonym by one of Lamma's many Carlsberg aficionados, preferring to remain anonymous. I'm currently trying to sweet-talk, umm, convince him/her to write more for the Lamma-zine.)
Steve's great list covers quite a few aspects of the Lamma experience, the non-touristy, mostly non-Chinese experience. It's a very different experience for some of the 70+ nationalities living here, all part of a really vibrant, multi-faceted and multi-opinionated community.
I've just scratched the surface, even after 14 years of almost daily Lamma-zine stories (archive). A few excerpts from Steve's list, courtesy of AllThatJunkHK.com, read the full story here...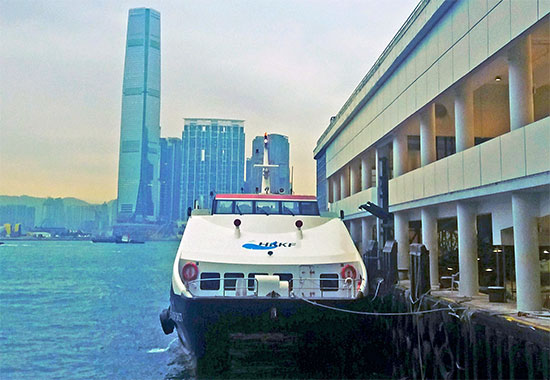 As part of a new series, All That Junk highlights Hong Kong's upcoming neighborhoods. We continue our exploration on one of Hong Kong's many outlying Islands, one of great character and, umm, infamy...
1. We Know How Awful We Sound When We Talk About Lamma
...about how we're all constantly BBQing and paddleboarding and having late night sing-songs around a campfire down on the beach. I get it. It's incredibly obnoxious to have to listen to, and it makes Lamma Island sound like some shitty hippie commune blissfully unaware of the fact that it's just another part of one of the most brutally capitalist cities ever built. But we can't help ourselves...
2. Lamma People Are Often Really Fucking Grumpy
Despite often claiming to live in paradise, there's nothing Lammafolk enjoy more than a good grumble...
3. We Don't All Know Each Other, Except We Sorta Do
The way relationships work on Lamma is mildly odd. There's obviously a higher proportion of gweilos and expats than in other parts of Hong Kong,...
4. The Power Station Is Our Friend And Protector
5. Sometimes, Lamma Is Trying To Kill You
We've got poisonous snakes, giant spiders, feral pigs, and centipedes so big they could bite your thumbs off. And in addition to that, there's the dogs...
6. It's An Actual Neighbourhood
Lamma is certainly its own bubble, but most of the time it's one I'm very proud to call home. Which brings us right back to point number 1.
7. BONUS TIP
If you really want to annoy someone who lives on Lamma Island, just refer to it as a suburb.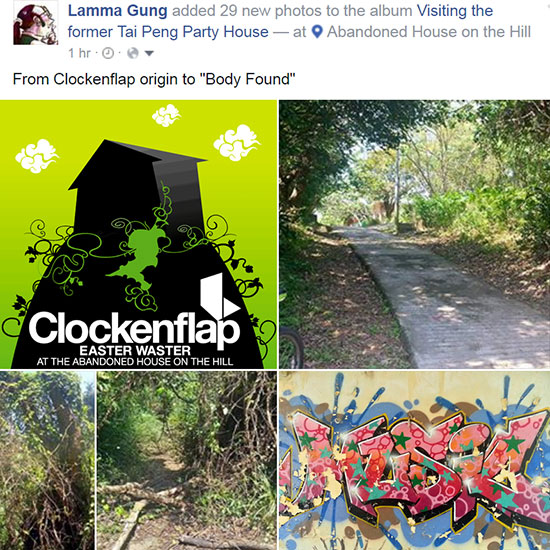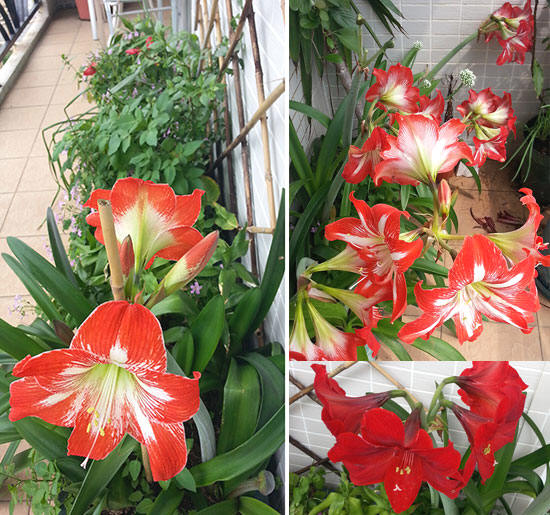 Lamma Hippies are blooming on our balcony in my severely downsized "Lamma-Gung's Rooftop Jungle".
Hippie Bulbs will still be available for the next few weeks. I bought mine last year and this resilient bulbs remained in my MicroGardens on our balcony, outdoors all this "cold" winter, no special care. All seem to be re-blossoming this month. Great value for money! A few stems have 5 or even 6 blossoms, unlike the standard 4.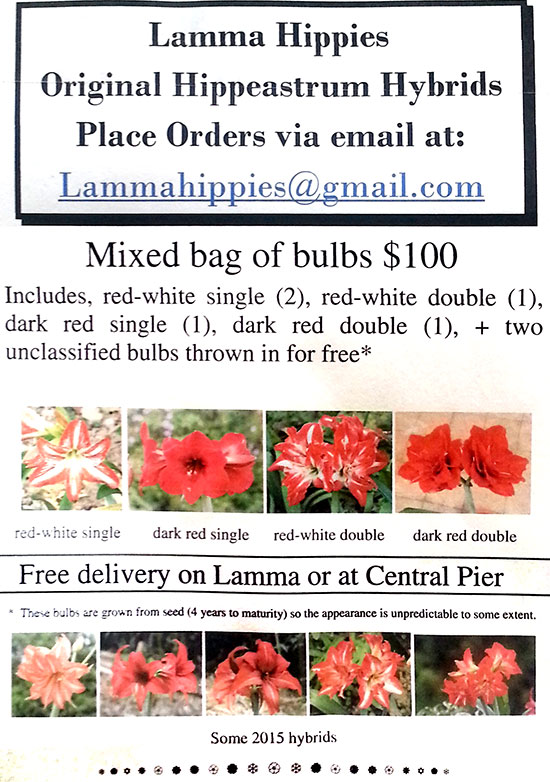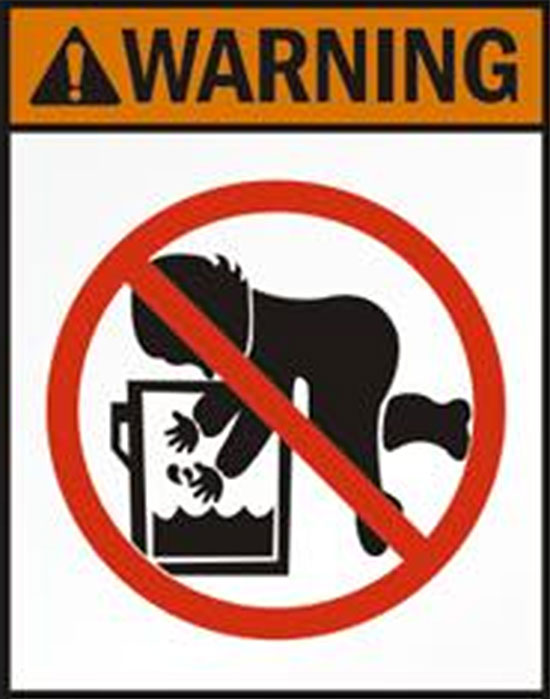 Lamma Ferry Pier 4 in Central: a sign inside the departure area toilet. The toilet has FINALLY (!) been renovated, after years of being smelly and often flooded, with a usually defect flushing system, with buckets of water for manual flushing.
The renovation only happened right after a number of frustrated users complained via the TellMe@1823 app.
Try it for the numerous nuisances we have to endure on Lamma. It seems to be the best way we've found so far to get meaningful feedback and even quick action sometimes from Govt. depts. It seems to have worked in this case.
But we are not sure if this sign above is new and what it means?
What do YOU think? Ideas and answers:
Anyone know what this sign means?
P.S. The very best answer so far has been provided by Geoff Smith! His suggested meaning is this story's title. Congrats!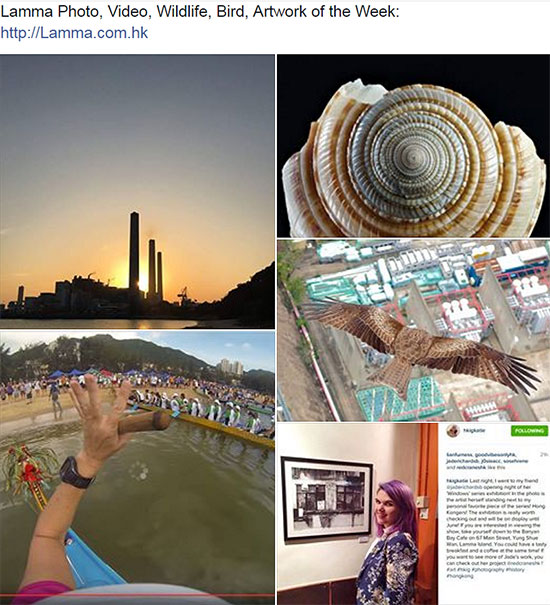 Lamma Spotlights of the Week, April 1, '16:
| | | |
| --- | --- | --- |
| PHOTO | | by Ziaudeen Mahmood |
| VIDEO | | by Claudia Tarr |
| WILDLIFE | | by Rambler |
| BIRD | | by Andy Griffiths |
| ARTWORK | | by Jade Richards-Butler |
---