Robert, from One Million Words writes:
"If you had HK$50,000 to spend on a community project that will benefit all of Lamma, what do you suggest it be spent on? Serious answers only, please."




These new banners from the Lamma police force are appearing all over the village. I obviously love the "East meets West" banner, with 70+ nationalities present on Lamma, so many skin colours, languages, beliefs and religions.
---
While watching the first Village Vehicle banner (No passengers!), I saw another VV speeding by, just 3 passengers. Up to 8 passengers have been reported to me just yesterday and I've seen them even on the Family Trail, well beyond the official boundaries and time limits.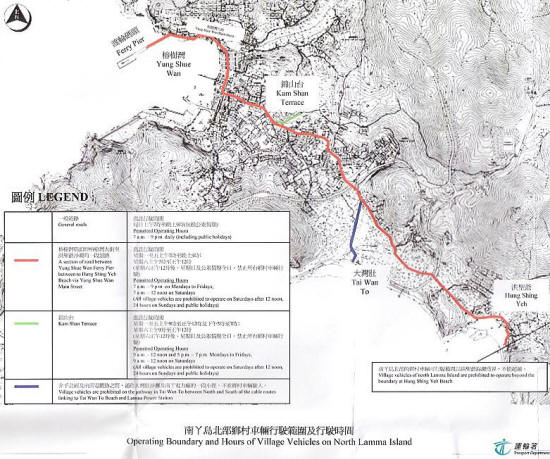 Well, it's the only transport on our car-free island, some exceptions might be necessary. Walk or take a bike, even electric bikes or hoverboards are illegal here, anything powered, except electric wheelchairs! I've never hitched a ride on a VV yet, but this one below looked mighty comfy. No passengers observed: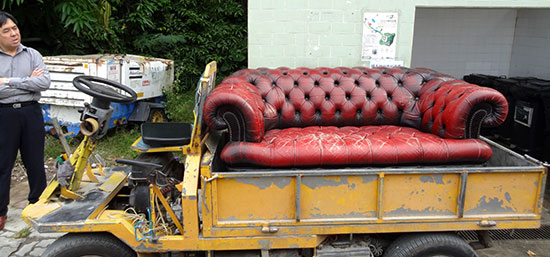 I've even spotted supposedly (?) aquatic (photo courtesy of Jean Gorguet) and junior versions (?) during my bike-hikes. According to our police, you need to be 18 to apply for a license.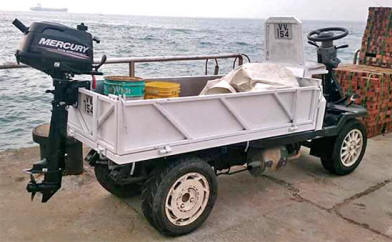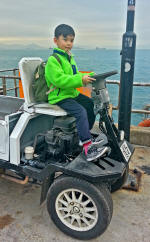 But do you need to be related to or working for an indigenous resident, to get a driving license for any of the strictly limited number of VVs on all of Lamma (a few dozen, below 100)?
Love my (non-electric) bike. Anywhere, anytime on Lamma, my motto!
P.S. Apr 22, '16: A new record, 5 VVs in motion at the start of Back Street?! Photo by Deric Probst-Wallace:
"Down town Yung Shue Wan in rush hour today. Makes me home sick for Causeway Bay where life was so much simpler."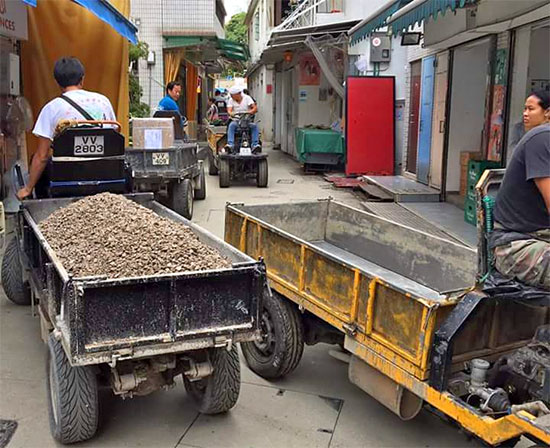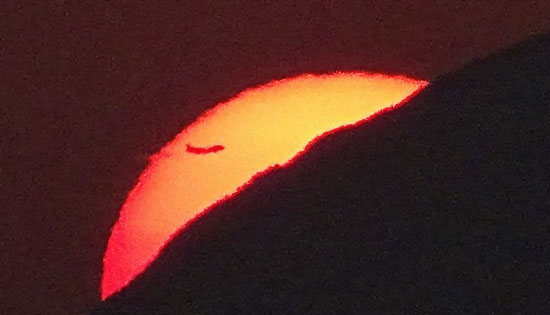 Did I get lucky at sunset tonight and this is a plane? Not sure...
72 Likes and quite a few comments later, this might have been a 747! I didn't notice it when shooting lots of ultrazoom sunsets from my rooftop. Even an amateur can get lucky sometimes...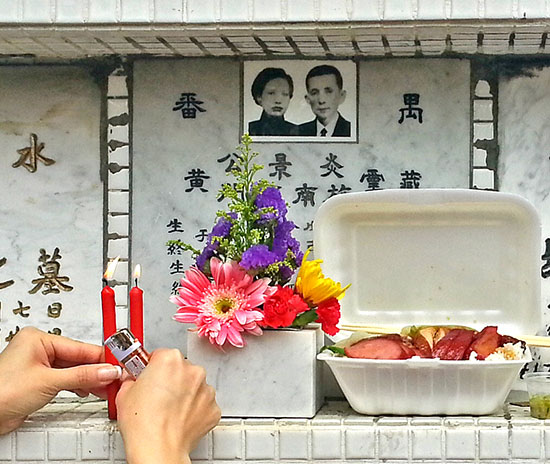 Visiting the grave of my HK-Chinese wife's parents, one week before Ching Ming holiday next Monday, avoiding the crowds, together with her children and one of her grand-sons.
A simple niche in a six-rows-high Catholic Cemetery in deepest Kowloon, my own future? Or in the Lamma Garden of Remembrance, hopefully?
I only knew the mother, carrying her to hospital in my arms when she broke her hip in a HK Island car park, after she finally got used to the idea of her daughter having a gwailo boyfriend, 30 years ago. R.I.P.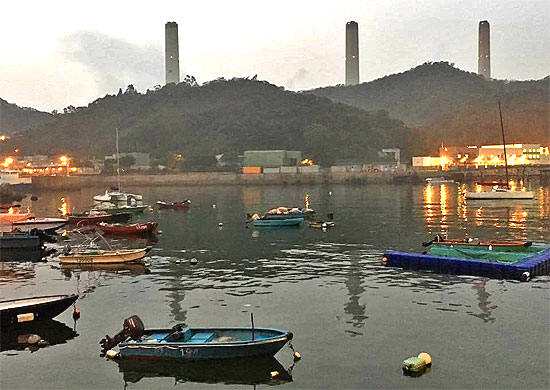 by Sharon A. Birkett, Official Court Poet, Good Friday
Happy Easter everyone,
enjoy your time on Lamma.
Home, beach, hills or village,
Whatever brings you karma?
Egg hunts here, egg hunts there,
kids are hunting everywhere.
Tomorrow - the beach at Power Station,
Check out Lamma-zine for information.
Some of you will go away,
Or friends and family come to stay.
Comedy night is coming soon,
Hibiscus plants will start to bloom.
Take a walk or run a mile,
Do what ya like for a while.
Happy Easter, Spring is here,
Be happy, cheerful, have a beer!
See more Lamma pictures, during this extremely busy, touristy Easter.
P.S. Over 100 Facebook Likes for this poem already!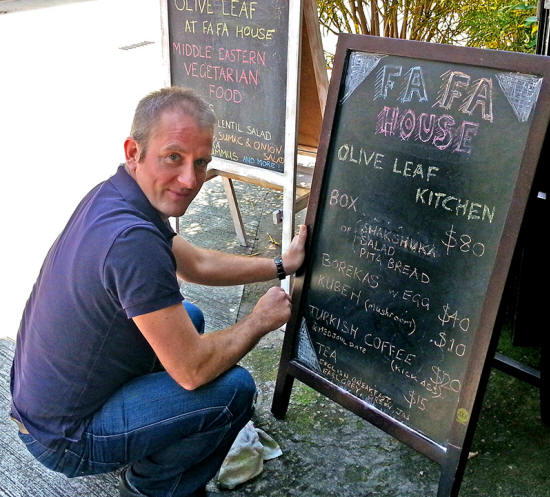 Jack writes:
"Hi! Ayelet will be cooking this Saturday in Yung Shue Wan. Do come down, say hello, and eat her lovely food.
Fa Fa House is opposite the LAWC dog charity shop on the path on the way to the beach; from morning until sold out."
Click on the photo above for more details of this and other Lamma Bar & Restaurant News.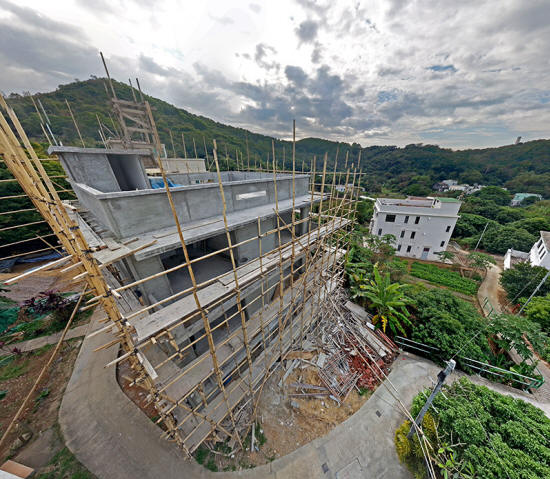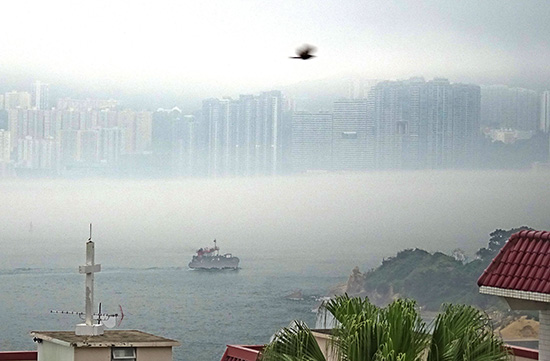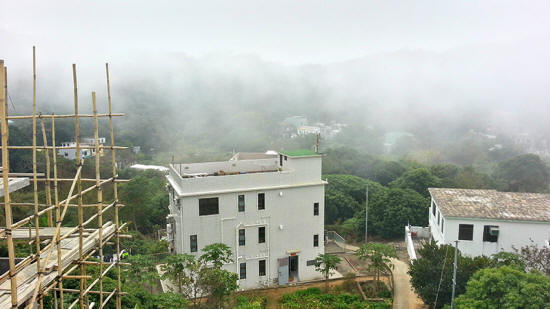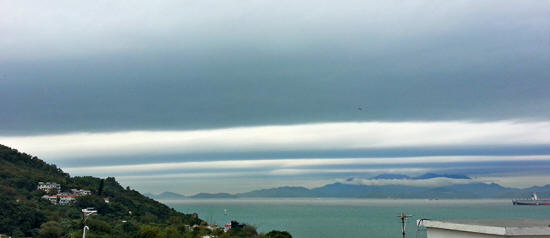 Some recent pictures (no sunrises/sunsets this time!) taken from my rooftop, overlooking Pak Kok, Lantau Island, Central, East Lamma Channel and South HK Island. Expect more pictures of these ever-changing Lamma rooftop views for at least another 2 years...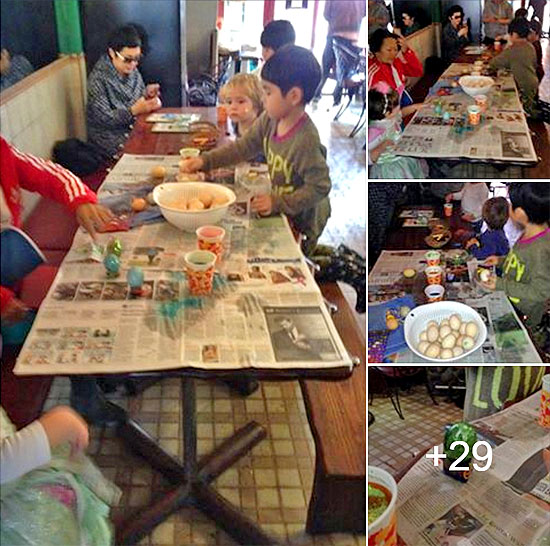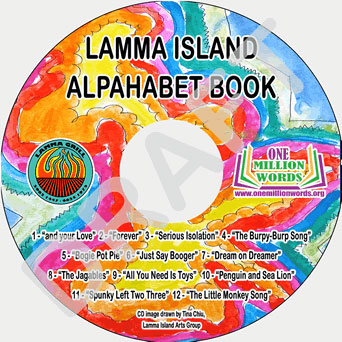 Robert of the One Million Words charity (behind all these weekly events):
"Easter Egg Party for kids
Wednesday 3:00pm till 6:00pm - Lamma Grill
$100 per child. Includes Lamma Colouring book. Pack of crayons. Easter Egg painting. Story telling by Lynn from Ancestral Voices. Chocolate Easter Eggs and a small juice drink.
Easter Egg hunt if weather is permitting.
Each book will come with a packet of 12 crayons and a CD with 12 children's songs on it.
We would like to thank: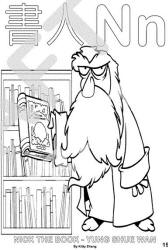 Ben Appleby; Dina Battad-Knight; Donsergio Que; Karen Mead; Katie Lee Dowson; Kitty Zhang; Rachel Scott; Robert Hope-Jones; Samantha Leigh; Sjouke Desmet; Tamara Norris; Roz Keep; and Tina Chiu for artwork."
Grab one of the wonderful Lamma Island Alphabet booklets, free to every child at the party!
Or grab it afterwards in the Lamma Grill for a donation.
Click on the booklet cover above for a look inside.
This is definitely the very best B/W showcase of Lamma Artists who have illustrated this charity booklet for free!
We hear that there might be an adult version or even a weekly-calendar version coming later this year!
P.S. The typo in the CD title above was caught in time and corrected. It's a reading charity after all.

James Durston writes:
10 tips. If you want to blend in while on Lamma, please obey the rules:
1. Ferry Timing Expertise
Chances are, if you ever see someone sprinting for the ferry, they're not a true Lamma veteran. The ferries are such a huge part of Lamma life the residents have all learned how to catch them with minimum seconds to spare, turning up just as the bell claxon deafens you from overhead.
2. Main Street Frustration
The exception to rule number 1 is during weekends, when hordes of tourists dawdle, meander and dilly-dally up Main Street, perusing every plastic trinket/over-fried morsel in every shop window.
In these circumstances, you can spot a true Lammaite by his glowing red frustrated face as he slaloms up the alley en route to the ferry, cursing quietly about the bastard tourists ruining his home every weekend.
3. Construction Indignation
If you want to be a true Lamma local, you must be wholeheartedly, definitively, absolutely and unequivocally against any form of construction project at all ever on Lamma.
From the luxury apartments of the West Lamma Channel, to the marina slated to be built sometime soon or never, to the bicycle park by the pier, to a neighbour's "illegal" roof conservatory, to the barely implied suggestion of a rain shelter, the true Lammaite boos, hisses and winces at their mere mention. Sand castles on the beach are tolerated, for now.
4. Internet Depression
Besides the hordes of weekend tourists, the main bane of Lamma life is its shitty Internet speed. If you listen carefully you can often hear a chorus of complaints erupt across the island every evening around 8pm as residents return home from staring at one screen on Hong Kong Island, to immediately turn on their own screen at home, but find this one works a little bit slower.
5. Digitally Dependent
Ironically, considering rule 4, Lammaites are addicted to the wide web of the world. From the Lamma-zine blog to dozens of Facebook groups, everyone from sellers, to buyers, to dog owners, to bird watchers, to eco warriors are catered for within the internet of things.
6. House Price Woes
We've mentioned the weekend tourist hordes, the episodes of construction rage and the eternal Internet exasperation. If you covered them all and still want to see your local Lammaite explode in a bloody-faced fountain of wrath, talk about house prices.
Though still around half the price per square foot of a similar place in Central, say, the rise of rents over the last few years is a favoured topic among discussion forum plaintiffs.
7. Lovably Naff Events
Lamma is like a village out of an HE Bates novel. There's the butcher cutting up his pig every morning, the old lady selling sticky buns, and plenty of restaurants and pubs that provide a platform for the musical. The true Lammaite treats a couple of guys strumming guitars in a pub like THE event of the month.
Lamma Fun Day – an annual day where people try to get rid of the crap they've accumulated in the last 12 months by sticking price tags on it and spreading it out on a road near the beach – feels like an event of Olympic proportions. The true Lamma local is amazed and somewhat perplexed that somehow this monstrous occasion goes off each year without anyone getting arrested.
8. Enjoying It ... One Day
Lamma is a haven, with great beaches, wonderful seafood restaurants and fantastic hikes. To be a true Lammaite, you must ignore these entirely, intending to one day maybe do something that makes the most of this place, but never quite getting around to it.
9. Avoiding The Police
Life on Lamma can be slow. The police get very bored. The most pressing crime last year that needed crushing out of existence was the non-use of a headlight while riding your bike.
So true Lammaites know to avoid involving the police wherever possible, for fear of being swept into an hours-long marathon of form-filling, question-answering and other bureaucratic tasks that allow our resident authorities to go home at least occasionally feeling like they earned their wage.
10. Secret Wish For Fast Food
The true Lammaite will swear Lamma is better for having no McDonald's, Subway or Cafe de Coral. But don't believe him. Deep down he longs for some greasy, over-salted junk eating to accompany that third pint of Lamma Island Pale Ale.
A BIG discussion of these very controversial rules started immediately in the Lamma Residents group!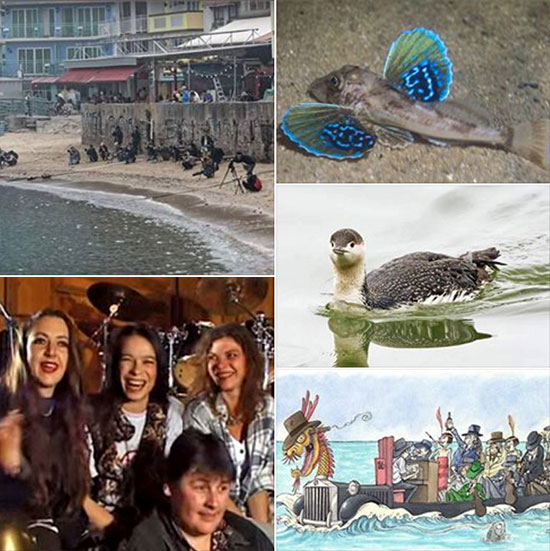 Lamma Spotlights of the Week, Mar 22, '16:
| | | |
| --- | --- | --- |
| PHOTO | | by Guy R.H. Miller |
| VIDEO | | by Moray Wedderburn |
| WILDLIFE | | by Krzysztof Kazala |
| BIRD | | by Neil Fifer |
| ARTWORK | | by Harry Harrison |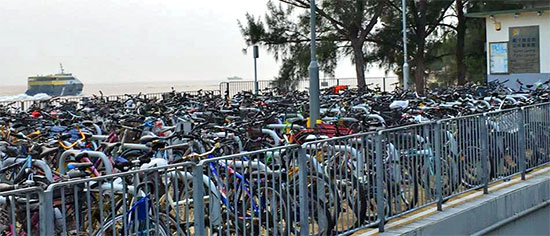 by Sharon A. Birkett, Offical Court Poet
By Lamma Library, near to the pier,
A Bike Park resides, but it's brought little cheer.
A good idea, there is no doubt,
but whoever designed it deserves a clout.
Bikes are stuffed in, bikes are stuck,
if you get yours out, you're in luck.
Cuts and scrapes from others' pedals,
The Bike Park's a challenge without the medals.
If unfortunately a crime is committed,
No chance of justice - CCTV was omitted.
So at bikers' peril and own risk,
Or give up our bikes and walk rather brisk?!
Soon the old library will be replaced with a new
Construction, may take a year or two.
VVs and workmen will swarm this place.
The Bike Park is doomed, it's a feckin' disgrace!
Read more about the long history of this Bike Park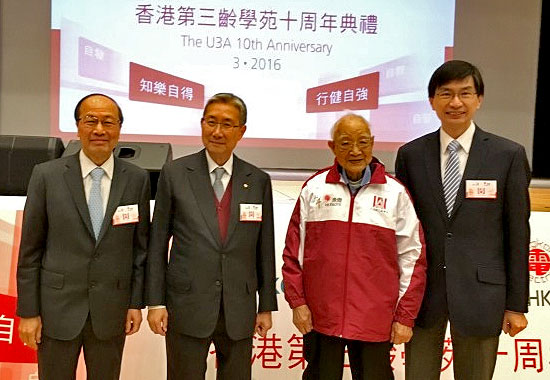 "Founded by HK Electric and the Hong Kong Council of Social Service (HKCSS) in 2006, the U3A Network of Hong Kong (U3A) today (17 March) celebrated its 10th anniversary and encouraged more retirees to take an active role in community affairs.
Driven by the "Learning for Pleasure" motto, U3A has organised more than 4,600 courses in its first decade, providing more than 70,000 learning opportunities for local retirees. The network now comprises 48 self-learning centres throughout the territory...
In fact, U3A students have been contributing to different social discussions over the years, putting forward their views on topics including silver hair market development, protection of elderly consumer rights and cardio vascular fitness..." Read more:
University of 3rd Age Envisions Greater Participation in Community Affairs

Intriguing news from HK Electric:
The Smart Power Campaign lifted the curtains on this year's "Happy Green Community Ambassadors" programme that aims to help youngsters develop at their early age the right attitude towards conservation, and encourage them to promote green...
Explaining all this at the campaign's launching ceremony, General Manager (Public Affairs), Ms. Mimi Yeung, said HK Electric would be providing training to secondary school students to boost their green knowledge as well as presentation skills.
"HK Electric has always been committed to environmental education and these young ambassadors will be trained to conduct guided tours at roving exhibitions. We will also identify outstanding ambassadors and offer them the opportunity to shadow our environmental engineers. For example, they will be allowed to join in collecting environmental sampling data at our Lamma Power Station," Ms. Yeung said.
The "Green Energy Dreams Come True" Programme that was launched last year will continue to be one of the highlights in 2016. "Last year's programme funded 12 projects and we hope to encourage more secondary school students to submit innovative ideas to promote renewable energy, energy efficiency and sustainability and bring their green projects to life," she added.
There will be no limit to the type of projects submitted. Possible entries could include installations, models, art pieces, computer games, short movies, exhibitions or other promotional activities. All secondary school students are welcome to form teams and submit their proposals by 11 April 2016.
Members of the advisory committee of HK Electric's Education Fund will then select not more than 10 teams with the best proposals. Each team will receive seed money to a maximum of $50,000 for implementing these projects...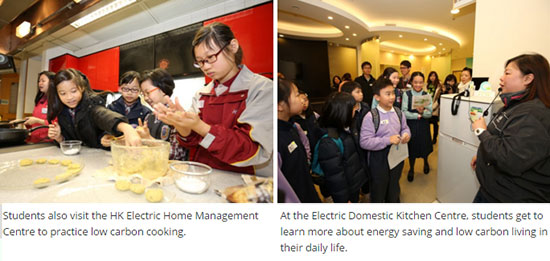 Another core element in this year's Smart Power Campaign is the "Happy Green Schools" label programme. Participating schools can enjoy a wide range of activities including visits to Lamma Power Station, Lamma Winds and Smart Power Centre; "Green Campus TV Training Classes" and social media training co-organised by the Hong Kong Federation of Youth Groups Jockey Club Media 21 (M21), as well as school talks and eco-tours.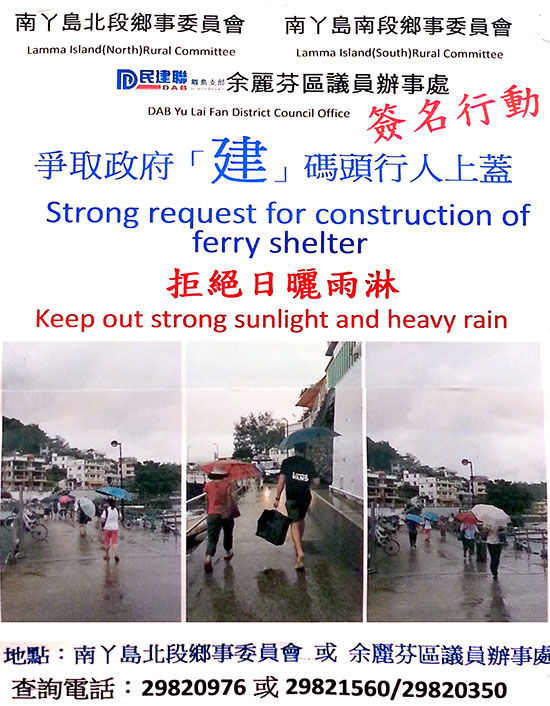 Following the signature campaign, organised by Lamma's District Councilor (for non-indigenous residents) and our 2 Rural Committees on March 7-10 on YSW Main Street, this "Strong Request" has generated a lot of very strong opinions. Add your own comments:
No worry for now about this pier cover for now, extending from the terminal almost to the post office. It won't be happening any time soon, as it's just another request, not even a plan or project by the Govt. yet to actually build it. It might take quite a few years to happen, if ever, after the finally completed Bike Park and the library at the same ferry pier being started to be rebuilt any day now as a $50 million, 3,600sqft building.
But construction projects like this ferry pier roof often started out as "Strong Requests" and signature campaigns like this one, e.g. 2:30am ferry, Helipad and Fisherman's Market outside The Waterfront. We'll need to keep a watchful eye on this old idea, amongst all the other Strong Requests on Yu Lai Fan's wishlist, err, Lamma Dream report.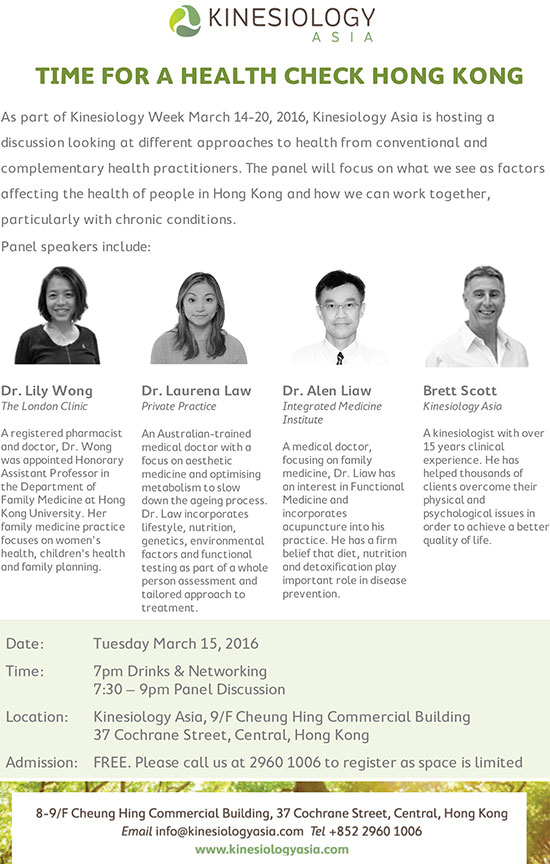 Click above to learn more about their free intro session this Tue and Thu, 9:30am - 7pm, close to the Central MTR, or RSVP the discussion and drinks above.

One of the more unusual photos I receive here at the Lamma-zine almost every day was the one above. What's this got to do with Lamma/Lammaites and what is it? Click above to find out, if you CARE and/or are looking for JOY. More pictures...
HK Electric writes:
"We are very pleased to have the continued support of the newly elected District Councils, Lamma Rural Committees and our NGO partners, and we expect to reach out to 850 single elders in 2016," he added.
Those officiating at today's function included the Chief Social Work Officer (Elderly) of the Social Welfare Department, Ms. Lilian Cheung; Chairman of Southern District Council (DC), Mr. Chu Ching-hong; Chairman of the Lamma (North) Rural Committee, Mr. Chan Lin-wai; Vice-Chairman of the Lamma (South) Rural Committee, Mr. Kwok Tam-fook;...
Initiated by HK Electric, CAREnJOY has been supported by the Central and Western DC, the Wan Chai DC, Southern DC, Lamma North and South Rural Committees. The monthly home visits have been coordinated by eight NGO partners including the Aberdeen Kaifong Association, the Caritas Hong Kong, the Hong Kong Outlying Islands Women's Association Lamma Division,... Read more...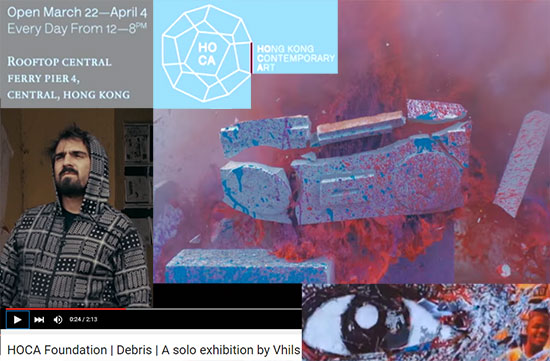 A solo art exhibition on the rooftop of the Central Ferry Pier 4 to Lamma! A real first, I think, after all this top luxury brands (Prada, Luis Vuitton, etc.) showing off their frocks, goodies and handbags, unaffordable to most Lammaites.
At least, these rooftop shows help to subvention the ferry routes as HKKF can keep all the rental income from renting out the ferry piers. It can cost over HK$1 million/month to rent, as I've heard from friends who tried to rent, but couldn't afford it.
Learn more about this Vhils: DEBRIS exhibition from HK Contemporary Art centre.
Watch the most interesting exhibition video (from where I grabbed and collated the photos above); stop by the free exhibition on Mar 22 - Apr 4.
HKKFerry co., more of this type of events, please!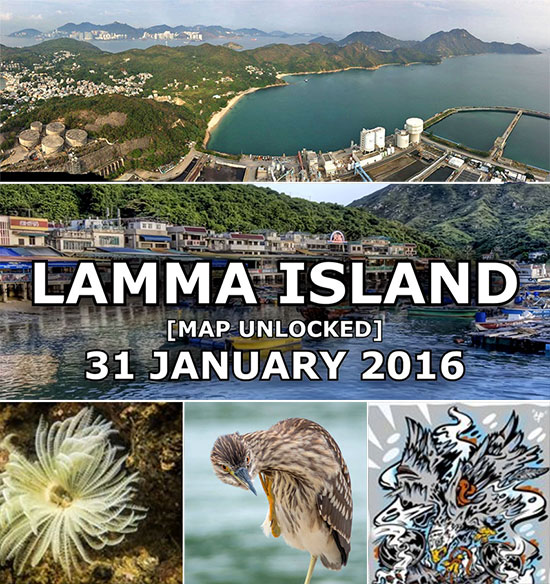 Lamma Spotlights of the Week, Mar 10, '16:
| | | |
| --- | --- | --- |
| PHOTO | | by Andy Griffiths |
| VIDEO | | by Michael Galang |
| WILDLIFE | | by Krzysztof Kazala |
| BIRD | | by Howard Sheard |
| ARTWORK | | by Us Ed Pencil |

Click here to find out where and ask questions. You might have seen their BIG non-virtual banners on YSW Main Street or inside the ferry pier? Some amazing and surprising charity events coming up!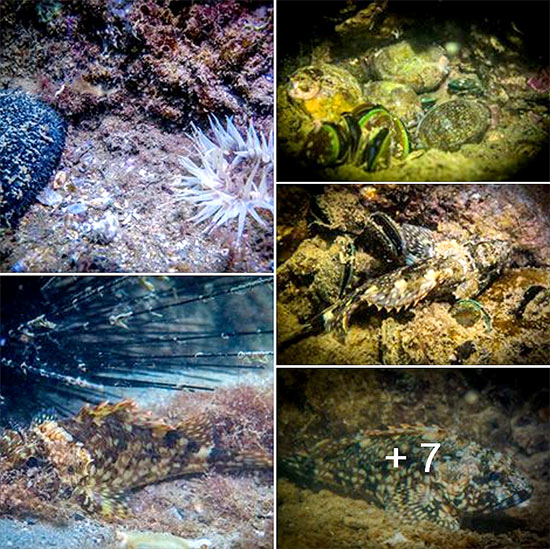 by Krzysztof Kazala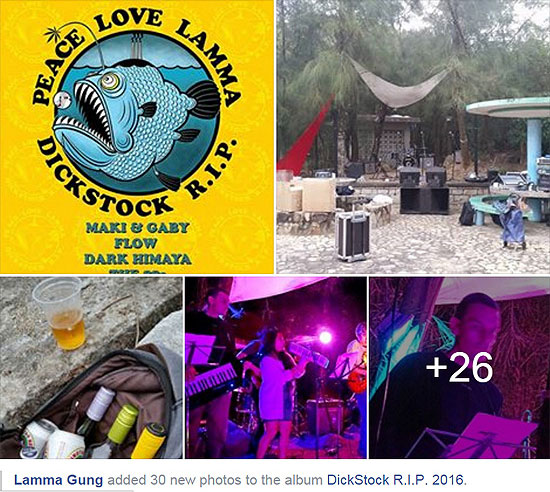 More pics, videos & comments from last night...

Meeting Lammaites up to today who have NOT heard of DickStock R.I.P. tonight, here's one more last-minute promotion: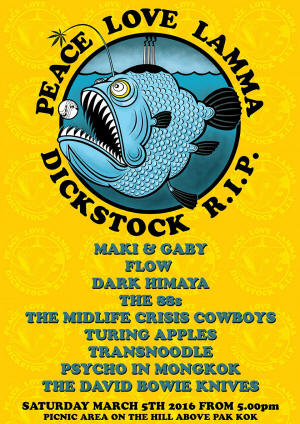 5pm tonight, just up the hill from the Pak Kok Ferry Pier, sax player Anthony's girls Maki & Gaby will be opening this major, longtime Lamma festival tonight.
Dark Himaya, local celebs!
Senior Lammaites with the ever-changing band name: The Midlife Crisis Cowboys feat. Harry Harrison (who's also designed the event poster, as he's done 6 (?) times now!
The incredible David Bowie Knives I loved at Clockenflap!
Lamma Legends Transnoodle, reuniting several times over the years!
Flow! The 88s!
Turing Apples last seen at Lamma Fun Day, I believe!
Psycho all the way from Mongkok!
Several of these groups have been performing all over Hong Kong! And it's all F R E E !!!
Be there or be square! Oh, do I reveal my age over this ancient remark? Anyway, ALL ages welcome! It's BYOB, no commercial aspects at all, just a private party. Bring in your own drinks and snacks, it'll be an exhausting and great fun party!
---
P.S. I Just received, a DickStock poem by our new Official Court Poet Laureate Sharon!
Today it's Dickstock it starts at five,
Take your own booze and snacks before you arrive.
If you ordered a T-shirt, take cash to the site,
Only one color: black with white.
Nine bands are set to entertain on the hill,
If you love Lamma and music, it will thrill.
You could take a torch and wear comfortable shoes,
Leave good stuff at home in case you lose.
Let's hope it stays dry, rain please stay away,
hoping for a fab Dickstock, come what may.
Let's have a great night, dance and sup,
Pre-thanks to the organisers and the line-up!
---
P.S. II These are some (all?) logos of former years, designed by famous HK cartoonists. Am I missing any?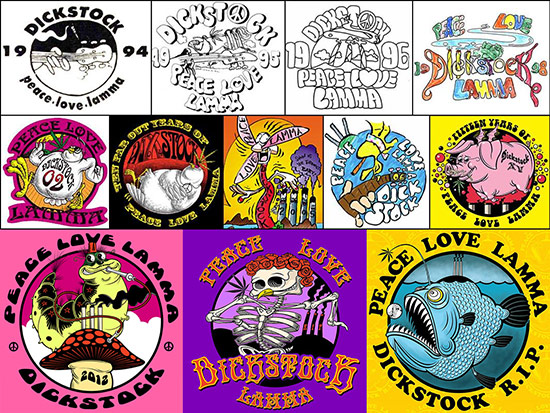 Will this be the R.I.P. concert of this long-running, famous and beloved Lamma music festival, after the founder's untimely and surprising death, Mr. DickStock, a.k.a. Richard Jones in 2014? This all started out as just his birthday party in the early 90s, inspired by Woodstock, of course.
R.I.P. Dick, your legacy lives on!

"...The leading boats had shown that whatever the winds, the Four Peaks Race is a challenge of endurance, skill, cunning and smart tactics.
But the biggest challenge proved to be for the poor souls manning the peak controls. Lantau Peak had expected to be done and dusted well before sundown, not hanging in until the small hours.
Lamma's Mt Stenhouse had expected their first business by late afternoon and for it all to be over by midnight or so...not nearer midday the next day. Teeth chattered. Supplies and water ran out...but runners were nonetheless met with a smile."

1998-2016 - by Sharon A. Birkett
My Lamma life started in Tai Wan To
when I shared a cool flat with a Canadian bro.
I'd placed an AD upon Bubbles Laundry's Wall
"Wanted room for rent" - I got one call.
When I saw it, I loved it, said Yes straight away,
moved my few things without delay.
Sitting on the roof top, with a vast view of green,
I felt so free if you know what I mean.
Some people seemed cliquey but a few I befriended,
BBQ's, beach parties, fun Lamma life never ended.
Read the rest of this poem, celebrating 18 years on Lamma!
---
Plus one more spectacular sunset, today: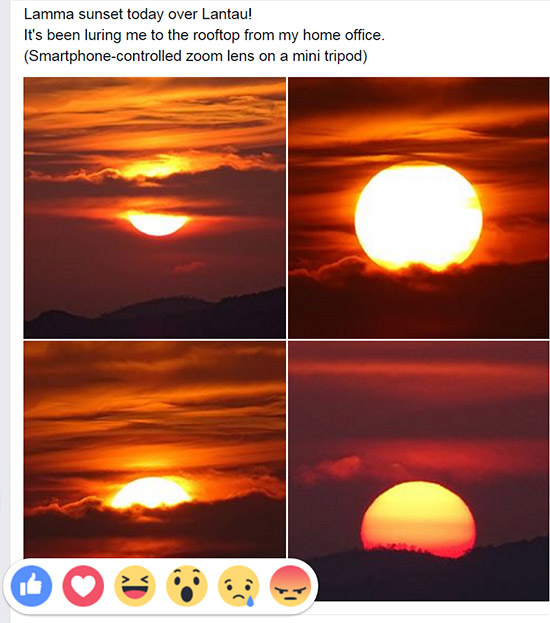 Lammaite & Tai Peng Garden founding member Skye the Teacher, Daydreamer and Lover of Hedgehogs has just published a wonderful children's book!
Hedgie The Day Dreaming Hedgehog:
A Nighttime Adventure
It's available now on Amazon! Backcover: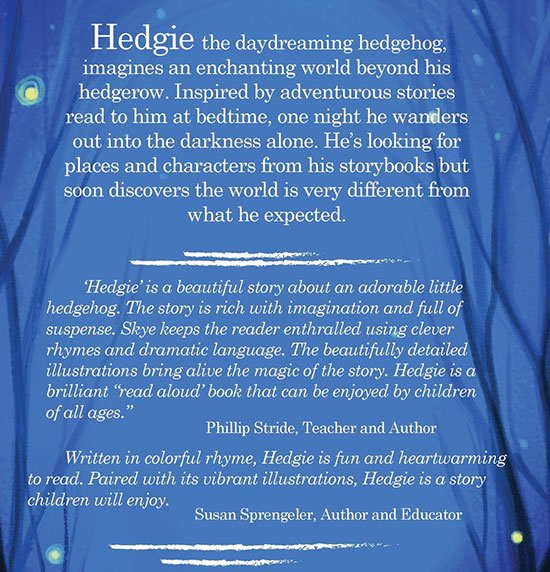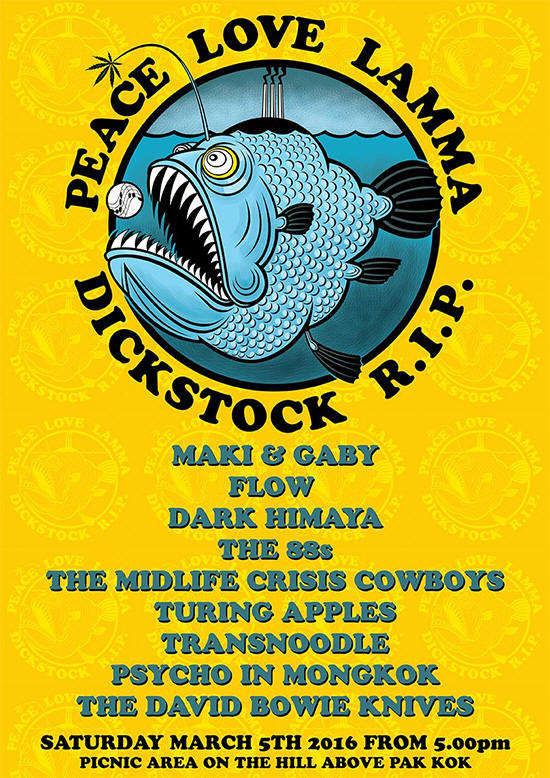 Have a look at this event last year in the same venue:
Peace, Love, Lamma. Dickstock 2015
Nick's 2015 review, plus more photos...
---