<!table cellSpacing="6" cellPadding="0" width="100%" border="0" style="border-collapse: collapse" bordercolor="#111111" bgcolor="#EFEFEF"> <!tr> <!td style="font-family: Verdana, Arial, Helvetica, sans-serif" bgcolor="#EFEFEF">

Alain's Party @ Diesel's (May 9, 2004)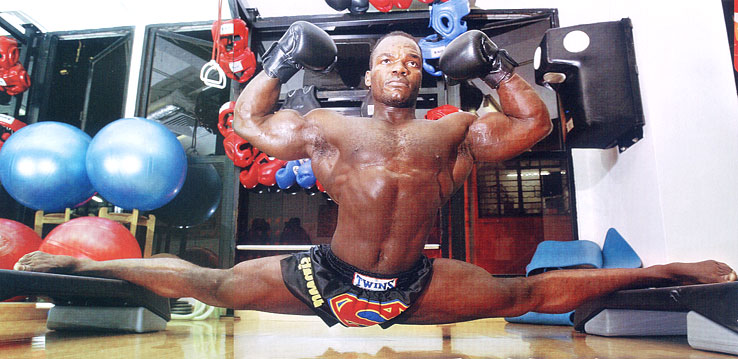 (photo above by Milk Magazine)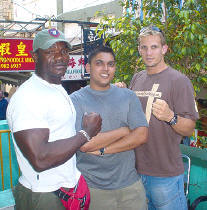 There's a super-heavyweight Muay Thai world champion living on Lamma right now and his name is Alain N'Galani! A trainer in the local Island Gym as well as in Fightin' Fit in Central, he won his title a few months ago in Bangkok (watch video). Diesel's organised a Sunday afternoon party to meet him, see below.
To read more about Alain's fascinating life & history, read some of the many interesting articles about him and his trainer Pierre that have been published in the SCM Post in the last several years. And no, the Lamma-zine will NOT comment on the recent legal troubles of Alain's trainer. They have unfortunately overshadowed Alain's triumph and stoked the fiery, local rumour & gossip mill for months, dividing the local community. The Lamma-zine refuses to get involved and the case is closed now. Let's celebrate Alain's achievement & great personality instead with one more photo gallery (photos by Steve Cray, Lamma-Gung & Dish (see right middle):
(click to enlarge)
---
Muay Thai Super-Heavyweight World Title Fight in Bangkok: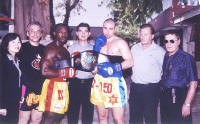 Photos by Steve Cray, supplied by Island Gym: Group shot with the local officials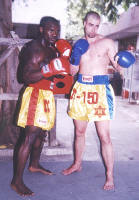 The two fighters before the match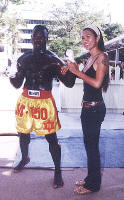 One of the famous ladyboys of Bangkok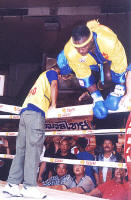 So eager to get into the ring!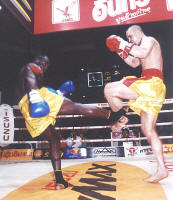 One of the winning leg kicks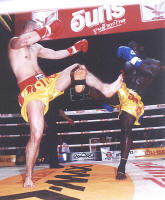 Another one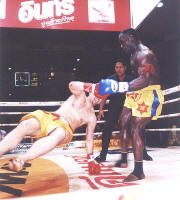 K.O.!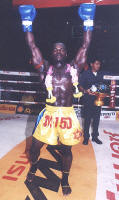 Victory!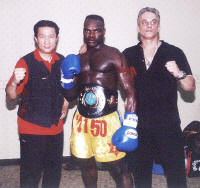 With Alex Tsui (ex-ICAC, Chairman of the HK Boxing Association)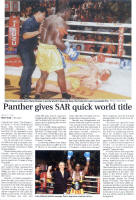 SCMP story on the world title win in Bangkok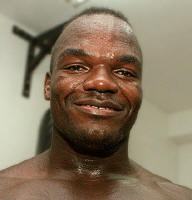 Still smiling after another gruelling workout (photo from SCMP)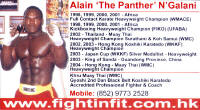 Namecard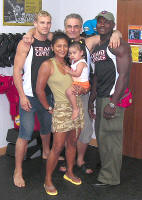 Family snapshots during my Alain interview in the Island Gym (3 photos by Lamma-Gung)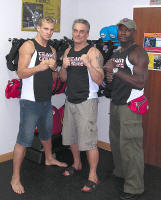 Nathan "Carnage" Corbett, Pierre Ingrassia, Alain N'Galani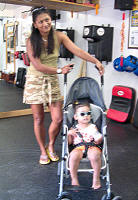 Pierre's wife & daughter, Angela & Montana
---
Party in Diesel's on Sun, May 9, 2004 - photos by Lamma-Gung: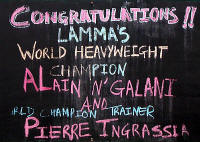 Blackboard announcing the party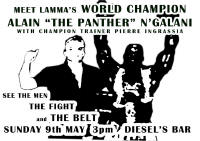 Party poster created by Dish, Moloy's son, a Photoshop whiz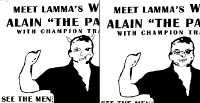 Graffiti defacing some of the posters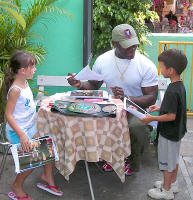 Alain with some of his young fans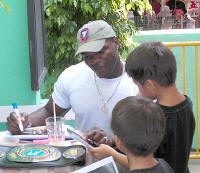 Signing autographs patiently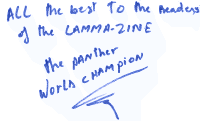 Dedicated to the Lamma-zine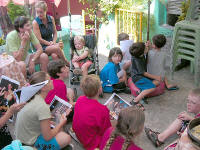 Many of them are students of the Island Gyn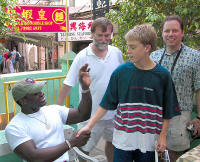 Local ice-hockey celebrity Andrew with his dad (middle, what's his name?)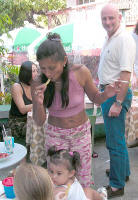 2nd Dan karate world champion & Pierre's wife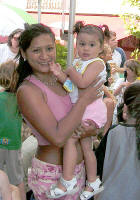 Angela and Montana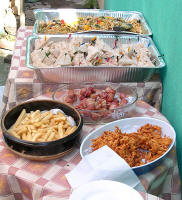 Free buffet sponsored by the Island Gym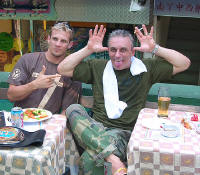 Temporary Lammaite Nathan Corbett and Pierre addressing his many detractors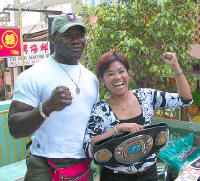 Lucy showing off her biceps (working out herself in the Fitness Centre)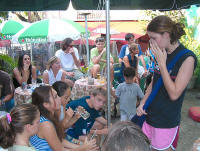 Quite a crowd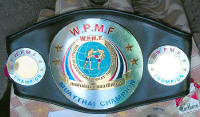 World Champion belt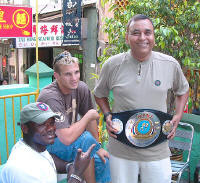 The belt *almost* fits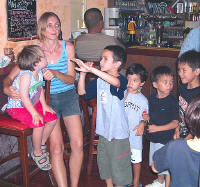 Inside Diesel's, the dart junior championship is in full swing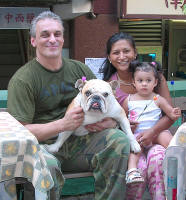 Family snapshot w/dog (Moo, the "bear-faced dog")
---
Party in Diesel's - photos by Dish (Moloy's son):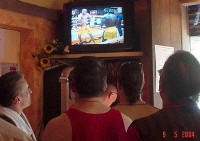 Watching the world championship bout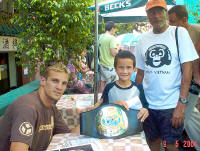 Nathan Corbett, temporary Lammaite, training for First Strike 2004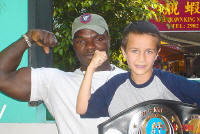 Showing off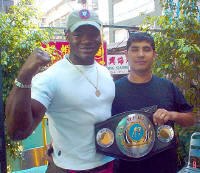 with Jack, Diesel's "star chef"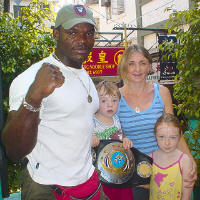 Fans of all ages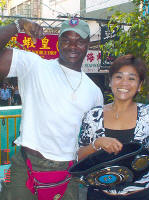 Lucy likes champions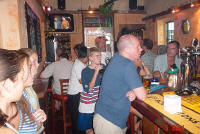 Sunday as usual at the bar...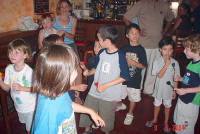 Line in front of the electronic dartboard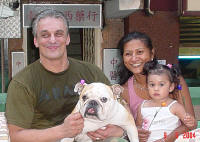 Another family snapshot, including Moo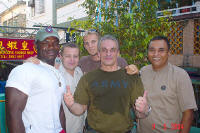 Tough guys?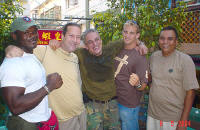 More tough guys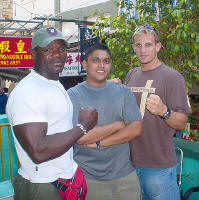 Alain, Dish & Nathan Corbett, surfer dude and champ from Sydney
---
Angela Manandhar - "Exotic Karate Fighter":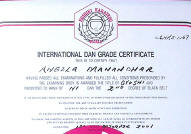 Angela, 2nd Degree Karate Black Belt, lawyer, trainer of Lamma's toddlers & the Dragonboat ladies...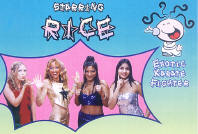 ...and member of RICE, HK's answer to the Spice Girls...

...performing at "Fun Dance Carnivals" and Muay Thai tournaments...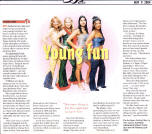 ...and being featured in the Sunday Post!
---
To send comments, get more info, get high-res files for printing, or to publish your own Lamma-related photos & galleries on Lamma.com.hk or in the Lamma-zine: email Lamma-Gung.

All pictures and text may be freely reproduced for non-commercial purposes only,
but only with explicit permission from the author, photographer or artist.

Commercial enquiries are most welcome! Last update: September 29, 2019 11:12 AM

© 2018 Lamma-Gung, Compunicate! Web Publishing, e-Marketing & Photography.
All rights reserved.

<!/td> <!/tr> <!/table>