Ads for Restaurants, Bars, Food & Misc.:





Follow-up: New section!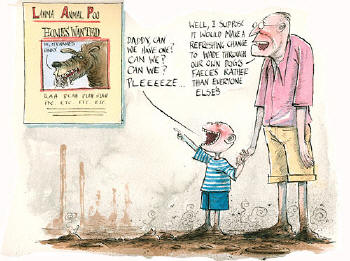 Frequently, I get interesting feedback on already published stories, or there's something new to report, or additional materials submitted, but it's not enough for a new full feature story. This section will follow up on formerly published stories with the latest updates & new developments.
• Harry's LAP cartoon (click for original story):
Harry's cartoon - the first one exclusively drawn for the Lamma-zine - was THE most popular item in the last issue!
I was asking for feedback from LAP and CLAW (Centre for Lamma Animal Welfare, formerly LAWC. Somebody suggested this new, much-easier-to-remember moniker. I like it and will use it in the Lamma-zine consistently from now on, even though the "official" name will remain LAWC). They both took the cartoon in good humour:
Sheila - LAP (Lamma Animal Protection;
motto: "Harmony between the human and non-human animals of our world, and a philosophy of respect for life"):

Thank you for your amusing cartoon about dog poo. We totally agree that this is an important community issue affecting both humans and dogs. LAP has made every effort to educate people on how to care properly for their companion animals, hopefully Harry's satire will result in cleaner streets ... at the very least people can use the cartoon to pick up the poo.

We are gratified that people know about LAP and that that they know we find homes for abandoned animals. However, the people in the cartoon would not qualify to adopt an animal from LAP because a good owner would clean up after their dog! Cleanliness is next to DOGliness. ;-)

---

John - CLAW President (Centre for Lamma Animal Welfare):

...stopping the dog poo problem is a major item on our agenda and anything that brings attention to it is welcome.

The main problem is people whose idea of toileting their dogs is just to open the front door and let the dog take himself for a walk. Personally, I wouldn't dare try to follow up Harry! far too hard an act to follow! But we shall put our heads together for something.

---

Elizabeth - CLAW Chair (Lamma Animal Welfare Centre, behind Spicy Island):

Just a note to keep you updated about what's happening at our Centre:

1. Weekly Feral Cat Trapping

As part of the Cat Colony Care Programme, we are doing a routine of feral cat trapping twice weekly on Monday and Thursday evenings. If you are interested in helping us, or if you know of some street cats that needed de-sexing, please contact us.

2. Aromatics for Pets -
Workshop with Shireen Calucin

Wed, 16 June in Bookworm Café.

Learn how to use essential oils confidently and safely on your dog or cat. Essential oils are powerful plant extracts with a broad range of antimicrobial properties and can be the first line of defence in preventative care to keep your friend in optimal condition. Miss Shireen Calucin is a qualified aromatherapist and has completed a course on Animal Aromatics at the International School of Animal Aromatics in Wales. Workshop Details: Date/Time/Venue: June 16 2004 at 1930 at the Bookworm Cafe; Cost per person: $50; Language: English. All proceeds are donated to LAWC to help the animals on Lamma.

We thank Miss Shireen Calucin and Bookworm for supporting our work. Please call us at 2982-0800 for enrolment.

3. Dog Tags

Give yourself peace of mind by giving your beloved dog a tag with name and phone number. In case he/she is lost, whoever found him/her can contact you immediately. Now available at our Thrift Shop for $40 only. Profits again go into our general fund to help the animals.

4. Thrift Shop

Apart from support of generous donors, our thrift shop is our basic means of raising funds for our work. So, please come and shop and bring your friends too! Also, remember us when you have something useful that you no longer need. Currently, we have loads of books, CDs and VCDs - come check out for yourself. We're just behind Spicy Island.

Thank you for taking the time to read about us. You can read more at: www.lammaanimals.org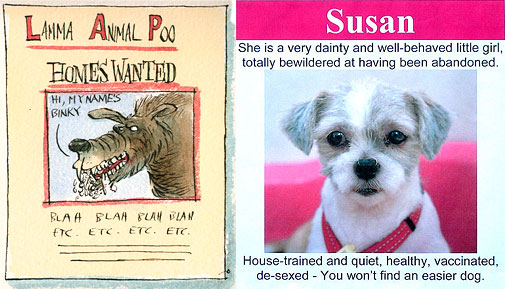 The quality of the ubiquitous pet posters (above) on the walls of Lamma has also dramatically improved recently! Could it be Harry's inspiring influence? Or did they get a new volunteer designer/ marketing person?
Specifically, the "Susan" poster from LAP (on the far right) is a prime example of pushing the envelope of Disney-esque anthropomorphism and extreme, over-the-top cuteness:
"Susan - She is a very dainty and well-behaved little girl, totally bewildered at having been abandoned."
Doesn't this just melt your heart into soft mush, staring into her big, black, sad eyes, causing an almost irresistible urge to call LAP right now to take care of "Susan"? Quite different from the aggressively slobbering "Binky" on Harry's LAP poster above! Which pet would YOU adopt? Maybe I should get LAP's talented writer to work for the Lamma-zine, writing stuff like:

"Lamma-Gung is a very dainty and well-behaved little boy, totally bewildered at NOT having been abandoned yet by his loving, lovely, lovable Lamma-Por. House-trained and quiet, healthy, vaccinated, but NOT de-sexed yet - You won't find an easier dog, eh, husband." Nah, maybe not!
• Cococabana story (click for original story):
Madame Shutterfly, one of several good & interesting HK-based weblogs, also visited the Cococabana in Mo Tat Wan recently. Here's her amusing illustrated account: at the co-co...coco-ca-ban-a!
• Dragonboating (detailed women's team updates from Claudia Tarr, Recruitment Officer, Lamma Dragons. Almost no info, results or photos from the men's team's races available so far.):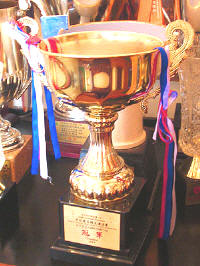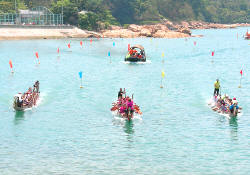 May 1, Stanley: Lamma Dragons won the first women's cup of the season at Stanley, organised by Stanley Residents Association. The men came 5th.
Results on this website; trophy on the left; winning photo from Claudia on the right (click to zoom in!).
May 11, Tin Hau Festival, YSW:
May 15, Dragon boating Bric-a-brac, Island Bar (click for photos):
It raised $5,000, which we are pleased with. All of the leftover items except clothes went to CLAW (Centre for Lamma Animal Welfare), the thrift shop two blocks behind Spicy Island.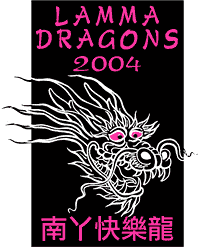 May 30, Bulldog's 5th, Deep Water Bay:
- The Women's team got into The Women's Plate final and came 2nd
- The Mixed team got into The Mixed Cup final, came 6.
- The Men's team got into The Major Tail Race, came 7.
The times are on this website... We are pleased with the mixed team results. The Mixed Cup was also a victory even if we didn't get a cup. We got 6th out of 23 teams.
June 5, Fiesta Night Fundraiser party, Island Bar: No photos yet...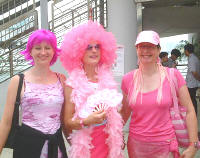 June 13: Summer Vigor Races, Sai Kung: The Lamma Women's team will be racing in a new race "The Summer Vigor Races".
We raced in small boats of ten and had two teams, Lamma Tigers & Lamma Dragons.
The Dragons did well, but didn't get into the final. The Tigers reached the final, and after two false starts in difficult conditions (a strong side wind) came third. It was a very exciting race as the first five teams all had times of 1 min and 40 sec. It was only the tenths of seconds that divided the teams.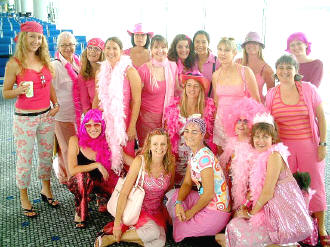 June 17-20, Penang, Malaysia: Lamma women represented Hong Kong at the 25th Anniversary Penang International Dragon Boat Festival! (2 pink photos by Camellia Ng, click to enlarge).
We came triumphant third in the women's 20 boat. With HONG KONG ISLAND PADDLE CLUB and HKSAR team just beating us (by 3/10 of a sec) We are extremely proud that we did so well (and HK) beating teams including Navy teams from Australia, San Francisco and local Asian teams.
June 22, Stanley: We came second at Stanley....to exhausted to write anymore recovering from 5 days of
"OUT-PINK, OUT-PADDLE, OUT-PARTY!", our new slogan invented in Penang... 2 out of three ain't bad... see photo's below... more to come:
Photos by Claudia Tarr, photos by Camellia Ng
• Wind turbine (click for original story):
My in-depth story caused HK Electric to call & email me, thanking me for researching & publishing it:
HK Electric - Public Affairs Dept:

It's nice talking to you this afternoon.

Congratulations, your new Lamma-zine is out. As spoken, there are some interesting stories including the one about our wind turbine. You did quite a lot of photo-taking near the proposed site for the wind turbine. I think people on Lamma will definitely know more about this project by reading your story.

As our press statement mentioned, the project aims to explore the wider application of wind energy in Hong Kong. We will carry out an Environmental Assessment Impact study before final design and construction of the wind turbine.

According to our initial plan, site erection will commence in late 2005 and commissioning of this project is scheduled for 2006.

As I mentioned to you over the phone, to meet the future growth of electricity demand, we are going to install additional submarine cables. This will be the third submarine cable route from Lamma to Hong Kong. The first one is from Luk Chau Wan to Aplichau and the second one is from Pak Kok to Wah Fu.

In September, 2001, when we put forward this 275kV Submarine Cable Laying project for gazetting, we did advise the local environmental group, District Council members and some residents staying near our cable landing point about this proposed cable route.

Now that you have Lamma-zine, it will be helpful if you could publish this story about our submarine cable laying work so that all your readers will also know about this project.

Attached is a copy of the information sheet together with a map showing the submarine cable route. Should you require any further information, please let me know. Thank you for your kind assistance.
• 275 kV Submarine cable laying

So my quite critical remarks at the end of the wind turbine story elicited a very positive response, leading HK Electric to send me ADVANCE notices of upcoming projects! A real first, great! Let's hope they'll keep it up, we'd all appreciate being informed in advance.
Here's the map of the 275 kV submarine cable laying (

Acrobat pdf format, 135KB), routed from the Power Station through YSW harbour, via Pak Kok and the Cyberport to HK Island, plus the info sheet.
This means that the Cyberport gets a direct power plug into the Power Station - how nice & convenient! Could I get one as well, please?