Lamma Flowers & Insects - Andy Maluche (June 25, 2004)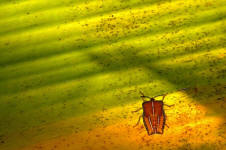 All photos by Andy Maluche (Official Court Artist of Lamma-zine). The photo gallery below contains the best from his 3 galleries:
He's explaining his very prolific photography of weeds & bugs:
"And another series of insects and flowers. Sorry about that. 'Can't help it.
It's just too much fun to go out on the hunt. That's two hours shooting in my back yard."
---
To send comments, get more info, get high-res files for printing, or to publish your own Lamma-related photos & galleries on Lamma.com.hk or in the Lamma-zine: email Lamma-Gung.

All pictures and text may be freely reproduced for non-commercial purposes only,
but only with explicit permission from the author, photographer or artist.

Commercial enquiries are most welcome! Last update: September 29, 2019 11:12 AM

© 2018 Lamma-Gung, Compunicate! Web Publishing, e-Marketing & Photography.
All rights reserved.

<!/td><!/tr><!/table>