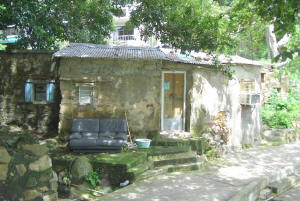 Lamma.com.hk moderator Alan alerted me to a story in my favourite local publication: "Spike" (July 23-29 issue): "Property rights and registers" by the Spike Business Editor Cathy Holcombe, the only Spikette living on Lamma. Quoting the last few paragraphs:
"On Lamma there is a local property tycoon of sorts who is famous for her aversion to home repairs, as well as her colourful wine-fuelled adventures on the island's main drag. She owns a series of illegal structures, one of which I lived in briefly, attracted by its old-fashioned charm and traditional style before being repelled by mosquitoes, centipedes and the realisation that I was getting really screwed on the rent.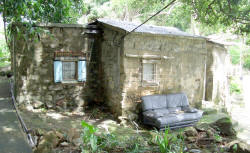 Our parting was far from genteel, but several months after the event she invited me over to one of her houses to bury the hatchet or, as it turned out in her case, smoke the peace pipe. She told me she lives off the $40,000 a month she makes in rental streams; I bet she makes even more. She said she came into the properties out of a charitable impulse to help a number of individuals who had built up gambling debts; i.e. she scalped them while they were down and out. Apparently few of her holdings are legal but as she put it, "Sometimes you have to take a risk".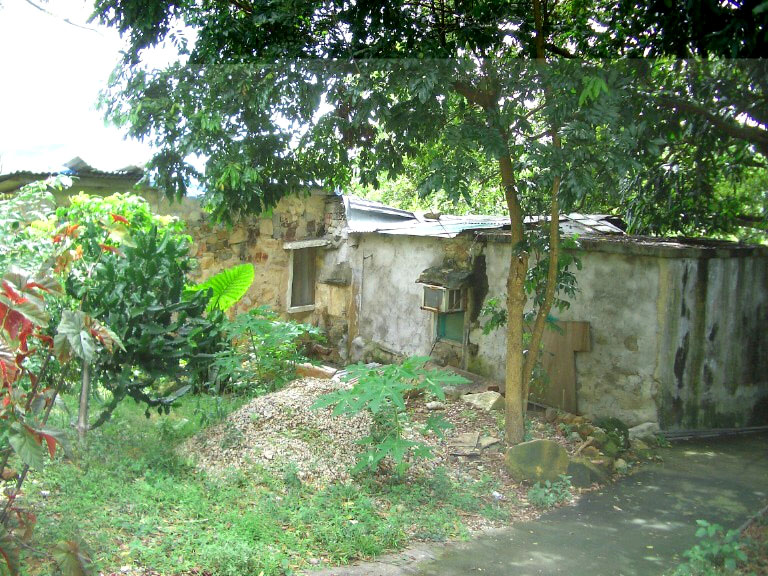 Hong Kong is a reasonable place, with a history of protecting economic rights and compensating those displaced by development. Lamma's local property tycoon will surely fight for titles if she can get one, or avoid the issue of it involves too much investment to supply building permits. Improvements are always welcome.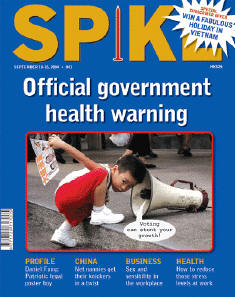 But Hong Kong always worked not due to a stellar land-registry system, but because the collective rationality of the place - its courts, its customs, its drive - gave it a sense of legitimacy. That makes it worth the risk, both inside and outside the law. Even my crazy ex-landlady knows that."
The full story is available as a PDF file on the Spike website. The three photos above have been submitted by David Kerr - an ex-colleague & neighbour of Cathy who wrote the great story above. The photos show probably the most famous one of Pinky's mostly illegal "stone mansions" with no deed or title, but available for rent, this one for $2,900. It's locally called "Tai Peng Castle", a suitably irreverent, funny, even cynical name, worthy of a true Lamma nickname. It's located just at the right of the stone chairs rest area on top of Tai Peng. It has a long and fascinating history, told in Lamma.com.hk's forums:
Zippy:

Actually it's quite comfortable to live in. Many of the people who have lived there thought they had the best house on Lamma. One even tried to buy it from Pinky, but she refused - now we know why! It has so much character and the location really gives it a great feeling of space, when so many Lamma flats have that typical concrete box, housing estate feeling. It really catches the sun and on a bright day with the doors and windows open and the breeze passing through....aaahh.

There's a skylight in the roof too, so it's surprisingly bright (combined with the bright yellow decor, courtesy of photographer Alan, a former longtime tenant and still current Lamma resident, LG). Plus you've got a bit of a garden courtyard type affair round the back and a "water feature" beside - perfect for sitting back with a beer and watching YSW from afar.

The biggest nightmare was the flooding every wet season, sometimes a foot or so deep. Pinky finally got a guy in with a Kango hammer to cut a huge trench through the living room floor, but I suspect this wasn't a totally effective solution.

As I understand it, the actual cottage/castle is part of the Mighty Pinky's empire, but the collapsed portion abutting it on the far side of the picture "belongs" to the brother of Mr. Wong, owner of Tai Peng shop.

I haven't been it for a few years and it might be a shit hole now, but with a bit of TLC and some tasteful interior design you could do a lot worse.

---

Insomniac:

...leaving sale that I went to at that stone house, and it seemed pretty uninhabitable to me, way to many holes and cracks in it let alone the spooky feel of it.

---

Former tenant who lived in a different Pinky property and prefers to stay anonymous:

This is a subject I'm staying away from. My sense of humour fails me completely. No, this is not a picture of my former house. I know this because there are no snakes in the picture. Or centipedes. Or Pinky. But I do see her sure hand in the decor, so it must be one of her other "mansions".
We should have a serious word with the Lamma Spikette, writing in such an utterly disrespectful and non-sycophantic way about our "local property tycoon", also known as a Laudable Lamma Luminary and godmother of Pinkyism! She even dared to call her "crazy" instead of "supremely enlightened"!

Quite a coincidence then that our 3G (Great Guru Goddess) Pinky is currently working on a promised sequel to her first Lamma-zine story: all about her "mistreatment" and recent "escape" from the "loony bin" (as she called it herself, surely in jest???). I'm waiting anxiously for it, the next chapter in the on-going epic Pinky saga...