<!table cellSpacing="6" cellPadding="0" width="100%" border="0" style="border-collapse: collapse" bordercolor="#111111" bgcolor="#EFEFEF"> <!tr> <!td style="font-family: Verdana, Arial, Helvetica, sans-serif" bgcolor="#EFEFEF">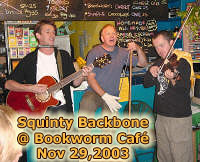 Saturday, Nov 29, 8pm, Bookworm Café:
Squinty Backbone: Live Unplugged & Sober: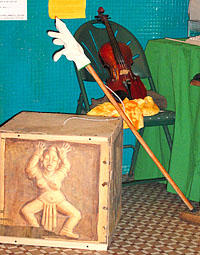 Announcement: "This classic Lamma band has briefly regrouped after many years... and will be playing their last gig in their original line up tonight. They are great fun and very talented musicians/entertainers."
According to Squinty John (on the left), they hope to have a reunion every year as it was 7 years since the last one. Listening to them live is a very rare pleasure and great fun, indeed!
Squinty John: "I can tell you that it was "Squinty Backbone and the Hemorrhoids" till the manager of the bar we had our first gig in made us change it.
The bass is called a Tea Chest Bass (see right) and was prolific in the 50s with cheap skate skiffle Lonnie Donegan wannabe boy bands. Pain in the ass to amplify, but great for busking and acoustic gigs such as the Bookworm."
---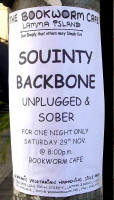 "Souinty" Backbone - Unplugged & Sober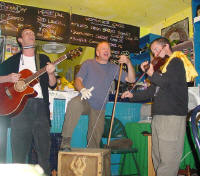 We're back!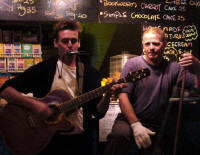 Nightclub atmosphere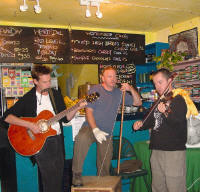 Daily Special tonight: Live music!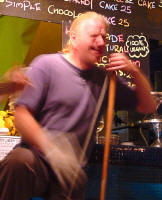 A really passionate bass line by "Squinty Mark"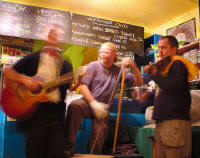 Is "Squinty John" out of his head, again?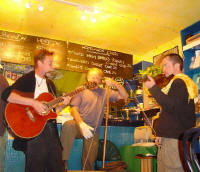 Warm & cozy lighting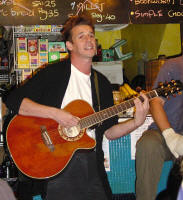 John, unplugged, yes, but sober?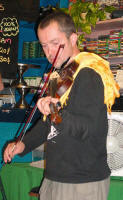 "Paul the Talking Horse" on fiddle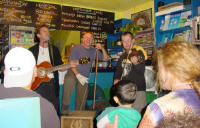 Hamada, Bobsy & a young fan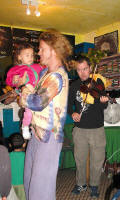 The dance floor is open now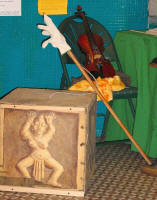 The bass player is on break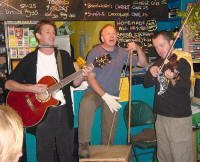 We're back, again!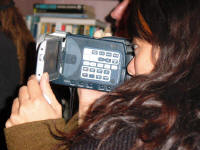 John's personal videographer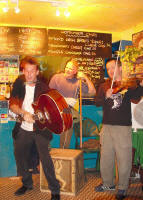 The gig's over, get outta here!
---
To send comments (very welcome!), get more info, get high-resolution files of any photo for printing, or to publish your own Lamma-related photos and galleries on Lamma.com.hk or in the Lamma-zine: email Lamma-Gung.

All pictures and text may be freely reproduced for non-commercial purposes only. Commercial enquiries are most welcome.

Last updated: August 12, 2006 05:43 PM

© 2003 Lamma-Gung, Compunicate! e-Marketing & Website Development. All rights reserved.

<!/td> <!/tr> <!/table>