Thai Lantern Festival - Loy Krathong (Nov 26, 2004)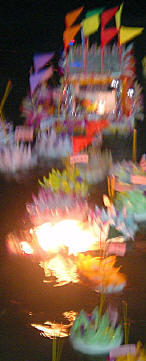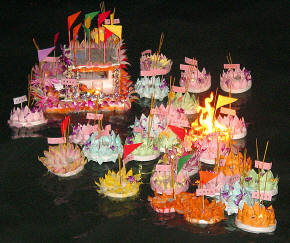 Did you participate in this year's commercialised version of the traditional Thai Floating Lantern Festival, Loy Krathong? A colourful event, organised by our active local Thai community and centred around a fixed-cost Thai set dinner at Man Fung Seafood restaurant.
Check out my photos below of Loy Krathong 2004 on Lamma, or check out last year's photo gallery.
One of the lanterns floating in the harbour caught fire from its burning candle, making it look especially festive at night. DIXSTOCK had its fire jugglers and there was an unscheduled fire at the Lamma Fun Day as well. What is with fires & celebrations going together so often on Lamma? Are we an island populated by pyromaniacs? Well, at least some of us... and

I love to join them at Chin. New Year!
This year's Loy Krathong was a most memorable & beautiful event, bringing the local Chinese & Thai communities closer together.
---
To send comments, get more info, get high-res files for printing, or to publish your own Lamma-related photos & galleries on Lamma.com.hk or in the Lamma-zine: email Lamma-Gung.

All pictures and text may be freely reproduced for non-commercial purposes only,
but only with explicit permission from the author, photographer or artist.

Commercial enquiries are most welcome! Last update: September 29, 2019 11:12 AM

© 2018 Lamma-Gung, Compunicate! Web Publishing, e-Marketing & Photography.
All rights reserved.

<!/td><!/tr><!/table>