<!table cellSpacing="6" cellPadding="0" width="100%" border="0" style="border-collapse: collapse" bordercolor="#111111" bgcolor="#EFEFEF"> <!tr> <!td style="font-family: Verdana, Arial, Helvetica, sans-serif" bgcolor="#EFEFEF">

Loy Kra Tong - Thai Lantern Festival 2005 (Nov 16, 2005)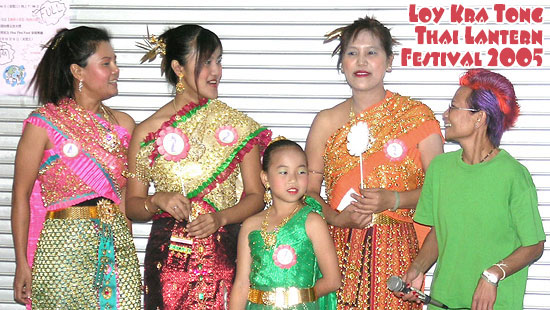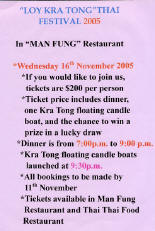 Would you believe that most of these stunningly beautiful Thai ladies above, decked out in their traditional festival costumes & jewelry, are long-time Lammaites? Yesterday, Nov 16, they've been celebrating their yearly Loy Kra Tong Festival with a Thai/Chinese 12-course dinner (Thai dishes prepared by Thai Thai Rest.) in Man Fung Seafood Rest., Lucky Draws and the traditional candle float release at the ferry pier.
Everybody was invited ($200 per head, all incl., see poster on right) and the 15 big tables sold out one month before the event! There were even 2 tables of Gwailos, plus Lamma-Por and Samson, our hard-working Chin. forum moderator, invited as a birthday treat. After desserts, everybody got a pretty candle float, to be released from the ferry pier into the full-moon night.
Click for English poster, Chin poster, photo gallery 2003, 2004, and this year's captioned photo gallery 2005.
---
(click to enlarge)
---
To send comments (very welcome!), get more info, get high-resolution files of any photo for printing, or to publish your own Lamma-related photos and galleries on Lamma.com.hk or in the Lamma-zine: email Lamma-Gung.

All pictures and text may be freely reproduced for non-commercial purposes only. Commercial enquiries are welcome.

Last updated: January 07, 2008 06:49 PM

© 2005 Lamma-Gung, Compunicate! e-Marketing & Website Development. All rights reserved.

<!/td> <!/tr> <!/table>