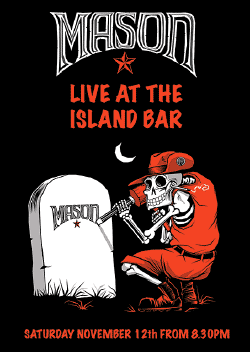 Mason from Sydney Says Thank You, Lamma!
Well well well...
What a trip!
From Lamma hangovers and heroes to food and ferries, and that beloved Tsing Tao. We all had an absolute blast with you guys and are really looking forward to next year. Whether or not you lot want us again, I'm afraid you'll just have to put up with another week or two of 'Strayan Stupidity.
We're all back on solid land. Ben, Whitey, Stu, Keegan, Benson and Childsy are back in Sydney and the self-proclaimed 'Prince of Lamma' Frazer is wetting his feet (and probably everything else) in the UK. Our heads are still a little frazzled but it was all well worth it.
We have some great photos and are making slow progress on collating them. They'll all be put up on the website but we shall post here to let you all know when they're finally up. Bad and shameful photos WILL NOT be censored. We should have warned you all earlier but I'm afraid it's too late for that.. Ain't hindsight beautiful??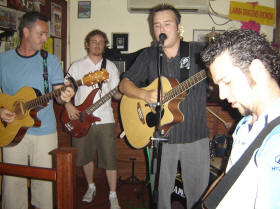 And now for the thank-yous...
To Kelly, Clive, Paul and Gina for their gracious hospitality and use of their beds, houses, amenities and everything else. You guys were great!
To Dick for... well DICKSTOCK! Thanks mate! What a night!
To Kumar and Cath at the Island Bar. For inaugurating Mason into the Century Scotch and Coke Club and for having the best damn bar on Lamma! And for letting us all have little naps on the lounge when necessary (which was often). Also for letting us enter into Lamma folklore by ringin' the bell!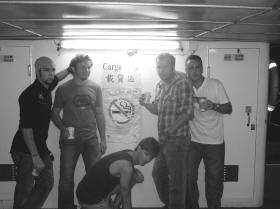 To Harry for the brilliant poster he made up for us and for joining us for the Wankers special at the end of our gig at the Island Bar. Big thanks also to Davie May, John and Guy for making us sound like musicians!
To the local lads for a sweaty and grueling game of soccer/ football on the court. Thanks to you lot, Benson lost 8kg (about 78 pounds) in sweat! You're a painful lot but fun none the less!
And last but certainly not least, everyone on Lamma and Hong Kong who made our stay extra special. We fell in love with you guys and hope to catch up with you all next time!
Cheers guys! We'll see you in a year (if not sooner)!
(Poster by Harry Harrison; 2 pictures above submitted by Mason; Mason photo montage at top by Lamma-Gung)