Welcome to MAX! and MARTHA!!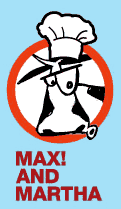 Our mascot MAX! (which returns with a smart cook's hat this year) seems to be attracted by females:
in the year 2000 it was Marlene, one year later Heidi, and on October 12, 2002, BELLA MARTHA which will kick off our annual MAX! festival of films from Austria, Germany and Switzerland. It will be screened with English and Chinese subtitles as the Asian premiere, and subsequently released in Hong Kong's big movie theatres.
Our second opening film GRILL POINT has got all the potential to become a favourite foreign language movie to film buffs in Hong Kong.
Again, the MAX! film festival is the result of the combined efforts of the three Consulates General and the Goethe-Institut Hong Kong, with the support of the HK Arts Centre, HK APA, the LCSD and numerous sponsors, which are all listed in our publications.
We are delighted to see the increasing participation of our Hong Kong audience, young and old alike, who are not necessarily German speaking, but share a common enthusiasm in the film culture.
We are proud to present 13 new full-length feature and documentary films,
18 short films and a retrospective of 10 Werner Herzog films at this year's 23-day film festival.
Join the MAX! film festival from October, 12 to November 3, 2002, and enjoy the great variety of film productions from the heart of Europe - first hand here in Hong Kong… no expensive air travel required!
Jürgen Keil
Director, Goethe-Institut Hong Kong