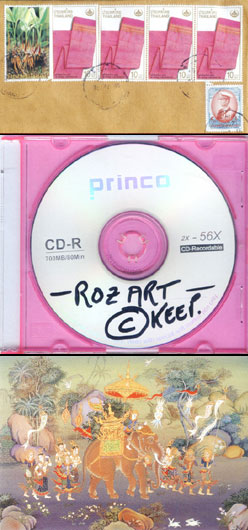 This month, a very well-known Lamma artist, long-time resident, the ever-popular Roz Keep! She's recently emigrated with her family to Chiang Mai in Thailand, but she's still missing Lamma a lot, like most ex-Lammaites! Better late than never, we present some of her best Lamma paintings! On the right, the envelope, CD-R with her paintings and a traditional Thai elephant painting greeting card she sent me from Chiang Mai.
Artist Statement:
"Something which just seems so natural to me is walking on the hills of Lamma, finding yet another fabulous spot, say on a clump of rocks overlooking a bay, kites circling and mewing, a breeze, clear light and my paints in my bag.
I never liked to work for long on a painting, preferring to work quickly and in that moment, the painting becomes a response to the experience of just being there. Nothing needs to be added or changed later. These paintings are all done in that vein and I remember my feelings, where I was, what was happening more if I don't change them later.
They were made into prints much later by my husband and I am happy to share my personal views. There are not many people or village scenes. I like the solitude, the wisdom and the beauty of nature alone sometimes. The land fills me with inspiration and I feel her pulse when I go out alone. I was painting my feelings towards the land. It is she who supports us, and to her I turn when I need making whole.
Bless Lamma and her beauty. May it last for many years to come."
A commercial note:
Lamma Landscape Paintings - Reproduction Prints from Original Water Colours and Oils:
All double-mounted on board, ready for framing, 2 sizes (A4: $165, A3: $275). Makes a great gift or souvenir of Lamma! Selling Point (the glass-making shop next to Yan-Yan store) has some A4 sizes left. Contact rozkeep@hotmail.com for details and purchase.
---
(click below to enlarge)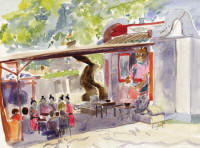 Tin Hau Temple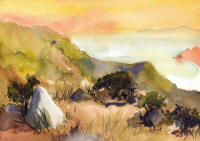 Ed's View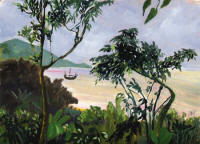 Junk and Stenhouse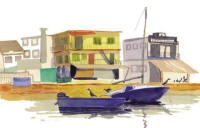 Blue Boats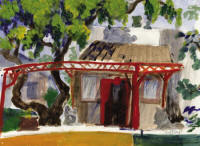 Temple Trees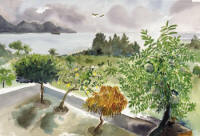 Storm in a Garden 1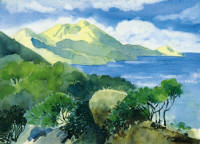 Yellow Stenhouse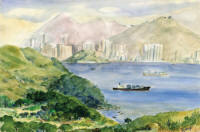 Lamma Channel Again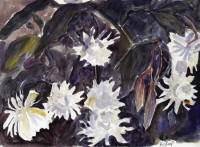 Moon Flowers
---
More paintings by Roz Keep: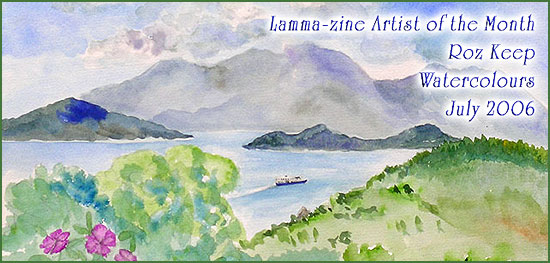 ---
To send comments (very welcome!), get more info, get high-resolution files of any photo for printing, or to publish your own Lamma-related photos and galleries on Lamma.com.hk or in the Lamma-zine: email Lamma-Gung.

All pictures and text may be freely reproduced for non-commercial purposes only. Commercial enquiries are most welcome.

Last updated: October 10, 2006 10:33 AM

© 2004 Lamma-Gung, Compunicate! e-Marketing & Website Development. All rights reserved.

<!/td> <!/tr> <!/table>