What's new in the local dining & drinking (& falling-down) scene during the month of Christmas/ Hanukkah/Kwanzaa/...? Lots of food promotions, obviously! After the recent re-surfacing of most of Main Street between Spicy Island and Deli Lamma, plus new flush water piping (after an embarrassing break-down re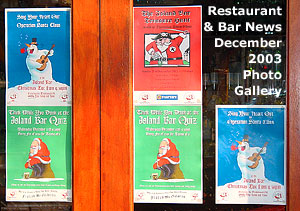 cently, see below left), the scene is set for the holiday crowds descending on our fair village, hopefully patronising the local businesses as much as possible, reviving their sales.
Thai Thai on Back Street has moved across the street, opening a proper Thai Restaurant on Dec 7. Lamma Gourmet, part of the Dan Kwai Fong empire, has moved next door to bigger & better premises.
10 year anniversary of the Deli Lamma on Dec 10, which was full of loyal & happy long-time patrons that night. Big Christmas Day dinners coming up in Lamma Bistro and Aroy Thai. Diesel's has been serving Indian & Western food for a few weeks now, all prepared in-house, and it's becoming pretty popular.
Loads of events in the Island Bar this month (see all the Harry posters above), several of them in favour of Operation Santa Claus: Quiz Night, Treasure Hunt, Christmas Carols singing, "Gangsters & Molls" New Year's Eve party...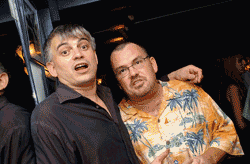 Yummy Sunday roasts in Lamma Bistro and Bookworm Café.
Holiday Mood lets groups rent the entire place for a weeknight and offers Christmas party catering, similar to the Chinese baker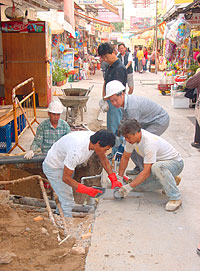 y opposite the Bistro (which catered the Western food at the LAP Centre opening, to my big surprise).
Finally, the formerly famous Waterfront restaurant & bar is rumoured to re-open "soon", but I won't believe it till I see it.
Breaking news: Kumar (of Spicy Island fame) is taking over the Y2K Bar as Manager on Jan 1st!
Here are the photos and descriptions of the promotions above: Restaurants & Bars - Dec 2003. Check out the frequently updated Lamma Events Calendar for promotion dates, plus all the restaurant ads at the beginning of the Dec Lamma-zine.
Last but not least: Just in case you're wondering what these two funny guys above right are up to: Steve Cray sent me these photos and I put them into a little animated slide show. Steve called it:
"SATISFACTION: Here's an amusing picture sequence of Richard 'Word Asia' Cook and Harry 'Cartoonist' Harrison acting up to Rolling Stones records in the Deli Lamma after watching the Stones at Harbour Fest."
---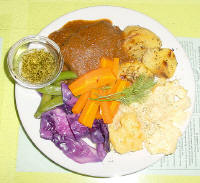 Bookworm Café: Sunday Nut Roast @ $85. I've just tried it for the first time ever, it's really delicious! Plus organic wines from Dec 14.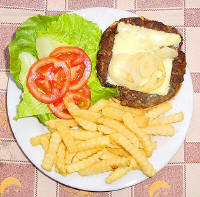 Diesel's: Jack's non-vegetarian cheese burger, the best in the village (in my humble opinion)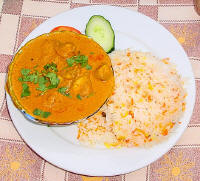 Diesel's: a wide range of curries with adjustable spiciness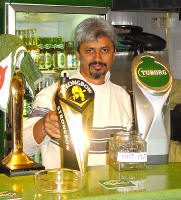 Kumar back behind the bar, in Y2K, from Jan 1st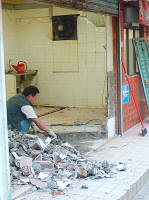 Thai Thai: all that's left of it after the demolition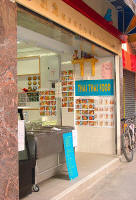 Thai Thai: shiny brand-new shop opposite, opening on the auspicious date of Dec 7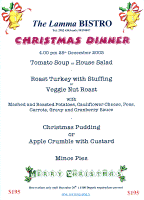 Lamma Bistro: traditional Christmas Dinner, everything inclusive!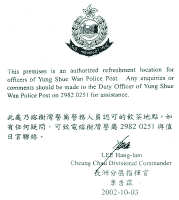 "This is an authorised refreshment location for officers": police notice on several Chinese restaurants.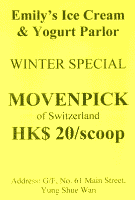 Delcicious Swiss Ice cream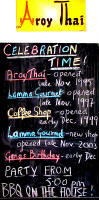 Aroy Thai: announcing the move & reopening party of the Gourmet shop
New Lamma Gourmet: so spacious and well-organised!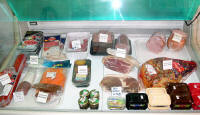 New Lamma Gourmet: the meat counter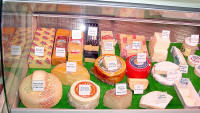 New Lamma Gourmet: cheeses from all over the world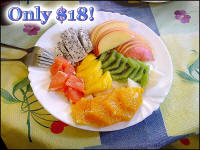 Tropicana (vis-à-vis Y2K): still one of the best-kept secrets in the village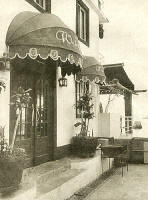 Waterfront Restaurant: photo from 10 years ago (Lamma Seafood Festival). Re-opening soon?
---
To send comments (very welcome!), get more info, get high-resolution files of any photo for printing, or to publish your own Lamma-related photos and galleries on Lamma.com.hk or in the Lamma-zine: email Lamma-Gung.

All pictures and text may be freely reproduced for non-commercial purposes only. Commercial enquiries are most welcome.

Last updated: August 12, 2006 05:43 PM

© 2003 Lamma-Gung, Compunicate! e-Marketing & Website Development. All rights reserved.

<!/td> <!/tr> <!/table>