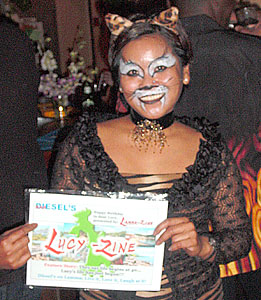 So, what's new in the local dining & drinking scene after the Chinese New Year season? More than you think!
Food promotions all over Yung Shue Wan, CNY specials, even Western food catering from places like New Holiday Mood. Special international food nights 5 days a week in Aroy Thai.
Big theme party at Diesel's ("Sexy Pets", Lucy's birthday, see right with her birthday card):
Click for Sexy Pets photo gallery!
Nam Wah Yuen (close to Lamcombe) has closed after many years in business, and was reopened just one week later under new management.
Juniors/seniors promotion at Emily's: $12/ice cream.
Click for birthday party photos at New Holiday Mood.
Thai Thai, the former Satay take-away place on Back Street, has moved across the street, opening a proper Thai Restaurant. Very tasty, hot and original food; but not cheap, easy to spend well over $100 on a lunch for two.
Click for some new photos and descriptions:
Restaurants & Bars - Jan 2004. Check out the frequently updated Lamma Events Calendar for food promotion dates, plus all the restaurant & bar ads at the top of this Lamma-zine.
---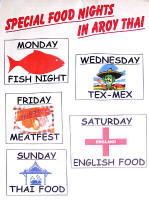 Aroy Thai: almost daily food promotions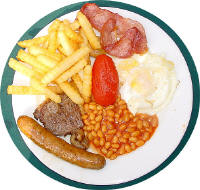 Lamma Bistro: Aussie brunch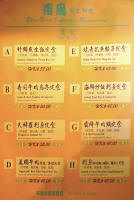 Blue Bird Japanese Rest.: New set meals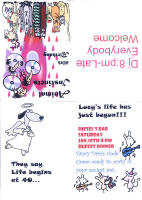 Diesel's: Lucy's Birthday party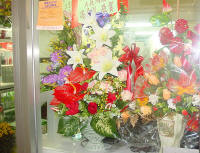 Nam Wah Yuen: Closure and re-opening one week later under new management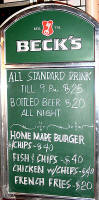 Y2K: new pub food
Deli: Mixed Grill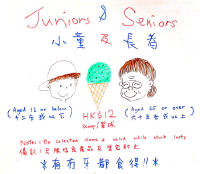 Emily's: Juniors & Seniors promotion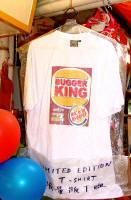 Emily's: Lamma & other fun T-shirts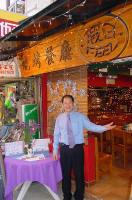 New Holiday Mood: Welcome!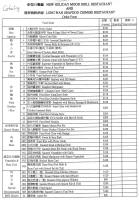 New Holiday Mood: Catering Menu, page 1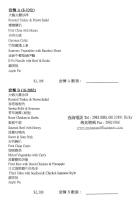 New Holiday Mood: Catering Menu, page 2
---
To send comments (very welcome!), get more info, get high-resolution files of any photo for printing, or to publish your own Lamma-related photos and galleries on Lamma.com.hk or in the Lamma-zine: email Lamma-Gung.

All pictures and text may be freely reproduced for non-commercial purposes only. Commercial enquiries are most welcome.

Last updated: August 12, 2006 05:43 PM

© 2003 Lamma-Gung, Compunicate! e-Marketing & Website Development. All rights reserved.

<!/td> <!/tr> <!/table>