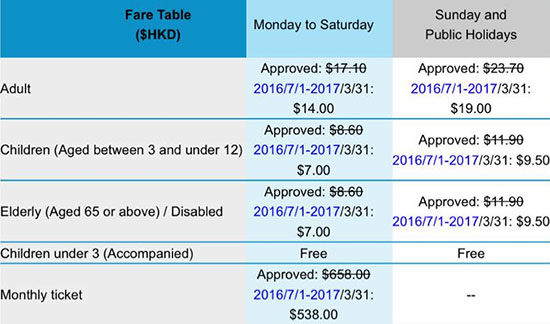 "The Fare Concession Scheme of the Hong Kong and Kowloon Ferry Holdings Company Limited launched from 1st July 2016 will be ended after 31st March 2017.
Starting from 1st April 2017, all passengers travel between Central and Lamma Island or Central and Peng Chau with single journey ticket or monthly ticket, will need to pay the fare approved by the Transport Department."
HKKF made "excessive profits" recently (quoting the Transport Dept., >32% profit!), so the TD "convinced" them to give a temporary fare concession from July 2016. The huge subsidies they receive from Gov't already might continue this summer, pending approval from LegCo.
Meanwhile, the other two, smaller ferry companies servicing Lamma, Tsui Wah (YSW-Pak Kok-Aberdeen) and Cheung Kee (Aberdeen-Mo Tat Wan-Sok Kwu Wan), never received subsidies and remain unprofitable. This is according to submissions to LegCo where they're trying to get similar Gov't. subsidies, with perhaps only slim chances of success?
These fare concessions of HKKF were supposed to end by the end of 2016, but have been extended twice, to end of Feb and then to end of March, today.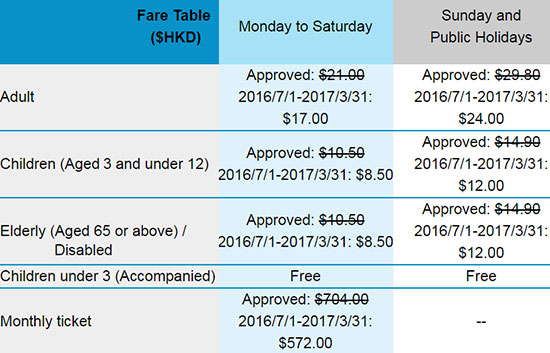 More about this 20+% increase to the current fares...

For those unfortunates who can't make it over tonight, Lamma is coming to you! Lamma Invasion @ The Wanch on HK Island. Harry Harrison's Midlife Crisis Cowboys will be performing last: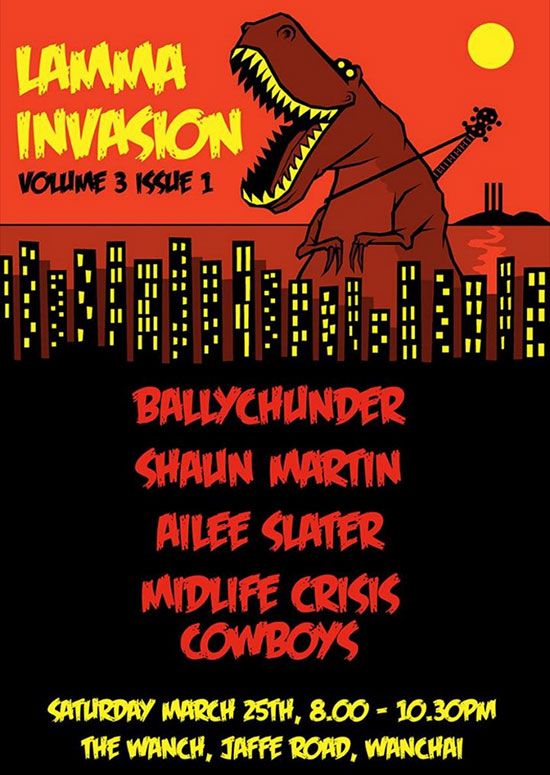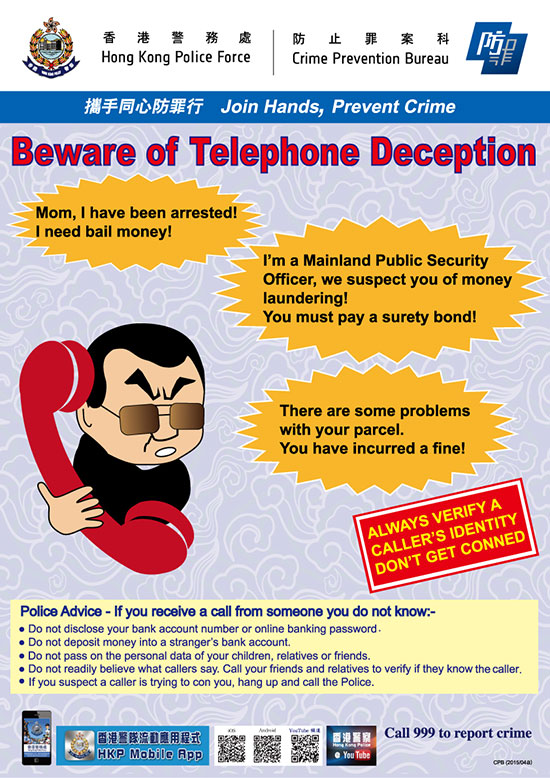 Our Police Chief - LEUNG Yuen-shan, Rachel OC Lamma Island & Peng Chau Cheung Chau Division - just sent me this poster, asking for more publicity via this website. Always happy to oblige our local authorities, but I'd love to hear also more about recent police matters on Lamma than an occasional poster... What happened to our monthly Police Corner stories?
Following the link she provided, I learnt so much about all the different forms of telephone deception. A quite thrilling and fascinating read, pretty unusual for the police website. Who knew there are so many forms of telephone deception to be worried about. How many of this staggering number of different scams have you or your friends encountered before? Lots of details, videos, even a micro-film:
False Proof of Fund Fraud ~ Property Fraud ~ Employment Fraud ~ Email Scam - CEO Email Scam ~ Financial Intermediaries Deception ~ Telephone Deception ~ Investment Fraud ~ Cyber Security Tips ~ Micro-Film - The Stooges Insurance Fraud ~ Telephone Deception ~ Mortgage Fraud ~ Online Romance Scam
Fight Scams Together - Scam Prevention Video ~ Fake Mooncake Redemption Coupon ~ Counterfeit Currency Situation in Hong Kong ~ Virtual Commodities Trading (Bitcoin) ~ Technology Crimes Drama - Cyber Trap ~ 'Caller ID Spoofing' Deception ~ Ransomware Attack ~ Social Media Deception ~ Pyramid Scheme Related Fraud ~ Loco London Gold Fraud ~ Employment and Modelling Fraud
Money Laundering ~ Street Deceptions ~ Fake Medicine ~ Electronic Parts ~ Spiritual Blessing ~ Borrowing Money / Mobile Phone ~ Dropped Money ~ Money Swapping ~ Advance Fee Fraud ~ Lottery Scam ~ Email Scam ~ "Change of supplier bank details" ~ "Overseas relatives/ friends need immediate money remittance" ~ Online Naked Chat Blackmail ~ Social Networking Traps ~ Online Business Fraud ~ Technology Crime Related to Online Games
The Call Defender app (aka Studio Kuma Call Filter) on my smartphone usually hangs up automatically on almost all these calls (plus almost all HK junk calls) so I know NOTHING about these scams first-hand.
My occasional prank calls to a good friend back in my student days were all pretty harmless, never profit-oriented and a lot more hilarious, at least IMHO (In My Humble Opinion).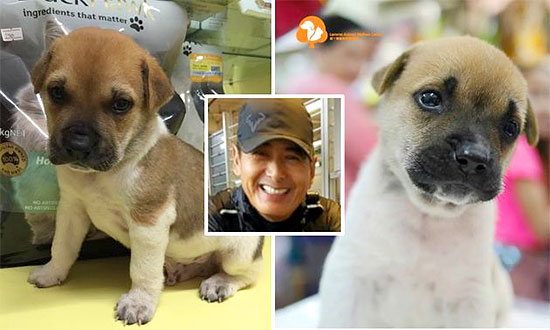 "Ten puppies on Hong Kong's Lamma Island are being helped, in their bid to find new homes, by a famous Hong Kong movie star, Chow Yun-fat - who has appeared in Hollywood films such as Crouching Tiger, Hidden Dragon and Pirates of the Caribbean: At World's End.
Lamma Animal Welfare Centre posted on its Facebook page on Saturday that Chow, who grew up on the island, had offered to help appeal for prospective owners when he saw volunteers transporting the puppies."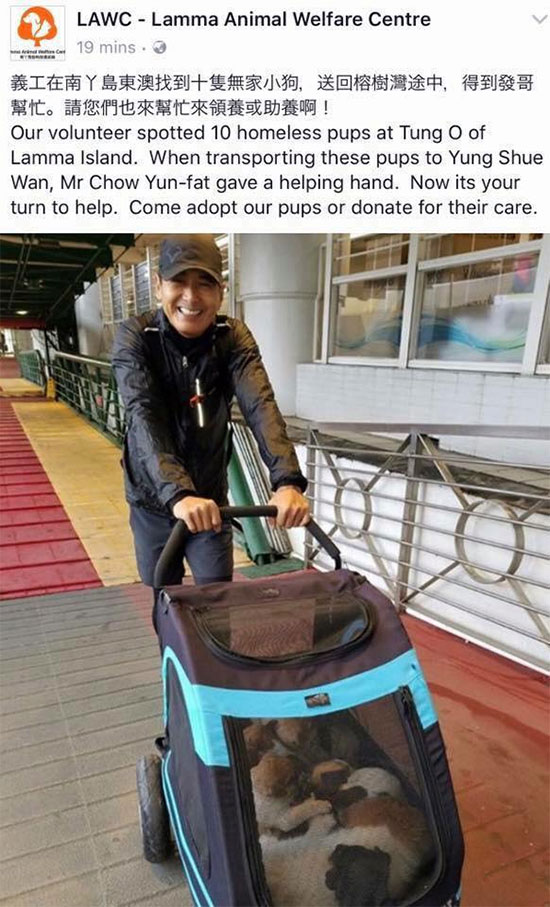 ---
P.S. Fat-Gor has been spotted around our island more frequently recently. Here's another recent encounter with Master Birdographer Guy R.H Miller: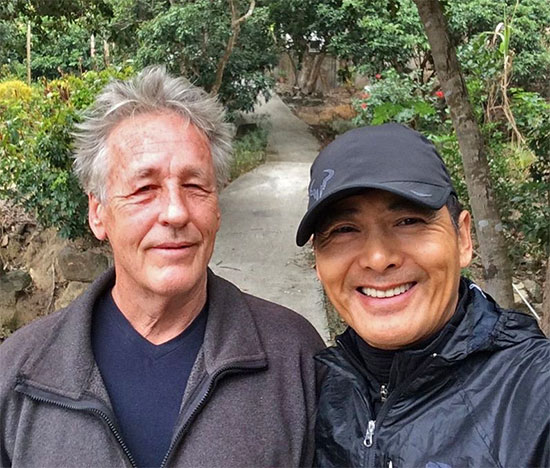 Guy: "I was just about to enter the bird hide & was spotted by this #CrouchingTigerHiddenDragon who came over & chatted health, trails & Lamma birds before he disappeared up into the woods at the start of his cross-Lamma trail run."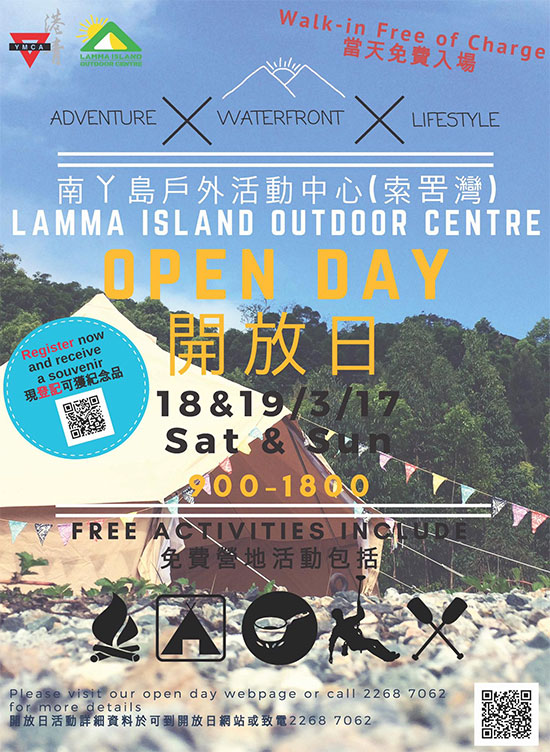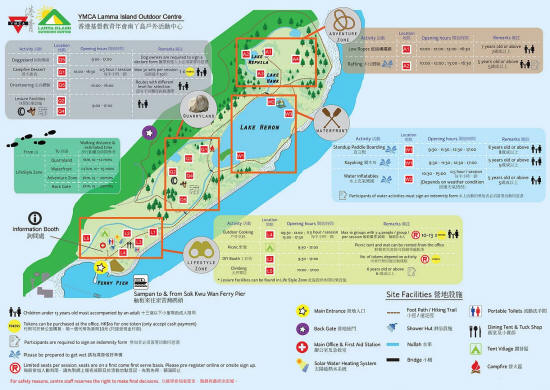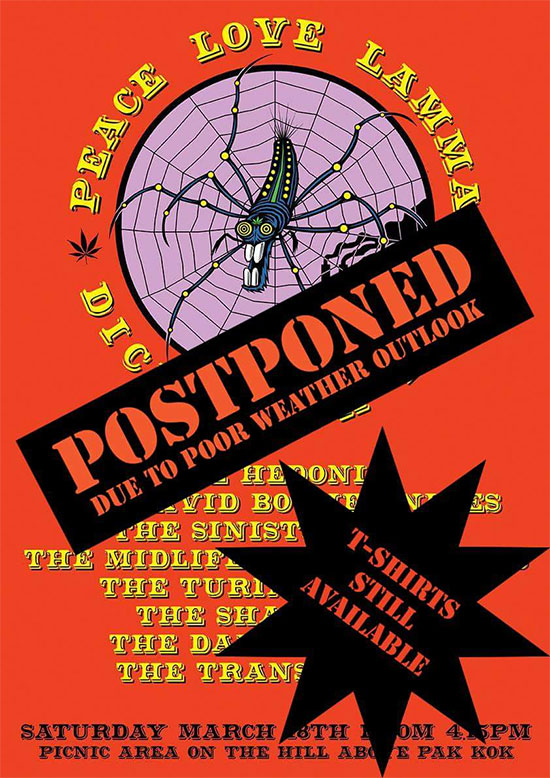 No new date announced yet.
Right away, two of the bands shifted the venue for their Sat night gig, performing in the Island Bar instead.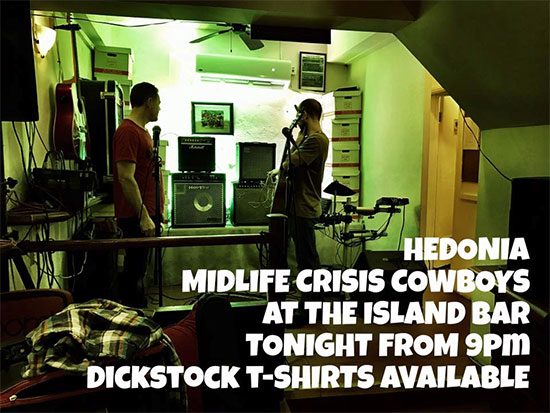 A 'Typically Lamma' story by a Lammaite (who prefers to remain anon):
"My bathroom has energy efficient lighting. The type that deliberate for an age before providing full illumination.
In the secretive darkness I stood upon an unknown moistness.
A nocturnal misfire by my son, I thought. Lifting my foot I came to realise there was a wet mass stuck to my sole. I peeled it off.
A strange tingling ran over my hand and foot. Squinting, the full horror of my predicament came to light. A full battalion of ants were scurrying over my extremities.
Fleeing the severed head of a Gecko, whose grey dead eyes, half removed through industry, oozed their contents on to my quivering fingers. A splendid start to the day."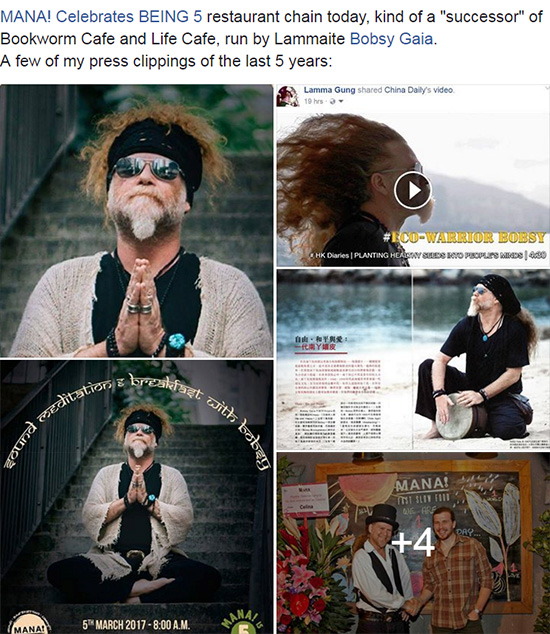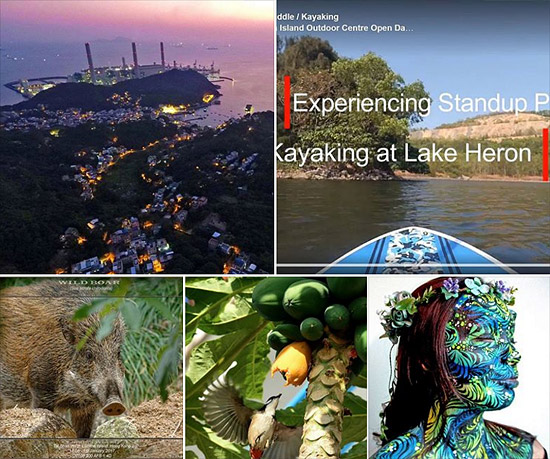 Lamma Spotlights of the Week, Mar 3, '17:
| | | |
| --- | --- | --- |
| PHOTO | | by Jacky Yao |
| VIDEO | | by YMCA Outdoor Centre Open Day 2017 |
| WILDLIFE | | by Guy R.H. Miller |
| BIRD | | by Lew Cassia |
| ARTWORK | | by Abigail Wong |
See former Spotlights ~ Submit your best Lamma photos/videos!
Archives: Lamma Spotlights of the Week I ~ Spotlights II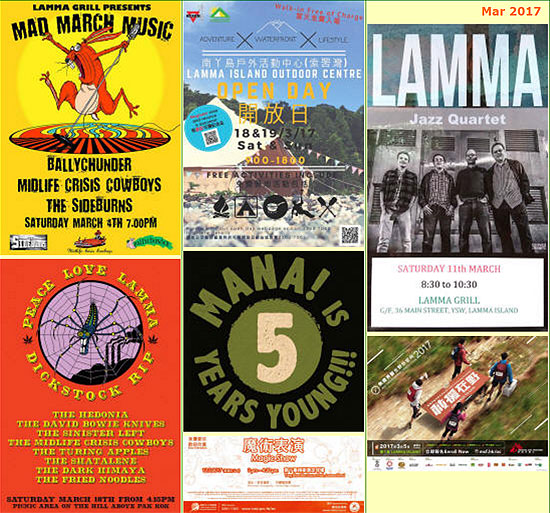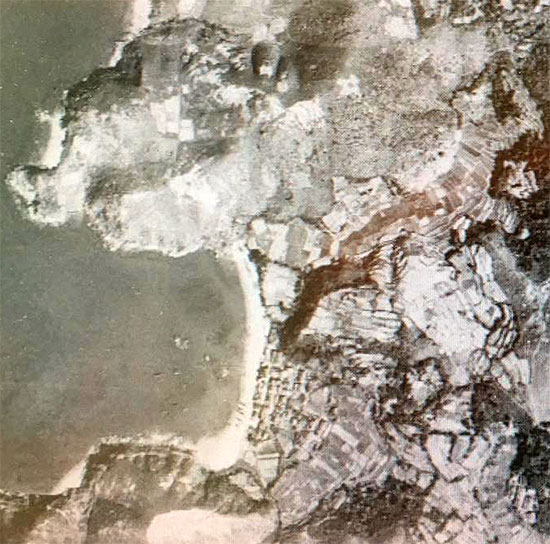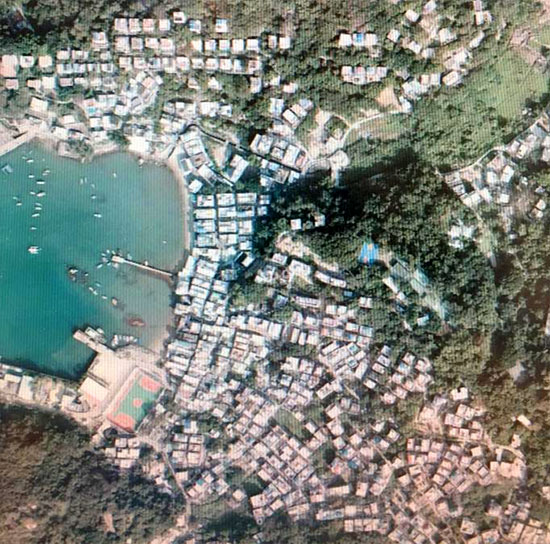 Many thanks to eminent "Lamma historian & tour guide" Robert Lockyer for digging up these photos and all his recent, great research into Lamma's past:
"Yung Shue Wan 1945, Yung Shue Wan 2015.
Amazing how much change has happened in 70 years."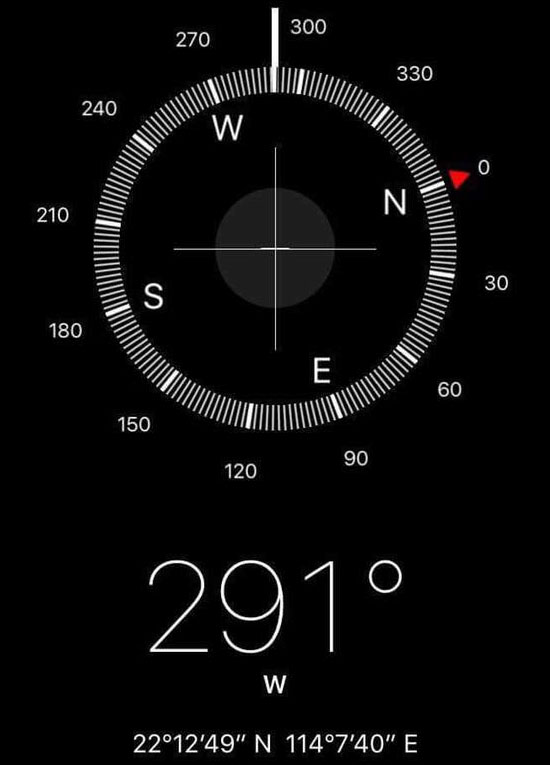 Robert Lockyer: "How to access to the Japanese 'Invasion tunnel' on Lamma Island.
Dug, under force from the Japanese, by local village residents.
This particular tunnel complex served as an observation post over the East Lamma Channel and the island of Hong Kong. As well as high ground observation and protection for the 'suicide/kamikaze' boats that were hidden in the six grottos/caves in Picnic Bay (Sok Kwu Wan/Lo So Shing area)..."
Click above to find out how to find them...
---