| | | | |
| --- | --- | --- | --- |
| | Feb 28- Police handed out this leaflet to VV drivers a few weeks ago, just a reminder of the Govt. regulations. | | Feb 24 - All these events are happening today and tomorrow in North Lamma alone. |
| | | | |
| --- | --- | --- | --- |
| | Feb 22 - "Today's shelter building with 13 kids ranging in age from 1 1/2 to 8 years old." | | Feb 21 - Meeting of the proud beardies in Yung Shue Wan. |
| | | | |
| --- | --- | --- | --- |
| | Feb 18 - Lunar New Year with my HK-Chinese family. | | Feb 17 - So many events are happening in Lamma Art Collective, up to 3 events/day! Wonderful! |
| | | | |
| --- | --- | --- | --- |
| | Feb 16 - Here's my little home-made greeting card, re-purposing my digital Valentine's Day card, | | Feb 15 - Midnight at the Tin Hau Temple in Yung Shue Wan! |
| | | | |
| --- | --- | --- | --- |
| | Feb 14 - Chinese New Year, time to clean your home/house thoroughly, inside AND outside! | | Feb 13 - Who else is offering special menus tomorrow night? Contact me! |
| | | | |
| --- | --- | --- | --- |
| | | | Feb 11 - For even more Lamma events (including the ones without Facebook Events pages like above): |
<!/tr>

Police handed out this leaflet to all VV drivers a few weeks ago, just a reminder of the Govt. regulations. I got it from one of the many friendly, law-abiding VV drivers. Check out the various Lamma Facebook groups for heated discussions...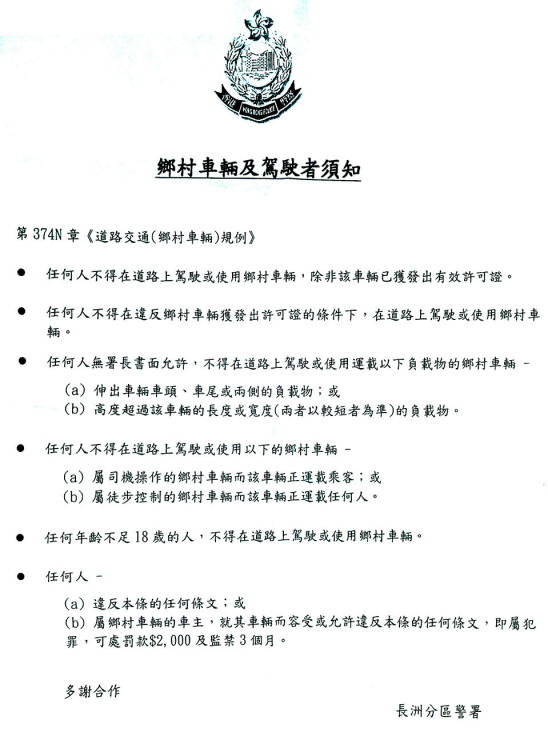 The leaflet basically just reiterates the very basic Govt. regulations for VV drivers:
18 years old, driving license, no passengers and no stuff sticking out at the side or back of the VV, so no rebar dragging noisily along the path and carrying oversized, unsecured furniture...
$2,000 fine and 3 months in jail maximum, theoretically speaking. Lamma has as many VVs as Cheung Chau, with a fraction of the population.

All these events are happening today and tomorrow in North Lamma alone. A rural fishing village on an Outlying Island, a cultural desert? No way!
No supermarkets and Fast Food of any kind, no cars or any public transport, no cinemas, but lots of cultural events that expect you to PARTICIPATE, not just to watch passively. Enjoy!
More Lamma events happening soon...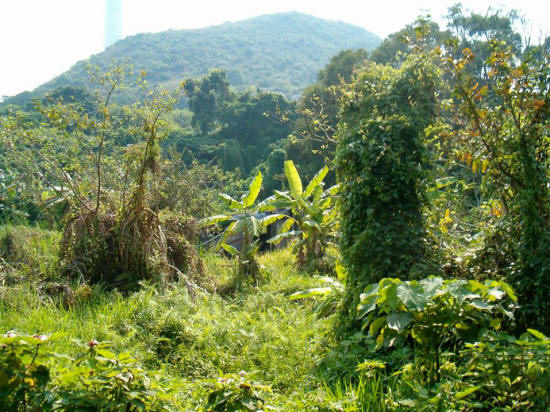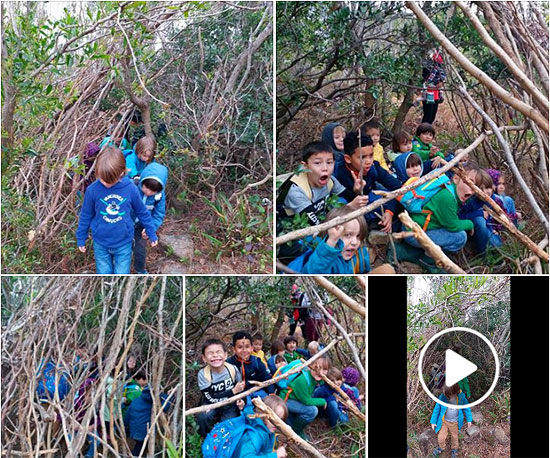 Tamara Norris writes:
"Today's shelter building with 13 kids ranging in age from 1 1/2 to 8 years old - focus on team work! Great job everyone!"
More about Open Space Outdoor Playschool and Camps...
More events at Open Space, like forest school, dance parties, arts & crafts workshops, etc...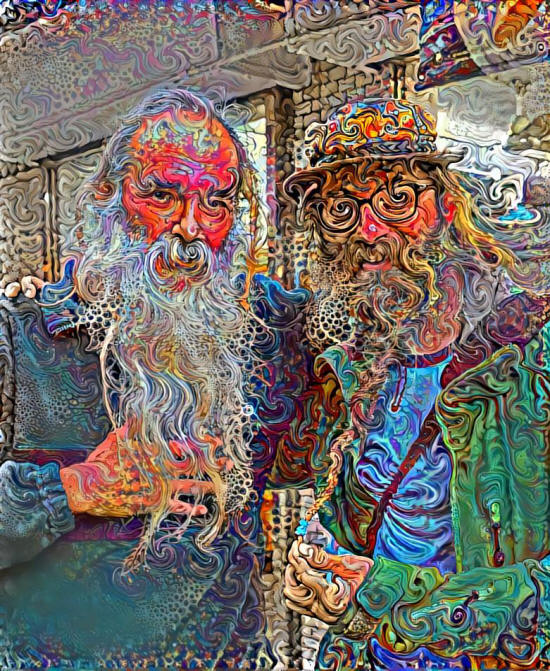 Meeting of the proud beardies in Yung Shue Wan
(original selfie by world-traveling photographer David Brandenberger)
For more deep-styled images of this funky pair...
More similar images in my Deep Dream Generator page...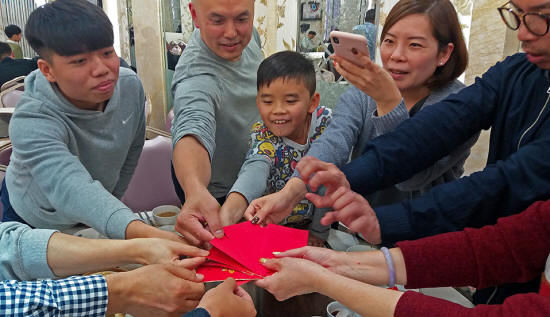 Lunar New Year with my HK-Chinese family: 3 step-children, 2 husbands, and 3 step-grandsons, all together at Dim Sum lunch. They all just LOVE Lai Sees from their Ah-Por and their Fai-Lo Gung-Gung.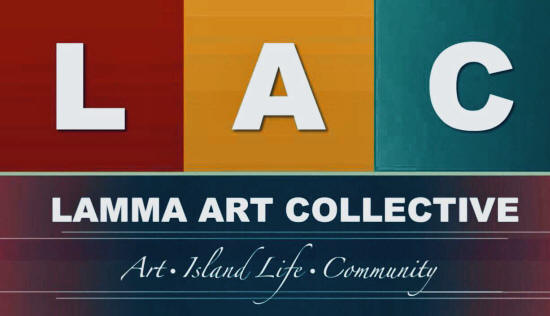 So many events are happening in Lamma Art Collective, up to 3 events/day! Wonderful! But I've had a hard time keeping up with all the excitement.
Here's a little list of all the upcoming events in their weekly series. Click above for one-off events and on the weekly series logos below:
For a nicely formatted table of almost all upcoming events on Lamma, including all these weekly series and one-offs above, check out my new Lamma Gung's Facebook Events, plus my long-running Lamma Island Events Calendar on this website.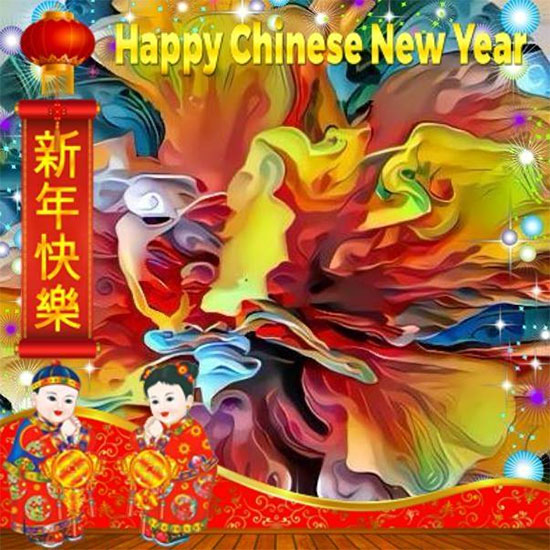 Kung Hei Fat Choi (Cantonese) and Gong Xi Fa Cai (Mandarin) to all our readers!
Here's my little home-made greeting card,
re-purposing my digital Valentine's Day card,
re-purposing my new Facebook Profile picture,
re-purposing one of my Lamma Rounds from the recent exhibition @ Lamma Art Collective,
re-purposing my photo of an orange hibiscus blooming in my Balcony Jungle.
Is it high time to create some new digital graphics instead of just repurposing and adapting my old ones? Yes, definitely.

Midnight at the Tin Hau Temple in Yung Shue Wan!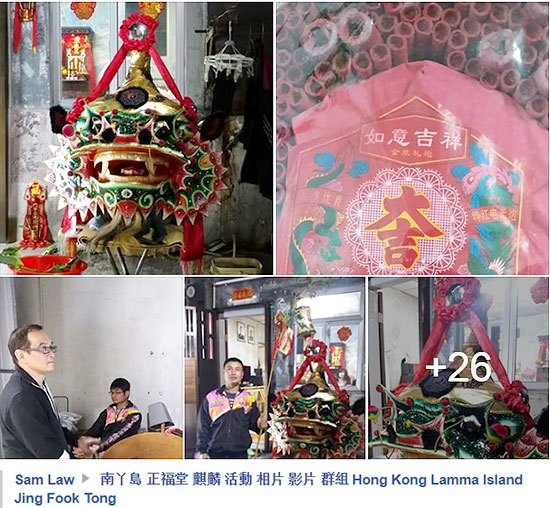 Plus more photos and a video from Stanley Chan.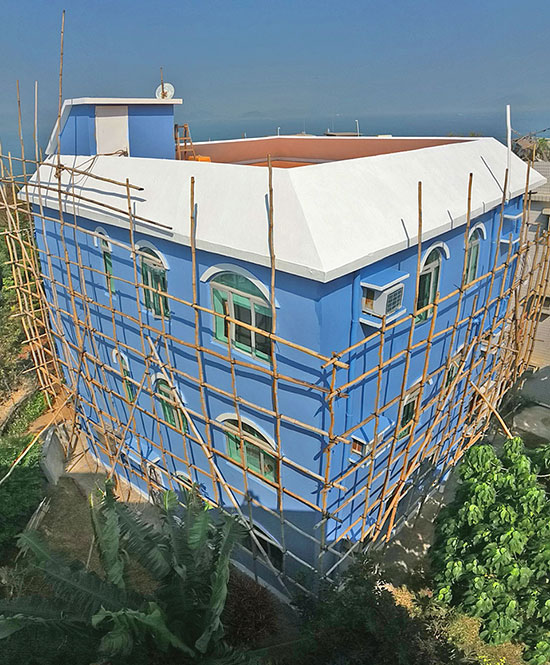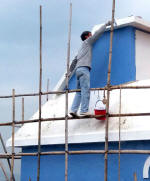 Chinese New Year, time to clean your home/house thoroughly, inside AND outside! We've never seen the famous Blue House in Pak Kok New Village in its full splendour after white lines appeared all over the fading outside walls a few years back.
The new owners wanted to be ready for CNY, so the workmen got busy just these last few days. It just looks so dangerous just to watch them painting, our hearts skipped a few beats.
Larger photos, plus a few more pictures from my Blue House before/after series...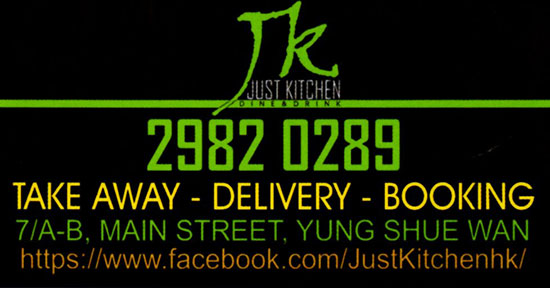 Who else is offering special menus tomorrow night? Contact me!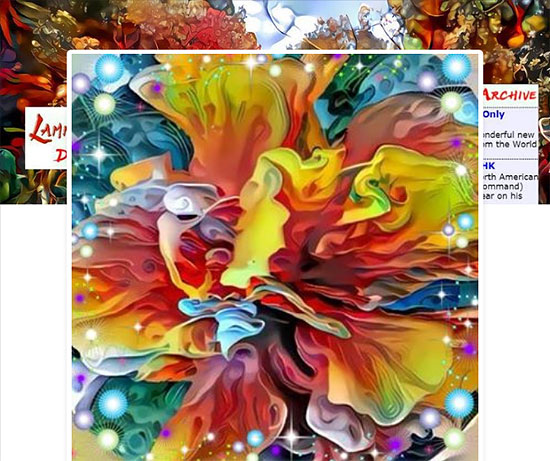 Another little digital artwork I created from a picture of a hibiscus blooming in my overgrowing "Balcony Jungle".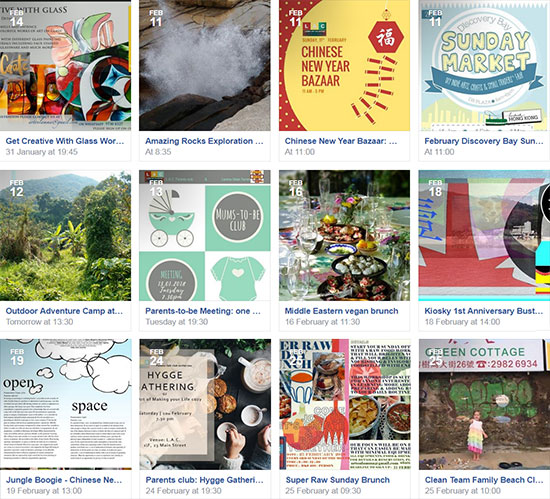 For even more Lamma events (including the ones without Facebook Events pages like the ones above):
http://Lamma.com.hk/index_events.htm