| | | | |
| --- | --- | --- | --- |
| | Jun 19 - Pier at the far end of Pak Kok, facing HK Island across the East Lamma Channel. | | Jun 18 - Opposite the sunrise today, the full moon was setting, reflecting some of the sunrise colours. |
| | | | |
| --- | --- | --- | --- |
| | Jun 16 - Occasionally, I get lucky, finding details in my photos only while post-processing them. | | |
| | | | |
| --- | --- | --- | --- |
| | Jun 10 - ... about our rooftop after having to move next month to a rooftop-less flat? | | Jun 9 - "My tribute to The Island Bar which closes today after 38 years!" |
<!/tr>

June 19: Back on the Bike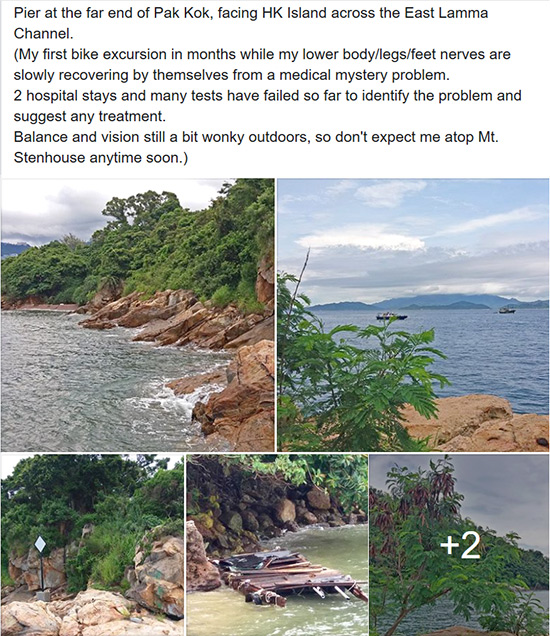 June 18: Full Moon Sunrise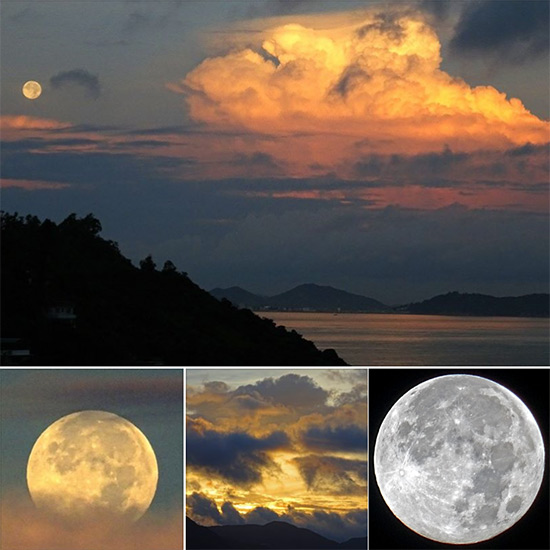 Opposite the sunrise this very early morning, the full moon was setting, reflecting some of the sunrise colours.
Not too bad for snapshots with my front&back-cracked smartphone (plus my ancient 2nd-hand pocket zoom lens mounted on a pocket tripod), I hope.
Is it high time to upgrade my hardware? No need yet, I think, as long as I can get OK photos like these above. ;~}

June 16: Sunset Flight
I'm taking sunrise/sunset photos quite frequently these weeks. We'll be losing most of our views next month - due to a massive rent increase, after 6 happy years here in our panoramic rooftop flat - moving into a flat surrounded by trees and palms.
Occasionally, I get lucky, finding details in my photos only while post-processing them. For example tonight: Sunset flight (zoom in)!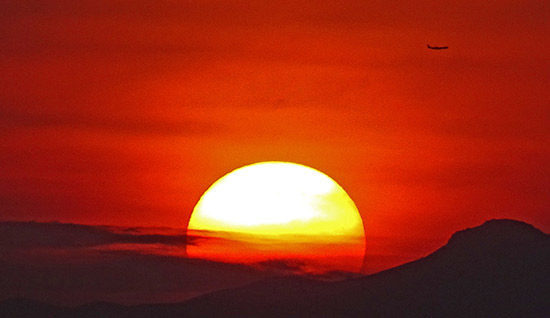 June 12: 'Farewell My Beauty!'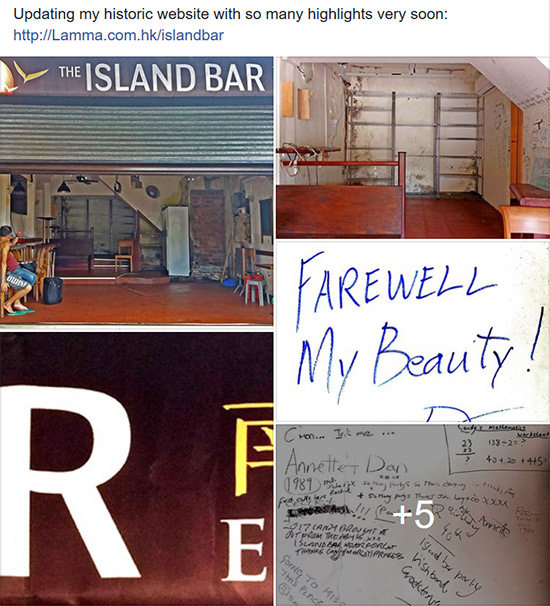 June 10: What Will I Miss the Most?
What will I miss the most about our rooftop after having to move next month to a rooftop-less Pak Kok flat? Let me answer visually, just the other evening: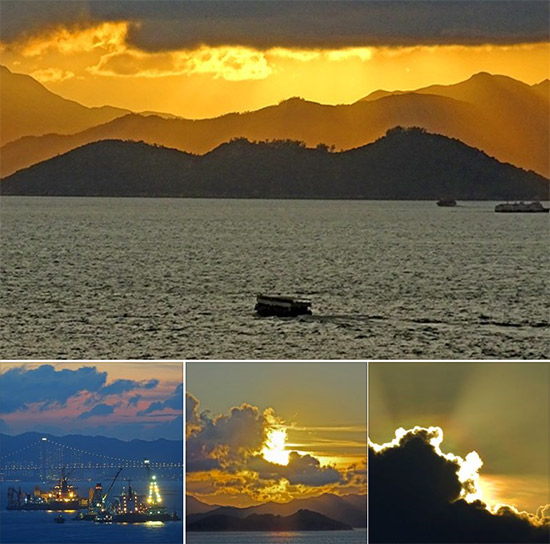 June 9: R.I.P. Island Bar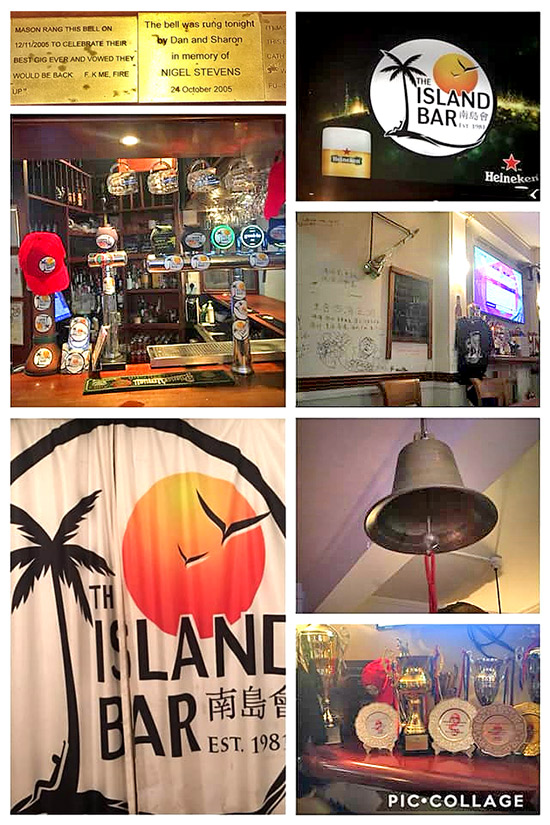 Sharon Birkett:
"My tribute to The Island Bar which closes today after 38 years!

As The Island Bar finally closes, it's a sad, fond farewell.
Countless celebrations have taken place and many rang the bell.
Shelves are filled with dragon boat trophies, it's a fabulous display.
A Boaters and regulars' social, every day!
Dancing on the tables, Queen songs blasting out,
Win or lose, team spirit is what the I Bar's about.
Operation Santa, lots of silly banter,
Quiz nights, treasure hunts, bands, will be missed.
Late night stay behinds, many happily getting pissed!
People squeezing passed, as they come off the ferry.
Punters oblivious, becoming more merry.
To All Those-who worked at Lamma's oldest institution,
THANK YOU very much for the fun times and your community contribution!
Will miss you, Brad Tarr & Oliver Armistead!"
---
Historic website -2009: http://Lamma.com.hk/islandbar
Our stories & photos of The Island Bar
---