| | | | |
| --- | --- | --- | --- |
| | Mar 31 - Starting tomorrow, Turtle Beach and the ENTIRE bay will become a restricted area. | | Mar 29 - Full Moon over YSW tonight, views from Fishermen's Pier. |
| | | | |
| --- | --- | --- | --- |
| | Mar 26 - "The current City Garden is where HK Electric's second power station used to stand." | | Mar 25 - Hill fire today, on the hill overlooking the powerstation! |
| | | | |
| --- | --- | --- | --- |
| | Mar 24 - "How many times have you been on a medical emergency..." | | Mar 23 - The sole COVID-19 local case in many weeks, a neighbour close to our home. |
| | | | |
| --- | --- | --- | --- |
| | Mar 22 - Lamma-Poh just got her 1st BioNTech shot, the Comirnaty vaccine. | | Mar 21 - The very first Hippeastrum flower just opened in my balcony garden. |
| | | | |
| --- | --- | --- | --- |
| | | | Mar 19 - "Lamma is my love at first sight." |
| | | | |
| --- | --- | --- | --- |
| | Mar 10 - Just booked online for BioNTech's Covid-19 vaccine, no wait at all. | | Mar 9 - Originally located on Lamma Island, it has moved... |
| | | | |
| --- | --- | --- | --- |
| | Mar 8 - If you don't use it, you lose it, Lamma-style. | | Mar 5 - Very pleasant surprise yesterday in our maibox! |

Mar 31: All of Turtle Bay Closed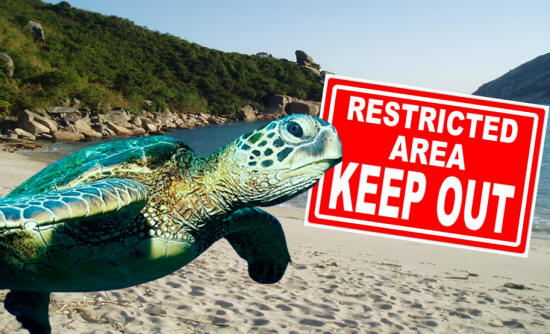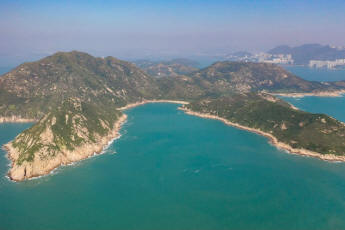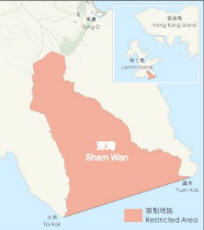 Starting tomorrow, Turtle Beach and the ENTIRE bay will become a restricted area for the summer season, not just the beach as in past years. Hong Kong's Green Sea Turtle conservation measures:
AFCD.gov.hk/.../SWRA_leaflet_2021.pdf
Restricted period: From April to October every year.
Restricted area: Sandy beach at Sham Wan, Lamma Island and inlet of the sea adjoining the beach.
Resident and water-based patrol officers will be enforcing these strict new laws.
Maximum fine for unauthorized entry: $50,000.
24-hours hotline: 2733 2641 (or 1823)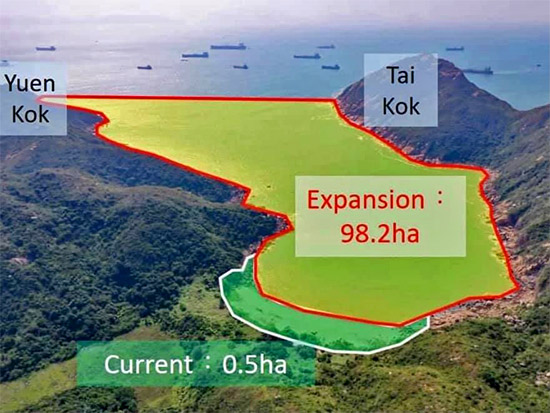 Mar 29: Admiring the Full Moon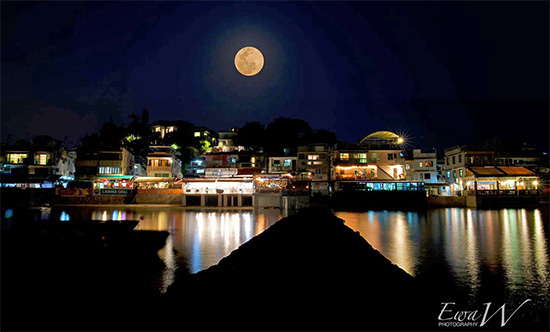 Full Moon over YSW tonight, viewed from Fishermen's Pier
by Ewa Wilkinson (Photographer & Videographer)
P.S. More night photos from same location, by Yours Truly.

Mar 26: Eastern Sparkle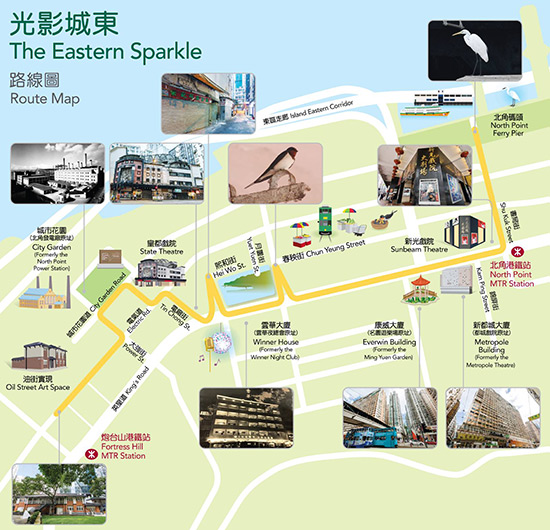 New press release from HK Electric:
Green Hong Kong Green Unveils Hidden Gems in Eastern District:
"Named "The Eastern Sparkle", the new route captures the unique cultural, historical and ecological features of North Point, once a hub of entertainment and leisure, and home to the former North Point Power Station.
"The current City Garden is where HK Electric's second power station – North Point Power Station used to stand. Very little is left now except the few surviving street names, like Electric Road, Tin Chong Street and Power Street."
"Former Power Station" caught my attention!
I was walking along Electric Road just a few minutes from home to my office. We lived in City Garden (part of this new "eco-heritage route") in North Point in several flats before moving to Lamma 20 years ago. So we've moved from the exact location of the former HK Electric Power Station to Lamma dominated by the current Power Station!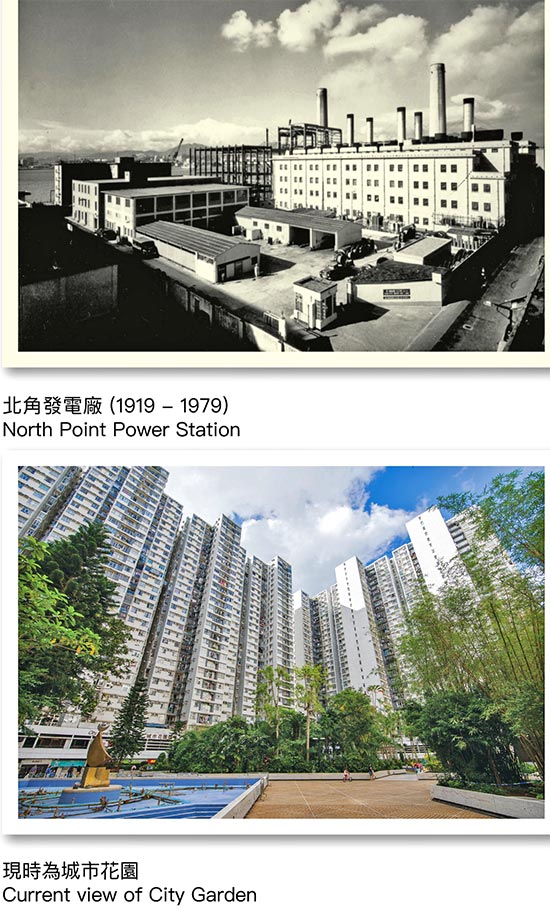 Lots of pictures in the Green HK Green press release and there's even a tour video: "HK Electric's Managing Director, Mr. Wan Chi-tin, is joined by Rico to take the public on a video tour in search of North Point's forgotten past and other ecology treasures."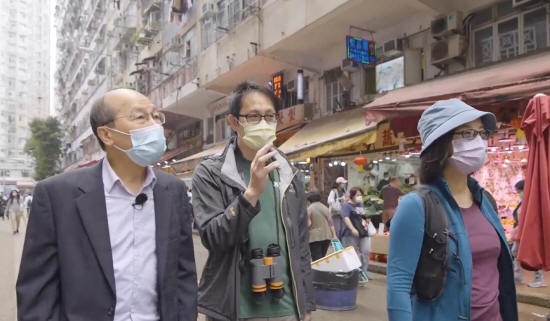 Mar 25: Bushfire & the Aftermath
Hill fire today, on the hill overlooking the Power Station! Fiery photo by DJ Clarke and the next 2 photos by Oskar Glutton, with friendly permission! Thank you to our Lamma firefighters who arrived on the scene quickly!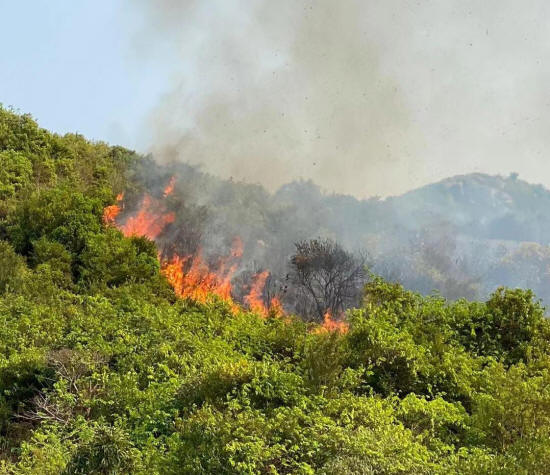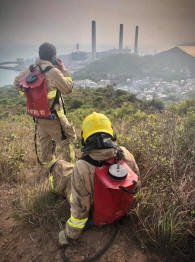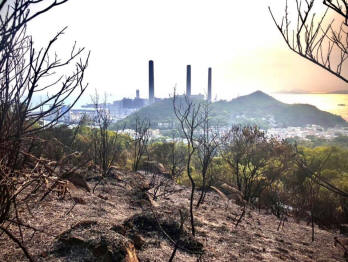 It's been years since a serious hill fire on Lamma. But Ching Ming festival is coming up on April 4, one of the 2 highest-risk days for hill fires in HK. Traditionally, relatives visit graves in the hills mostly on or around these 2 festival days, lighting candles and occasionally not putting them out properly.

P.S. New drone photos of the area beween windturbine and Cable Road by Leung Gong Tsyn. Thank you!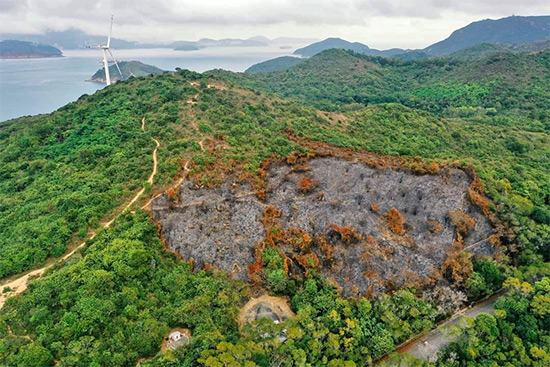 He writes: "Bushfire aftermath.
Ching Ming Festival is coming up soon, beware of any cigarette butts or fire from burning incense, as they might burn the lovely greens on the hills and it will take ages for the trees and grass to grow back."

Mar 24: 13x on Emergency Helicopter!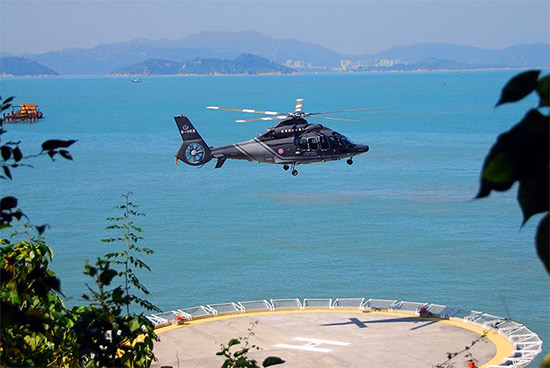 My photo shot from the forest path up to Kam Lo Hom
A question I've asked my 2002 Facebook Friends and hundreds of Followers:
"How many times have you been on a medical emergency evacuation helicopter flight from Lamma, either as a patient or accompanying somebody?"
I've been flying only once in 20 years on Lamma, accompanying my wife Lamma-Por, when the Govt. Flying Services still used the Power Station's Helipad.
Ambulance from the YSW Clinic, landing in Tamar site in Central, then taking the car ambulance all the way to Queen Mary Hospital, almost 2 hours in total!
It's all way more efficient and much faster since they built the new helipad (see above) close to the Lamma Clinic. Chow Yun-fat opened it!
The former record was held by one Lamma lady who took the helicopter EIGHT times so far! The new record I just found is an astounding 13 flights by my former neighbour, a Filipina who's mostly been accompanying her elderly employers to hospital.

Mar 23: Local Covid-19 Case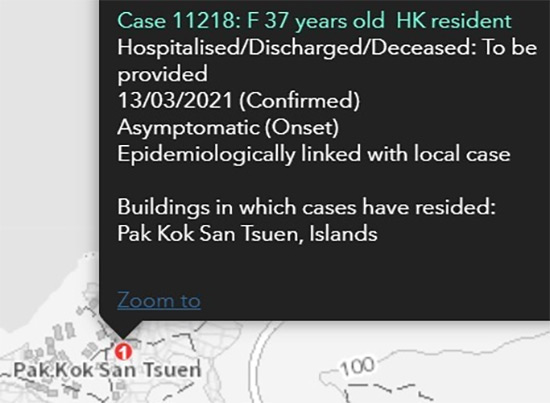 The sole COVID-19 case on Lamma Island in many weeks, a neighbour close to our home. Asymptomatic, quarantined in hospital, no problem for us. She's part of the URSUS gym cluster with over 150 cases so far, mostly around Central, HK Island.
The Govt. went to extreme lengths to disinfect all the areas she came in contact with, even cleaning the OUTSIDE of her village house and washing the entire path from her flat to the ferry pier! ;~)

Mar 22: Vaccinated!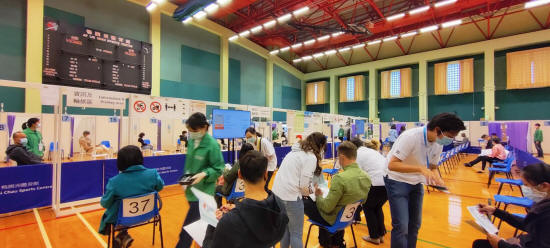 Currently in Ap Lei Chau Sports Centre 鴨脷洲體育館, where Lamma-Poh just got her 1st BioNTech shot, the Comirnaty vaccine. (The name is a combination of the terms COVID-19, mRNA, community, and immunity.)
I received my 1st shot in this same place 6 days ago. It's the most convenient for us Pak Kokians, just a short ferry ride to Aberdeen, a 2-minute walk to gaido to Ap Lei Chau island, then 5 minutes to the centre.
Lamma-Poh was quite reluctant at first to get jabbed, but accompanied me last week. She was so impressed by the highly professional immunisation setup, she signed up on the spot and here we are today for her 1st shot!
Quick, easy, very well-organised and an almost painless jab! We even got a doctor coming by before our injections because we were worried about our pre-existing conditions and me being on 2 courses of antibiotics at the time. No problem.
Not a single, even mild side effect for either of us. even days later! Looking forward to our 2nd shots in 3 weeks.
Freebies after vaccination: Sticker, pin & 10 facemasks. Masks will remain mandatory in HK for at least the rest of this year, probably longer.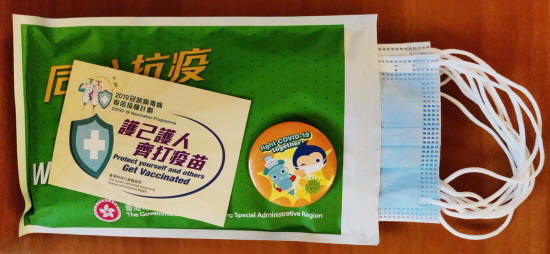 Mural opposite the Vaccination Centre: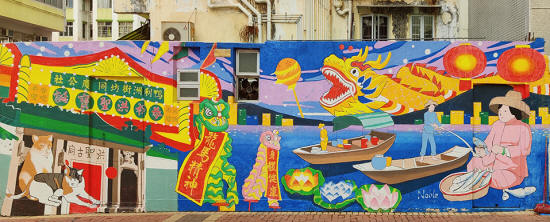 Vaccination Centre just opposite the Aberdeen-Lamma ferry pier. Very safe gaido, with 5 fire extinguishers on this little wooden boat crossing Aberdeen Harbour very frequently.

Mar 21: Hippies Abloom

The very first Hippeastrum flower just opened in my balcony garden. Many of these huge, iconic flowers, including mine, seen all over Lamma Island these days were originally bred, sold or often donated for free by Geoff the Master Gardener of the Tai Peng Community Garden.
Results of some of his cross-breeding work over the past few years. Click for Geoff's video: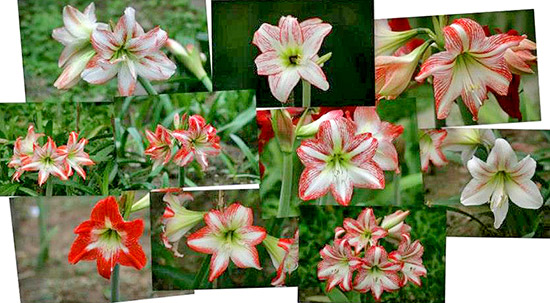 Click for Blooming Hippies in TPCG right now. Visit!
P.S. Mar 30: Hippies are finally in full bloom in my currently very lush & verdant balcony garden. Springtime! The blushingly white blossoms are larger than my fully outstretched hand!

Mar 20: New Ferry Fares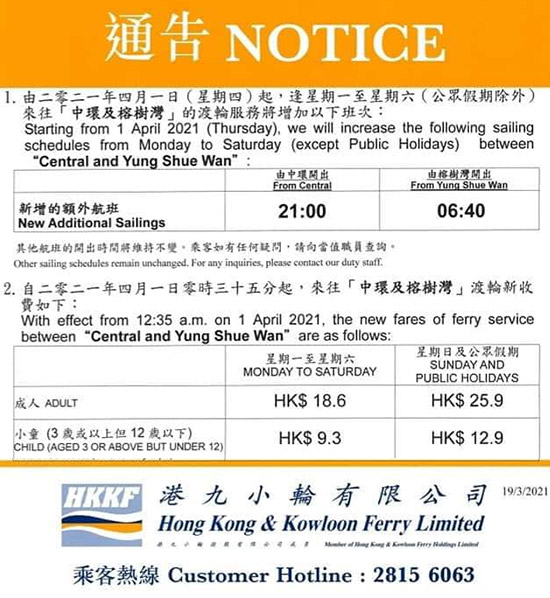 lnteractive website & app with all Lamma ferry schedules

Mar 19: 'Regarding Lamma'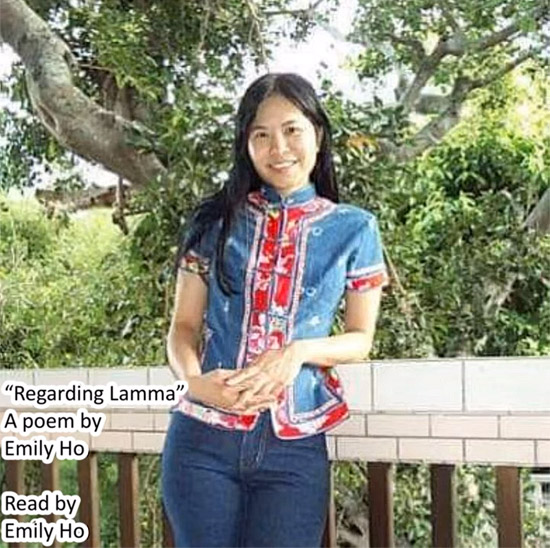 Great, honest, insightful poem about Lamma Life, by our ex-Ice Cream Lady, who has been closely watching YSW Main Street comings/goings and Lamma Life for years. Excerpts:
"Lamma is marijuana, alcohol and foul language in more than 77 dialects.
Lamma is desperate, single, Chinese ladies moving to the island, hoping to look for Western men that are in high supply on the small island.
Lamma is a place where you can have your ex, present and future lover living on the same street, hugging and saying hi to one another.
Lamma is my love at first sight."
Listen to the entire short poem and comment.

Mar 18: Lamma Life Jungle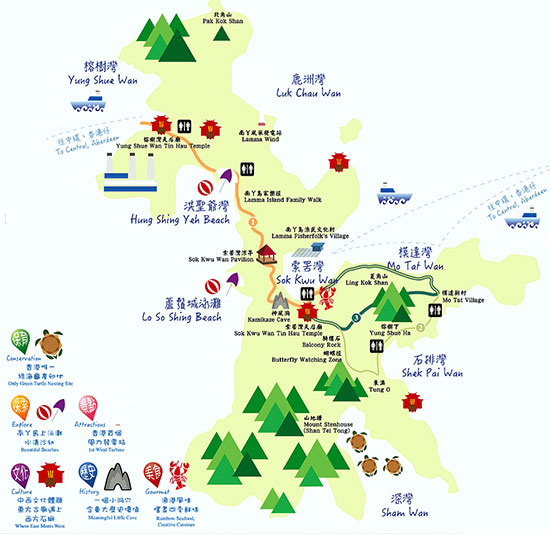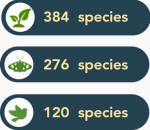 Lamma Map from Life Jungle, a South Lamma-based NGO I've never heard of before. Their website and courses look most interesting, even promoting Living Lamma's recent biodiversity survey:
Upcoming Events:
Estuary Ecology Eco-Tour, Photography Workshop, Biodiversity Exhibition, Biodiversity Exhibition Closing Ceremony, Ecology Search, Sok Kwu Wan Mural Art.

Mar 14: Planet Lamma Sunset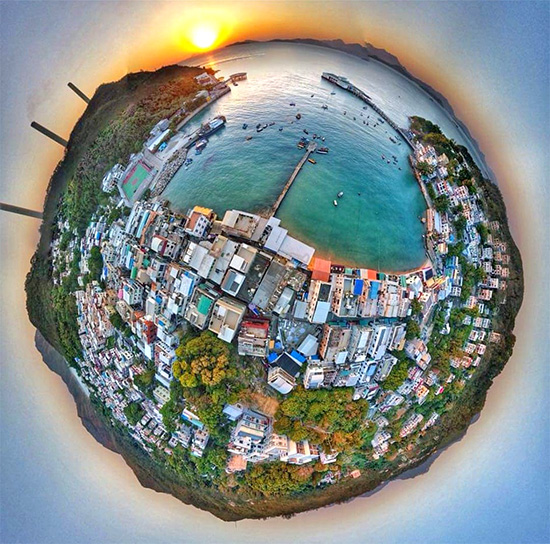 Photo by Joe the Quadrocopter Aviator.
He's been featured in the Lamma-zine several times, one of the very first people to fly drones over Lamma in 2013. He was even doing it for Govt. and other paying clients back then!
P.S. Over 100 Likes and Loves on Facebook so far, an extremely high number for a private Lamma group.

Mar 10: To Be Vaccinated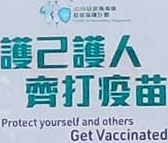 Just booked online for BioNTech Covid-19 vaccine, no wait at all. Quick and simple. Ap Lei Chau Sports Centre would be closest for Lammaites, especially Pak Kokians. Just off the cross-harbour gaido from the Aberdeen ferry pier.
Feeling great about it, actually looking forward eagerly to next Tue, after 1 year of relentless, daily gloom & doom news!
View from Aberdeen's Lamma ferry pier to Ap Lei Chau Sports Centre, my 1. vaccination next week!
https://www.covidvaccine.gov.hk/en/

Mar 9: Temple of Feminization
Mysterious March 1 press release about a recent "Temple of Feminization" on Lamma. Ever heard of it?
"Gloss Studio announced today that their studio has changed locations. Originally located at The Temple of Feminization on Lamma Island, it has moved to the Eaton HK Hotel in Yau Ma Tei."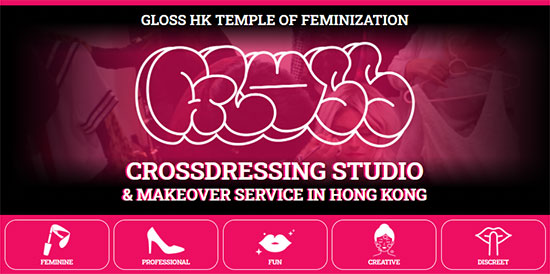 Mysterious March 1 press release about a recent "Temple of Feminization" on Lamma

Mar 8: No Entry!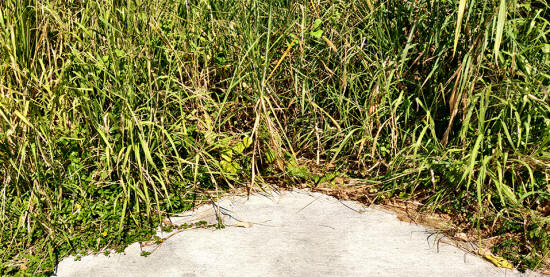 A new path to a coastal village house under construction, just concreted a few months ago in my neighbourhood, has been reclaimed by nature already. If you don't use it, you lose it, Lamma-style.

Mar 5: More Free Dining Coupons
Very pleasant surprise yesterday in our maibox! $250 in free dining coupons for eating in Lamma and HK Island restaurants, paid for by HK Electric. They announced this "relief measure" just a few weeks ago:
"HK Electric will continue to launch the 'Care and Share' SME Caterers Subsidy Scheme, posting in batches dining coupon sets worth $250 each to eligible families and other customers in need for use at more than 200 participating eateries located on Hong Kong and Lamma islands." More info:
HK Electric Expands Relief Measures to Benefit More SMEs and Needy Families.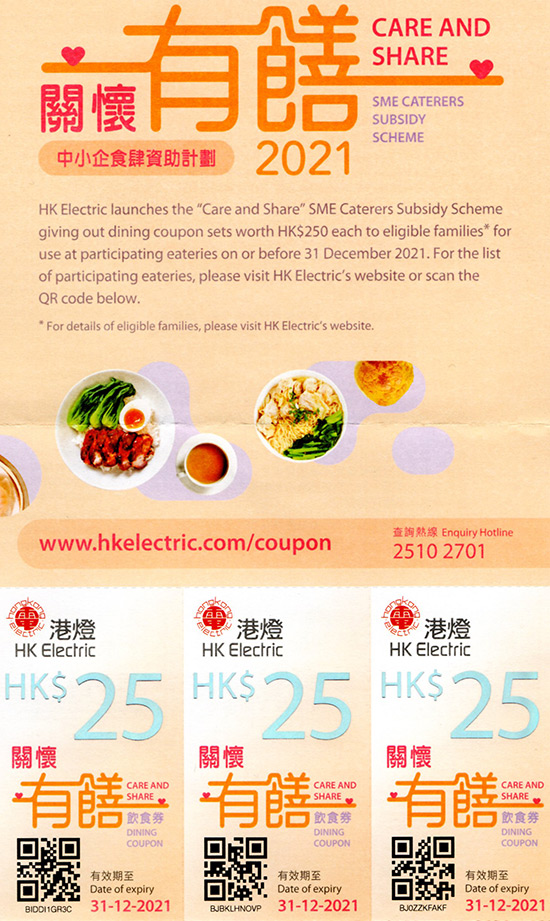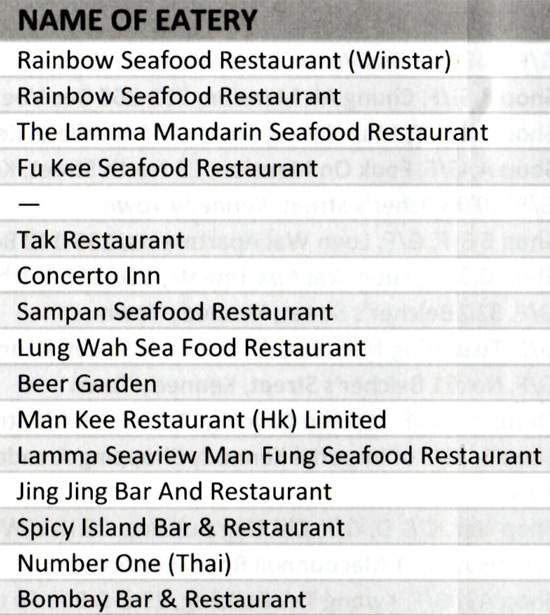 Lamma restaurants accepting the dining coupons.