| | | | |
| --- | --- | --- | --- |
| | Sep 18 - "...tell the story of Lamma Island, its people, scenery and its past." | | |
| | | | |
| --- | --- | --- | --- |
| | Sep 10 - Which one do you like best? | | Sep 9 - "A rare sighting of 'anti-crepuscular rays' accompanying sunrise/sunset)" |
| | | | |
| --- | --- | --- | --- |
| | | | Sep 7 - "I'm delighted to announce an acerbic alliance with political satirist Harry Harrison." |
| | | | |
| --- | --- | --- | --- |
| | Sep 2 - "Lamma's writing collective, Write or Die, will be selling their quarterly publication Ferry Brief." | | Sep 1 - Featuring Pak Kok's very own scientists, biology PhD Candidate Anna and Lou! |
| | | | |
| --- | --- | --- | --- |
| | Aug 31 - So many Lamma-zine stories, photos, galleries and forums... | | Aug 30 - Many excellent photographers are calling Lamma home. Case in point: Rob Aldridge! |
| | | | |
| --- | --- | --- | --- |
| | Aug 25 - Brendan Sheridan - Third Annual Lamma Tour, Aug 2021 | | Aug 24 - 5:54am today, another impressive sunrise over Pak Kok Shan. |
| | | | |
| --- | --- | --- | --- |
| | Aug 22 - The temporary pier in Pak Kok Village has just been dismantled section by section. | | Aug 21 - Our regular ferry on the daily "sunset cruise" from YSW to Central. |
| | | | |
| --- | --- | --- | --- |
| | | | Aug 16 - New term starting mid Sep at Open Space. |
| | | | |
| --- | --- | --- | --- |
| | Aug 13 - The bugs are growing really huge on Lamma! Beware! | | Aug 8 - A most comprehensive and helpful guide on taking a ferry to Lamma. |
| | | | |
| --- | --- | --- | --- |
| | | | Aug 1 - Where to use the Vouchers you received today? |

Sep 18: Lamma Mia!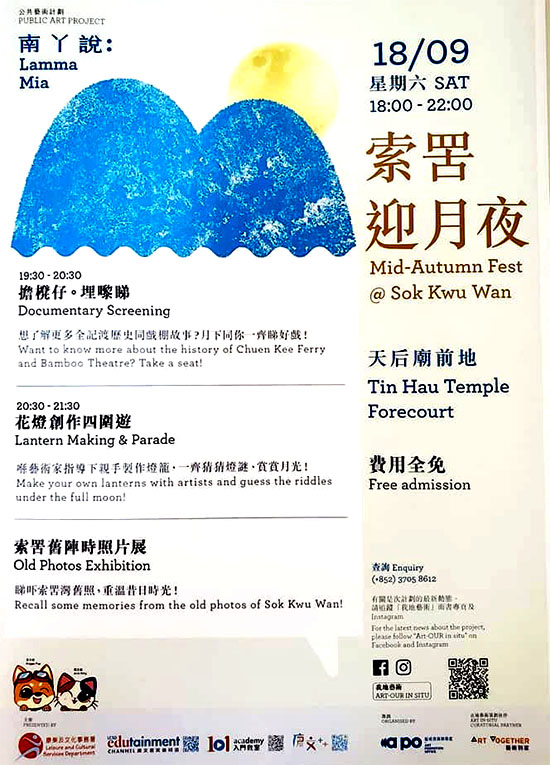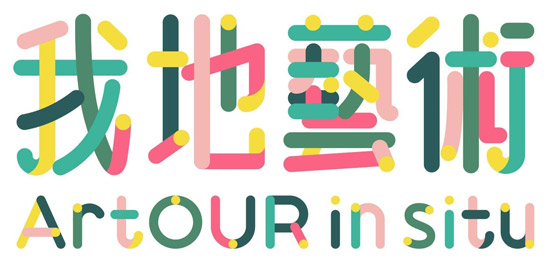 "Through this project, we hope to embark on a journey through the perspective of the islanders and tell the story of Lamma Island, its people, scenery and its past through integrated fieldwork and research with a multi-sensory artistic approach to engage the public in a close dialogue with the island. The project was officially launched during the Dragon Boat Festival.
The project was officially launched during the Dragon Boat Festival. On this important occasion, we organised a dragon boat launching ceremony that involved the artists, locals and members of the Lamma's Island Sports Association, who teamed up to row a dragon boat along the shore of Sok Kwu Wan as a kick-start event of the project!
For the latest news on 'Lamma Mia', please follow Art-OUR in situ on Facebook and Instagram!"
Lamma Mia includes a photo history of the Chuen Kee Ferry service Sok Kwu Wan - Aberdeen: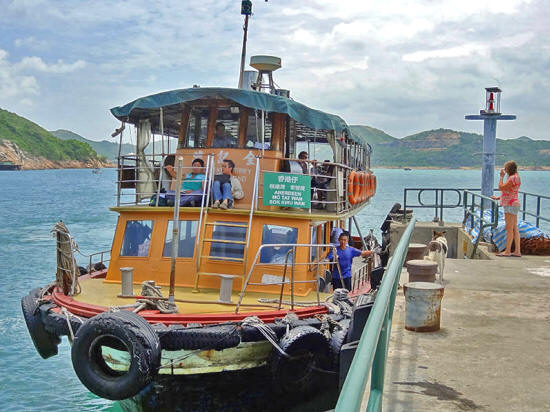 Sep 14: GREEN$ @ Aberdeen Bus Terminus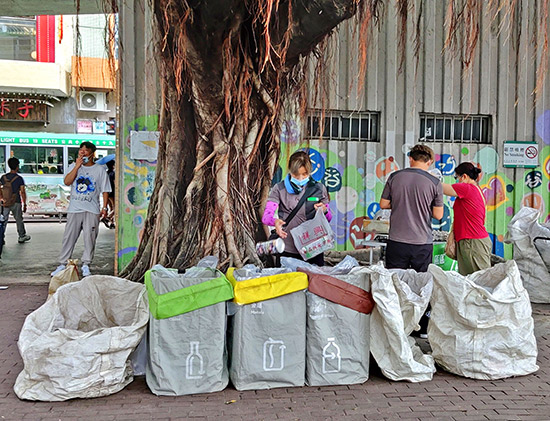 For people taking a Lamma ferry to Aberdeen:
Every Tue 10am-1pm @ Bus Terminus under the Banyan tree.
They'll weigh your recyclables and you'll get small gifts when reaching the necessary points on your (non-personalised, safe) 6GREEN card. More recycling and gifts in the 綠在田灣 Tin Wan Recycling Store, just a short walk from Aberdeen Bus Terminus.

Sep 10: Fractal Donuts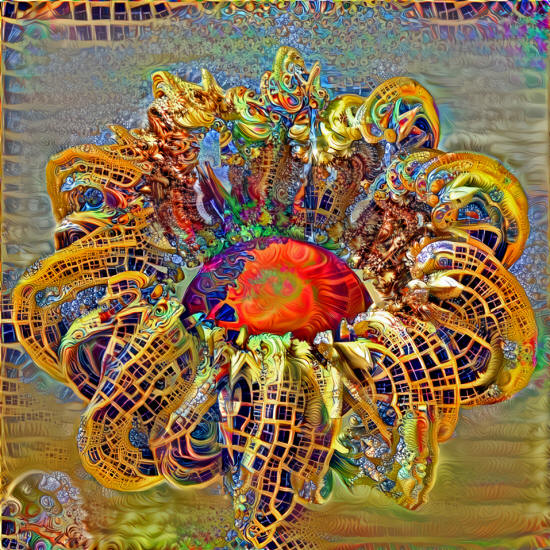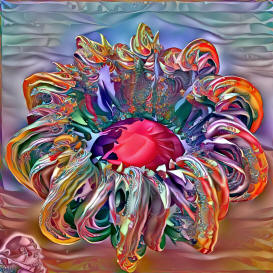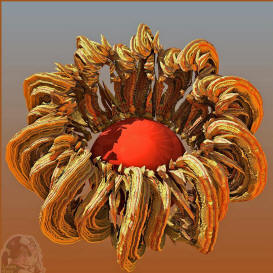 I've style-transferred & colourised a Mandelbulb 3D fractal I created a few days ago (last image above). Which version do you like best?
How about adding some VQGAN+CLIP neural net processing instead? Way too much, perhaps?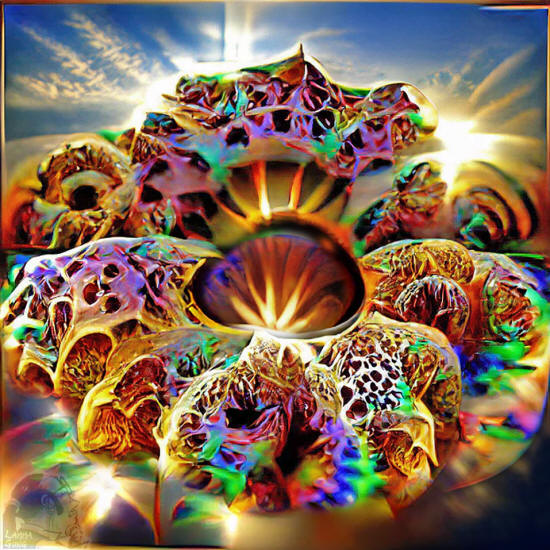 Sep 9: Anti-Crepuscular Rays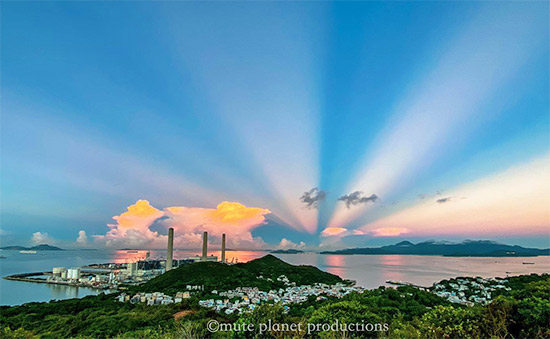 Mark Malby of Mute Planet Productions:
"A rare sighting of 'anticrepuscular rays' (rays of light that accompany sunrise or sunset - but on the opposite part of the sky) over the island village of Yung Shue Wan, Lamma Island."
This post has one of the highest numbers of hashtags we've seen on Lamma-related FB pages! #skyporn?
#landscape #landscapephotography #sunrise #sunrise_sunset_photogroup #lammaisland #hongkong #awesomehongkong #discoverhongkong #hikinghk #muteplanet #muteplanetproductions #solarrays #crepuscularrays #anticrepuscularrays #cloud #skyporn #skylovers #dawnlovers #nature #naturephotography #ilovenature #magicsky #yungshuewan #photosbymarkmalby

Sep 8: Tai Peng Community Garden History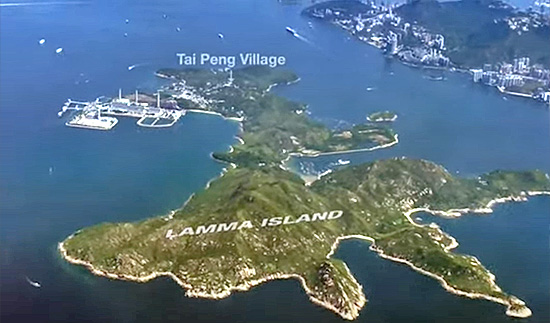 Lamma Island Legacies writes:
"This is a short video history of the Tai Peng Village Community Garden from its inception in November 2007 to August 2021."
Featuring interviews with the key people behind the garden!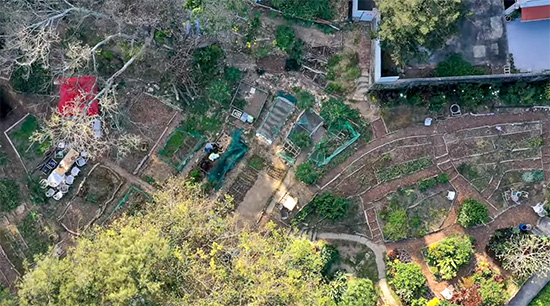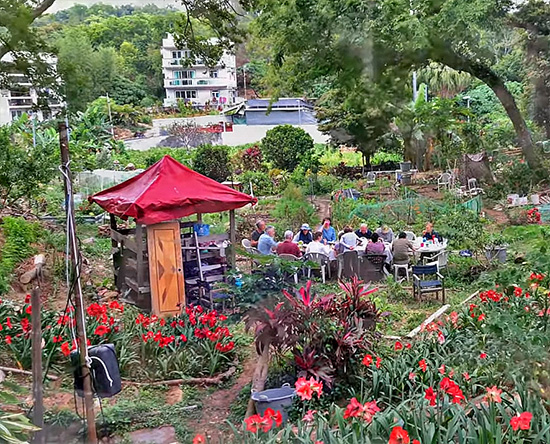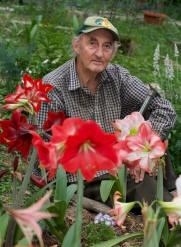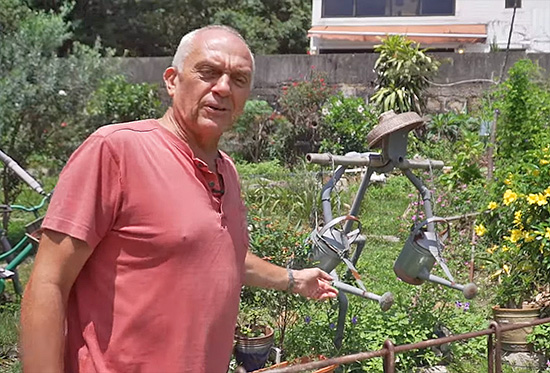 More videos from the same Tai-Penguin:
Nick the Book: Lamma Island Personality
LammaLand HK: Arrival of the Daily Guido
LammaLand HK: The Midday Ferries

Sep 7: Frictionary News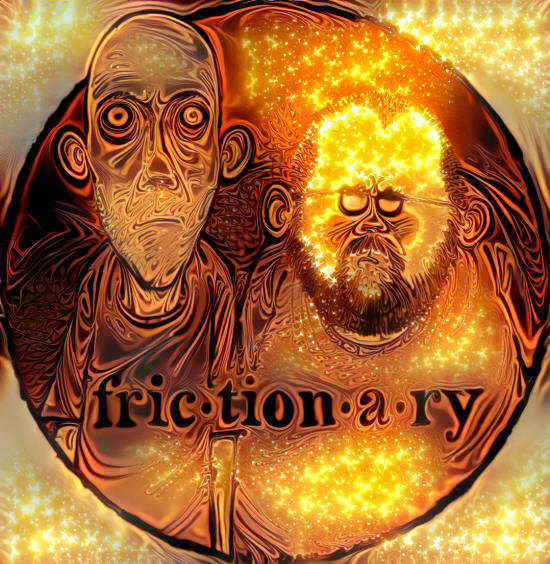 Phil Morgan (above left in Harry's cartoon avatar) writes:
"FRICTIONARY NEWS!
I'm delighted to announce an acerbic alliance with political satirist Harry Harrison.
If you want to know the difference between a BEERIO and an ABNOGETTER, if you've ever been offended by a SNOBGOBLIN or had to work with an UNDERHOUND... read on.
The first 100 copies of 'Frictionary' will launch on Kickstarter in Jan 2022.
Details, at this stage, are incredibly vague.
A new word daily here. Please share if you like what we do."
More details will follow here as soon as available.

Sep 2: Humid Love?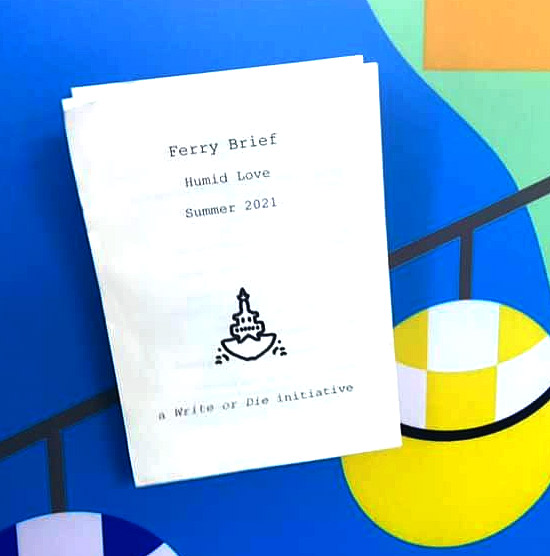 Chloe Grimmett writes:
"It's going to be a steamy one!
Lamma's writing collective, Write or Die, will be selling the third edition of their quarterly publication Ferry Brief tomorrow!
Ferry Brief #3: Humid Love
Friday 3 Sep, 7:50-9:30am, opposite HSBC, $20
Ferry Brief is inspired by the pocket-sized Japanese accordion book style. Each edition features 8 original stories by 8 members of the collective.
The perfect length to read on your ferry journey! This edition will also be available at The Beer Shack."
Short story titles:
"The Beginning, Hot Commute, Love in the Time of Humidity, Storms, Passion Evaporates, Pretty Okay at Bikes, Roundabout, A Sickness, Therapy"

Sep 1: Pak Kokian Women in Sciencee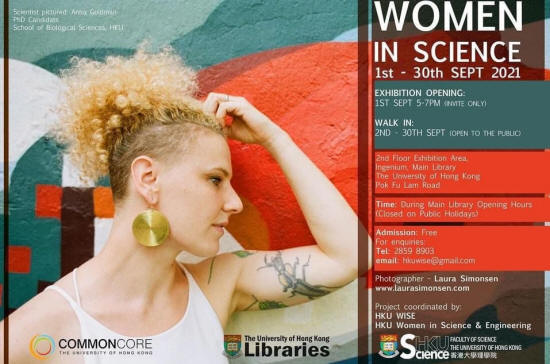 Check out this photography exhibition by Lamma-based photographerr Laura Simonsennand featuring Pak Kok Village's very own scientists, biology PhD Candidatee Annaa(see above) andd Louu!
Running from today in HK University all of Sep..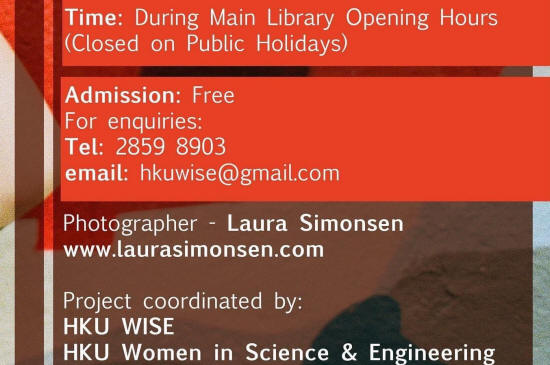 Aug 311: History of Andy's Seafoodd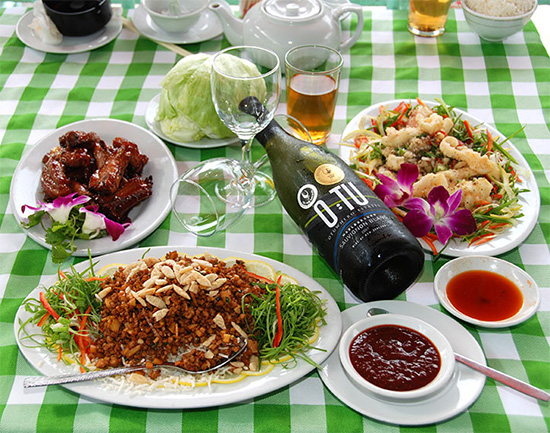 So many Lamma-zine stories, photos, galleries and forums have been published over the years of Andy's Seafood Rest. and its ancient predecessor Lamcombe..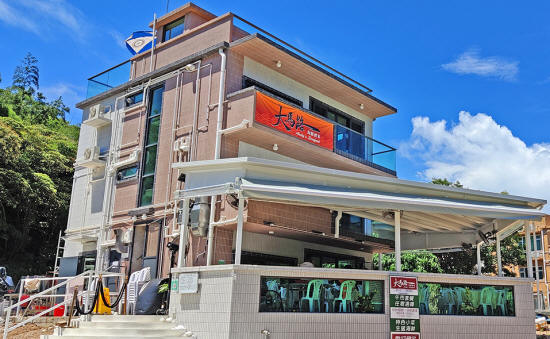 Celebrating their great reopening close to Powerstation Beach on Aug 1, see above, I've searched our 20-year Lamma archives. Some of the very best Lamma-zine stories have been featuring our favourite Lamma restaurant::
2002-2010:: Lamcombe Seafood Rest. forumm

Nov 10, 2008::

Our Favourite Chin. Restaurant? Lamcombe!!
Photo gallery of the brand-neww Andy's Seafood Rest..coming very soon!!
Discussion in my FB Profileehas started already..

Aug 30:: Clouds!!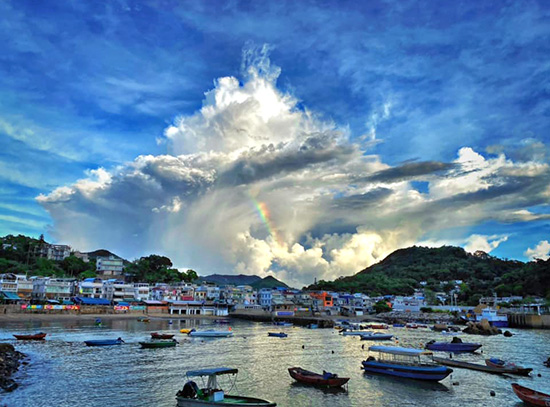 Many excellent photographers are calling Lamma home. Case in point:: Rob Aldrigee, take a bow! There's even a rainbow in that amazing pre-storm cloud formation over YSW!!
Two more from Rob: one of so many photos of the YSW ferry pier, but rarely ever with a cloud formation as amazing like this at sunset! Plus a full moon scene with night clouds..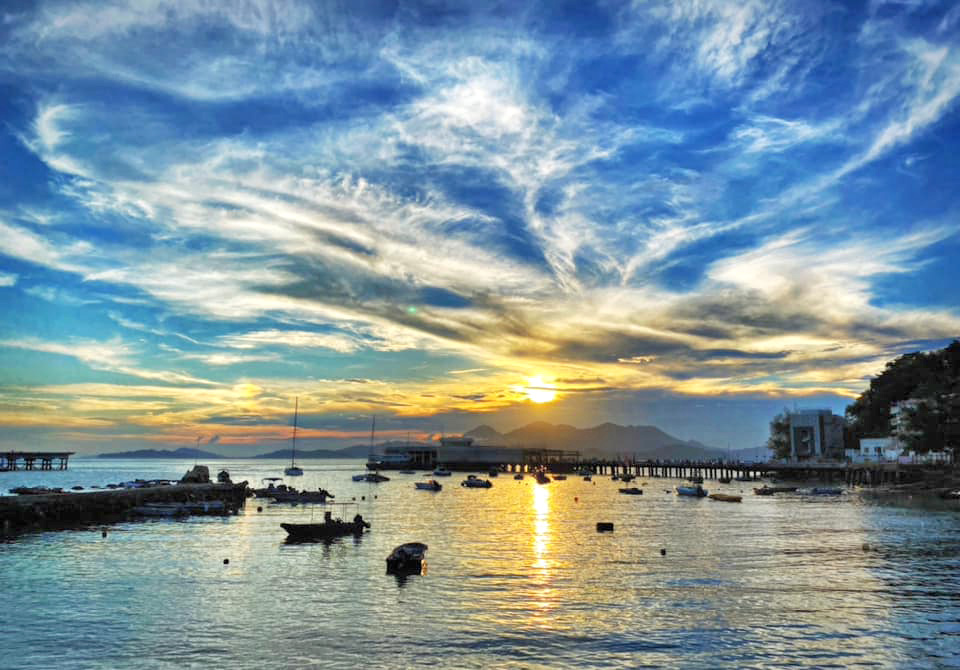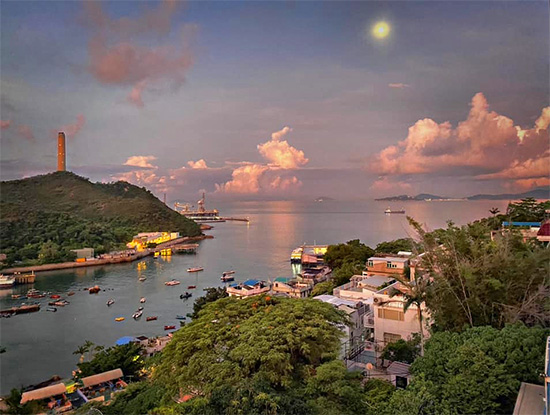 Aug 25:: DJ's Lamma Tour Restartss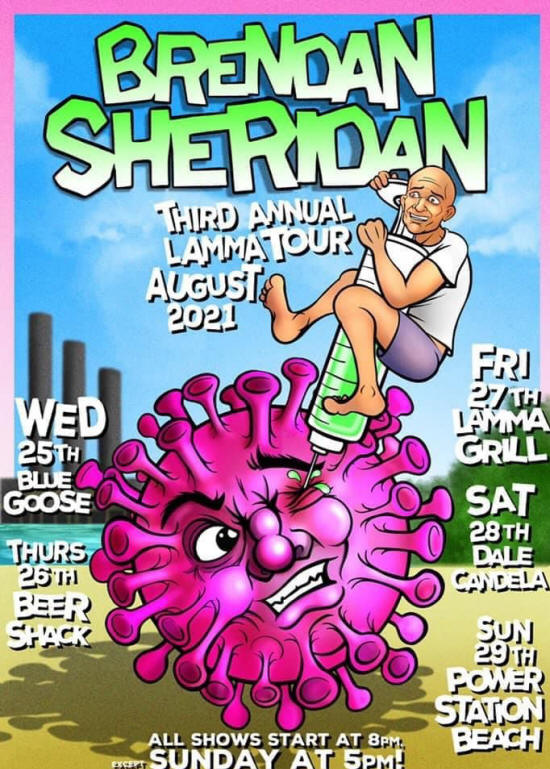 Artwork by Lamma's master illustratorr Ben Applebyy!

Aug 244: Full-Moon Sunrisee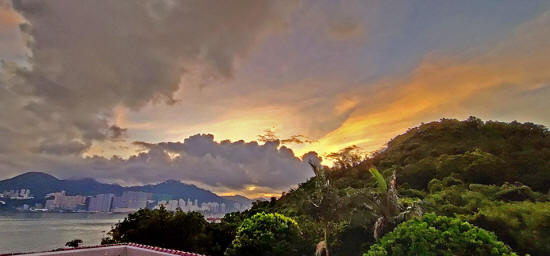 5:54am today, another impressive sunrise over Pak Kok Shan, Aberdeen on HK Island in the background..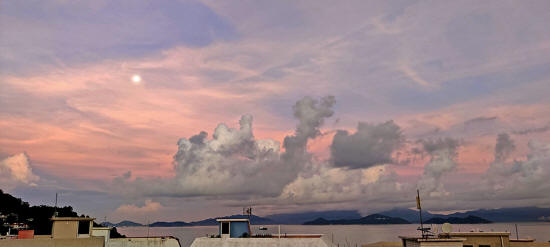 An almost-full moon plus a reddish sky and clouds in the opposite direction at the same time. I love our house's rooftop! We have full access even though we rent only the 1/F. It's great to have wonderful house mates up and down-stairs. One couple is a longtime Lamma-zine supporter and found their flat via the Lamma-zine advert I put up, free of charge for our great landlord's family..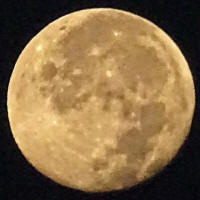 But we're currently the only 2 tenants in this village house, as the other 2 retired couples have been overseas for the last several months. I'm watering the upstairs plants and they let me use their washing machine as ours is out of order for now. Great house mates!!
Our house is a rare 3-party house in our village, as 6 out of our 7 neighbouring village houses are all occupied by single families renting or owning the entire building..
That's despite the numerous severe challenges in raising a family in an area without any shops, restaurants, schools or infrastructure besides basic power & water. Even a reliable low-speed Internet or just a mobile phone signal is lacking in many houses here..
The high number of children and pets (most of our neighbours) here attests to the very pet- and child-friendly community sticking together, helping each other out in any way needed. It's partially out of necessity as shops and basic services are missing, so you often have to ask neighbours for any urgent stuff and help. The local WhatsApp group is buzzing with so many messages!!

Aug 222: Bridge to a Pierr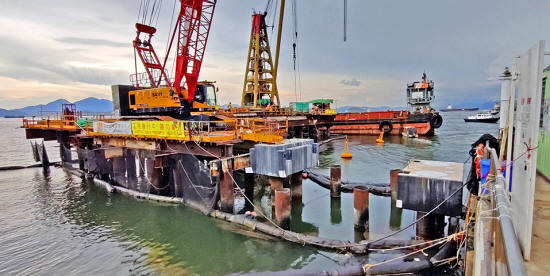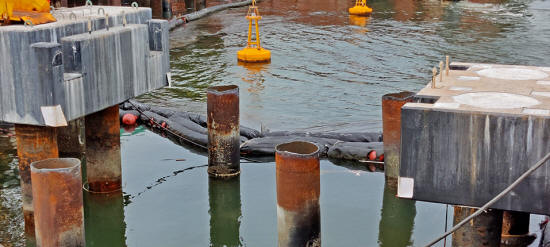 The temporary pier in Pak Kok Village has just been dismantled section by section, starting at the entrance. A footbridge has been constructed to give the workers access to the temporary pier. See below..
In 1+ year's time this HK$72.4-million side-docking pier will be completed, hopefully. Check back here for progress reports..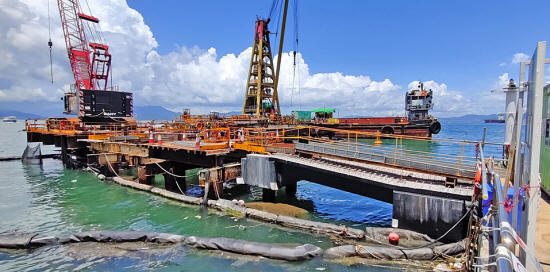 Learn more about thiss 3-year projectt.
P.S. Sep 1:: "Pak Kok Prison"??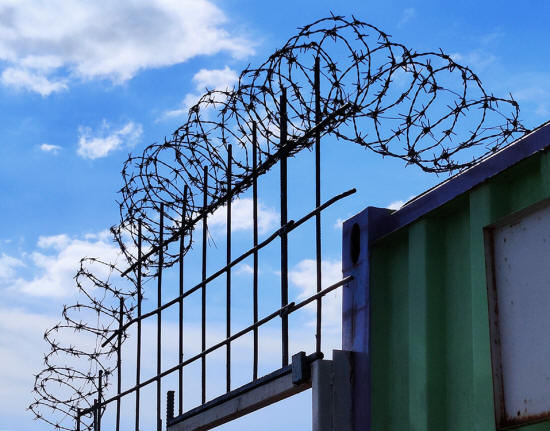 The latest addition to the new ferry pier construction site entrance on the old pier! They're really trying hard to keep us unruly residents out. What's so precious or strange in there? It's making us curious now, as before we didn't really care..

Aug 211: Ferry's Sunset Cruisee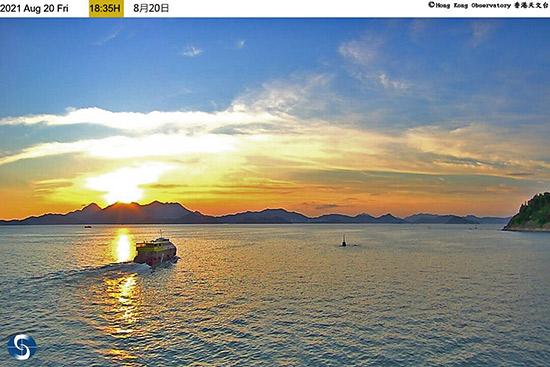 18:30h yesterday::
Our regular ferry on the daily "sunset cruise" from YSW to Central, HK Island. Another fabulous, automatic photo from thee YSW ferry pier webcammatop the YSW ferry pier, set up by the HK Observatory, updated every 5 minutes..
This morning, 0945h::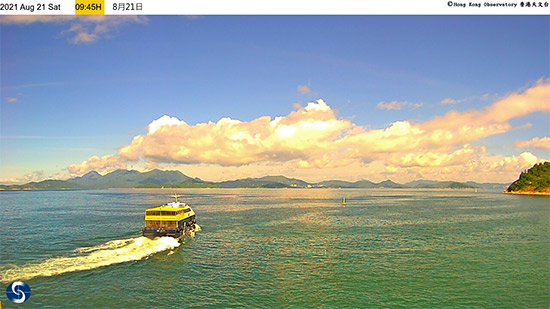 For more photos, including my gallery of the very best webcam shots,, click heree.

Aug 200: Abandoned Beach Tyress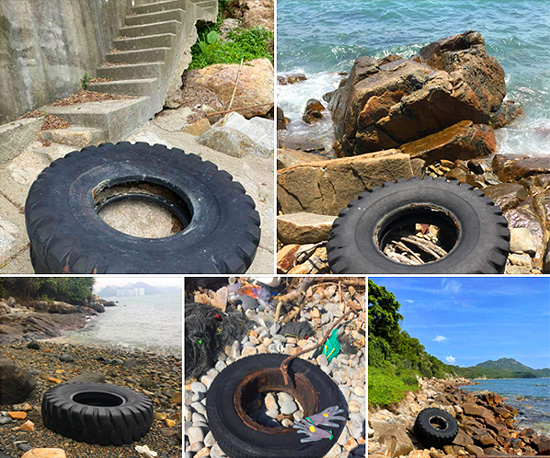 Big tyres can be found occasionally on Lamma's shores, too heavy to move away by our volunteer beach cleaners! But they could be reused as bumpers outside boats..
Some were even moved up a hill to be used for tyre-flipping or hitting them with a sledge hammer during boot camps. Great fun, as I can attest from personal experience!!
See more about the great work of our persistent volunteer beach cleaners, headed byy Living Lammaa'ss Stanley Chan..
Plus a drone video about the beauty of Lamma's shoreline::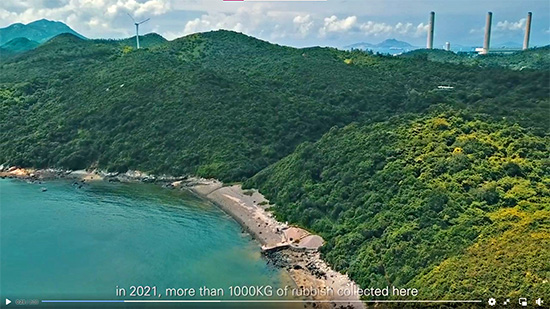 Aug 166: Forest School Starts Againn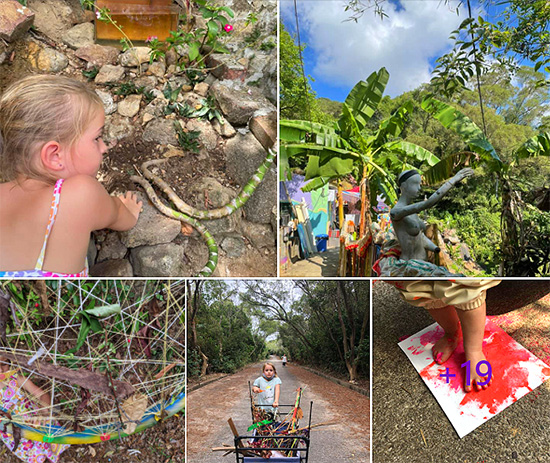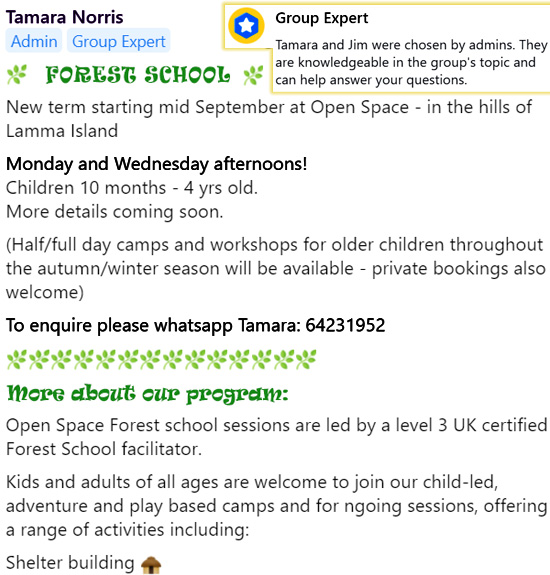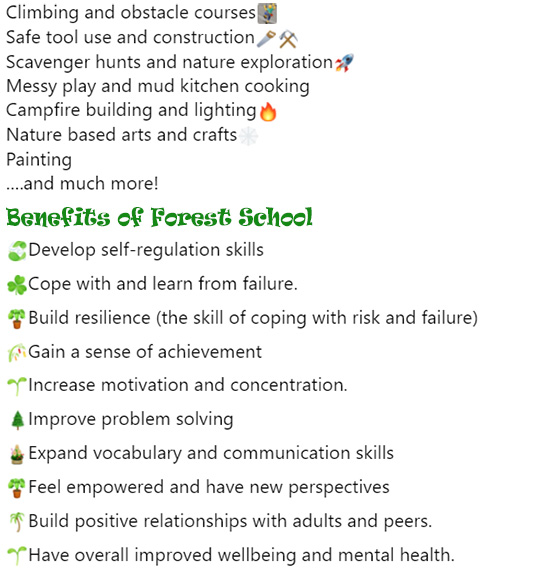 Aug 133: Huge Bugs!!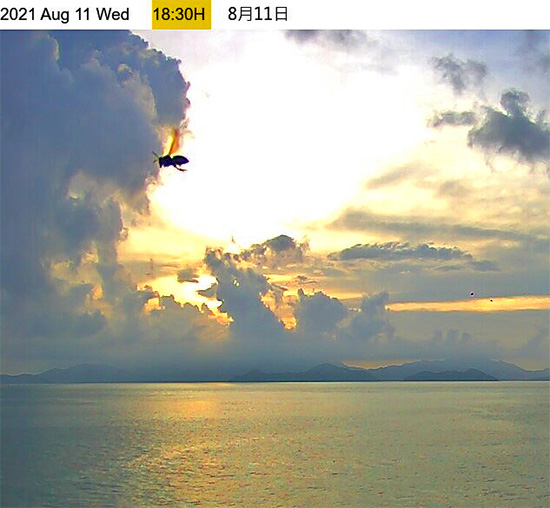 The bugs are growing really huge on Lamma! Beware!!
(Observatory's automaticc webcam atop YSW ferry pierr, pointed at sunset, updated every 5 mins.))

Aug 88: 5 Lamma Ferriess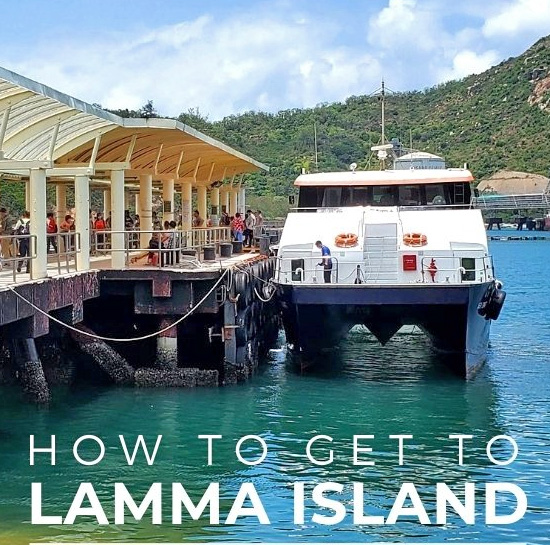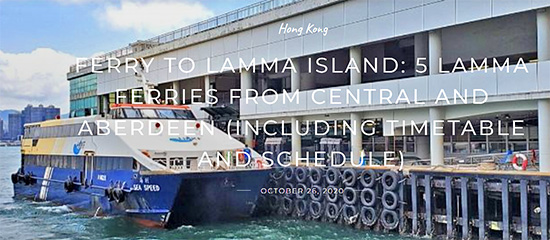 A most comprehensive and helpful guide on taking a ferry to Lamma, written for HK newbies and Lammayans alike. Highly recommended!!
Written by Queenie Makk, last updated on June 1, 2021..

Aug 55: Lammayan Tigerss
It all started with a FB post by ex-Lammayann Pete Spurrierr, commenting on the long-running debate about what to call us Lamma dwellers::

"Can I suggest that henceforth, island residents be known as Lammonites.."
As it's been a longtime habit on Lamma's social media - like on my previously very lively, pre-Facebookk Lamma forumss- aa debateeensued. Suggestions::
Lemonnites, Lammonades, Lammelians, Lammaiians, even Lameites..
I've used Lammaites till now, following other English media. But a few people and myself actually preferr Lammayans!!
Here are a few Lamma-zine stories about the mythical Lammayans by the Lamma-zine's formerr Official Court Storyteller Lokkanatt:
P.S. We're eagerly searching for new Storytellers as this honourable, "official" volunteer position is currently vacant!! Email me!!

Aug 11: Consumption Vouchers on Lammaa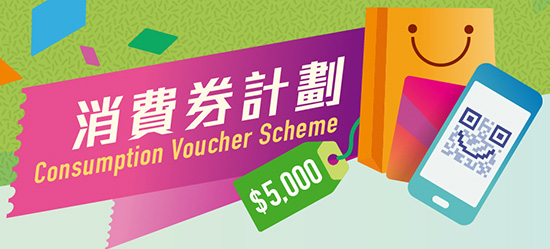 Where to use your Consumption Vouchers that you received today (like most of your fellow HKers), on Lamma? Many of us want to keep our spending local, supporting all the little, often family-owned businesses that we are relying on for our daily needs, shopping and eating-out..
We've still got not a single supermarket, 7-11 or any other chain store/restaurant on all of Lamma! In most areas of our not-so-little island (3rd largest in HK!) there's not even any shop or restaurant in walking distance..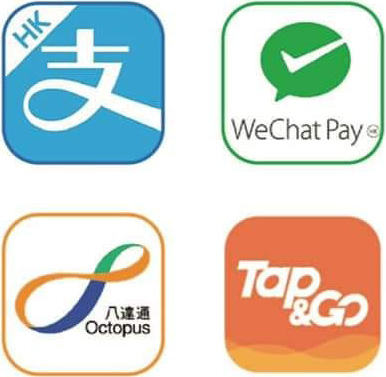 So who's got one of thee 4 Stored Value Facilitiess(Octopus, Tap & Go, AlipayHK or WeChat Pay HK) needed for using these vouchers? Till a few years ago, no business had even Octopus or any card payments available for their customers!!
Here's ann updated, crowd-sourced listtfor North Lamma. Thank you,, Marcus H. Langstonn!
"How to Spend It…. The Lamma list so far::
Bakery Corner 844— Octopus, Alipay, WeChat payy
Banyan Bay Cafee— Octopus (getting))
Blue Bird Japanesee —Alipayy
H1 Thaii(beside Bombay) — Alipay, WeChat Jay bird - Octopus (from next week))
Jing Jing / Diesel'ss— Octopus (getting))
Lammartt— Octopus arrivingg
Lamma Vinyl Recordss— Octopus, Alipay, WeChat payy
Li Yuen Shopp— Octopus (August), Alipayy
Man Fung Seafoodd —Octopus, Ali Pay, WeChat payy
Man Keee— Octopus (getting))
Rainbow Rest.., Sok Kwu Wan — all 4!!
Sau Kee Seafoodd(formerly Andy's Seafood)) —Alipay, WeChat payy
Shop opp. Jing Jingg— Octopuss
Spicy Islandd— Alipay, WeChat payy
Wah Cheungg(Wine Shop) — Octopus, Alipayy
Waterfront Rest..— "Trying""
Shop 800(Village Super) — Octopus, Alipay, WeChat payy
Pleasee add to the listtif you know any other vendors on Lamma that will accept the consumption voucher payments.""
---
P.S.. A word of caution::
We've tested on Tue, Aug 10 to gett lunch in YSW with Octopus or TapnGooand failed spectacularly! We tried all our usual places (most have no plans to get any of these e-pay systems), plus some others..
All the places listed above on "getting Octopus soon" are still waiting to get theirs set up. There's so much demand all over HK from merchants right now to get Octopus installed in restaurants and shops. 5.5 million HKers got their consumption vouchers on Aug 1 and most opted to get them via Octopus..
TapnGo is barely usable in YSW as it requires either Google Pay, Apple Pay, Mastercard or Unioncard, all never used in YSW restaurants, as far as I know..