| | | | |
| --- | --- | --- | --- |
| | | | Nov 3 - "Make at least one person happy per day!" |

Nov 11: Ballychunder, The Mongcocks, & MeatgasM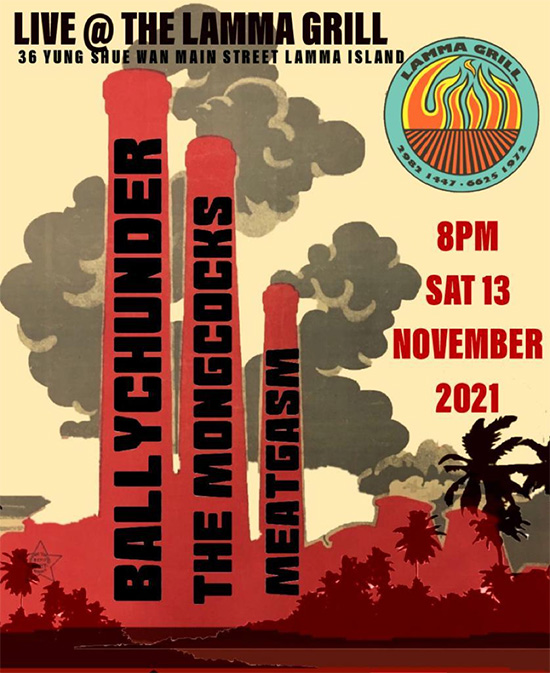 "3 bands making the trek over the vast ocean to rock the shit out of the tropical paradise island that is Lamma!
... and get this! At Lamma Grill! Eating, drinking, and unbridled fun are the required attire.
MEATGASM - Thick cuts of Heavy Meat Rock served up at high volume, seared on the outside, and rare as F in the middle!
MONGCOCKS - Hong Kong punk band that likes to drink beer and play fast!
BALLYCHUNDER - Folk punk songs of rebellion, beer and whisky!"

Nov 10: 7% Electricity Tariff Increase
"HK Electric announced today that the upsurge in global fuel prices and a worldwide shortage in supply have resulted in a higher Fuel Clause Charge for 2022, leading to a 7% increase in the Net Tariff, or 8.9 cents per unit of electricity.
Mr. Wan Chi-tin, Managing Director of HK Electric, attributed the tariff increase wholly to the rise in fuel prices which is beyond the Company's control.

To further alleviate the tariff impact on the general public under the current economic climate, HK Electric will set aside $63 million from three existing funds to provide support for the underprivileged, promote energy efficiency and conservation and strengthen education on low carbon living.
In support of the Government's long-term goal to achieve carbon neutrality, HK Electric has achieved good progress with the "coal-to-gas" transition. The installation of a new gas-fired unit L11 has been completed with testing in progress and commissioning scheduled for the first quarter of 2022 after that two coal-fired units will cease operation. The installation of another gas-fired unit L12 has also begun and is on track for commissioning in 2023.
By then, the proportion of gas-fired generation will be increased to about 70% of total output. At the same time, the Offshore LNG Terminal currently under construction is scheduled for commissioning in mid-2022."
HK Electric 2022 Tariff Adjustments
HK Electric 2022 major relief and energy-saving promotion items
Oct 7: HK Electric Pledges Full Support for "Net-Zero Carbon Emissions for Electricity Generation"
Oct 21: Beware of Bogus Emails with Malicious Links or Attachments

Nov 7: Hong Kong Impressions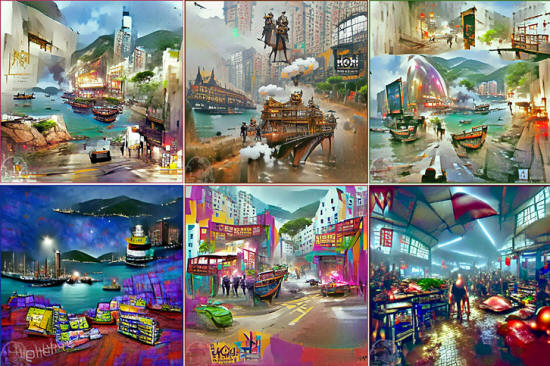 My 2nd NFT Collection has just gone online for sale at only 0.05 ETH each; including a free printed 2022 monthly calendar of all the images, plus an A3-size, signed, high-resolution print of your image, for HK Residents only.
"A collection of AI generative art pictures inspired by the beautiful city of Hong Kong. Created by Lamma-Gung, a Swiss living happily in an island forest in Hong Kong. He's been cheerfully messing around with creating digital art in numerous styles for over 40 years, exhibiting in real-world art galleries, creating printed calendars, posters, etc."

Nov 4: Lamma Mia @ Sok Kwu Wan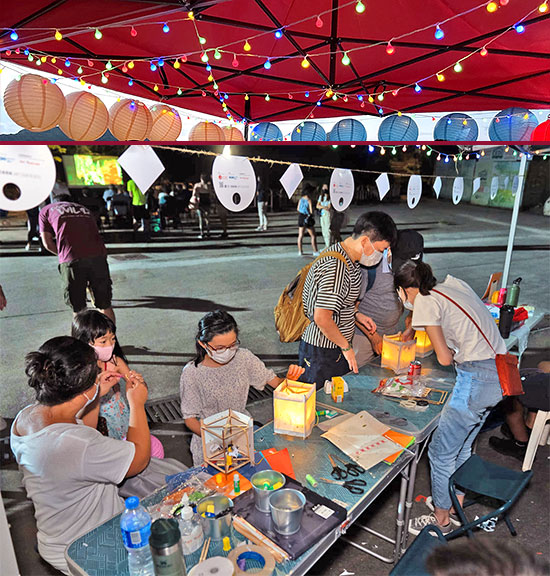 Art-OUR in situ writes:
"To celebrate the Moon Festival, we initiated the 'Mid-Autumn Fest @ Sok Kwu Wan' for islanders on Sep 18.
There was a lot going on that night, include screening and revolving lantern workshop. There was also a parade along Sok Kwu Wan with spectacular lanterns created by artists, Brandon and Humchuk.
The islanders also enjoyed our Riddle Guessing Game Booth and Old Photos Exhibition. What a wonderful night!"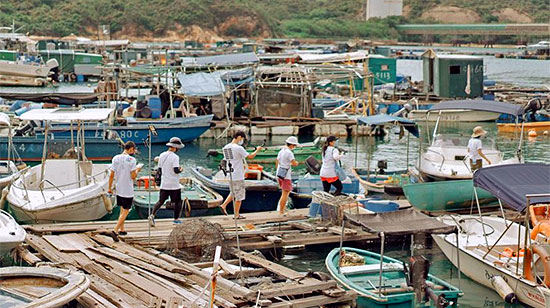 The Loop HK: Lamma Mia: Four Months of Events and Exhibitions on the Island's History and Lifestyle

Nov 3: Wow! Fucking Awesome!
"Make at least one person happy per day!"
My motto, but very hard and challenging to do on a regular basis.
Well, I hope to have succeeded today, judging from Nick's face after receiving my own AI-assisted digital illustration "Psychedelic as Hell" (Nick's website motto: http://Lamma.com.hk/nick).
Signed by Nick and Yours Truly, by my usual digital watermark and rare hand signature. Maybe a monthly picture for my printed Lamma 2022 calendar?