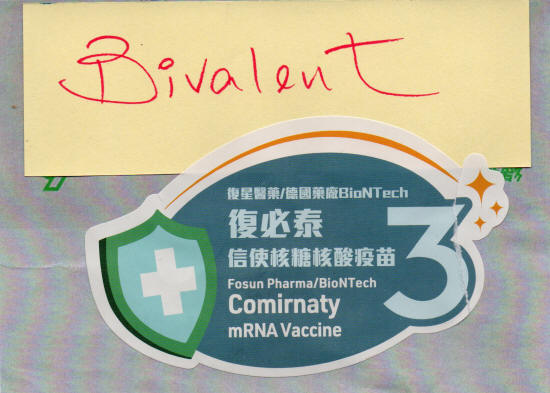 What did I learn about my health this year? Still free of Covid (or perhaps non-symptomatic?) after getting our 5th Omicron-specific BioNTech BIVALENT shot recently, despite 20,000+ daily cases in HK these days, many friends and even relatives getting a mild case!
Also, a hospital neurosurgery specialist just declared this senior in writing as SELF AMBULATORY and POWER FULL, meaning I can still walk, so that's good news! But no more hiking to South Lamma and climbing Mt. Stenhouse, unfortunately.

Dec 30: Advent Calendar Completed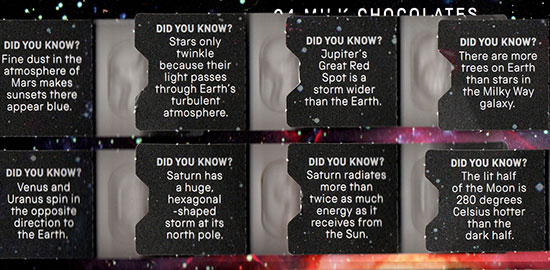 I've recently completed my non-traditional SCIENCE MUSEUM Advent Calendar, Dec 1-24, filled with little chocolates. Lots of astronomical fun facts, click above to learn more.

Dec 29: Empowering Young Inventors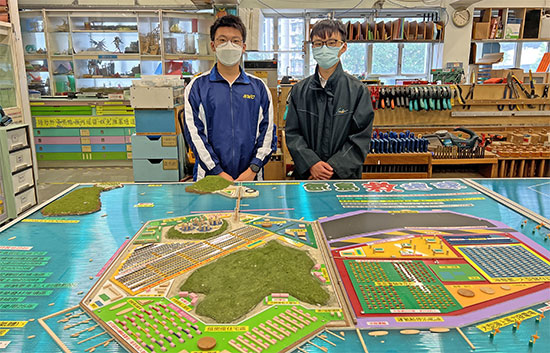 Hydrogen Island: Explore the feasibility of building an artificial island in Hong Kong for developing renewable energy and storing hydrogen.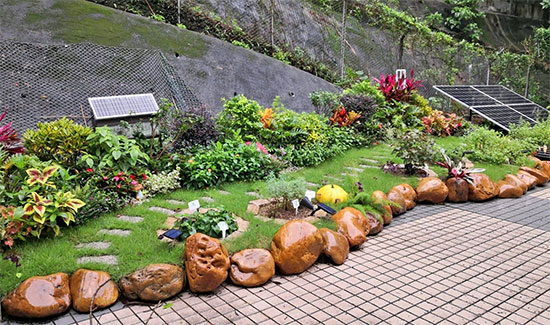 Smart and Green Generation: Utilise solar energy to power up the smart conditioning system of the school's greenhouse and the mosquito repellent and sprinkler system in the school's garden.
"For eight years in a row, HK Electric's 'Green Energy Dreams Come True' competition has been encouraging students to help combat climate change with innovative green energy solutions.
More than 100 green energy dreams from secondary and tertiary students were inspired to promote energy efficiency, renewable energy and low-carbon lifestyle on campus and in the community...
In the new school year, 11 tertiary and seven secondary school proposals were selected for funding, covering areas like renewable energy, green buildings, sustainability, smart city and decarbonisation technologies. For the list of 2022/23 funded projects, please click here.
Many of these projects were creative and timely, such as a mask-recycling project, the production of decarbonisation drones, seawater generators, solar-powered car sunshade systems, etc. Each team will receive seed money of up to HK$50,000 to develop their ideas..." More info:
HK Electric Empowers Young Inventors to Chase Dreams

Dec 25: What's Open During the Holidays?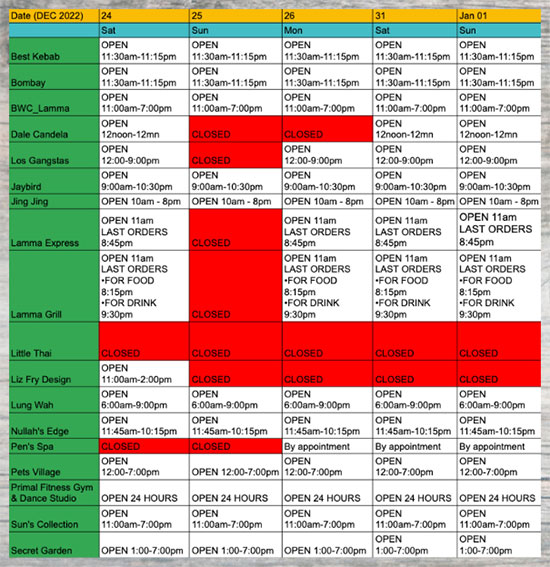 "Where to go on the holidays? We got you! Check out the opening hours below:"
Best Kebab & Pizza, Bombay Bar & Restaurant, BWC Lamma, Dale Candela, Los Gangstas, Jing Jing Bar & Restaurant, Lamma Express, Lamma Grill, Little Thai, Liz Fry Design, Lung Wah Seafood Restaurant, Nullah's Edge, Pen's Thai Massage and Spa, Pets Village, Sun's Collection, Secret Garden Lamma, Primal Fitness Gym & Dance Studio.

Dec 24: Happy Holidays!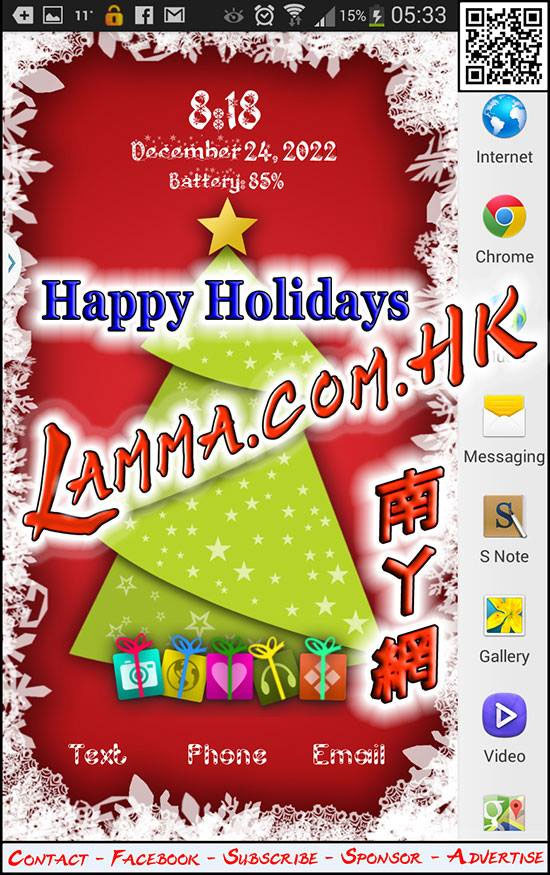 (Recycling & updating my Christmas/NY e-card from 9 years ago)
Plus my brand-new e-card: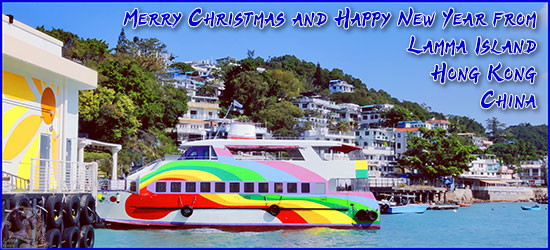 Dec 23: 'Negligence May Lead to Losses'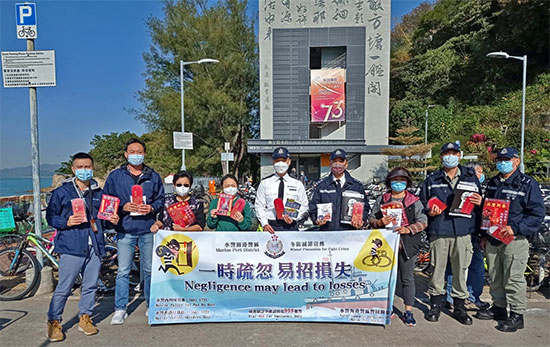 Marine Police visiting YSW to teach us about burglary prevention at home, posing in front of the Bike Park and the Public Library at the ferry pier.
Plus the Christmas e-card from our Lamma District Councillor (center of group shot above):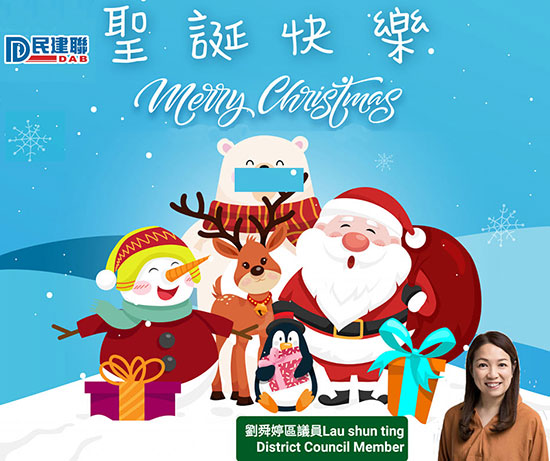 Dec 20: Shutting Off in High Winds?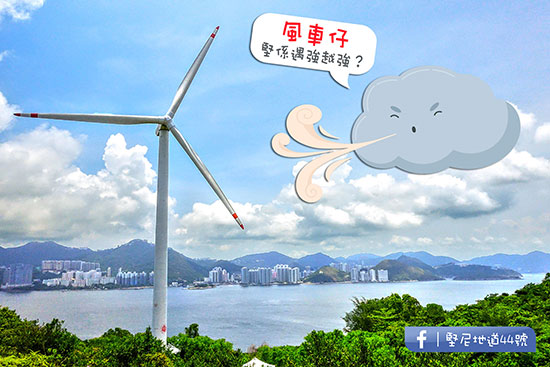 Why does Lamma Winds shut off in windy conditions when it could generate most power?
"The wind turbine is equipped with an auto-activation function that generates electricity when the wind speed is between 3 and 25 meters per second, and once the wind speed exceeds 25 meters, the blades will be locked for safety.
(Translated with http://www.DeepL.com/Translator)"

Dec 12: High-Speed Escape from YSW @ Sunset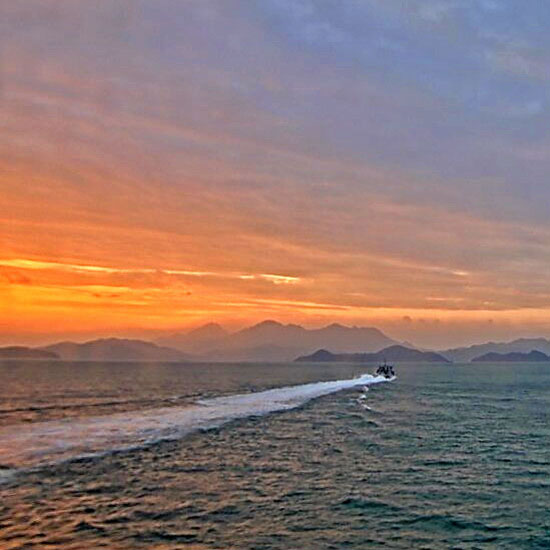 Escaping from what? Whereto? Who? Why? So many questions!
I've selected, cropped and processed this photo from the public webcam atop the Yung Shue Wan ferry pier. This photo was automatically shot and uploaded to the HK Observatory website tonight at 5:30pm.
This webcam takes a photo and uploads it every 5 minutes. Facing in the sunset direction, many of these automatic photos can be occasionally pretty interesting, even beautiful.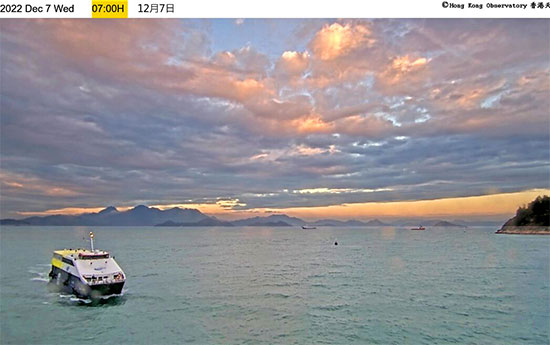 Dec 8: Maximum Hi/Lo Tides @ Ferry Pier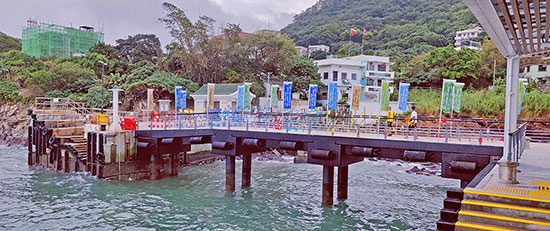 Min. tide for this entire autumn @ new Pak Kok ferry pier: Nov 28, 7:45am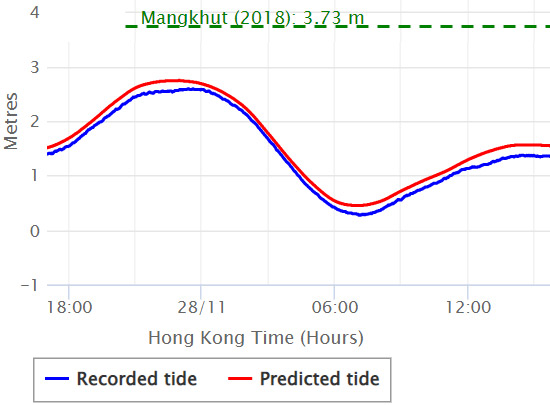 Maximum high tide this entire autumn @ new Pak Kok ferry pier: Nov 26, 9pm.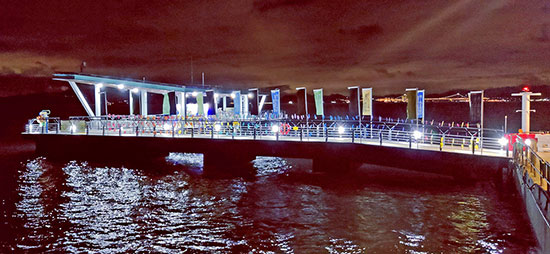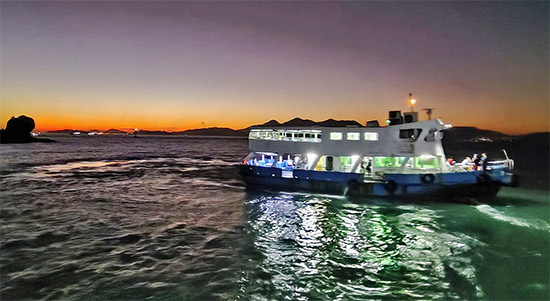 Dec 7: 'Repainting' an Ugly Wall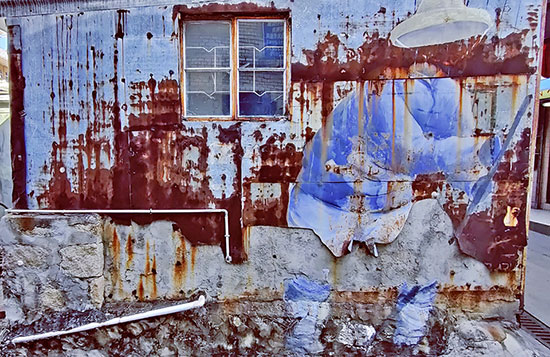 Recognise this ugly, but very interesting wall just off YSW Main Street, on the way to Waterfront Rest.?
In my ongoing efforts to "beautify" Lamma via AI-assisted art - like my 2022 calendar and my recent Christmas in the Village poster image of a snow-covered YSW Main Street - the wall inspired me to cover it with something "prettier".
I've generated all these suggested images below from my original wall photo above using it as start image for the AI art generators, plus sometimes very extensive, long text prompts describing what I was looking for in detail.
A lot of trial and error, but some nice results, I hope.

Dec 6: Download HK Electric App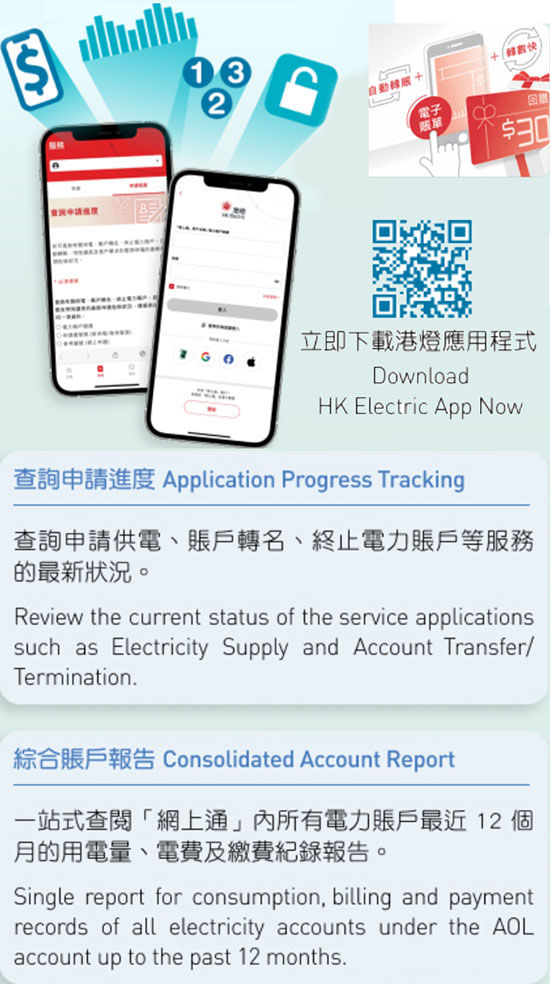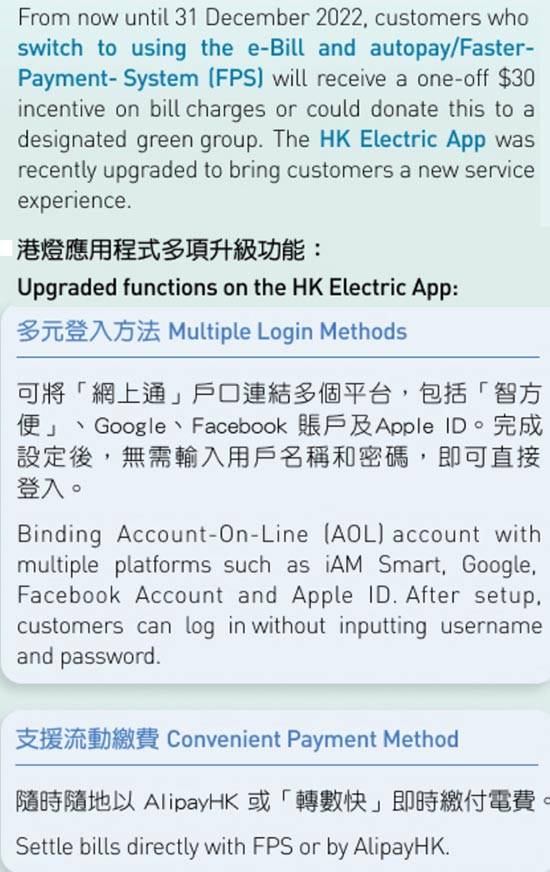 Dec 5: Squinty John & Friends
"He is a consummate performer, always a pleasure to watch live."
The very first performance of the YSW Folk Festival 2022 today! 2 photos from last night in Los Gangstas, John Hutton in fine form.
Photo submitted by him personally - surprisingly - not his agent, manager, tour organiser, social media influencer or any of the other numerous staff, supporters and fans which are aiding the illustrious career of this folk music superstar and his talented fellow musicians! (;-}
For videos of the performance and to learn more about John & friends, click on any image in this story.

Dec 4: Christmas Market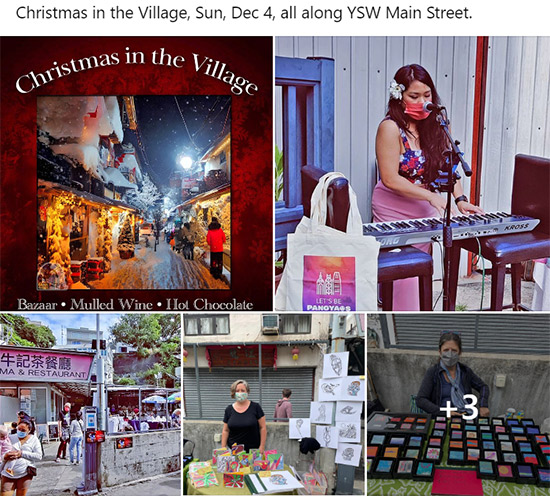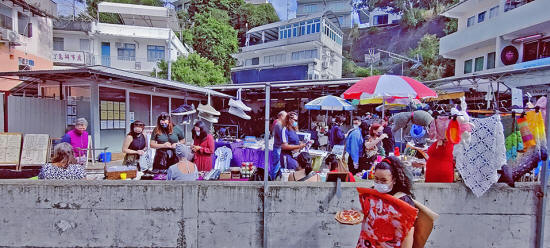 Notice the Pizza Girl wearing a pizza outfit doing pizza delivery to Lamma Grill vis-a-vis where I just got a birthday present (big surprise!) of a free hot chocolate and carrot cake from the Lamma Grill Lady! Thank you!

Dec 3: Home!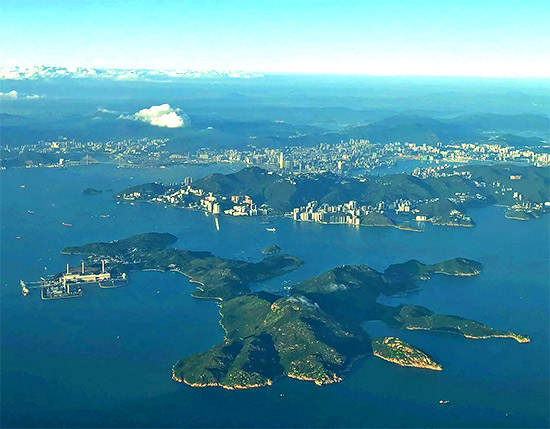 Photo by PieceChoice on Reddit.
From the opposite direction, looking out from HK Island to Lamma: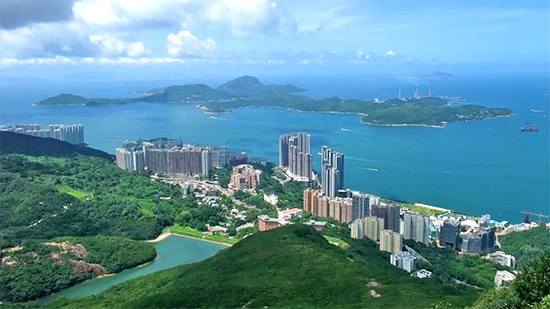 Dec 2: A Car-Free Island?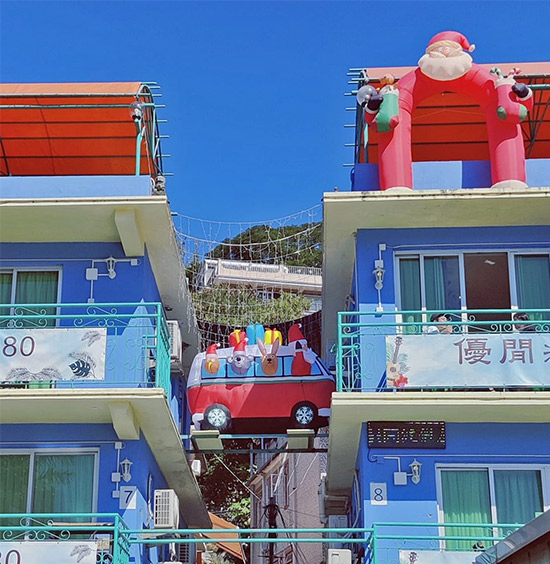 Christmassy decorations are popping up all over Lamma, even on 2/F and rooftops on YSW Main Street!
So that's how you get into the neighbouring building on 2/F, no need to go down and then up again! Is this the Lamma version of a bridge between skyscrapers in other countries?
Best Facebook comment came from Yogesh:
"Lamma is no longer car-free."

Dec 1: Tours & Festivals Reborn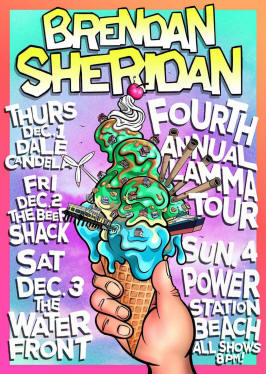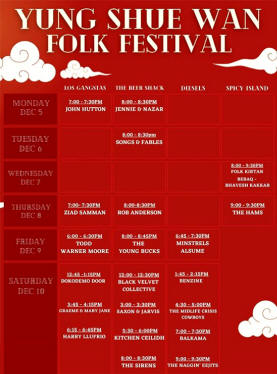 Christmas/NY season on Lamma: public concerts and events are finally back, obeying the many pandemic restrictions still in place

, like face masks everywhere in public, even on the beach or while hiking.

Numerous Lammaites have recently been slapped with HK$5,000 fines for not wearing their face mask outside. No end in sight for the masks-everwhere mandate (only exception is inside your home and during eating/drinking in a restaurant, after scanning your vaccine pass).