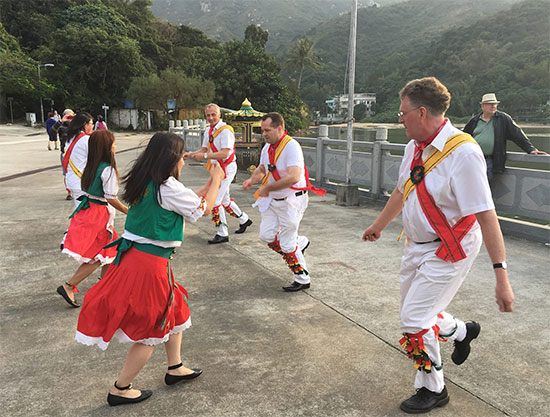 Submitted by Annemarie Evans, HK Heritage, RTHK:
"Waaaaah! Morris dancers in Sok Kwu Wan on Lamma.
Including a Japanese Morris Dancer carrying on this 500-year-old tradition. They've been in Hong Kong since 1974 and are looking for new members from all nationalities.
With bells on their legs, sticks and baldricks, they celebrated age-old traditions that boring party-pooper Cromwell tried to ban."
Hong Kong Heritage - Sat 7.30am, Sun 6.15pm, starts at 12' in.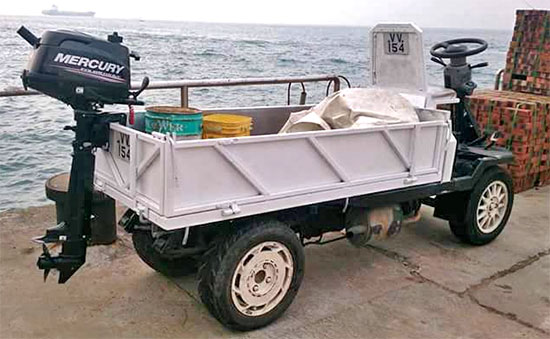 VV cross channel attempt #1 ~ By Jean Gorguet, Pak Kok Ferry Pier
I was hoping that this was a new water taxi service!
As we see up to 6 adults sharing a VV ride quite frequently (and illegally), such a VV water taxi might catch on quickly!?

Our new Police Chief, Ms. Solid Kwan, joined in, even sang karaoke on stage, then sent me a video and these pictures.
"Hi all, I'd like to share a joyful time with u all.
Yesterday, I was invited to a year end function organised by the Rural Committee at Sok Kwu Wan.
It was a great fun n pleased to see that all the elder residents enjoyed it so much.
Trust u all have well prepared for the Year of Monkey. :)"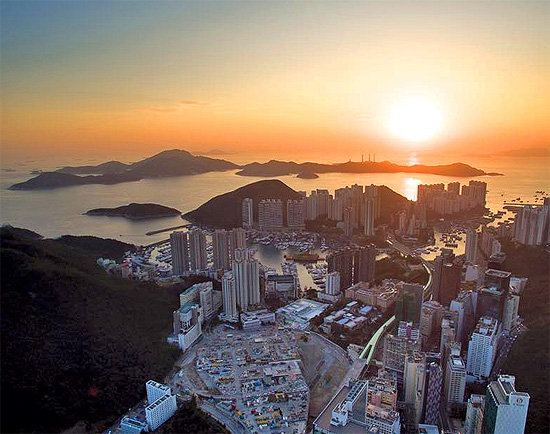 Down or up in this picture by DJ Clark, where do you prefer to live, and why? Replies here...
Lamma, Aberdeen and Ap Lei Chau seen from Hong Kong trail above the Aberdeen tunnel. 3 MTR stations under construction in this picture, till the nearest South Horizons estate on Ap Lei Chau (upper right, where the Lamma Power Station was located before it moved to Lamma).
This has been shot after the Victoria Peak episode of DJ Clark's HK's Best Walks video series: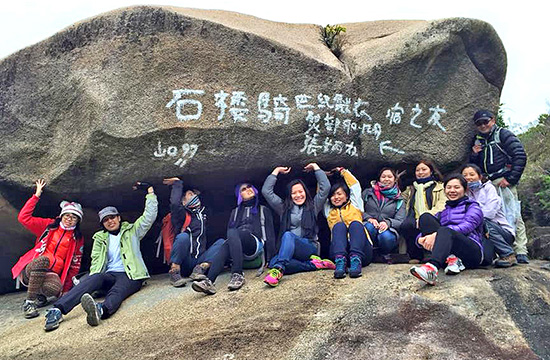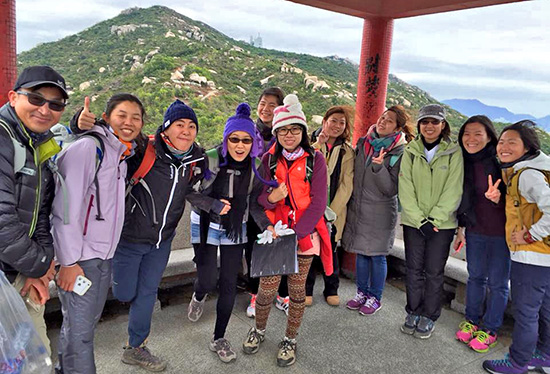 Coldest day in 59 years last Sat, so what are some intrepid people on Lamma up to, besides huddling around their heaters in their unheated homes? Beach cleaning, that's what!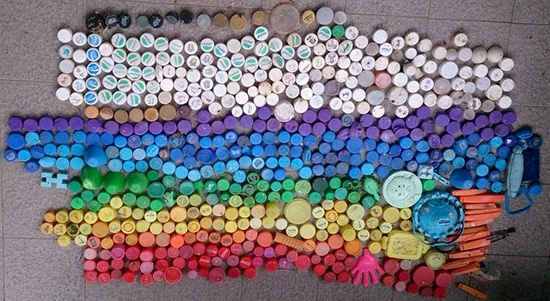 The yearly Four Peaks Race (one of the four peaks being our Mt. Stenhouse) was postponed this weekend. So my invitations to join the media boat at the race start and to join the volunteers atop Mt. Stenhouse on Sat midnight to check in the racers will have to wait, fortunately! Maybe next time...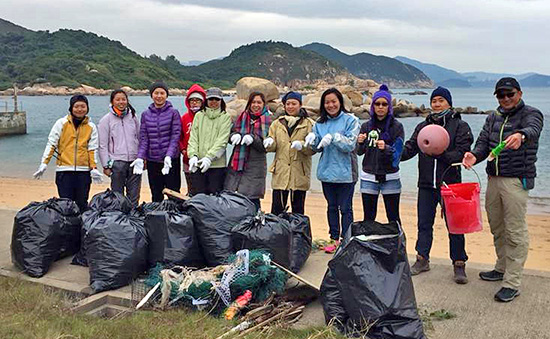 But even this cold, windy, rainy weather could not deter this intrepid group of beach cleaners above, organised by the TrailWatch mobile app, at Shek Pai Wan in Southernmost Lamma! They contacted me for some free publicity and supplied all photos (click any photo for the album).
This bilingual app supports hikers in many ways. It even lets you report littering and other "incidents" easily and directly to the relevant Govt. dept.! Check out reported incidents on Lamma: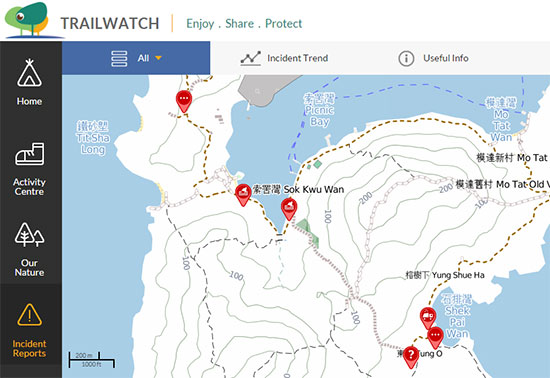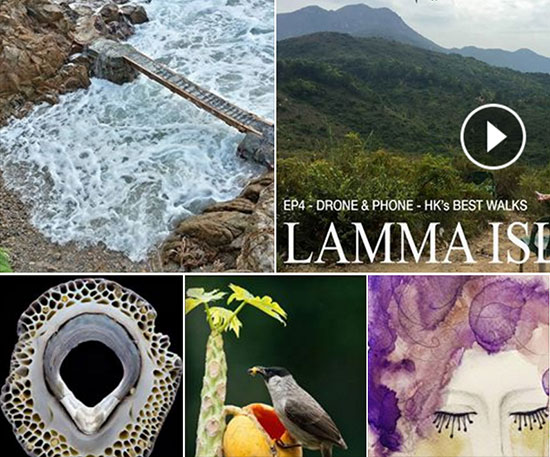 Lamma Spotlights of the Week, Jan 24, '16:
| | | |
| --- | --- | --- |
| PHOTO | | by L-G |
| VIDEO | | by DJ Clark |
| WILDLIFE | | by Rambler |
| BIRD | | by Guy R.H. Miller |
| ARTWORK | | by Violet Chammi |


That's HK outside today, lunchtime, the coldest day in 59 years, 3.3 degrees at the HK Observatory! Even some completely unheard-of ice and hail, plus below-zero temperatures have been reported: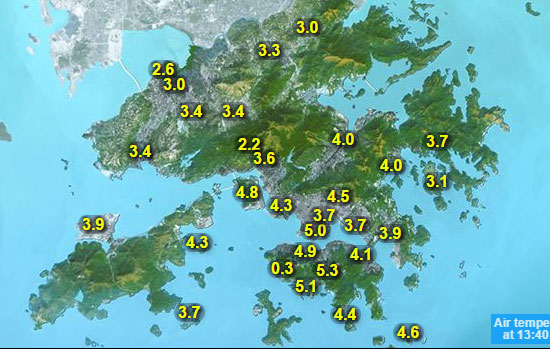 OK, nothing special for us growing up in countries with occasional snow and ice conditions and up to minus 20. But what makes today much worse is that such a cold spell is so rare here that very few people are prepared for it.
The village houses most of us live in are always without heating, no insulation, single-glazing windows. We only have the occasional weak oil/fan heater barely strong enough for one little room, my home office. So this is the temperature in the rest of our entire home today: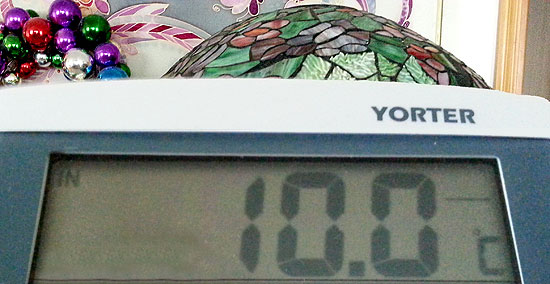 Maybe I should get myself arrested and spend the next few cold days in a warm cell inside the new YSW Police Station? What does it take around here to get arrested for some minor offence (your suggestions)? Maybe some hands-on research is required...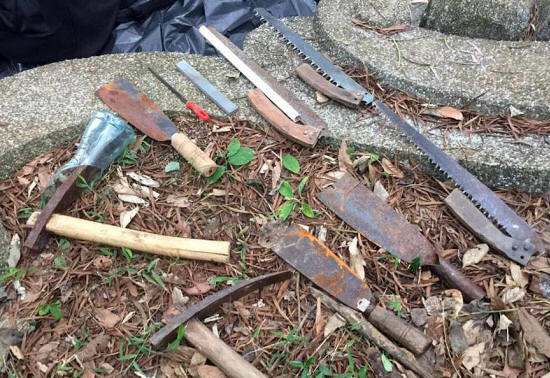 Press briefing in Aberdeen Marine Police Station yesterday:
"Acting on intelligence, Marine South Division Task Force Sub-unit and Cheung Chau Division had conducted the Joint Anti-Illegal Tree Poaching Operation on Lamma Island over past few days.
At 1100 hours on 2016-01-21, officers of Marine South Division Task Force Sub-unit ambushed in the hillside at the South of Lamma Fire Station, Lamma Island and two males were seen engaging in the suspected incense tree trunk cutting activities. These males were intercepted at scene and outside Lamma Fire Station respectively.
After investigation, these two males were all Chinese Two-way entry permit holders. A total of 609 grammes incense tree wood was found inside the rucksack of one of the males. Some cutting equipment [see photo above] and copped sections of incense trees were found at scene as well. The two males were thus arrested for 'Theft'."
Full info and more pictures...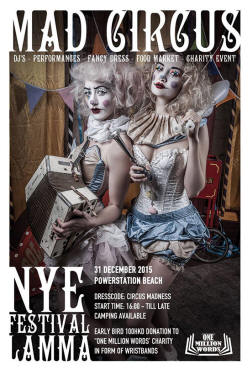 Lamma Mad Circus, NY Eve '15: review by Nick the Bookman:
"re. (POP!) .sdrawkcaB gnileeF confused. Yoda wise not I am. What's going on here? Ah, well. I sort of vanished suddenly at the end of Clockenflap and here I am now starting this new story. I don't know how the end of that story looked in print. What I wrote was ..."babblebabbletweet. Oops. Gotta run. Men in white coats with large nets approaching. Nah, it's OK. They're probably dogcatchers, but play it safe, I'm outahe
And that's how my version of the story stopped. There were a lot of errors in it for Lamma-Gung to edit, so he might have "fixed" this glitch...
... Anyway, we're about 8.3% of the way through this sad, mad glad year of 2016. Near the End of the Year Of The Goat and approaching the start of the Year Of The Monkey. Sad because of the Roll Call of the Departed. Since Xmas Lemmy has boarded his "Silver Machine" for eternity. Motorhead has cracked up. His drummer Phil "Animal" Taylor preceded him into the Vale Of Tears a month earlier. Lemmy was 70 and had aggressive cancer.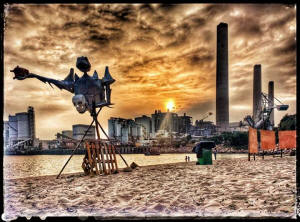 The same day - 29/12/2015 - the Special's drummer John Bradbury became the latest resident of "Ghost Town". Natalie Cole joined her dad on New Years Day. She was 65.
David Bowie released his final album "Black Star" on 8/1/2016 which was his 69th birthday. Two days later the "Starman" left us for good. "Lazarus" isn't coming back folks. There's "Panic in Detroit" and no more "Heroes". Cause of death was also cancer. The former David Jones has three singles in the UK Top 20. The same as the unspeakably crass Justin Bieber. Ain't no justice at all. "Black Star" also topped the US album charts. His only US No. 1 placing."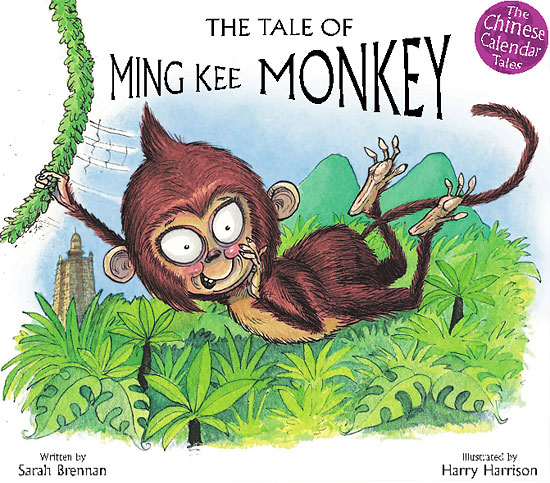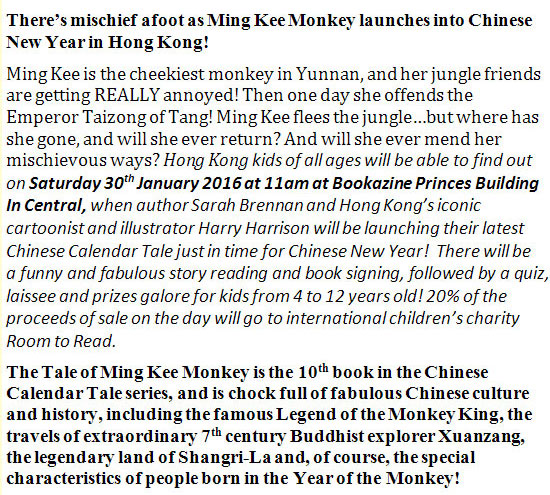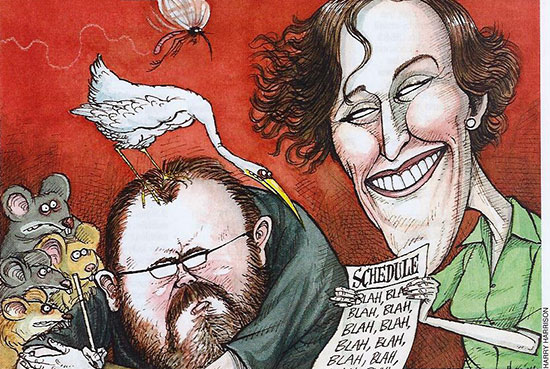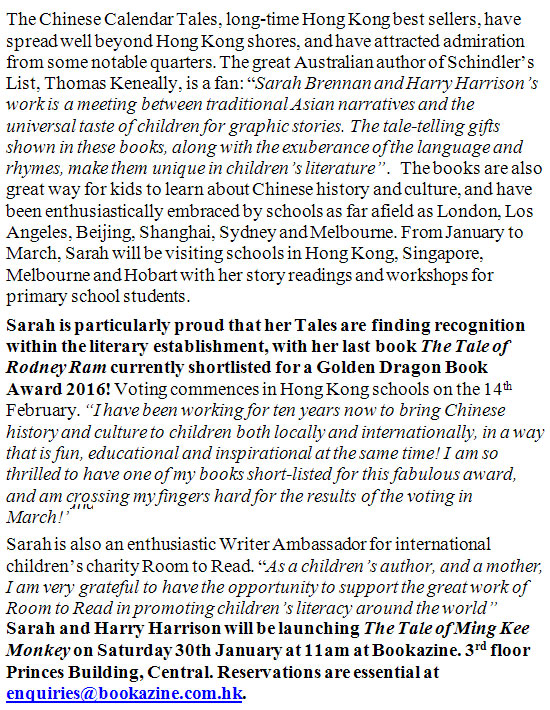 Sarah Brennan ~ Author/Publisher ~ Auspicious Times Limited
Tel. 9835 8074 ~ Website: www.sarah-brennan.com
Blog: www.sarahbrennanblog.com
Facebook: www.facebook.com/SarahBrennanBooks
YouTube: www.youtube.com/watch?v=RhqxWLZkVd8
Follow my Tweets @Sarah_Rhymes ~ Sarah is a proud ambassador of RoomtoRead
P.S. And a Ming-Kee Monkey video by Filmages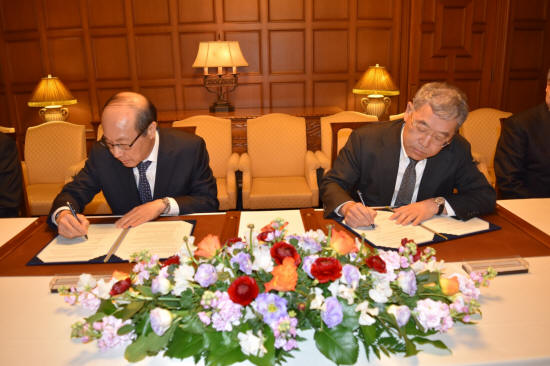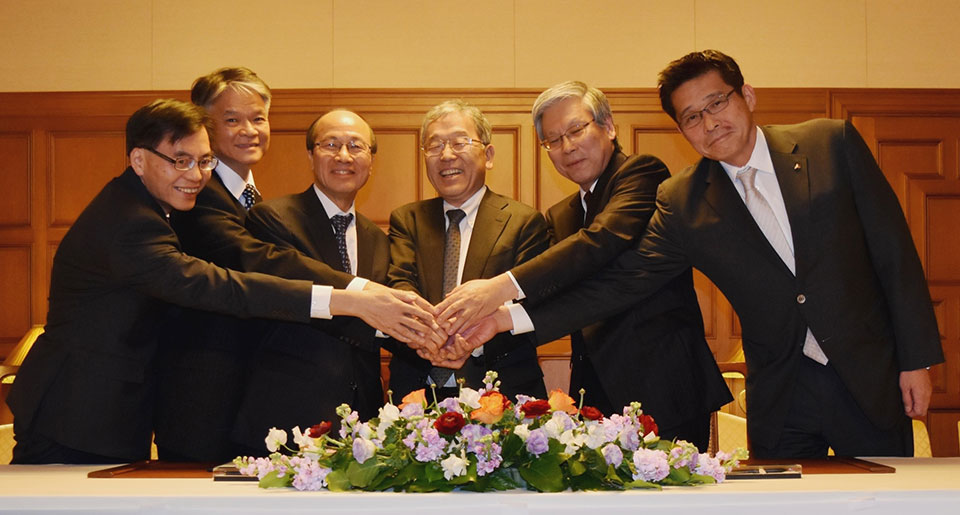 "The construction of L10 was officially approved by the Government at the end of last year at an estimated total construction cost of around three billion dollars.
Piling work will commence shortly and it is expected that L10 will be put into operation in 2020."
Woaah, that's a lot of cash for local investment! What could this mysterious L10 construction project be?
Find out more why these people above look so excited...
Reading the entire press release makes it pretty clear, it's actually mostly good news for Lamma and HK!
HK Electric Signs Agreement...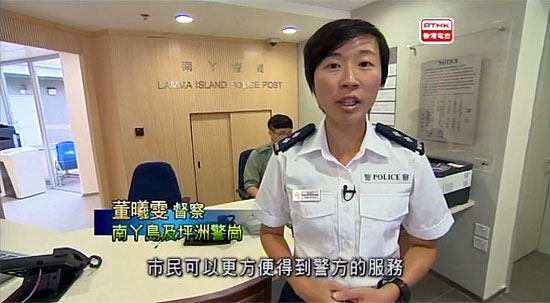 Camas TUNG Hei-man, former Lamma Police Chief and writer of the Lamma-zine's Police Corner, leaving us one month ago:
"Dear all Lammaites,
I am so delighted to be part of the Lamma community for 1.5 years which was one of the happiest periods in my life.
So nice to be friends with all of you and I will definitely come back for the nice people and environment in the future. :thumb-up:"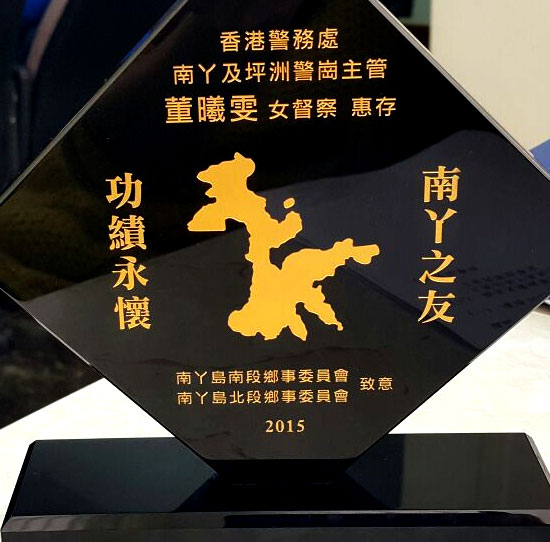 A plaque given to Camas by the Lamma authorities, thanking her for all the hard work and all the running around to address police matters.

2nd, new Lamma Police Corner by our new Lamma Police Chief, Ms. Solid KWAN (including pictures):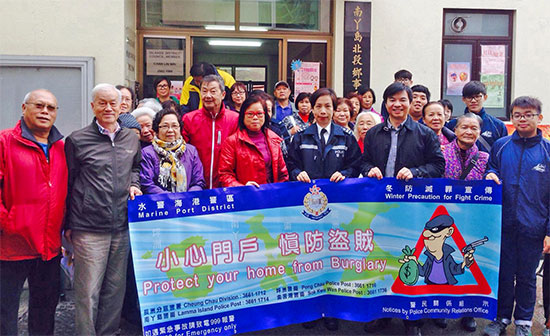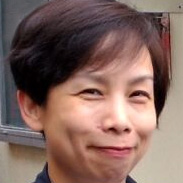 "My first community event, here it is!! A crime prevention talk including Anti-telephone deception, Anti-firework and Anti-burglary was organized this morning [Sat, Jan 16] at the Rural Committee Centre [opposite HSBC] and completed smoothly.
Smart tips were given by our Regional crime prevention officer who has delivered an informative seminar in a lively and vivid way which was well-received by the audience, mainly local elderly.
Don't worry, non-Chinese speakers won't be left out! I'm trying to get some material in English and hopefully would have one very soon.
Be a smart Lamma resident and don't fall in any trap!!"
P.S. from Solid:
"Hi all, I'm reluctant to tell, but I have to alert you that there was another burglary reported this afternoon [Sun, Jan 17].
The culprit(s) gained entry by prizing open a window on G/F. Luckily, nobody was at home when the case occurred.
So please take note your neighborhood: who is not around recently or who's often checking if people are not at home, becoming the next temptation to the culprit. Take good care and stay safe, please."

Guy R.H. Miller writes:

"Day 7 (delayed) of #challengeonnaturephotography:
This is a challenge to spread nature images across Facebook.

I was nominated by Geoff Smith to post a nature image every day for 7 days & to nominate another person to do the same.

I nominate Lamma-Gung who has single-handedly maintained an online news blog for the past 10 or so years of Lamma Island........ I am sure he has a library of fine nature pics, some of which should be shown beyond our shores.

Being the last of my 7 images for this challenge, it is only fitting I post a sunset from my favourite hillside perch which overlooks much of my island home, a place I very rarely leave by choice, & is the focus of all my photos:"
Thanks for the nomination.
Thousands of my Lamma nature pictures to choose from, from almost 14 years of my "online news blog" (I prefer "community online magazine", as the materials come from so many sources).
How to select 7 images only!!! My first image.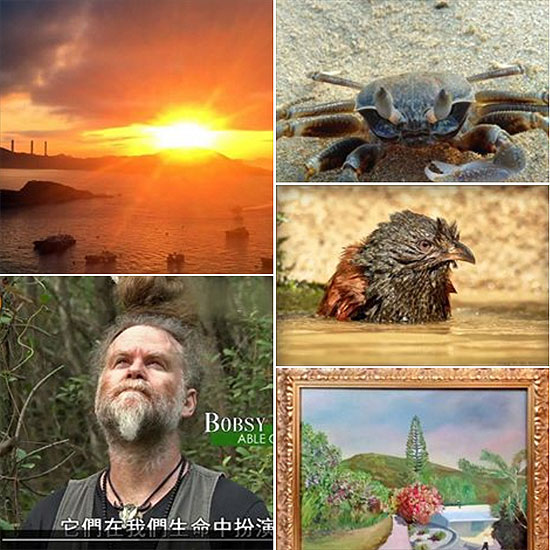 Lamma Spotlights of the Week, Jan 11, '16:
| | | |
| --- | --- | --- |
| PHOTO | | by DJ Clark |
| VIDEO | | by Ming Pao newspaper |
| WILDLIFE | | by David K. Clarke |
| BIRD | | by Guy R.H. Miller |
| ARTWORK | | by Philippe Colin |

5 incense tree poachers have been arrested on Sun, Jan 3, in Tai Wan Old Village and 150kg of incense wood confiscated!
Today, a major press briefing, starring our brand-new Lamma Police Chief, Ms. Solid Kwan, and new Police Corner guest-blogger, heavily attended by major local TV and newspapers, plus a few "online media", including myself.
Click for the bilingual briefing notes and my photos.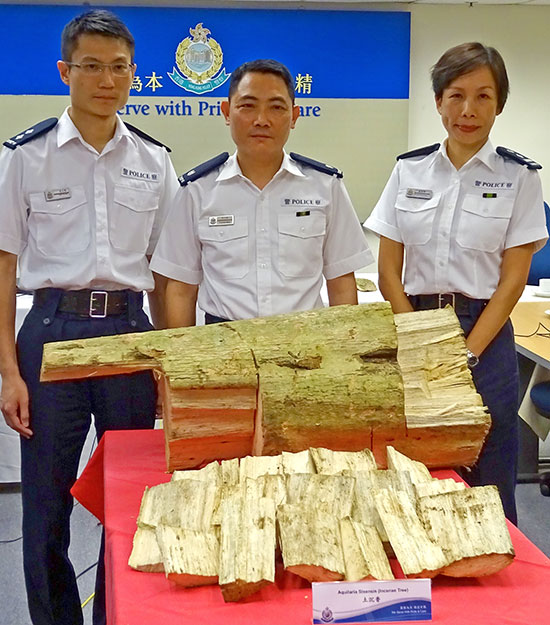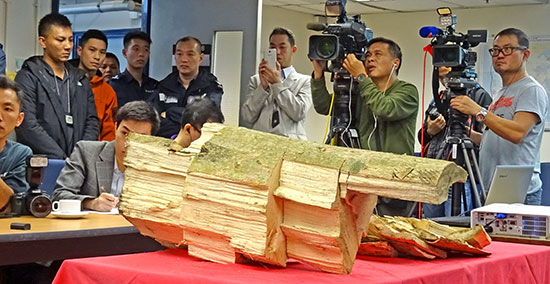 Here are the police photos of the tree vandalism (click for more):
P.S. News from Jan 21:
2 more tree poachers arrested near YSW Fire Station!

It's not the Lamma-zine's habit, err, Editorial Policy, to publish e-newsletters verbatim; but it's Sunday, the New Year has just started and it's a slow Lamma news day. So I'm making an exception today, knowing a few of this lovely bunch of people personally and their boss being my former neighbour in Sha Po Old Village (when we could still afford the Greater YSW Area), Brett Scott. Kinesiology Asia is also a long-time, amazingly loyal supporter of this website. Thank you!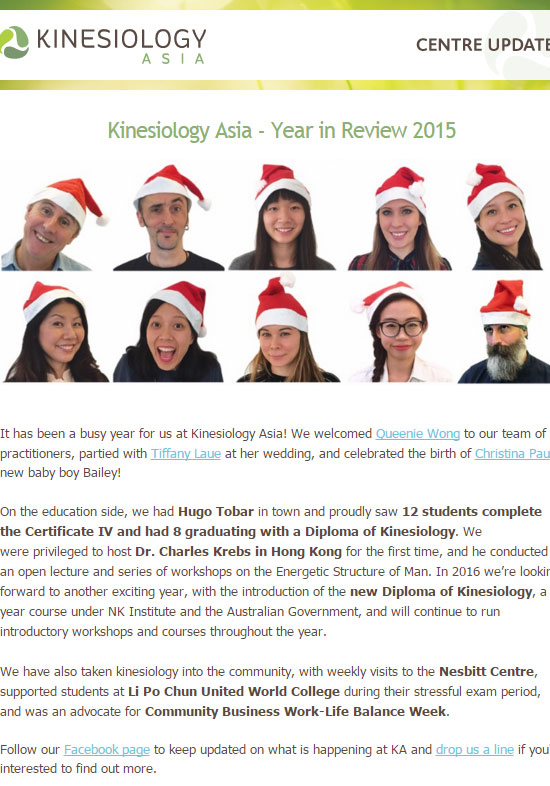 Click above to learn more about their innovative treatments and actual testimonials from actual patients, not fake TV ads. Find out how they "combine clinical expertise with a nurturing, personalised approach".
Kinesiology Asia comes highly recommended, as my grandson-in-law can testify from his own experiences being treated there. I've never heard him laughing out loud as much as during their "tickle therapy", administered by Brett personally!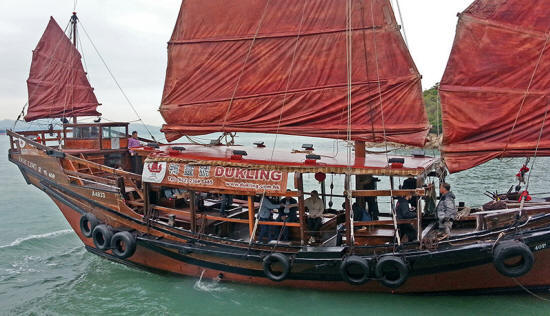 The full restoration of the Duk Ling, the formerly last original Chinese junk in HK, has been completed a while back, after sinking just a few years ago. I shot this picture at the YSW ferry pier where it was docking shortly, to my big surprise, just before Christmas, Dec 19.
Searching for "Duk Ling" at the top of this website finds a lot of references to this particular junk. They were one of our main advertisers/supporters for several years. A photo from my several photo shoots made it onto the cover of their book (Planet Expat) a while back: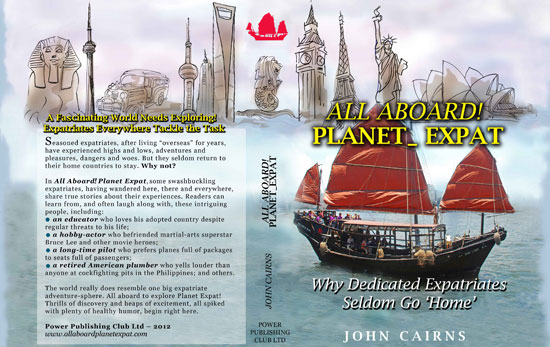 The brothers who owned the Duk Ling before have visited Lamma quite frequently; I remember those big, chatty "business dinners" with family & friends fondly.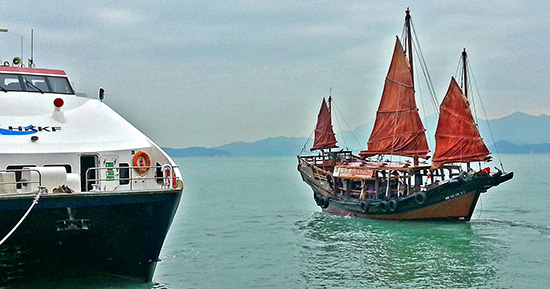 Available for charter, click above! So it welcome back to Lamma, Duk Ling, even though it was just a short stopover. Hope to see you soon again!
Here's an SCMP photo story about the recent Duk Ling restoration and exhibition at the Maritime Museum: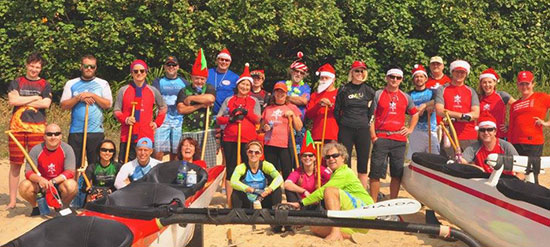 Dawn writes:
"Lamma Outrigger and Lamma Dragons:
Just to let you know that we all Santa-Sprinted for Operation Santa Claus on NY Day in support of The Island Bar's fund-raising efforts and raised a record total of HK$6,075 this year!"
Check out the descriptions & Harry posters for The Island Bar's Treasure Hunt and Music Quiz for OSC on the SCMP website:
Operation Santa Claus Community Events.
---