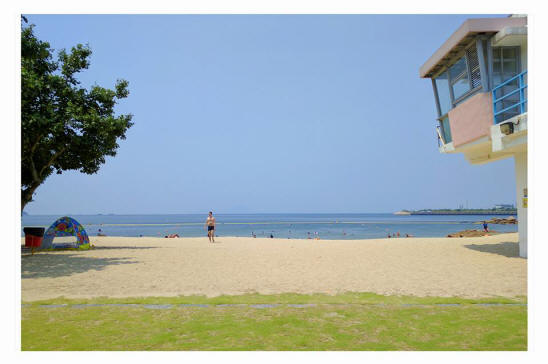 Hung Shing Yeh public beach this morning, by Ronald Sastrawan.
No comments needed, the picture says it all...
Ronald also shot this photo below: Lamma from The Peak (actually from high above The Peak); the most popular Lamma photo ever on Facebook so far, I think, with 481 Likes and 41 Shares so far: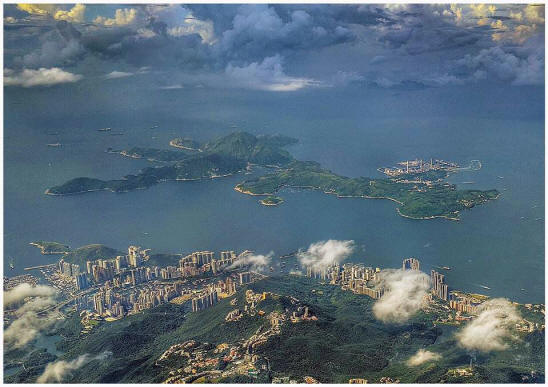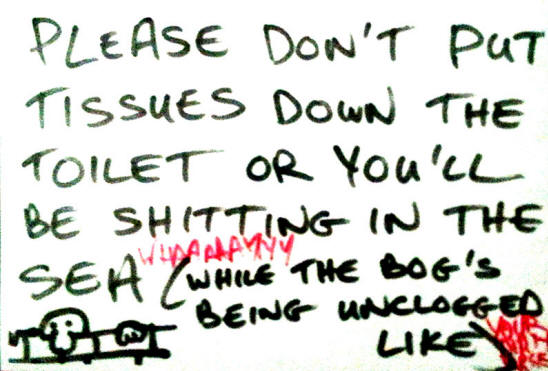 More "Typically Lamma!" photos...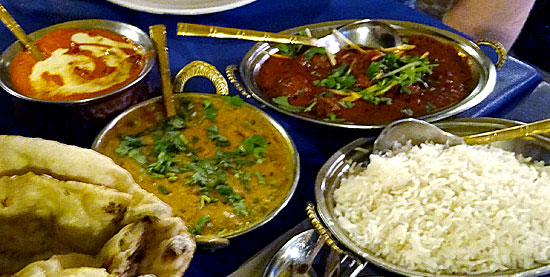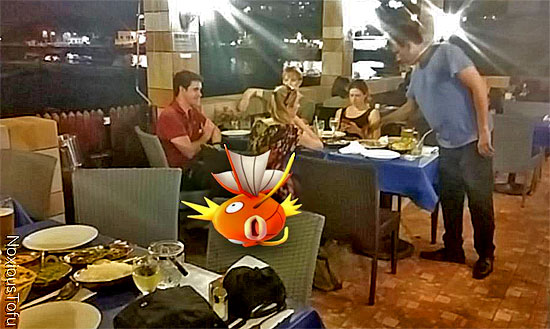 Yes, the portion sizes are huge in the Waterfront Bar & Restaurant, just look at that huge steamed MagiKarp above!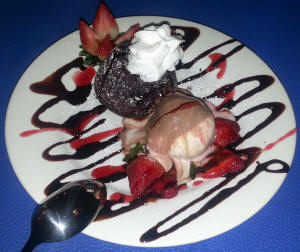 We dined with our last Pokemon contest winners on this sunset-facing, seaside terrace last night, one of our favourite Lamma places. Absolutely delicious and original Indian food, cooked by Indian chefs.
Even our HK-Chin. wives tucked in, even though they're usually worried about hot spices. No problem here; plus more than enough takeaway left for our lunch the next day.
We even didn't order our absolutely favourite dessert on Lamma - Chocolate Volcano - this time as we had to rush for the very last

ferry to Pak Kok at 9:10pm.
Mr. Grumpy the Noxious (approved nickname, inspired by his T-shirt and his Pokemon username of Noxious Tofu) submitted all the Pokemon-containing photos in this story.
---
Win a free dinner and drinks in a Lamma restaurant of your choice!
After the big success of our contest - First Pokemon pictures on Lamma - Lamma.com.hk is offering another one:
Best photo of PokeZombies, err, Hunters on Lamma this weekend!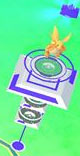 Email me!
Above is a YSW map to get you started. The hunters would be congregating in some of these spots. The only Pokemon Gym in YSW to train the monsters is up in Tai Yuen, close to Thai Thai 2, I believe. But there are various spots along the tourist route from the ferry pier to Hung Shing Yeh - like HSBC, Canaan Church, sitting-out areas,... - where you'll get a chance to get some funny photos of the hunters.
This contest is NOT interested in more screen shots of pocket monsters, but only of the hunters in public places (where it's perfectly legal to take careful photos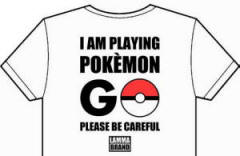 of their most indulgent antics).
Funny, silly, even embarrassing pictures will obviously have the best winning chance! I'll be judging; if I'm laughing out loud when seeing your photo, then you'll stand a great chance of winning!
P.S. If your photo includes yourself wearing one of these Lamma Brand T-Shirts, extra free drink!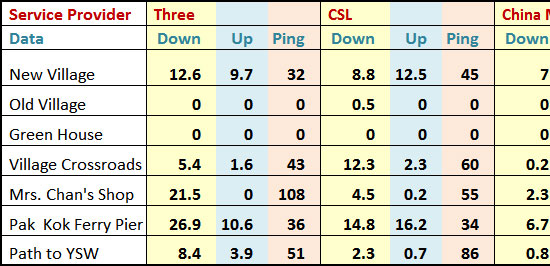 Click above for our full results, plus comments, from a little walk around Lamma's Pak Kok areas with DJ Clark, testing 4 mobile service providers with 4 mobile phones all using the OFCA Speed Test app, Sat, July 23, 5:30-6:30pm.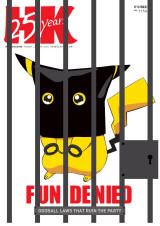 This was 2 days BEFORE Pokémon Go was released in HK, so if you have spotted us while we were pointing 2 mobiles each into the air, we were WORKING & MEASURING, not playing! ;~}
---
Just in case you were wondering about when we'll get Faster Broadband For Lamma, don't hold your breath.
Internet high-speed fibre has already been laid all the way from YSW to Sok Kwu Wan, years ago, by HGC (Hutchison Global Communications). But nobody seems to be using it yet. It could take a much longer time if it'll become available to Lammaites, if ever. As long as there's no high-speed connection off Lamma, this local-only fiber will remain useless: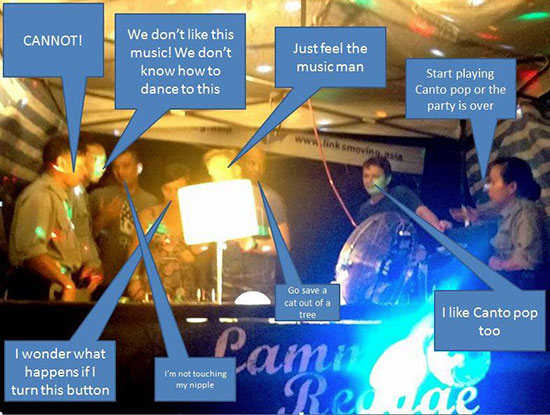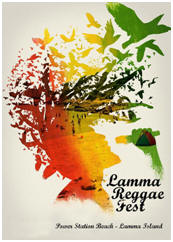 Lamma Book Club:
"I don't even know where to start. Again – what a party, what a turn up! I'll take a few steps back and try to give a 'behind-the-scenes' look.
About 1.5 year ago, we were barbecuing on the rooftop of 2 Book Club members in Pak Kok (Lamma Island), listening to some old-school Dutch Ska/Reggae band named 'Doe Maar'. We talked about everything and nothing, but somehow started talking about throwing a Reggae party somewhere.
Back then we didn't know anything about throwing parties/festivals – we didn't own any speakers/generator/audio stuff. We didn't know how to market something like this, or how to approach any of this. But we agreed that if we did a party and 50 people would show up, it would be a success. Well – that was the start of our first proper big festival on Lamma Island. The 2015 Reggae Festival.
We made a Facebook event, rented all the equipment, asked a few DJs to come and we set up a small booth on the beach and played some music – turn-up of 400 people...(!)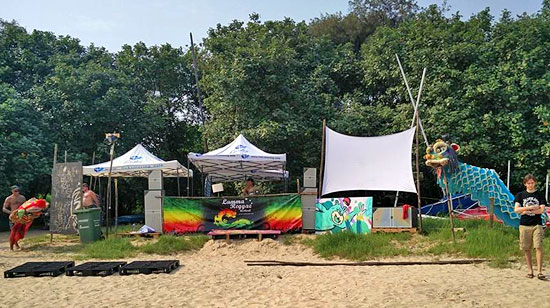 Since our first Reggae fest, we organized a big NYE festival, 2 beach cinemas, some smaller beach parties and a massive rave on a secret location.
Fast forward to June 2016. We're sitting in the Blue Goose Tavern, a few days after the Rave... still a bit hung-over and exhausted but all very satisfied. We're quickly talking about 'What's next?'..."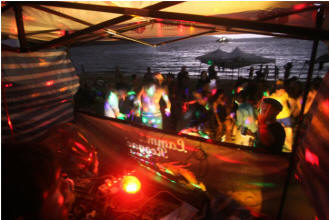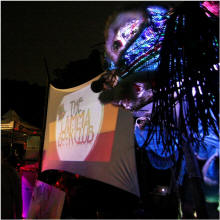 Nick the Bookman's awesome festival review is just below, July 22.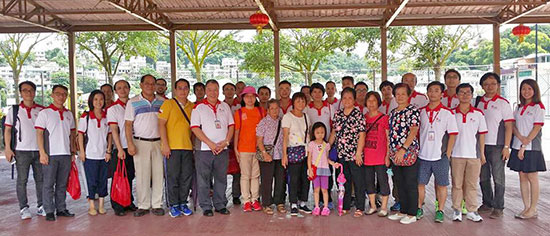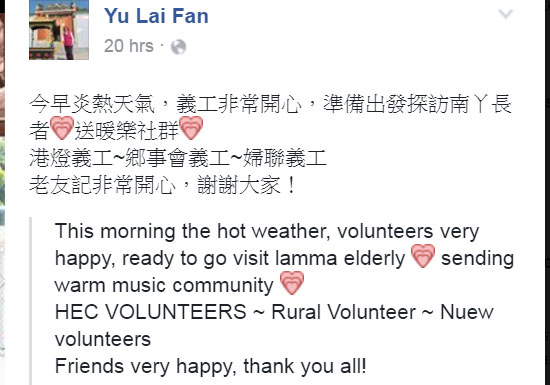 Best use of the YSW Plaza we've seen in some time, honouring all these volunteers who visit our many elderlies - many of them living alone - at their homes to make sure they're OK, physically and emotionally, offering assistance whenever needed.
Wonderful work is being done by these wonderful volunteers of HK Electric, Hans Andersen Club, Outlying Islands Women's Association and other local welfare or religious organisations in our caring community. Thank you all, much appreciated!
P.S. Sorry for the poor automatic translation from traditional Chinese above. If you could help out with occasional translations, contact me!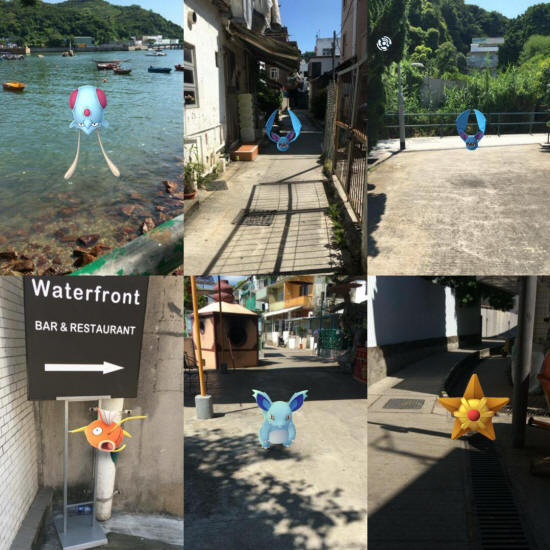 The very first Pokémons have just been spotted on North Lamma, right after today's HK release of this intriguing phenomenon! Click above to learn more!
I put up a price of a free dinner & drinks today for the first live photos. Gloria Cheung won within 2 hours, after her hubby Daniel-John Housley sent her hunting and submitted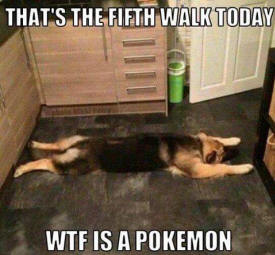 these photos!
It'll be all up to her if he's allowed to come along for the free dinner in a Lamma restaurant with Lamma-Por and myself. Confirmed to be at one of our all-time favourites, The Waterfront Bar & Restaurant, see above? Augmented Reality photos of the winners following soon.
P.S. Plus the very best comment on this Pokémon Phénomenon I've seen so far, posted by recent ex-Lammaite Tracey Sheard.
P.S. II: from Lamma Gung's Facebook page: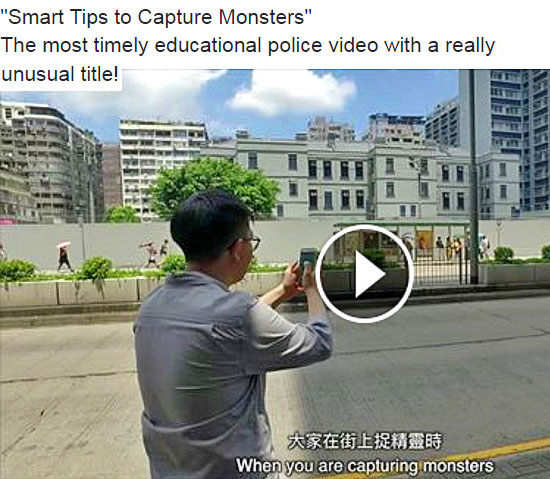 Love the monster hunter's green hairstyle. Like a video game character himself!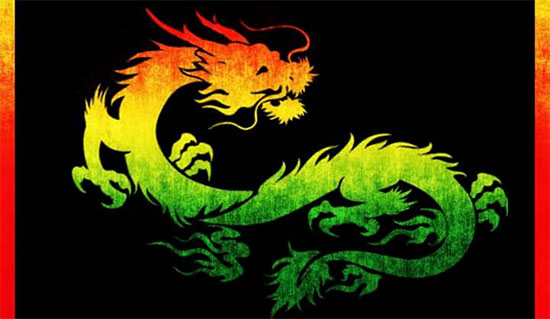 Click for Nick the Bookman's review & more photos...

Sitting in Andy's Seafood waiting for our sunset dinner, playing with my smartphone-controlled 30* optical zoom lens at maximum, a single plane's multiple contrails...
Still love these YSW Harbour sunsets and Andy's is a fantastic spot to enjoy them. Their glasses of house wine are the largest in YSW, one is more than enough for my dinner! Their Cantonese food agrees very much with me AND (more importantly) with picky, erm, gourmet Lamma-Por!
One more picture set for Lamma Island Hong Kong...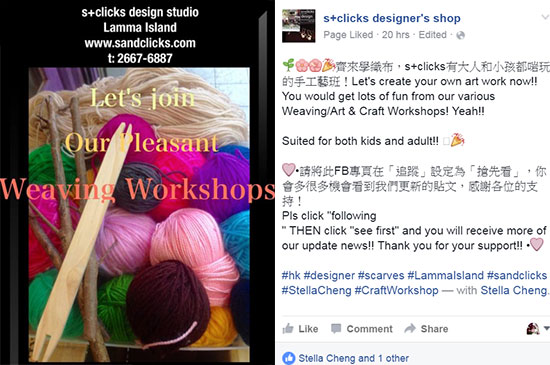 Poster from the Democracy Fence (on way to YSW Ferry Pier) and a very excited Facebook post!!

Lamma is forever a-changing... No more raving-all-night, tough-as-nails boot camps and wild, crazy dance parties? It's Pleasant Weaving Workshops now, like in very sedate suburbias? Civilised, sophisticated tea times with properly buttered scones with handmade clotted cream and cute cucumber sandwiches, anybody? These are also being taught at s+clicks in Tai Wan Village (on tourist route from YSW to Hung Shing Yeh beach).

Well, we've STILL got the wild, all-night raves and dance parties, so we're OK for now, our slightly eccentric, hip'n'happening reputation safe for now. But watch out, Pleasant Weaving Workshops might become dominant, as Lamma is forever a-changing...

I might check out that workshop. It might actually be fun as I've never done any weaving before...

To have a great look at what the Outrigger Canoe Club got up to recently, July 16, click on Guy R.H. Miller's photo album above.
Yes, these are not birds, but some of the same, basic, traditional photographic skills have been used in these fine photos, no matter what tech you're using or whatever the subjects. Sifu Guy is expanding his range ever more...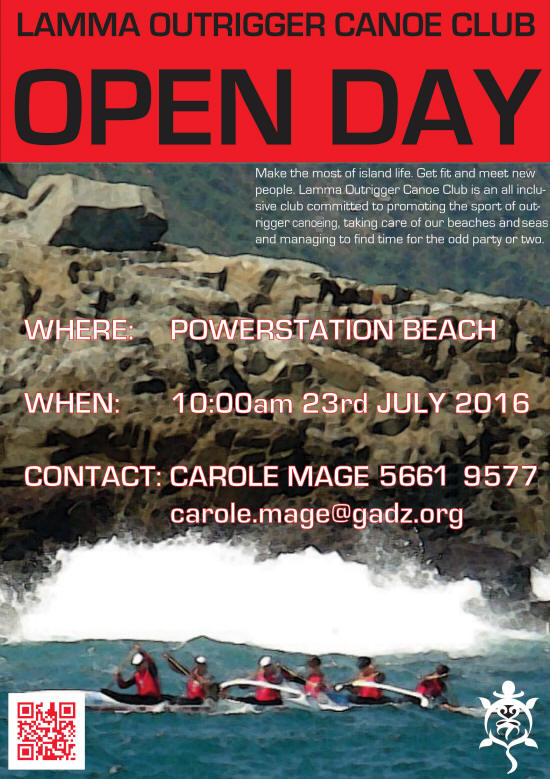 Carole Mage (for her email, scan the QR code above, or click above for Facebook contact):
"Do you want to paddle?
Please come along to our Outrigger Open Day on the 23rd of July.
What to expect at the Open Day:
There will be many new paddlers, just like you, who will try outrigger. We will go through the basics of the actual paddle (how to hold, where to hold), stroke basics and technique and explain a few things about the boat (canoe) and safety (FYI: we always carry life-jackets, safety bag, tow rope as well as mobile phones, we take this aspect very seriously). After we've explained a few things, then the fun bit - we will get the canoes into the water and you get to give it a shot!
There will be experienced paddlers in each of the boats to demonstrate the stroke also. We will just stay within the bay of Power station Beach and not go too far (please note, you should also be able to swim 100mtrs without a buoyancy aid, if you have concerns, please talk to us), but just enough to give you an idea of some of the basics and then get you hooked so you want to try some more!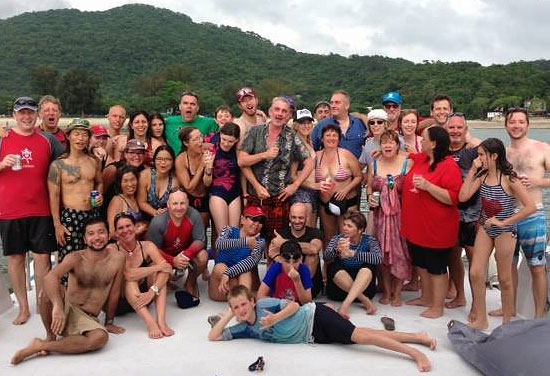 Warning:
Outrigger canoeing is addictive. The Lamma OCC is a close-knit, enthusiastic club that loves newcomers. [See Carole's photo above].
If you are new to the island and join us, then you've just made 50+ new friends. If you've lived here for a while, and wonder why on earth anyone would get up at 5:00am to go paddle in the dark - you're about to find out.
Please, pm me if you want to join.
Looking forward to see you on the water."
P.S. Why does this little promo have such a strange, devilish title? Well, that's what the OCC-MVP dared to call me when I corrected the mistakes in his first draft of this poster above! My reaction...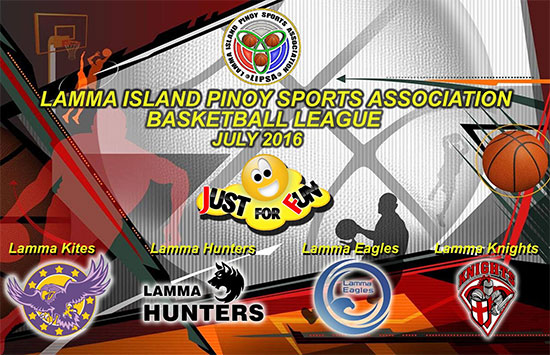 Sanat writes: "Hi Everyone!
The Lamma Island Pinoy Sports Association Basketball League 2016 will open on Sunday July 17, 2016 from a long rest (2012 last).
We will be having our parade from the Library all the way to Basketball Court @ 12:30PM and game will start @ 2PM. There will be 4 Teams parading with their Muses.
Teams are Lamma KITES, Lamma HUNTERS, Lamma EAGLES and Lamma KNIGHTS which consist of people from different countries incl. locals. We invite you to see these players (from 15 yrs to over 50 yrs old, 5' to 6'5" height and all HANDSOME!!) parade in the Main Street of Yung Shue Wan, Lamma Island, Hong Kong.
We also invite you to WATCH the game every Sunday (4 Sundays only) and remember, this is....."JUST FOR FUN"!!..."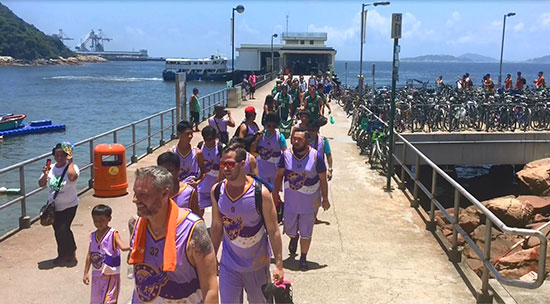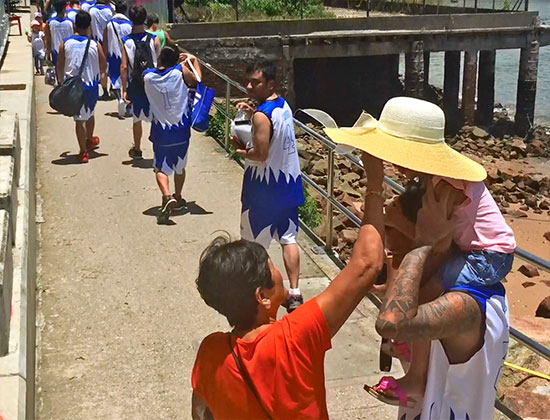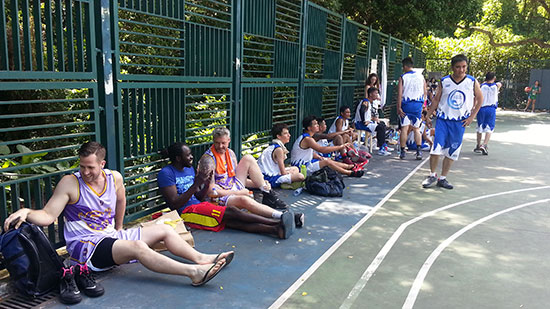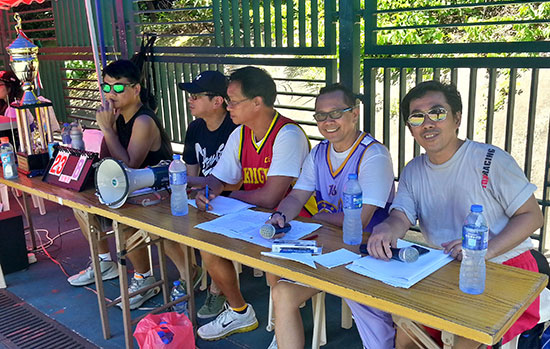 Progress of the games & photos?
Click here, join Lamma Hoops...

Watching this helicopter circle Pak Kok valley many times from my rooftop today, then hover close to the ferry pier, I had no idea on what's happening; till I saw this video, produced by my neighbour DJ Clark: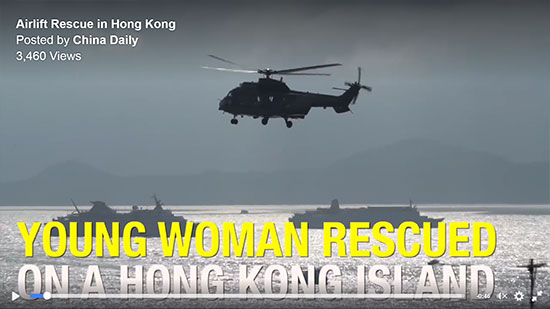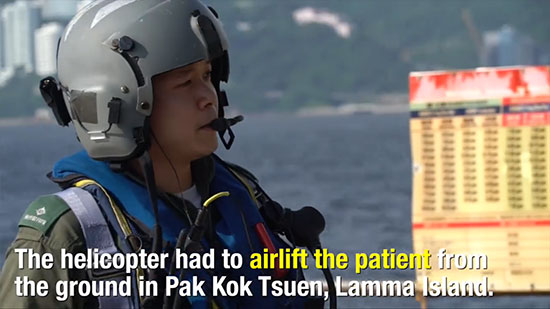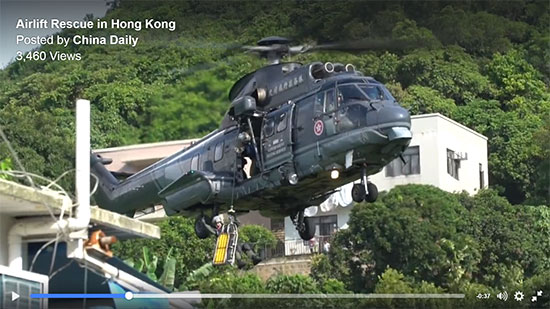 "China Daily: Airlift Rescue in Hong Kong
A woman was dramatically rescued in an outlying island in Hong Kong Saturday afternoon. Emergency services were called to the small village of Pak Kok on Lamma island to deal with a medical emergency. Although helicopter rescues are common on Hong Kong's outlying islands they rarely involve an airlift."
The rescued Pak Kok lady is fine in Eastern hospital, according to Lamma Police I asked (they were not directly involved in this case, but Marine Police).
Waiting for an official police statement...
P.S. What happened to the ambulance driving from the YSW Fire Station to Pak Kok via Tai Peng, to attend to the young lady?
It drove off the path... Nobody seriously hurt (except the driver's pride), but not confirmed yet...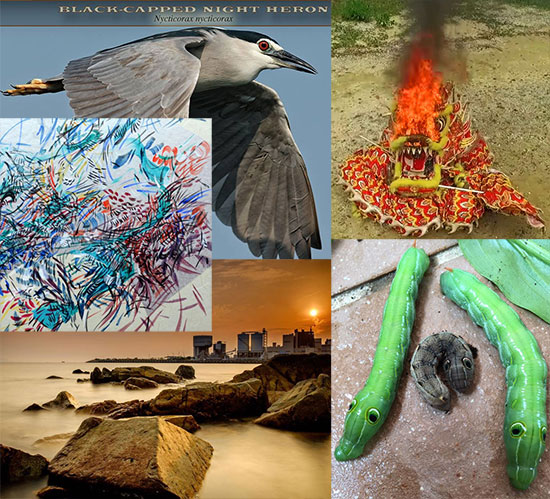 Lamma Spotlights of the Week, July 15, '16:
| | | |
| --- | --- | --- |
| PHOTO | | by Ulas Koyuncu |
| VIDEO | | by Mike Chau |
| WILDLIFE | | by Jo Burgos Wallace |
| BIRD | | by Guy R.H. Miller |
| ARTWORK | | by Laura Zhang |
I'm still amazed about the number of fantastic photos, videos & multimedia continuously being created by Lammaites, even after featuring their very best stuff for 14 years!
See former Spotlights - Send me YOURS!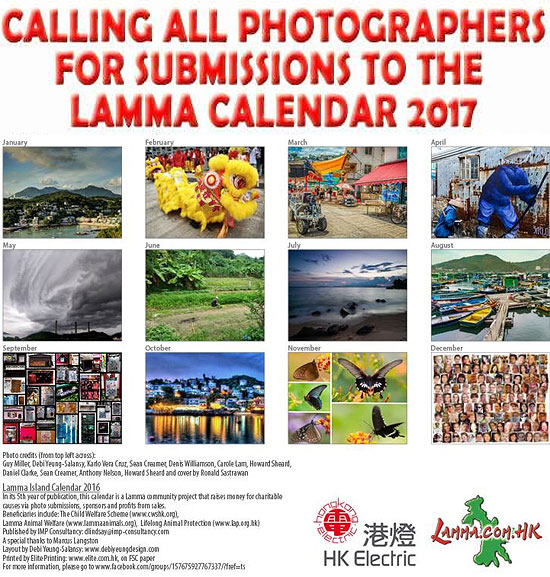 Click to upload your Lamma Calendar photos!
If you're looking for the current Lamma Island Calendar 2016's Essential Directory, help to update it for 2017, contact me.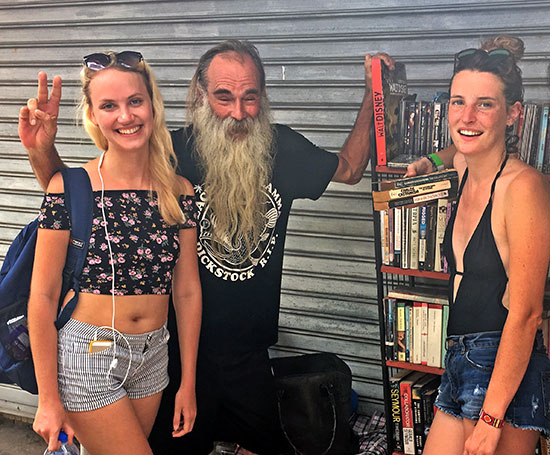 Nick loves all these touristy girls (& guys) to pose with him happily at Nick's Corner Bookstall. He often succeeds to convince them to email the photos to him at nick.bookman on gmail.com.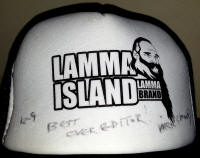 Surviving (pretty well) without a camera/mobile/computer, he frequently urges his volunteer "online assistant", err, "Best Editor Ever" (see signed cap he presented to me), to publish them here and on Facebook, where he's become quite a bit of a Living Lamma Legend.
More photos, reviews, NixMixes, etc. at the Psychedelic as Hell website I built for him and just updated it today: www.Lamma.com.hk/nick

Well, that was an epic thunder & lightning storm last night! 10,000+ strikes cloud-ground in one night!
Here's the best video of the crazy lightning I've seen, from David Myers; plus lots of the best crowd-sourced photos on HK Free Press.
I shot 300+ random photos, but didn't get anything worthy of showing here. Master photographer Guy R.H. Miller:
"Probably one of the most sustained lightning strikes Hong Kong has experienced in many a year, & surprisingly Lamma took very very few direct hits..."
Stories, photos and videos coming very soon from the Lamma Reggae Festival happening on Power Station Beach the very same night. Despite the weather, it was a great beach party:
Marckq Schmidt: "We we found 3 dresses, 3 panties, 1 shoe, 3 pairs of flip flops and 1 towel. We left 'em all at the beach bar."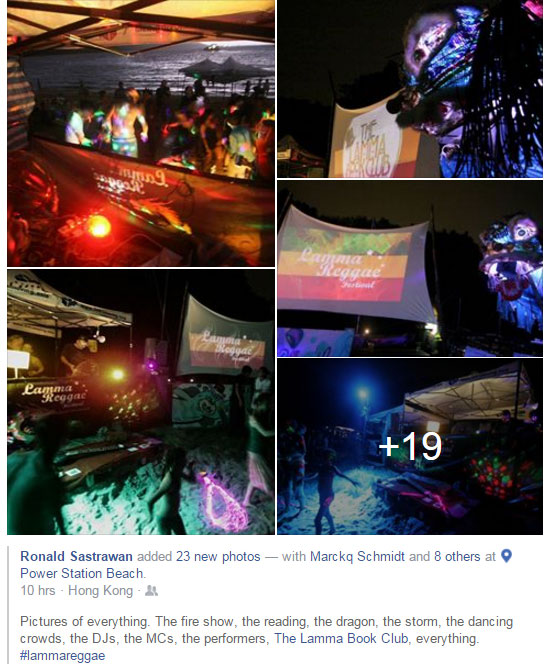 Time to update our old Lamma Bilingual Yellow Pages and our Lamma Links, combining them with the Emergency Hotlines and the Lamma Island Calendar 2016's Essential Directory!
We need your help, it's a big job! Simply checking phone numbers (some in Cantonese only) would be quite simple, easy and quick. Contact me!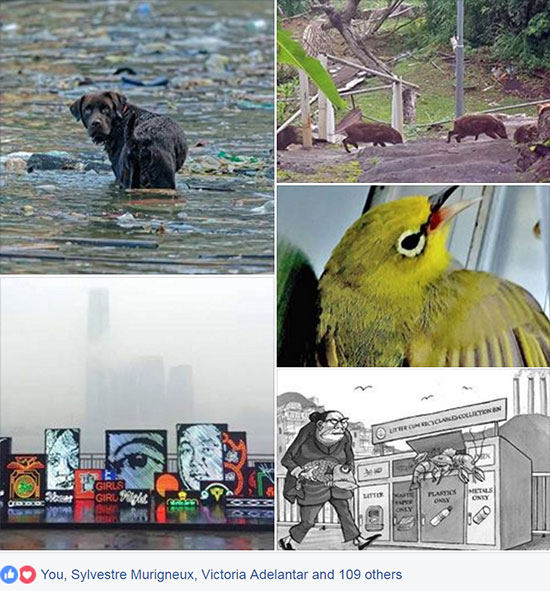 Lamma Spotlights of the Week, July 4, '16:
| | | |
| --- | --- | --- |
| PHOTO | | by Guy R.H. Miller |
| VIDEO | | by The Works, RTHK |
| WILDLIFE | | by Adam Roy Claringbull |
| BIRD | | by Jaz Yip |
| ARTWORK | | by Harry Harrison |
See former Spotlights - Send me YOURS!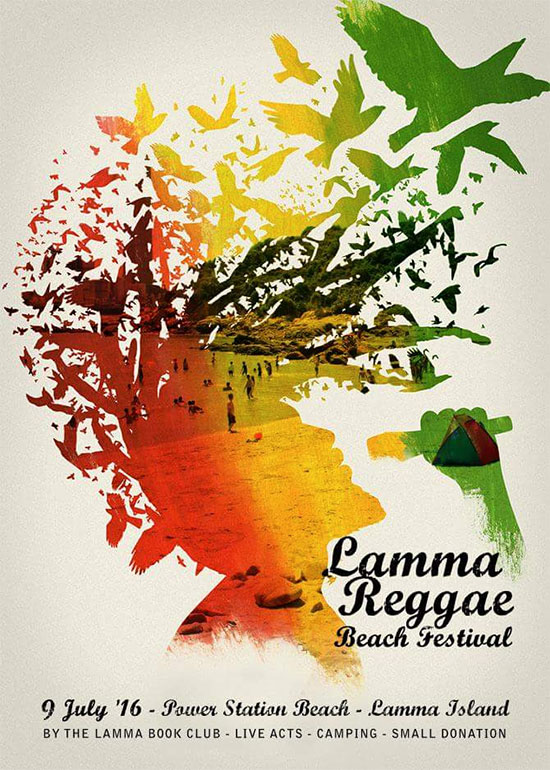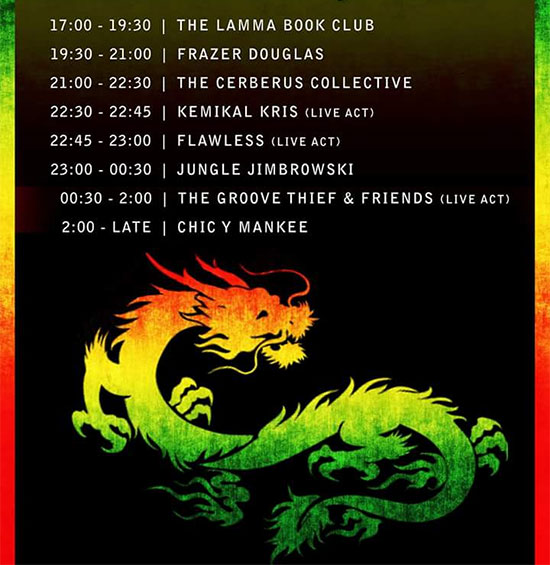 Video directions YSW Ferry Pier to PS Beach
Pictures from 1st Reggae Festival...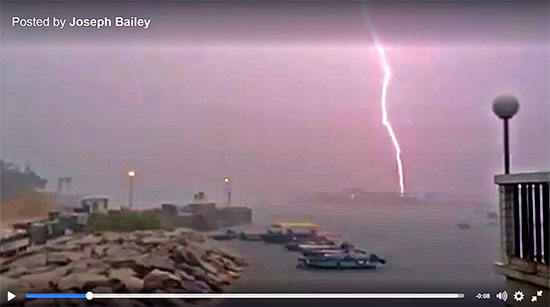 Yung Shue Wan ferry pier, 8:54am today, video by Joseph Bailey!
HK Observatory reports localised lightning strikes, mostly over N. Lamma: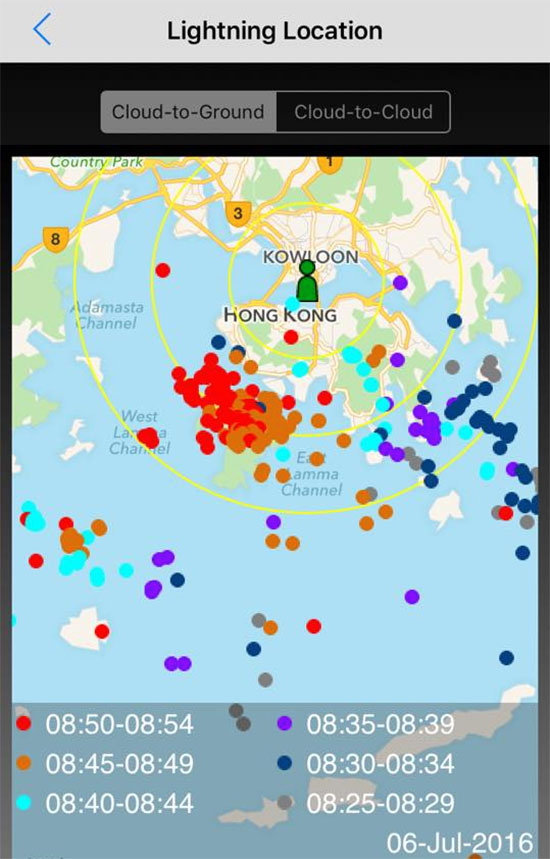 The HK Observatory webcam atop the YSW ferry pier (taking and archiving a weather photo every 5 minutes) didn't catch any of the many strikes, just dense fog. It was still working fine after the lightning strike above on the ferry pier:
After all the rain, some computer modems have been blown out by the lightning (Lammaites who didn't unplug their modems as recommended in time or were at work). Our local computer repair guys are always busy after a local lightning storm, replacing fried electronics...
Some of our village houses got mysterious, slimy visitors, right after the torrential downpour, see above. Oooh, the multitude of joys of living in HK's rural areas...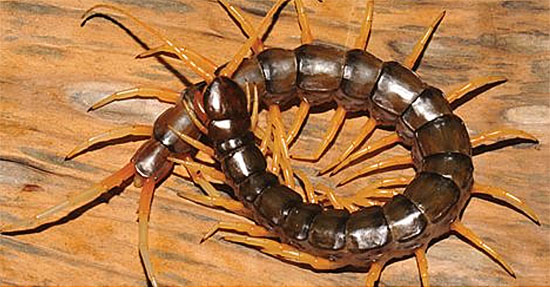 A-lister Reid: "Summer is coming.
Preparing for battle with a reported large centipede that has been locked in a room in my G/F house overnight. I have some general questions:
We have had 3-4 baby centipedes the last couple of weeks. About 1.5" long, not house centipedes (we get them too). Now the aforementioned 15cm one. Should I burn my house down?

Do they really travel in pairs? Google suggests probably not.

I heard they can't climb smooth surfaces. So how come I've seen reports of them falling off ceilings, out of vents on ferries (AHH!), roaming 2nd floor flats?"
Almost no other wildlife seems to get us Lammaites spooked as much as centipedes. After this post above, several passionate discussions ensued...
One more centipede story?
Jo Wilson: "On the path coming home tonight, BIG centipede not quite dead starting to be covered in ants.
As we are shining a torch at it and deciding on a go round strategy, out comes a BIG hairy spider, which seems to go for the centipede, had second thoughts, made to go round and then disappeared, straight into the mouth of a BIG frog.
When a second big hairy spider fell on to Max's head, we decided it was time to run home!!!"

Plus a few days ago, June 29:
Double rainbow over Pak Kok after 7:05 this morning!
It was raining heavily where I stood on our uncovered rooftop barefoot, Lamma-Por holding the umbrella behind me...

Tracy Lockwood: "Had a new nature experience today!!
After 25 years of living on the outlying islands, I really thought I had 'seen it all' as regards to all kinds of critters!! Obviously not!
Got home this afternoon, sat quietly gasping in the aircon, and let down my hair, which is tied up during the day... and was hit by this almighty strong smell... a smell that I've never encountered before. Seriously strong. Not gross, just strong and unusual.
Whilst I was thinking 'WTF' a stink bug jumped out of my hair!!! LOL! Little git must have sprayed me.
Thankfully a quick shower took the smell away, and the stink bug was safely escorted out to the balcony and allowed to fly off."
That's the Stink Bug (Pentatomidae) Tracy describes. Very clumsy fliers, often landing on their backs after landing on our balconies these weeks, taking a long time to get back on their feet.
Their stinky, defensive-only acid can burn your skin. Treat it gently and it will simply fly off. Flick, don't pick!
They like to lay green-tinted, white eggs on outdoor laundry or cloth-like surfaces (for example HK's iconic red-white-blue plastic cloth).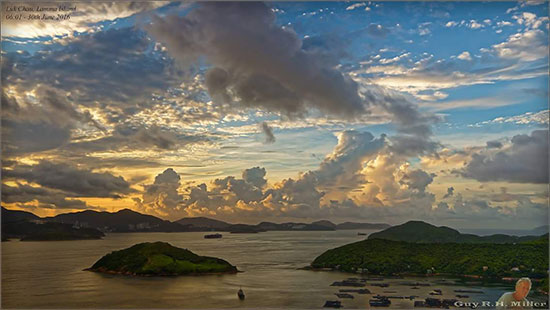 Before the Sunrise, 6:01am, viewed from the Pavilion just above the Lamma wind turbine, June 30, my current wallpaper ~ by Guy R.H. Miller
One more image stitch from Guy? OK! Handheld from 22 images:

And one more? (Click any picture to enlarge; like most Lamma-zine photos)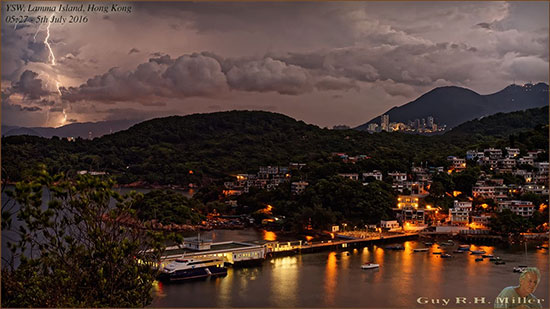 ---