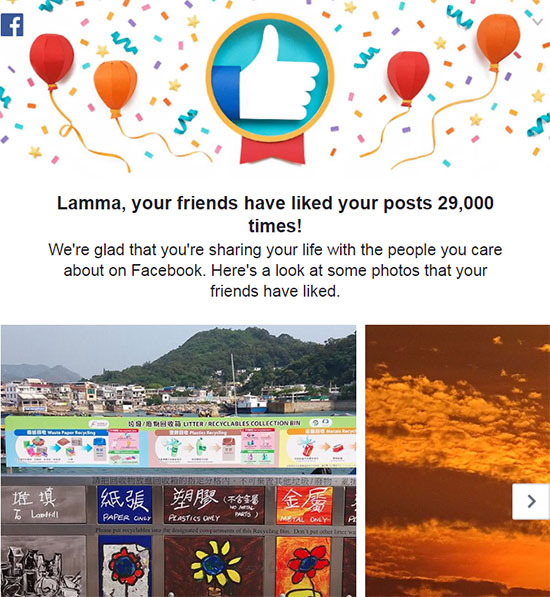 I've received an encouraging, automatic message from Facebook to Lamma Gung today: 29,000 Likes so far!
It's listing my most popular posts on my Timeline, they're integrated with the Lamma-zine, of course. But No. 1 is a post with a headlining picture of garbage bins on the YSW Ferry Pier??? A lot of sunrises/sunsets among my most popular posts, but garbage bins?!! Well, it was a discussion about recycling on Lamma and in HK in general.
Here's my Facebook photo album from today, see below. It's already added another 100+ Likes to my total tally, in less than 12 hours. Not that I'm counting or something, but it's a nice encouragement from my Facebook Friends, most of them are current or former Lamma residents.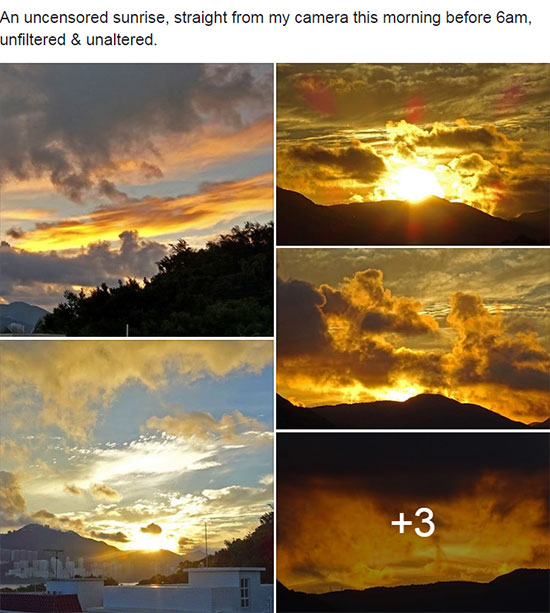 P.S. By the way, MEAWW.com thinks that these are my 5 top pictures on Facebook. Do you agree, or not?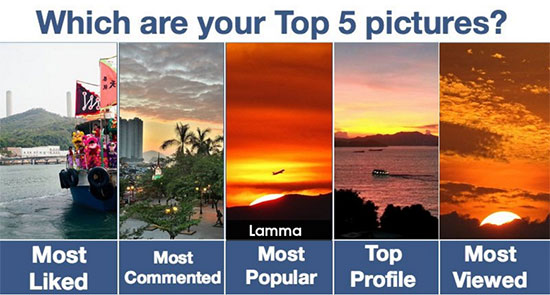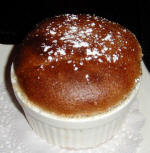 It's so unusual to have a film premiere on Lamma, an island without a single cinema. Well done, Kalinga and Jing Jing's!
So they get a special boost this time by being featured in this Lamma-zine.
Publishing this story and then it's up to another great late lunch from one of our favourite lunch places, Jing Jing's. As long as Marlon and his "disciples" are cooking there, we'll remain loyal customers!
Order one of his fantastic souffles together with your main course, as it takes a while to get it prepared and baked. We fondly remember the time when we had to get his souffle as a takeaway in the original oven dish, running to the YSW pier and enjoying it on the ferry!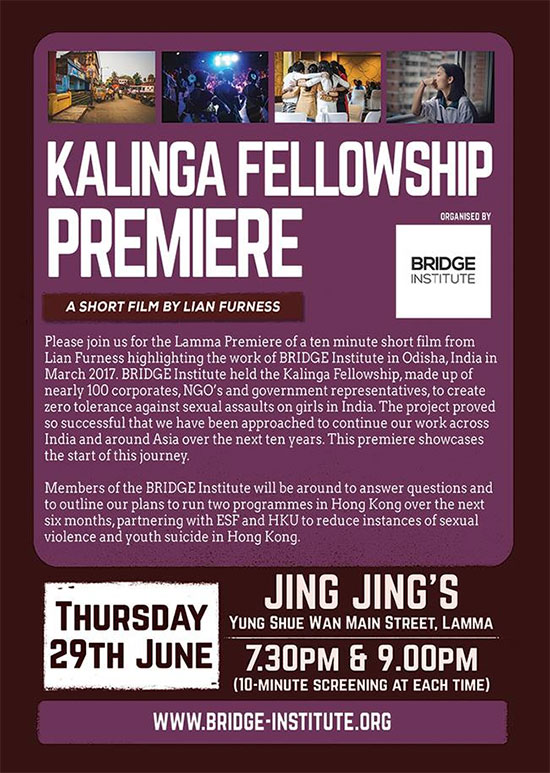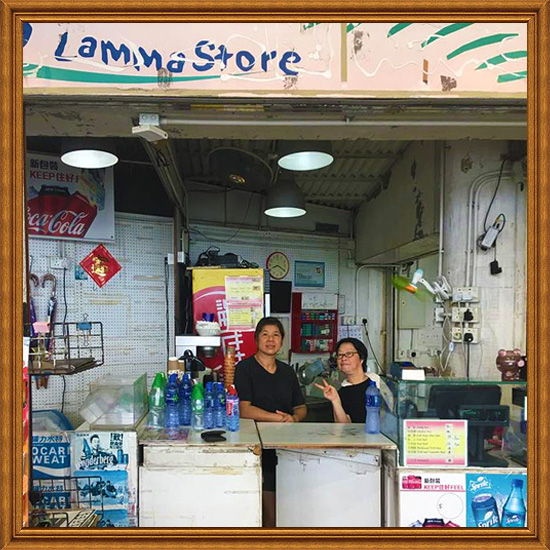 Pier Shop Ladies ~ Thu, June 22, 2017
by Sharon A. Birkett, Official Court Poet Laureate
What a team, me thinks,
While we queue up for drinks.
"Large coffee, two small teas,
two packs of tissues, please".
An exchange of dollars in record time,
Ordered refreshments standing in a line,
The bell bellows out its piercing noise,
Brief panic from a mother and her boys.

They'd dashed along the pier
And just made it through the gate,
calling to the shop ladies despite being late,
"Sui mai, fish balls, a newspaper please.
Any sandwiches, ham'n'cheese?"

"Fidi la...this ferry must go" shout staff in
glasses standing in a row.
Pier shop ladies rush to provide,
Serving Lamma Residents before their ferry ride.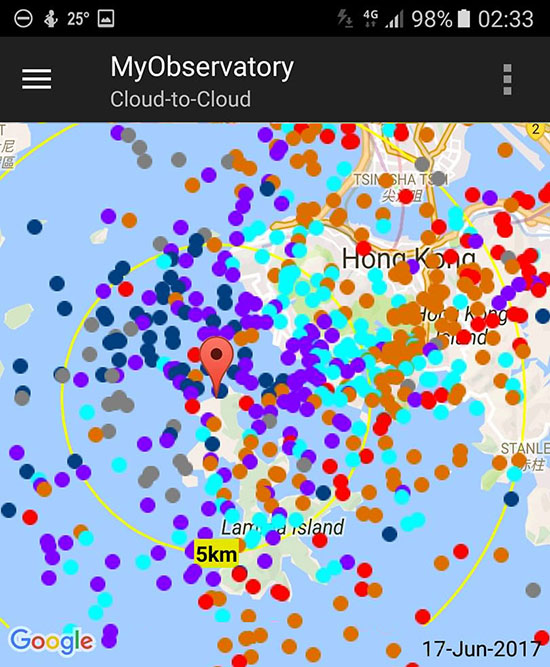 Lightning Storm @ 2:33am this morning!
Screen shot from my smartphone, while I was still working on updating this website. Lamma's telephone wires are often above ground, strung from pole to pole in the villages. So they're very susceptible to nearby lightning strikes, connecting through these exposed wires to anything connected to your tel. land lines, like our modems.
Our sole broadband supplier PCCW's technicians are very busy the next morning after a lightning storm like this to replace our burnt-out Internet or NOW TV modems. The connected computers often can get damaged severely as well. So unplug your modems during a lightning storm, please!
Upgrades to our Internet speeds are rumoured, from our fixed broadband download speed of 3 Mbps, 0.5 Mbps upload speed all over Lamma, to 30 Mbps before end of this year. Our microwave links to HK Island will only be upgraded with additional, approved spectrum from OFCA, no fiber at all.
As we have only a single monopoly broadband supplier for all of Lamma, PCCW, their timelines are very flexible, completely up to them. We'll believe the upgrades when we see it actually happening... someday...
In my over 15 years on Lamma, our broadband speed has halved and the costs doubled. Like many home office workers, I've switched now to 4G wireless with unlimited data at much higher speeds. Wherever your smartphone gets a good connection, use a standard Wifi connection to your smartphone's standard hotspot. No extra hardware, software or setup. Or get a 4G router with an additional SIM card set up.
See Faster Broadband for Lamma for some good advice and many bitter lamentations.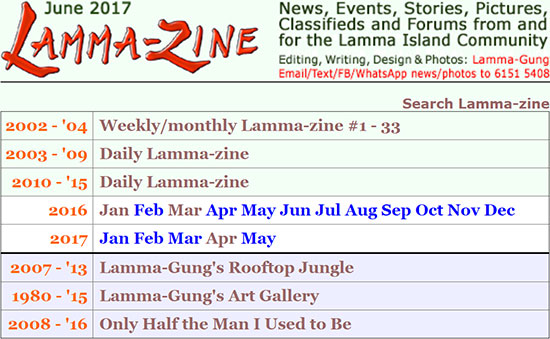 Almost 15 years of Lamma-zine stories! I've just updated our archives, making every story easily accessible by date and heading. For a site-wide search, click on Search Lamma-zine at the top of our home/cover page.
I've listed some major topics that generated quite a few stories, like gardening and my weight loss e-book. What topics should we add to this shortcut index? Nick the Bookman's reviews? Hiking? Lamma poems? DickStock concerts?

It all started with one of the frequent Lamma questions in our Lamma forum for a contact for the Lamma gym. I replied with a link to their Facebook page as their website is not up-to-date and doesn't even mention their new gym yet. Senior Lammaite/forum member Pit took offense and posted:

"Apologies for the off topic realization/brain queef, but every thread that isn't there already seems to be a referral to Mr. Zuckerberg's walled garden. O tempora, o mores."
Yes, that's how literate we're getting in the Lamma forum sometimes: Pit used a term I had to Google - Brain Queef - and a Latin expression, which I still remember from my ancient Asterixian days:
O tempora, o mores: "Oh what times! Oh what customs!"
My detailed reply, going vastly off-topic into rambling...
O tempora, o mores, indeed!

Red-whiskered Bulbul's life cycle can be observed on many of Lamma's rooftops and balconies these days, from egg to fledglings. Mum is sitting on the nest in the middle. All photos courtesy of Angie Arti's patience, together with her children on their rooftop! Thank you!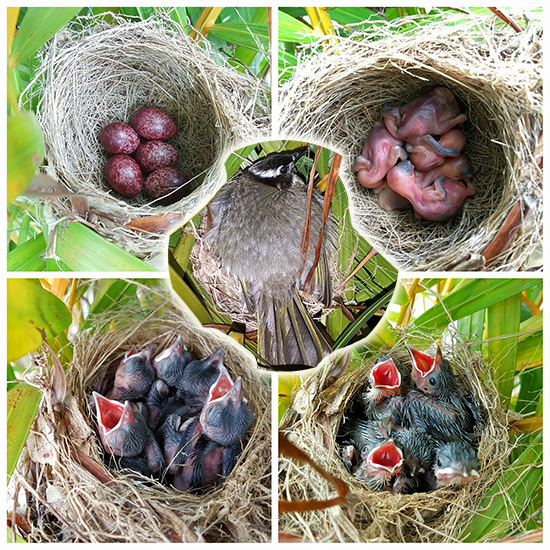 Nests with pink, speckled Bulbul eggs are regularly found on Lamma's balconies and rooftops these days.
I love the bulbuls on my rooftop, the only local bird species not flying off, even when you move in quite closely, but slowly. Here's a bulbul watching a sunrise rainbow with Lamma-Por & me the other day on our rooftop, well before 6am: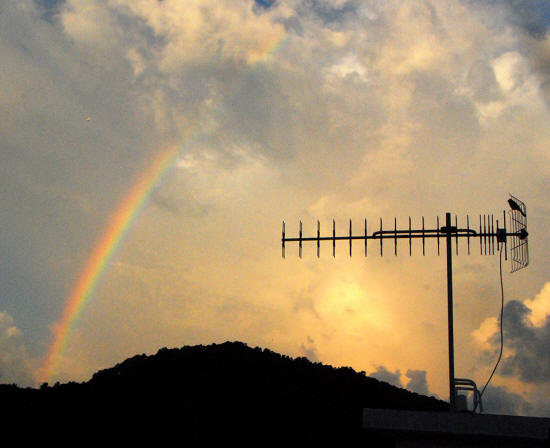 Discussion and more pictures...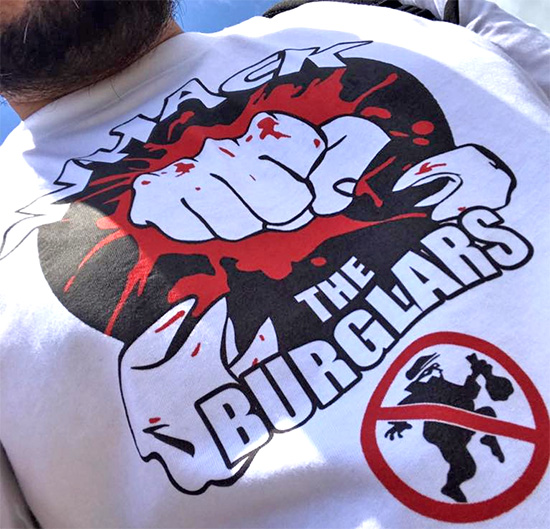 A series of burglaries has been happening in North Lamma recently, see links to news stories in the What's New? section of our cover page and all over the Lamma-related Facebook groups, plus this update from our Police Chief, Rachel Leung, summarised by Skye Cunnigham.

Neighbour watch groups on WhatsApp sprang into being for a number of affected and nearby villages, something that wasn't necessary in many years, fortunately.

Plus the just opened MUSH shop on YSW Main Street, between the Corner 64 bakery and the famous Bookworm Cafe, jumped onto the bandwagon very quickly, designing and selling the above new T-shirts from Lamma Brand.

Of course, we're not condoning any vigilante violence on our very peaceful island, but these brazen, very rare, often daytime burglaries have many Lammaites rattled, so these Tees express the fearful, upset feelings of many. Be vigilant, but not a vigilante!

Let's hope that the burglars are caught quickly (no suspects yet) or move on off-Lamma, now that the neighbourhood watch groups report on suspicious people and behaviours in their villages. Best of many stories in local media came from the SCMP:

Camouflaged police hide in bushes to catch serial Lamma Island burglar

In the meantime, the police launched some new, quite informative, bilingual banners and posters (click below: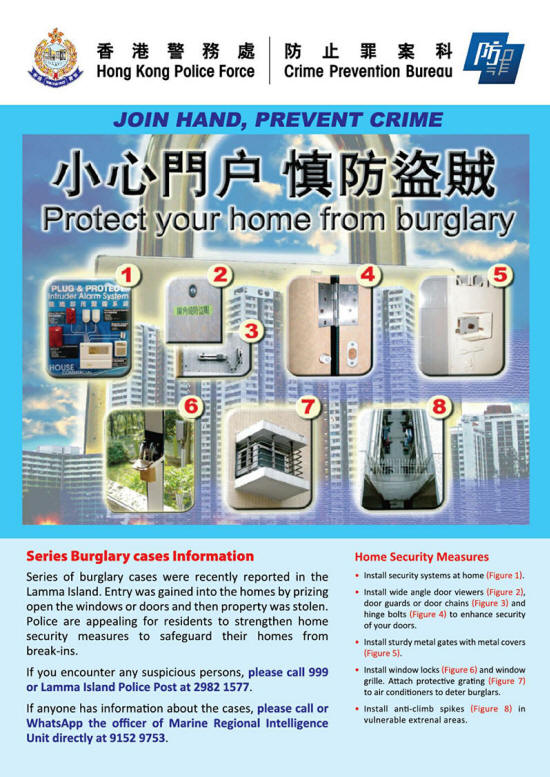 P.S. June 8:
Duo from mainland China arrested after Lamma Island crime spree


Observing life on the water, while enjoying a great Mediterranean lunch and glass of house wine in The Bay in Mo Tat. All of this equipment (except the SCUBA diving gear) is available for rent just outside the restaurant, the summer season has just started: