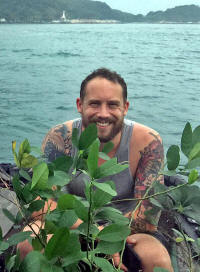 Having been neighbour-less for quite a while now - while the other flat in our building and all 4 neighbouring, surrounding village houses have been almost tenant-free - we welcomed a new couple moving in downstairs. I've asked Rich (hiding behind his plants on the sampan to Lamma) to tell us about their move from HK Island:
"Taking the plunge and moving from HK Island to Lamma wasn't an easy decision for us, having spent 4 years on the Island, 3 and a half of which in Kennedy Town. You get used to the convenience of nearby shops, the MTR and the 10-minute commute into work each day.
However, with changing life circumstances and the need for more space and greenery, we decided that spending an hour commuting to Central was worth it. We contacted a number of relocation companies in Hong Kong. Of the few that replied only a couple seemed to understand the logistics of moving to Lamma. Really only one seemed to provide us with confidence we would ever see all our worldly goods again.
Trade Winds provided a quotation very quickly. It transpired they moved out the previous tenant [Editor: back to Happy Valley] so knew the new house location already, which helped. Any packing material requested was quickly delivered to the house, and a quick call a couple of days before the move to confirm if we need anything more.
Steve and the guys arrived on time in the morning and quickly started loading up the vans. They also helped with any items I'd neglected to pack, doing a much better job that I would have managed, I might add.
Once loaded, the boxes were transported to Ap Lei Chau for loading onto 2 sampans for the trip to Lamma. This stage was completed very quickly and myself, along with the boxes, were soon bobbing across the water, avoiding the large cargo ships for some extra entertainment.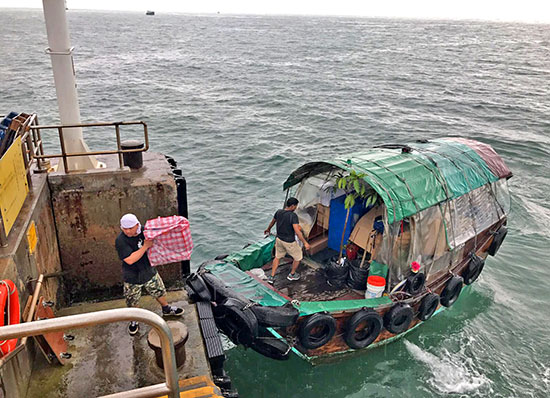 It's a little nerve-wracking seeing all the boxes being unloaded at Pak Kok, given there is no actual pier to moor the boat to, so watching the guys bouncing up and down was a little more than I could take. Soon I disappeared to find refreshments for everyone. Returning an hour later, nearly all the boxes were already in the new house, with a few larger items skillfully hoisted up to the 1st floor from the outside. The job was complete, in less than 6 and a half hours.
I can't thank Steve and the Trade Winds team [see below] enough for the help and the enjoyment of the move; very professional and a good crack along the way. I would highly recommend them to anyone looking to move in Hong Kong, no matter if to Lamma or anywhere else.
Richard Bush, Head of Group IT - Asia"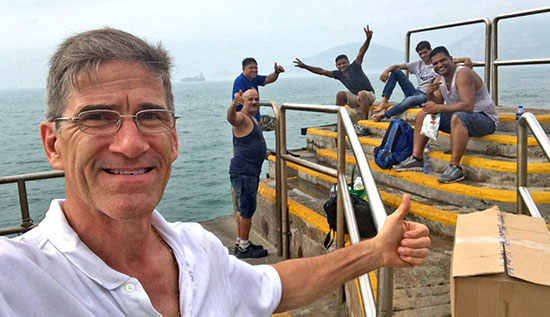 P.S. Trade Winds has also moved Lamma-Gung & Lamma-Por in N. Lamma 3 times, from YSW to Pak Kok last time! Plus 4 other moves in/out of our 2-flats Pak Kok house, just in the last 4 years, all of them very happily, they told me.
See Lamma-zine stories about former Trade Winds moves on/to/from Lamma: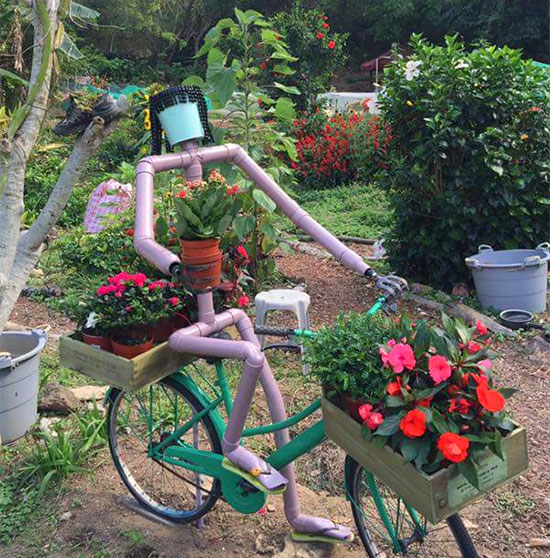 A warm welcome to Rose the Flower Seller, the new mascot of the Tai Peng Community Garden! She's joining her nearby companion Tai Peng Man, the subject of so many photos by locals and passersby alike.
Another masterful sculpture by Chris the Carpenter! Kudos!

Taking photos almost every day since moving to Lamma, occasionally (rarely) I'm getting a picture that summarises much of Lamma's unique, typical character in a single lucky shot.
For example yesterday: Recycling, children's artwork, blue harbour, fishing and leisure boats, lush hills, commuter bikes, iconic ferry pier, primary-color govt. notices that read like advice for young children...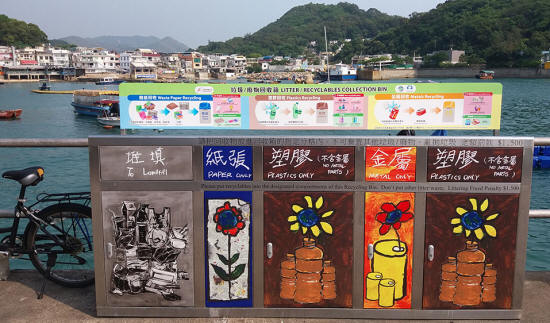 More Typically Lamma photos...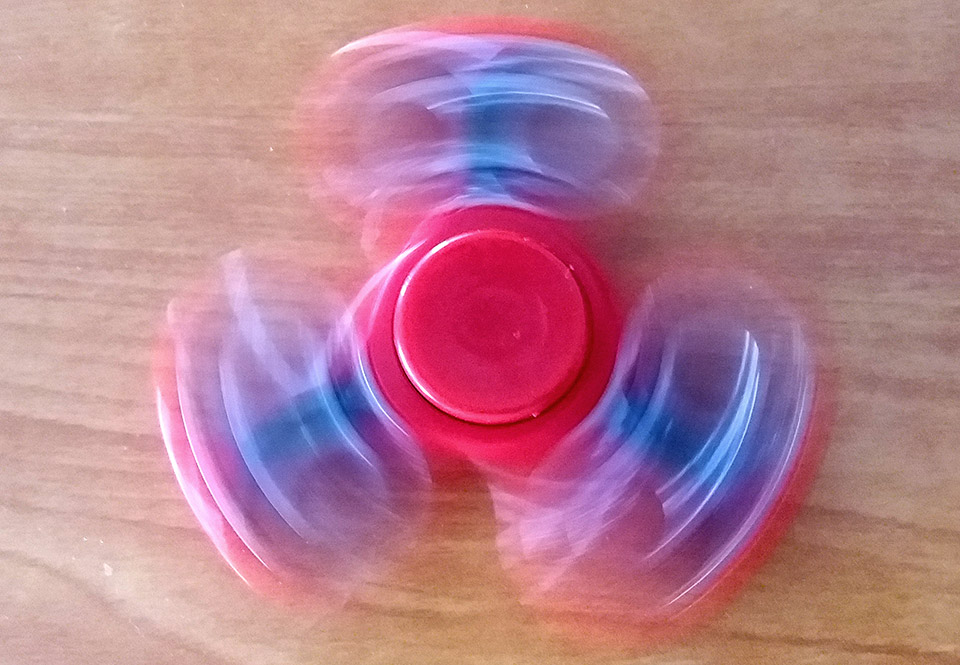 How do you know that a new gadget has really hit the big time and has reached mass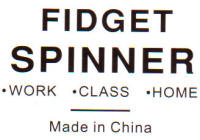 appeal?
When you can buy it on Yung Shue Wan Main St!
After reading about his new fad in some e-mail newsletters, we strolled through YSW Main Street and noticed the newspaper shop selling them now, street-front and in various colours at HK$20.
Made in China, of course. By the way, the inventor made no money at all from her patent as she couldn't even afford the US$300 patent renewal fee a few years back, well before her gadget hit the big time.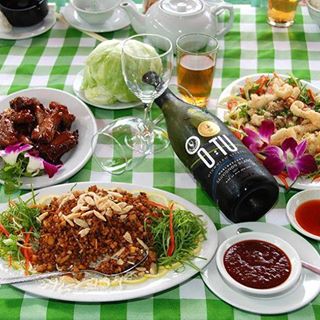 As we enjoyed our late lunch in Andy's Seafood Rest., the waiter and Andy himself showed big interest in our new toy. A vivid discussion on the best ways to play with it ensued, over another delicious meal and my favourite "biggest glass of white house wine in YSW"...
Then Andy handed me a flyer with his new late-night specials, ideal for snacks after too many drinks in YSW's numerous bars. I was wearing a promotional Island Bar cap at the time, so I might have seemed like a suitable person to hand this flyer to.
The special "Pork Kunckle Noddles" on the "Night Snake" snack menu are only available from 9pm - midnight, Tue - Sun. ;~}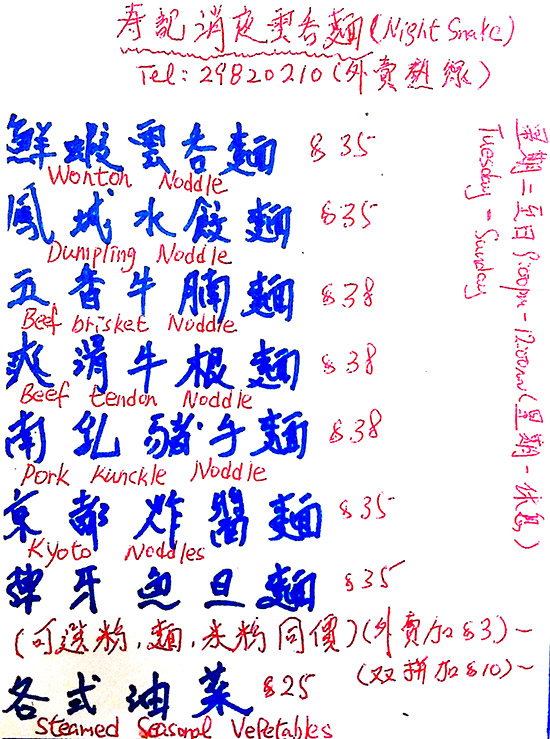 According to a recent, informal Facebook survey, Andy's Seafood is by far the most popular Chinese restaurant in YSW. Lamma-Por and I heartily agree!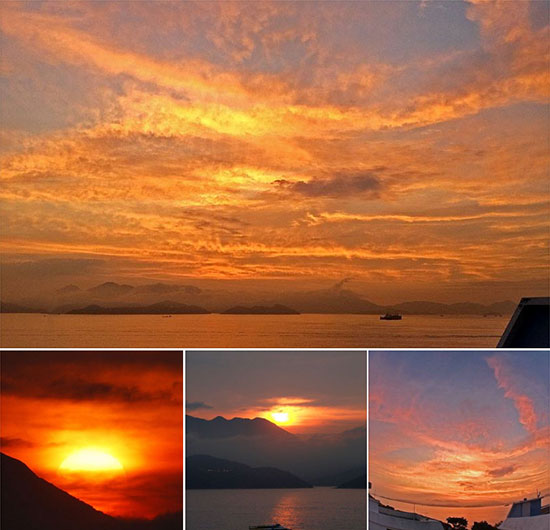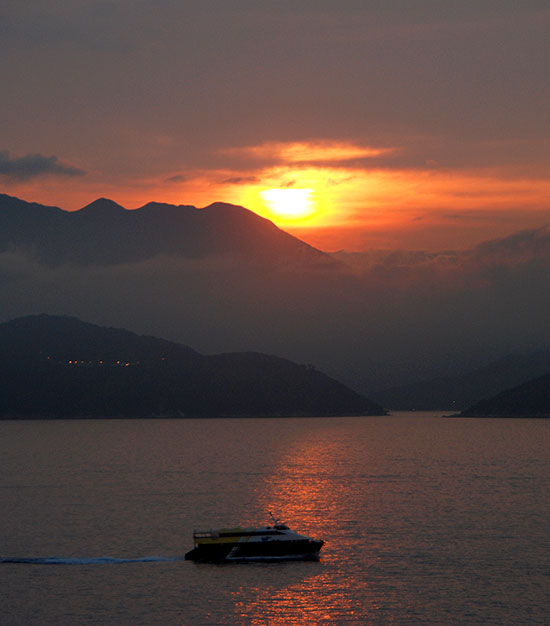 Here are some of Mr. GoGoHippies home delivery of Hippeastrums bulbs, he home-delivered as bulbs to my "residence" recently. He made me promise to show him photos of the blossoms of these special cross-breeds after they had opened.
It seems to be a colourful surprise each time they open; even the hobby breeder doesn't know the colour schemes and number of blossoms (4-6) till they actually open!