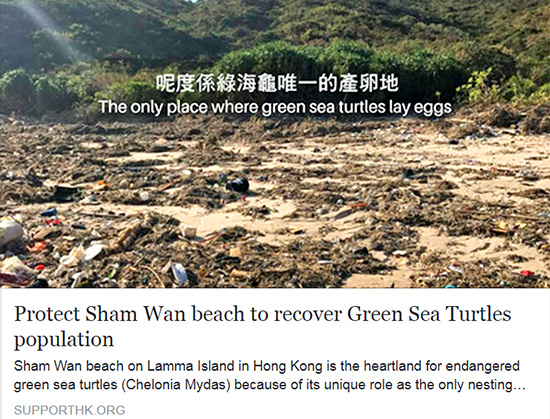 First T10 typhoon in HK in over 5 years today! Last time, see T1 typhoon Vicente: Lamma-zine, July 26, 2012: T10: The Great Lamma Tree Massacre.
Lamma got some of the worst of it today, so much damage all over the island, another Great Tree Massacre. Even Sok Kwu Wan Main Street was under water as the T10 storm surge coincided with a maximum tide just before lunch: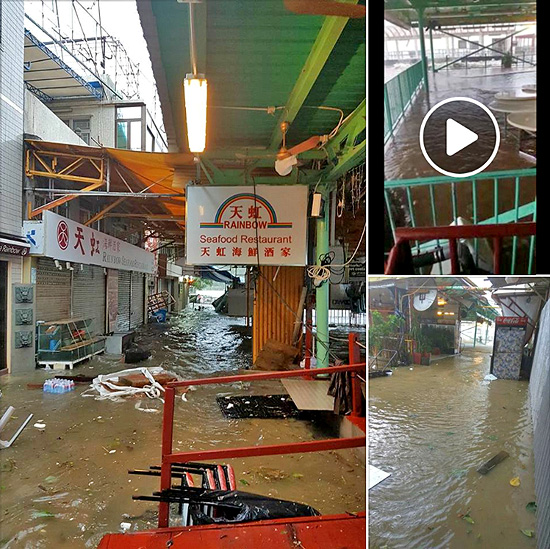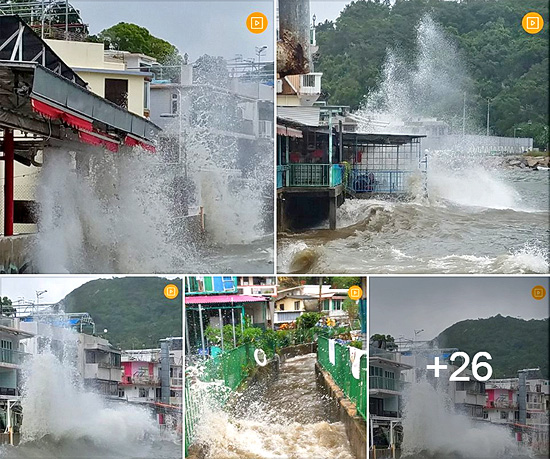 Colin Clarke, co-proprietor of the Blue Goose Tavern on the YSW harbourfront took the photos above and wrote, short and succinct:
"The way it was. We got 'splashed!'"
Not sure if he was referring to the deluges outside or the traditional typhoon party happening in his bar at the same time; note that "splashed" is in parentheses. The party lasted for 2 days, according to Colin...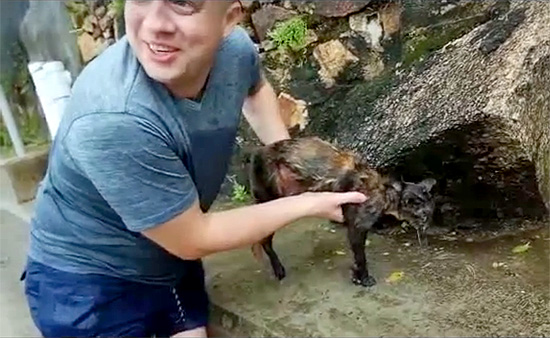 But the Lamma Hero of the Day accolade goes to Jeff Toko Mango who saved a feral kitten from drowning off the YSW Ferry Pier! I shared his video above on Facebook and it became the most popular, local story of this T10 (300+ shares, almost 50k video views).
Yes, Lamma is an extremely pet-loving community and a heart-warming story like this, amidst all the destruction on our patios, balconies, rooftops, gardens and in nature all around us, really gave us pet lovers a warm and fuzzy feeling. Junior Lammaite Jeff got so many congratulations and thanks and even several free drinks for his heroic act!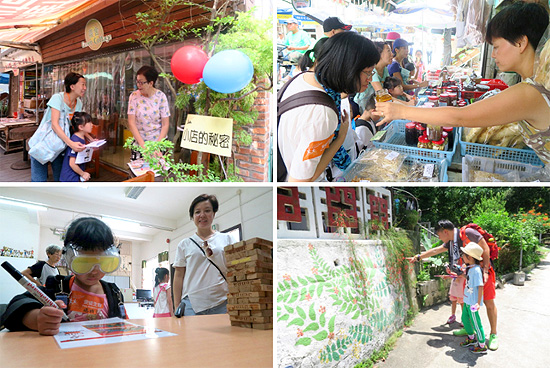 Hans Andersen Club writes:
"Twenty families strolled around Lamma Island and unfolded the "secret" of green/ self-made shops on 5 Aug 2017. At the same time, they explored the history of villages. Having fresh soya milk and pineapple sticks provided in the trip were good ways to "escape" from the hot, sunny weather.
The parents shared that children from the city seldom see green environments and insects. They got the chance to experience the cozy environment on the island and talk to the inhabitants. Parents considered this was a very effective way to communicate and have fun with their children.
Lamma Treasure Hunt activities and a creative market will be held again on 4 Nov 2017. It will be open for registration in September 2017. Stay tuned!"
That Lamma Minion (a Lamminion?) photo above, inside our Hans Andersen Centre in Tai Wan New Village, was just too cute!
Here's my zoomed in and enhanced version: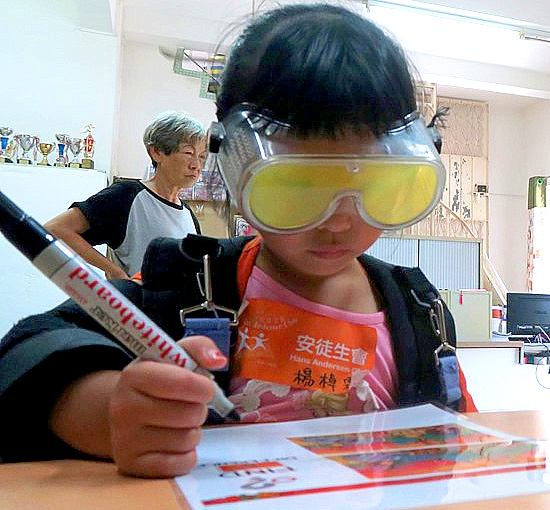 Another great initiative is their Lamma Story Garden:
"Through creative stories, eco-tour and recycle activities, we facilitate parents and children to release their pressure from the city, experience the healing power of the nature, and obtain ecological and environmental knowledge.
For more details, please call 2338 8147."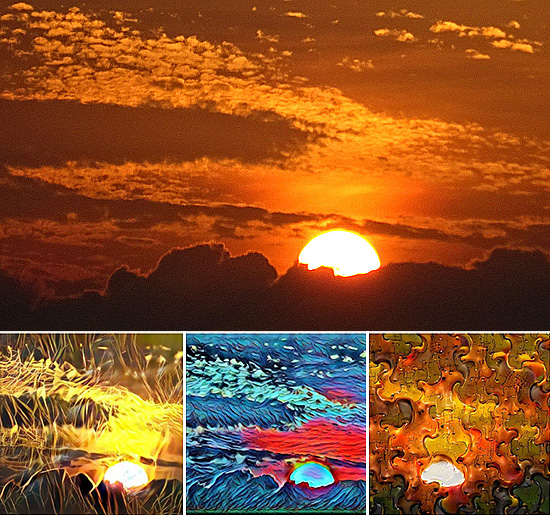 I never get tired of sunsets, running up to the rooftop from my home office, setting up my pocket ultra zoom on a tripod and Wifi-connecting it to my smartphone and clicking away...
Here are a few of my favourite versions of the sunset a few days ago; Deep Styled by iteratively processing them with Google's Deep Dream Generator, which is using their in-house supercomputing capabilities:
"By going deeper into the dream you will discover amazing new dimensions and visual artifacts from the Artificial Intelligence's consciousness."
P.S. Sep 4: Going deeper...

The frequently moving seabed investigation platform just off the Pak Kok ferry pier today: The contractors are checking the feasibility and details of constructing a long, sideways-docking ferry pier (to be ready by 2021 the earliest).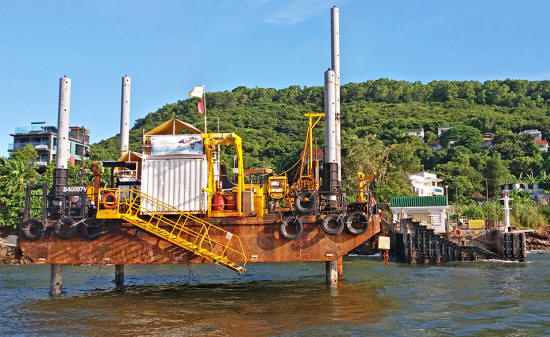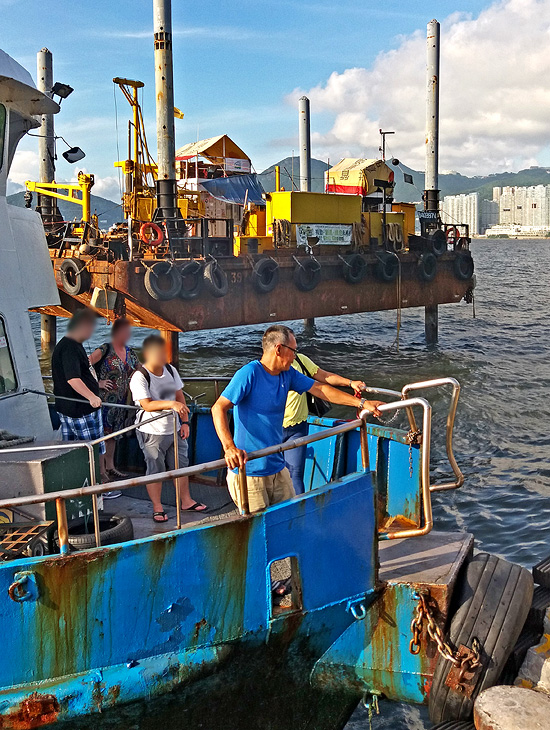 Stepping and off the ferry's "nose" at the Pak Kok pier can be a treacherous adventure, especially in rocky seas. The permanent cross currents make the docking really difficult and sometimes take several attempts by the very experienced, specially qualified captains.
We learnt more re: planned upgrades of ferry piers HK-wide today:
Green tourism to get boost with renovated piers
(The Standard newspaper)
10 ferry piers HK-wide are to be upgraded or replaced, incl. Pak Kok and YSW piers! Anybody got details of the YSW ferry pier plans, as I haven't seen anything yet. I shall investigate...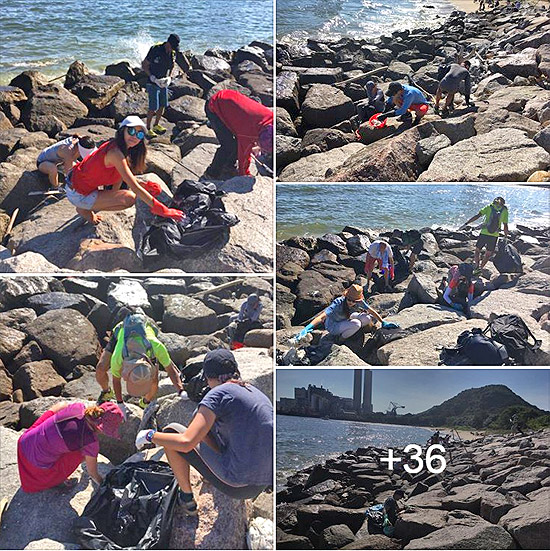 Robert Lockyer writes about the palm oil spill cleanups:
"Thank you Eco-Marine, Hong Kong Hiking Meetup, The First Penguins, Sea Kayak Hong Kong, Plastic Free Seas, Living Lamma and numerous other groups and local residents for getting over 350 volunteers on Lamma today.
It's great when people, volunteers, families and NGO groups from all over Hong Kong come together as one to solve a problem."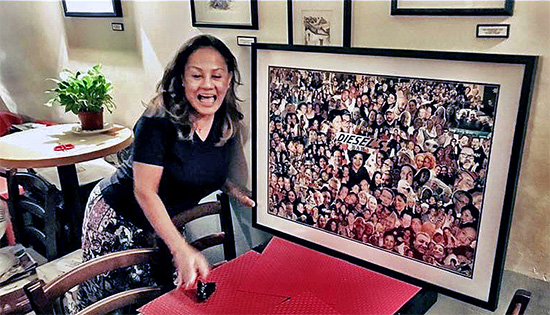 A new favourite picture of Laudable Lamma Luminary Joyce of Jing Jing Bar & Rest., of ex-DIESEL's fame, celebrating her Big Birthday with another big Jing-Jing-a-ling party!
She was so OverJoyced to receive this fantastic collage created by Caroline Collins: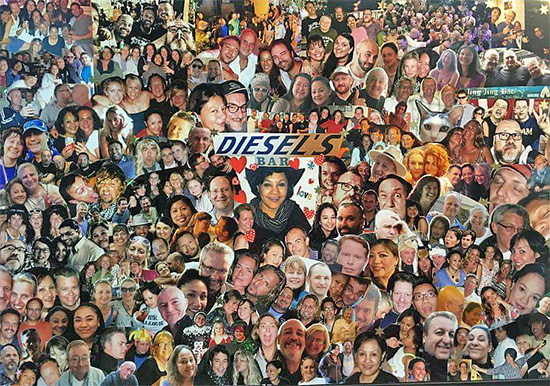 How many Lamma faces do you recognise? Click to enlarge, plus more photos!

There are almost daily volunteer clean ups happening nowadays on Lamma, with many wonderful volunteers joining from off-island. Most of the clean ups are listed here and in our Lamma Events Calendar: