| | | | |
| --- | --- | --- | --- |
| | Jul 31 - Poster in the YSW ferry pier, getting ready for renovation, lasting till well into 2021. | | Jul 26 - Some of the very best of Harry Harrison's poster artworks for Lamma events! |
| | | | |
| --- | --- | --- | --- |
| | Jul 25 - Very first sunrise photos from our brand-new village house's rooftop. | | Jul 24 - I mistook this very nice poster for humourosly announcing kind of a daily pub crawl. |
| | | | |
| --- | --- | --- | --- |
| | Jul 23 - "I live on a tropical island, covered in a fervent fertile jungle settled by concrete villages..." | | Jul 21 - A few random photos and captions taken while strolling around YSW. |
| | | | |
| --- | --- | --- | --- |
| | | | Jul 19 - Whoaah! 17 years already, longest-lasting job, err, lowest-income "Labour of Love" of my life! |
| | | | |
| --- | --- | --- | --- |
| | Jul 18 - A new Chin. chef introducing a completely new menu of Chin. specialties. | | |
| | | | |
| --- | --- | --- | --- |
| | Jul 16 - This will be your only chance to witness a "riot" in our (almost) always peaceful island community. | | Jul 15 - June and July are the best months for HK sunset/sunrise photos. |
| | | | |
| --- | --- | --- | --- |
| | Jul 10 - Opening ceremony of our new YSW Library, feat. surprise VIP, CE Carrie Lam. | | Jul 9 - We've moved from one village house to another one in this same village. |
| | | | |
| --- | --- | --- | --- |
| | Jul 8 - Full Moon Sunrise, shot in the opposite direction of the actual sunrise. June 18. | | Jun 20 - Jul 7 - My PC and the Lamma-zine are taking a break for most of the duration of our mega move. |
<!/tr>

July 31: Successful Strive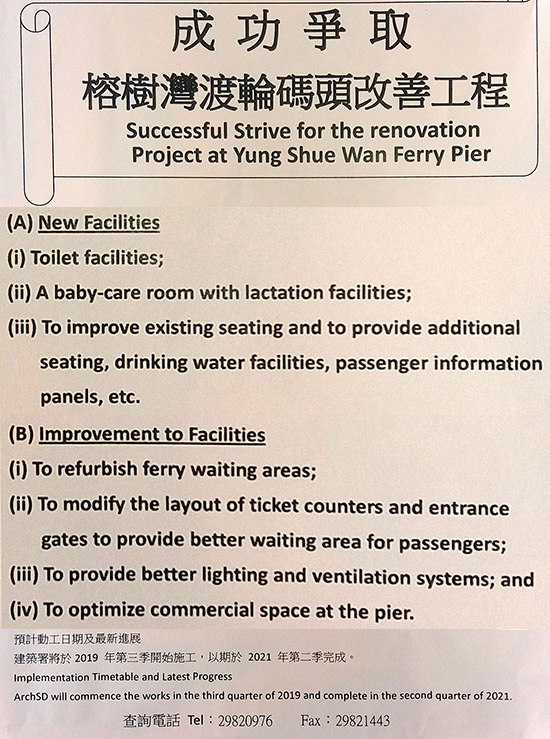 Poster in the YSW ferry pier, getting ready for renovation, lasting till well into 2021. Detailed plans...

July 26: Harry's Gig Posters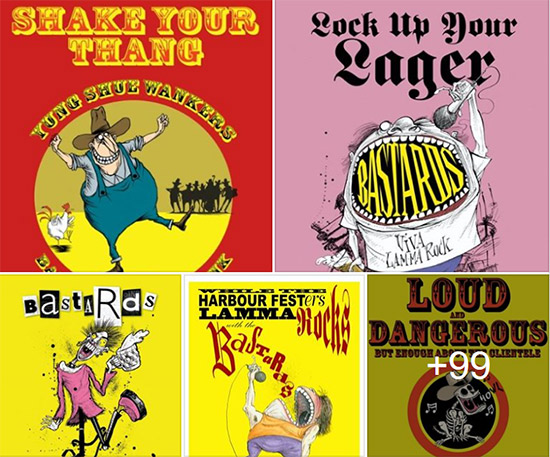 Some of the very best of Harry Harrison's poster artworks for Lamma events! Click to view them all.

July 25: All-Around Sunrise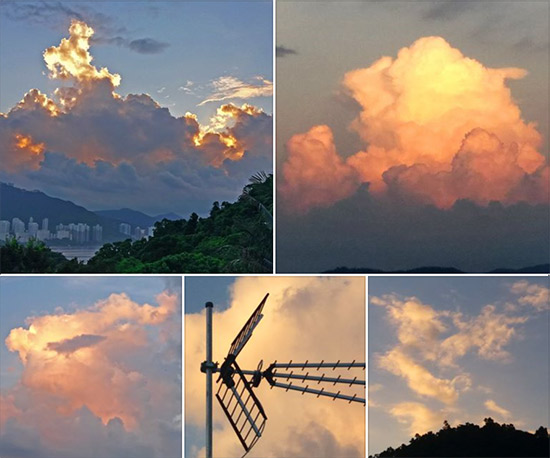 Very first sunrise photos from our brand-new village house's rooftop, 6am today: all-around sunrise, golden-reddish clouds in all directions!

July 24: Tour and/or Pub Crawl?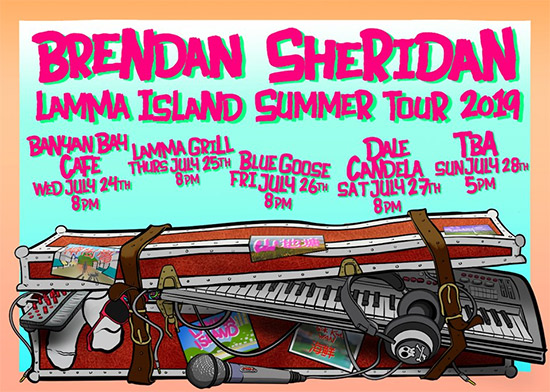 I mistook this very nice poster for humourosly announcing kind of a daily pub crawl of Brendan. Quite a few senior Lammaites have been known for such activities during summer and other holidays, moving from bar to bar for their daily libations.
But Brendan's actually performing live in all these venues this week! "I'm doing a Lamma tour. Attendance to all five nights is mandatory."
It's a Lamma first, I think. Samples of his impressive keyboarding skills are on his wall: Brendan Sheridan.
Just 4 days left to catch him live, all for free, just buy drinks, as is the norm for all Lamma musical events. TBA is the venue for his last tour performance. His own living room?

July 23: 'I Live on a Tropical Island.'
"I live on a tropical island, covered in a fervent fertile jungle settled by concrete villages with restaurants, bars, shops, schools and churches though, thankfully O Lord, no cars.
Our jungle is a green harlequin, dense, dark and bright, with creepers, crawlers and waxy broad-leafed flora, fruity or colourful. It is immortal, immune in aggregate to the frequent fires, the chopping of our busy caretakers and the monstrous winds of our typhoon season.
In its damp, matted, rooty shaded undergrowth frogs low, croak and multiply whilst serpents silently stalk, ambush and multiply. Where there be frogs, there be snakes a plenty and where there be adventurous cats, there be ambitious growing pythons. Ying and yang.
Late at night, snakes steal into the villages, then when dawn dawns they climb to hide above head height in housings for roll-down metal shop-front shutters or in hidy holes or under equipment at toe level. Mostly they traverse camouflaged invisible our leafy steps and pathways to shock themselves and others with inadvertent encounter.
The whole island is latticed clumsily with walk-ways irregular in material, height and safety so dogs, villagers, and on nocturnal occasion wild boar, can amble easily between villages, houses, utility installations and hill-top viewing pagodas.
My modern medieval village Yung Shue Wan, has one main street, no system or symmetry to its topography or to the placement of new houses as it booms. It has no pavements, poor drainage and pedestrian WIFI, a curse and blessing. Rubbish is collected in bins at street ends and scattered over night by rummaging rooting boar or hill dogs.
Its shops are family operated, rudimentary but loved and tended. They are not the branded, foot-fall managed show-case outlets of the main island staffed by minimum-wage attendants with no skin in the shame. Trusted locals short of lucre, can pay later, occasionally.
Here over millennia us humans here have gently evolved, the locals from fishermen to fishermen still, store keepers and wealthy landlords and the ex-pats from pure-bred pedigree hippies to teachers whose incandescence attracts now a sprinkling of other professionals.
Lamma is relaxed. Whilst others return from work and dress up to go out, with creased shirts, dresses and skirts, handbags and man bags, our lot come home and dress down.
All villagers live as much outside as in, so the place imparts an untidy but colourful feel as
goods, rusting equipment and drying clothes are stored or discarded outside under corrugated roofs, sun bleached tarpaulins and awnings.
Lamma's seven thousand souls are a 30 mins cruise by catamaran ferry from Hong Kong, world city of seven million souls, of human bio-diversity, entertainment, employment, stress, tempo, noise and distraction.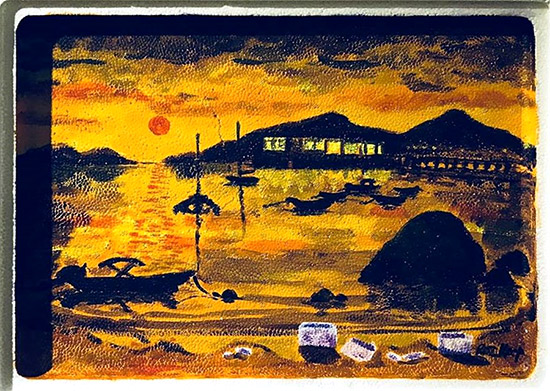 'Washed up in Yung Shu Wan' ~ by Roz Keep
Acrylics on Fast Food Box ~ $500.
The ferries ferry passengers and chattel to the pier at the end of Main Street and wash their cargo ashore, flotsam and jetsam arriving in waves every 20, 30 or 60 mins depending on time and tide. All best observed with a gin and tonic and tapas from a seat outside Carlos's.
Hong Kong is the best part of China, Lamma is the best part of Hong Kong. Whilst Hong Kong makes Lamma, also Lamma makes Hong Kong. And fair exchange is no robbery, I am content in my tropical sweaty home."
---
High praise has been pouring in from Huw's many friends and Lammaites:
"Goodness Huw, poet laureate in the making, a truly stunning piece of creative writing!"
The Lamma-zine heartily agrees and will be very happy to publish more of Huw's writings, all with his permission, of course.

July 21: Sauntering Around YSW
A few random photos and captions taken while strolling around YSW, smartphone camera always ready: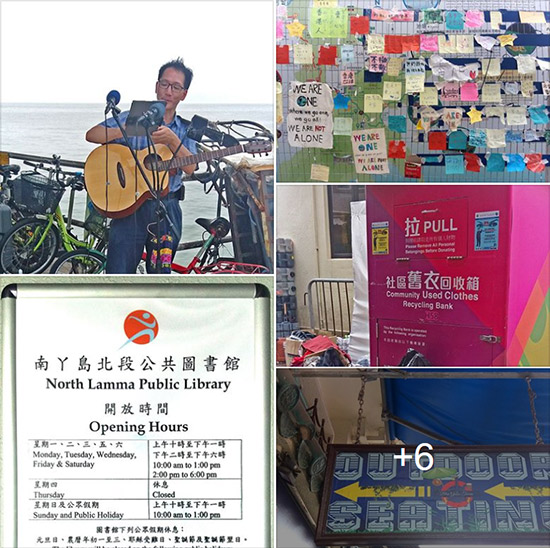 July 20: YSW Ferry Pier Improvement Works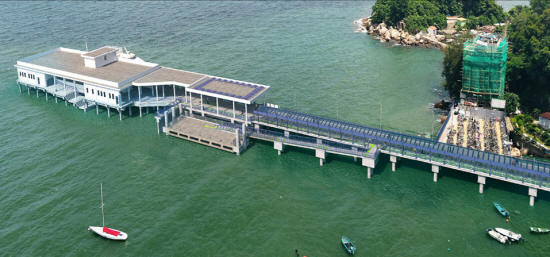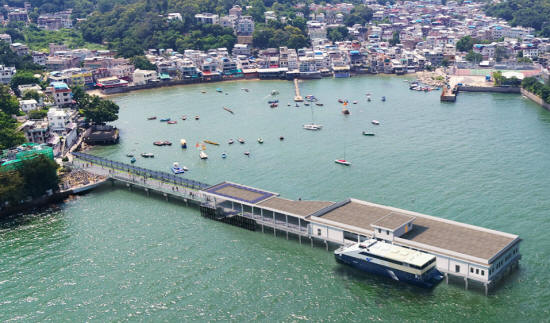 Alan Sargent:
"Islands District Council will discuss the Improvement Works at Yung Shue Wan Public Pier and Yi O Pier in coming Traffic and Transport Committee on July 22. Please have a look on the design and give your opinion to CEDD.
Note that it includes the previously ridiculed idea to roof over the entire pier. Also appears the walkway will be widened, so I assume that means effectively replacing the whole thing.
This would be an ideal opportunity to put bike racks along the pier, to rationalise what people have to do anyway since the $25 million CPA was never adequate.
One new and possibly good feature is a new floating platform for smaller boats."
Agenda for the Traffic and Transport Committee Meeting of the Islands District Council, 22 July 2019 (Monday) where they will discuss:
Preliminary, Proposed Layout Plans & Photomontages
July 19: 17 Years!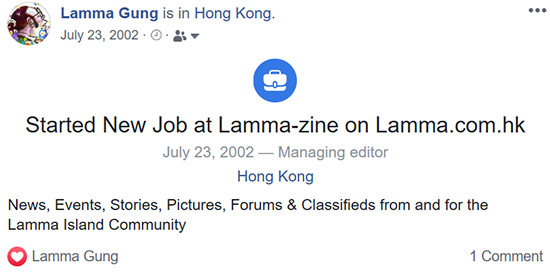 Whoaah! 17 years already, longest-lasting job, err, lowest-income "Labour of Love" of my life!

July 18: Lamma Marinade
What is a Lamma Marinade? Well, it's simply the new name of the longtime YSW stalwart Beer Garden, refering to marinated meats, for example goose. Same management and service, but a new Chin. chef introducing a completely new menu of Chin. specialties, they're shown on a huge poster outside this open-air-only restaurant on the way to Tai Peng/Yung Shue Long, after Lung Wah rest.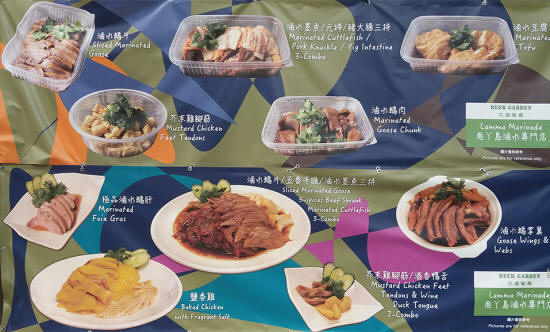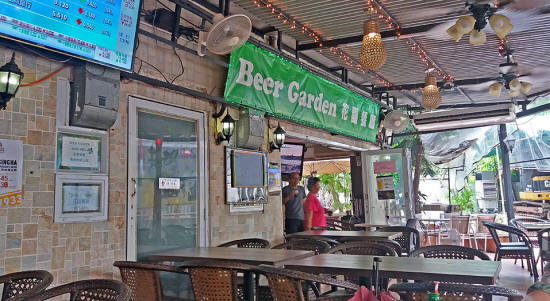 Choosing from the comprehensive menu, we taste-tested these two really delicious dishes. Pricey, but real top-quality!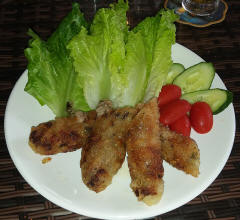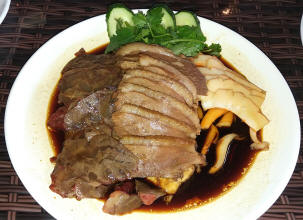 July 17: Feeling Safe in the Lamma Jungle
We're feeling really, really safe in our brand-new Pak Kok home:
7 locks on the new flat door that our new, great landlord got installed yesterday. Another intriguing marvel of Mainland "My home is my castle" design/engineering. 6 of the door locks close/open all together by simply pushing the door handles up/down.
We're the first tenants in this brand-new village house and the landlord's very nice family is spoiling us with all kinds of flat-improvements and free add-ons to our existing furniture. "What else would you like?"
Such a very welcome and refreshing change from our last no-aircons, no-improvements, no-repairs-ever landlord. 4 brand-new GREE split aircons with digital, illuminated displays and a high energy efficiency rating of 2.
There're also a record (?) of 8 doors inside our living room, leading to all the rooms, balcony and staircase of our 700sqft. Plus 1 more door inside the bedroom leading to 1 of the 2 bathrooms.
Plus they just installed mosquito screens on ALL our windows, even the ones we'll never open. We live now at the very edge of a mosquito/bug-ridden forest, but we love the lush, verdant environment and the reasonable rent.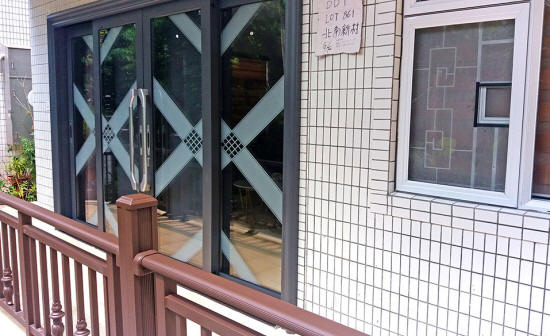 P.S. The pretty, open-plan G/F flat downstairs (see above) has just been completely furnished with custom-made furniture. Inside pictures coming soon.
Contact me if you want to have a look, we've got keys!
P.S. July 22:
An ex-Pak Kokian family has visited our new home from Shanghai yesterday. What they considered to be the most impressive feature of our brand-new flat seems to be this entrance door!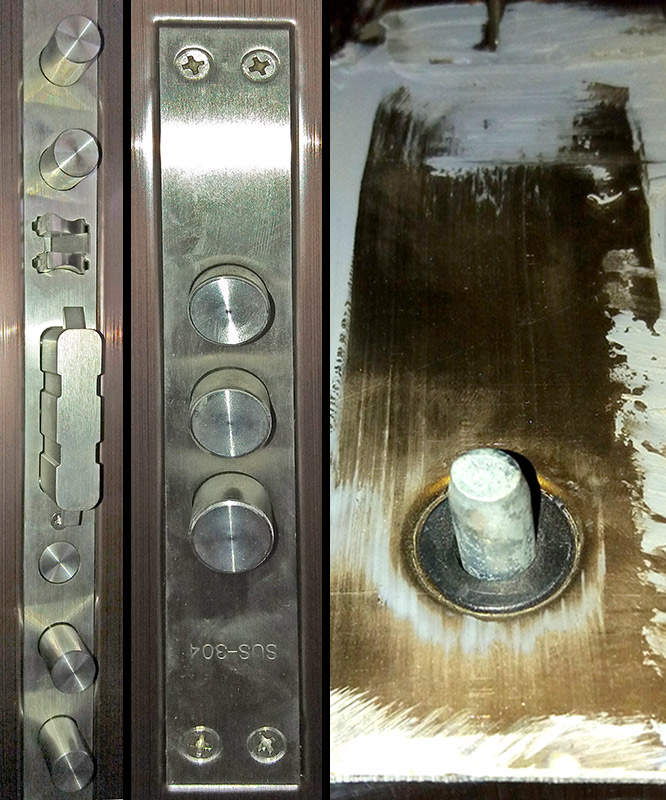 They pointed out to me two more lock locations on the same door: close to the floor and on TOP of the door, so we've got 11 (!) locks in total in the entrance door!
Safest flat on Lamma? ;~}
But nothing worth stealing inside...

July 16: Riot?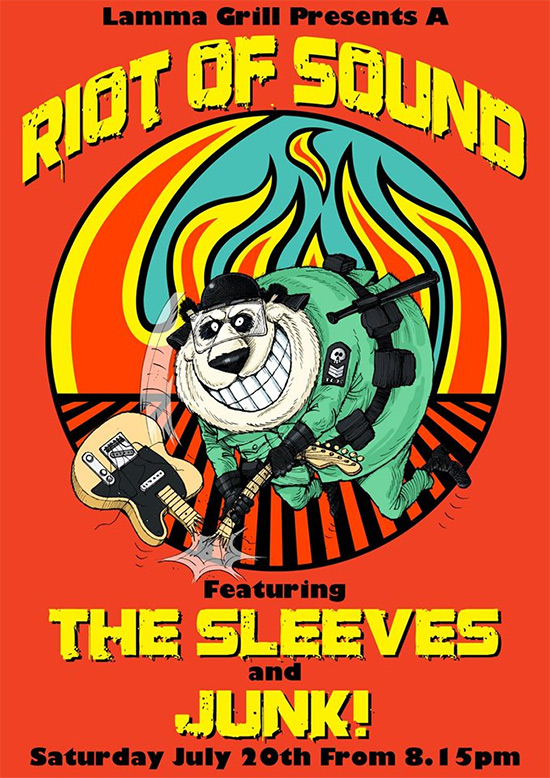 Another topical and timely cartoon by Lamma's Master Cartoonist. This will be your only chance to witness a "riot" in our (almost) always peaceful island community.

July 15: Still Enchanted by Sunsets
All pictures taken in the last few days from our village house's rooftop. June and July are the best months for HK sunset/sunrise photos.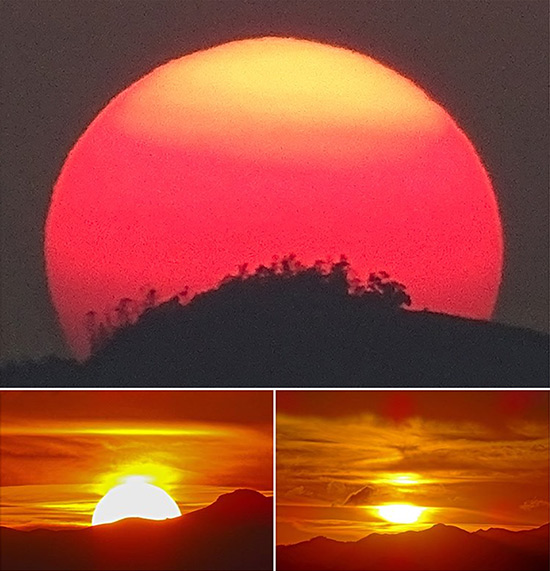 July 14: Hyperlocal and Proud of It!
I seem to have been the only media representative at the YSW Library Opening Ceremony as it wasn't announced at all to any media beforehand. I was there to cover just the opening ceremony, uninvited, Carrie Lam appearing took me also by surprise.
Calls and emails from major HK newspapers requesting my photos arrived to the "owner of the hyperlocal website Lamma-zine" even before I returned home.
Quite a few of my photos & phone interviews have been published in various local newspaper like Apple Daily and HK01, see top of this site's What's New?

"Facebook user 'Lamma Gung,' the owner of the hyperlocal website Lamma-zine, attended yesterday's event, and pointed out on Facebook that he saw a noticeably large police presence on the island that day."

July 13: No More Broadband, Watch Sunset Instead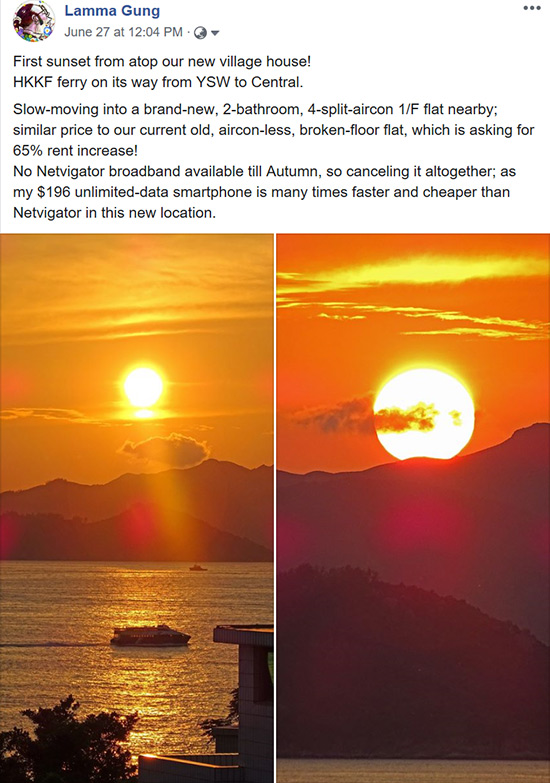 July 12: Lamma Democracy Wall Resurrected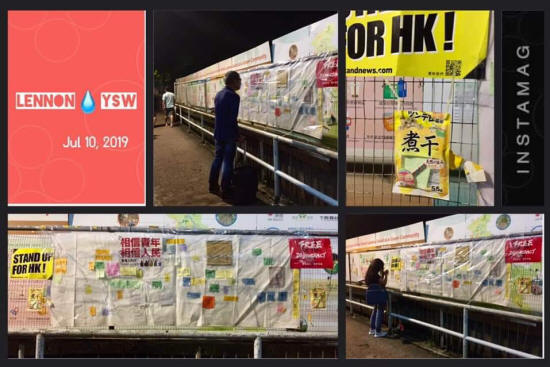 Wow, the long-extinct Lamma Democracy Wall has been resurrected, on the opposite side of the path to the YSW ferry pier.
New name: Lamma Lennon Wall.
History of Lamma's Democracy Wall...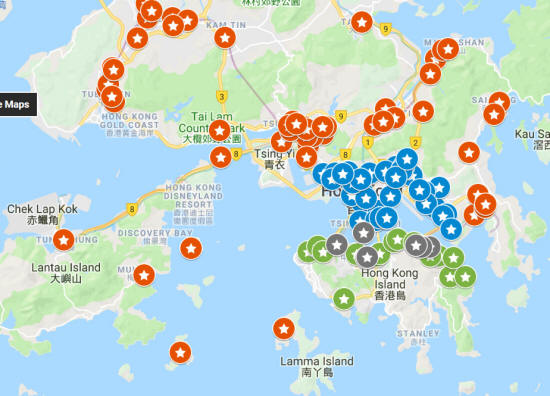 Lennon Walls are multiplying all over HK these days, from YSW to this one at the Aberdeen main bus terminal: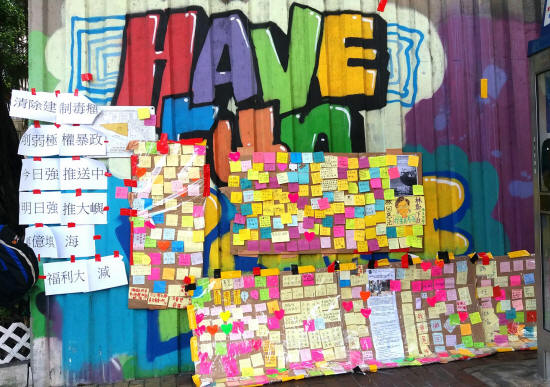 July 11: Carrie Caption Contest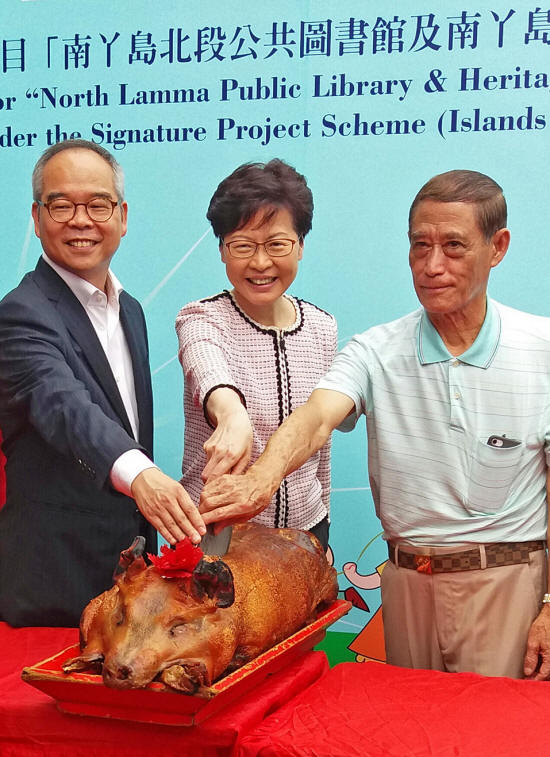 This photo of mine from yesterday has also appeared in Apple Daily and was widely distributed on Facebook. There was even a competition by the administrator to caption my photo in Lamma Island Uncensored (closed FB group, apply to join) with 69 comments & captions so far.
Winner of a free round for two at Lamma Grill:
"Carrie was relieved to find that it was roast pig on the menu today, rather than roast Lam that has been a fixture of recent weeks."

July 10: Carrie Lam Opens YSW Library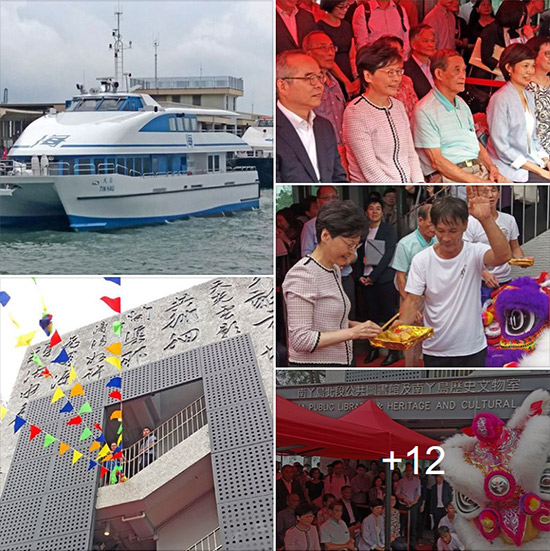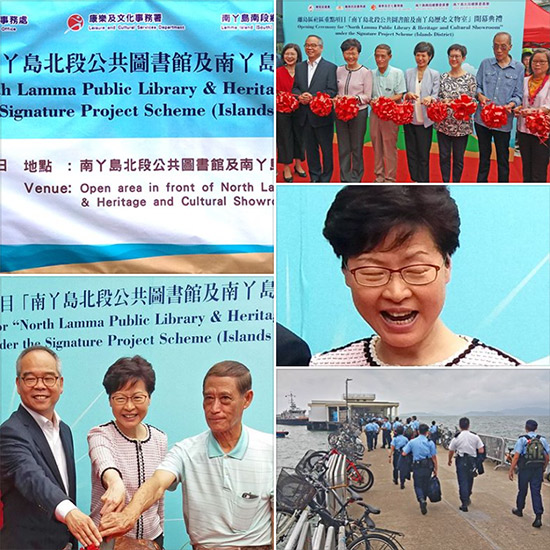 My comments in my pictures above.
Stories and interviews: HK01 - Apple Daily
Inside photos and media release...


July 9: New Home Sweet Home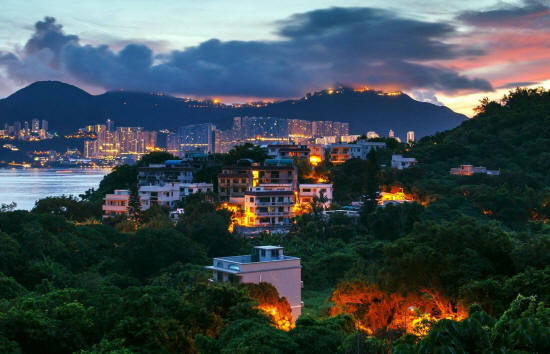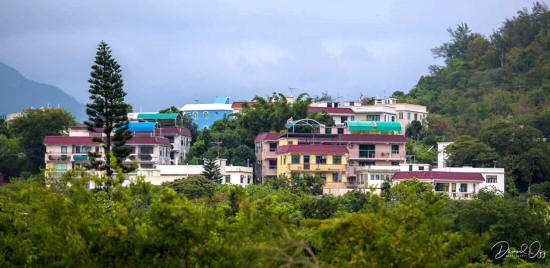 We've moved from one village house to another one in this same village which is overlooking South HK Island. Photos by neighbour David Ogg Photography.
There are lots of increasingly pricey flats available, even brand-new ones at rents similar to YSW. Flat-hunting was an adventure as almost no property agents cover this remote part of Lamma. So no 1-month commission!
But there are no restaurants, no shops (just a little snack/drinks shop at the pier), very limited services, no local motorised people transport of any kind, abundant wildlife plus the ferry schedule all keep most people away: 2.5-hour gaps twice a day, last ferry from YSW at 9:10pm, 10pm from Aberdeen.
But we love it anyway, no stifling crowds like in YSW or SKW!

July 8: Full Moon Sunrise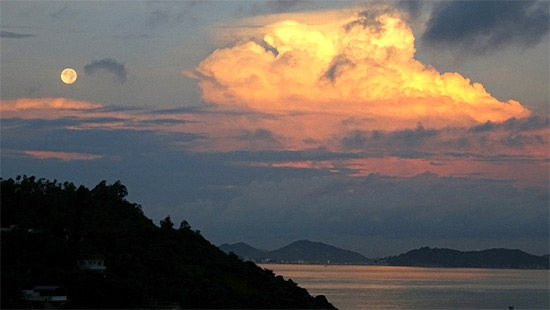 Full Moon Sunrise, shot in the opposite direction of the actual sunrise. June 18. — at Pak Kok Pier Lamma Island..

June 20 - July 7: Moving!
My PC and the Lamma-zine are taking a summer heat break for most of the duration of our mega move.
6 happy years in this great village, till we got hit by a future 65% rent increase! We're currently moving inside the village to a brand-new village house where we're the very first house occupants. 4 split aircons, 2 bathrooms, rooftop access, at almost the same price as our former old flat with severe defects.
A few first photos: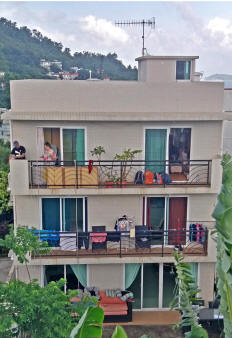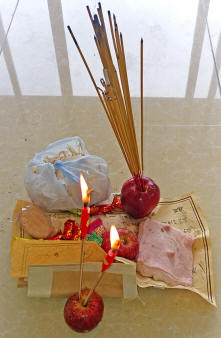 View of our old rooftop flat from our new home, mid-move ~
Flat-blessing ceremony ~ Our new pets, came with the flat; we're happy to let them hunt creepy crawlies and flying pests.
---