| | | | |
| --- | --- | --- | --- |
| | Mar 21 - "A red tide on March 13, 2022 on the southern side of Lamma Island." | | Mar 20 - "It's hard to find the right color palette for debauchery." |
| | | | |
| --- | --- | --- | --- |
| | Mar 12 - Last chance to explore the public art installations around Sok Kwu Wan bay. | | Mar 10 - Telecom Tower atop Ling Kok Shan, just behind Sok Kwu Wan. S. Lamma. |
| | | | |
| --- | --- | --- | --- |
| | Mar 7 - "9 HK Electric pillar boxes have recently been dressed up." | | Mar 1 - These are lecture/discussion titles in my notebook, hand-drawn with felt-tip markers. |

Mar 21: Red Tide!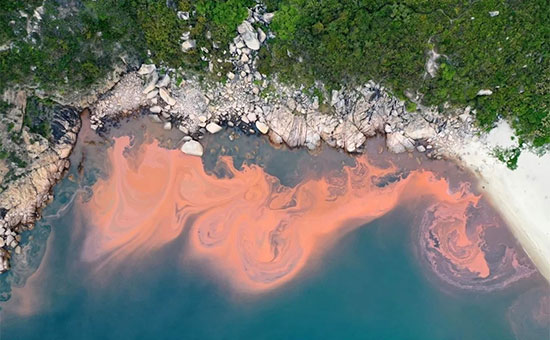 "A red tide on March 13, 2022 on the southern side of Lamma Island. The phenomenon is common in springtime. Photo: Chau Hung"
Full story in SCM Post:
"Explainer | How red tides occur, why they smell bad, why you should not swim in one and why your dog should stay out of the water."

Mar 20: '6,000 Horny Drunks...'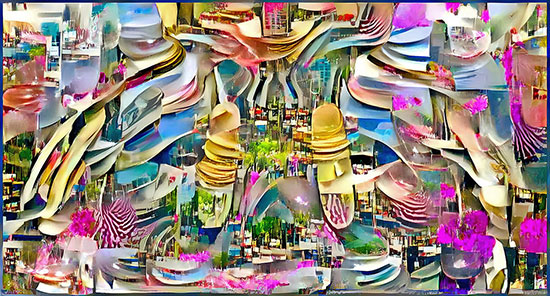 My artwork has been inspired by a famous painting by Wayne Thiebaud of a cake shop window display in New York, transformed via a poem by Lamma's Trevett Allen which describes the painting.
I've been applying via various Generative Art tools (NightCafe Studio, Mandelbulb 3D, Google Deep Dream Generator) to my own photo. This was created for the current virtual exhibition in LAMMA ART COLLECTIVE: Art Swap 2022.2x2.
This is the virtual exhibition's website: Art Swap HK.
My randomly paired partner Trevett Allen came up with an amazing poem, inspired by my own printed Lamma Landscapes 2022 wall calendar. His poem's title, quite aptly describing my calendar's pictures, makes me kind of proud that it has been his inspiration: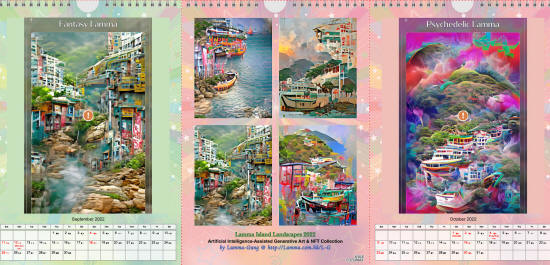 Here's the start of his poem, describing Lamma Island and her people:
"A cluster of white tile balconies blossom
from jungle canopies, the slopes swallow the rest of the buildings.
White concrete boxes punctuate the high volcanic slopes
and populate the valleys.
It's hard to find the right color palette
for debauchery. As the saying in the pubs
Has it, "6,000 horny drunks clinging to a rock"
It is true but it is a broken song."
View & read all of the 21 2x2 contributions.

Mar 12: Lamma Mia's Last Weekend!
Last chance to explore the public art installations around Sok Kwu Wan bay this weekend. Click below to explore what's on show by 15 HK artists & teams: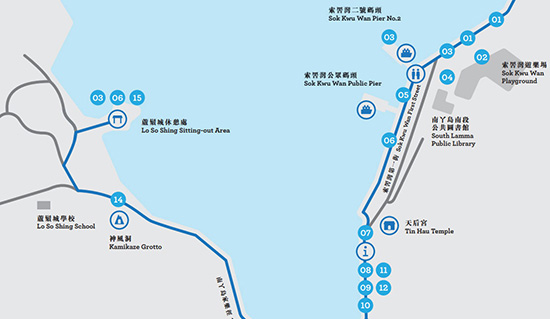 Watch the video by LCSD: Lamma Mia.
Download Here: Exhibition Booklet and Location Map of Artworks.

Mar 10: Foggy Peaks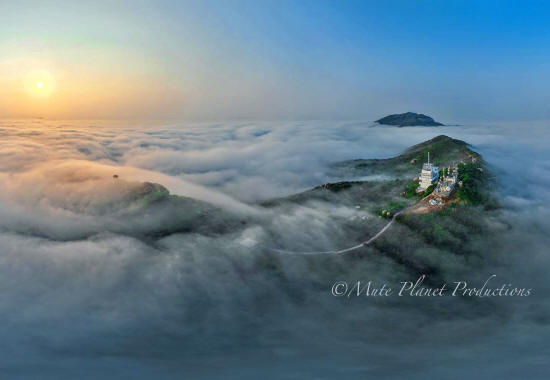 Telecom Tower atop Ling Kok Shan, just behind Sok Kwu Wan. S. Lamma. Lamma's highest peak Mt. Stenhouse in the distance.
Mark Malby writes:
"Dawn over the mountains of Hong Kong when a rare March fog moves in. Today the city awoke, shrouded in a sea of cloud with mountaintops transformed into scattered islands. (Photo: Mark Malby)"

Mar 7: Decarbonised Pillar Boxes
"9 HK Electric pillar boxes have recently been dressed up to illustrate the public's vision and commitment to reducing carbon footprint.
Unveiled today (24 February 2022) in different parts of Hong Kong Island, these pillar boxes stand as the Company's spokespersons for decarbonisation and focal points of an online gamee 'Decarbonisation Get Set, Go', also launched today to invite the public to go low carbon in their daily lives.
Designs of these pillar boxes came from the winning entries of thee 'New Mission for Decarbonisation' Pillar Box Design Competition held last year drawing more than 480 submissions. Nine outstanding pieces were selected and applied onto HK Electric's pillar boxes (see appendix for full list of winners)...
Happy Green Campaign is the anchor event under HK Electric's Education Fund. Through organising different activities, the programme aims to promote energy efficiency and conservation, renewable energy and low carbon lifestyle to the general public and the younger generation.
In 2021, despite the impact of the pandemic, the campaign reached about 80,000 through online and offline activities and via videos, social media and online platforms.
For more details on the Campaign, browse the HK Electric website, the campaign's Facebook page or call 3143 3727."
View more of the winning entries...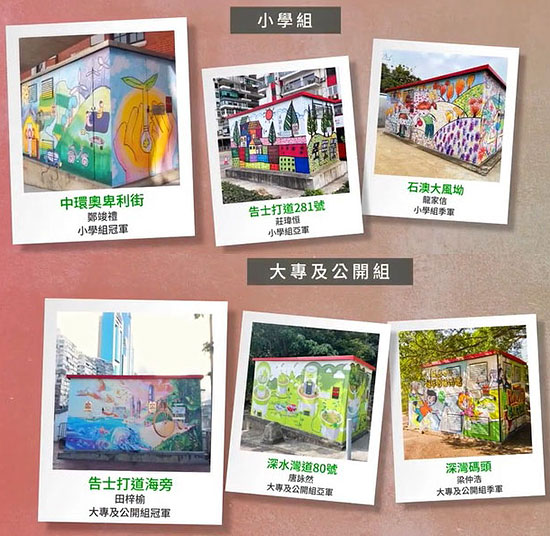 Mar 1: Flashback: Logotypes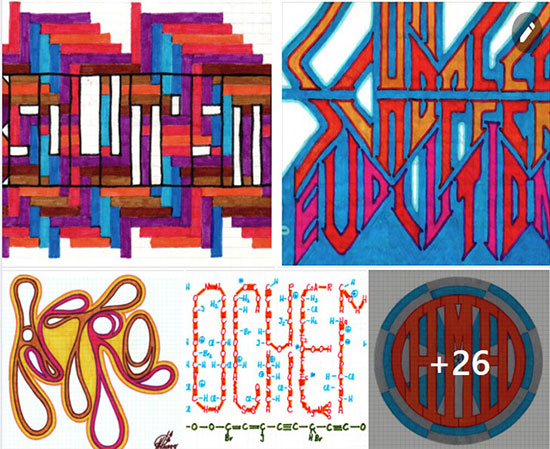 These are lecture/discussion titles in my notebook, hand-drawn with felt-tip markers, taking notes while I've been studying at University and ETH Zurich in the 1980s.