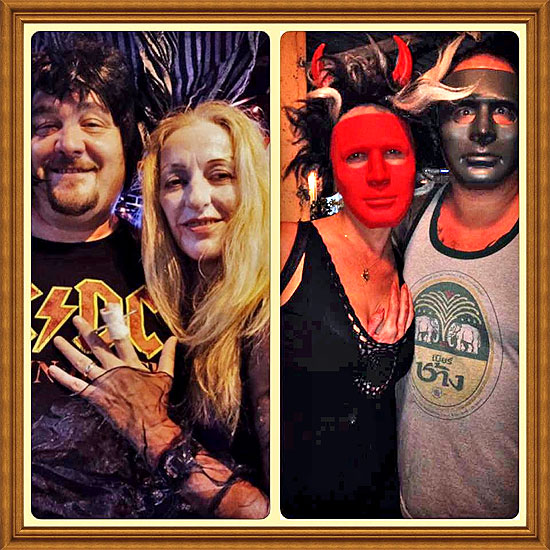 'Tis Halloween ~ Mon, Oct 31, 2016
by Sharon A. Birkett, Official Court Poet Laureate
Zombies and ghosts will invade soon
Witches, spooks and devils doom
A green hulk, a creepy clown,
Be sure to come out and don't dress down!
Severed hands, arms and feet
Axed heads, a last heart beat.
Murderous thieves
Knives up their sleeves
Torturous Screams, cries and wails,
Hungry fangs and razor nails
Frankenstein's bolts are creaking,
Lamma, not for the faint hearted weakling!
Watch out on Main Street for the catwalk of horror,
Survivors feasting on toasted gomorra !!
Sweet Yummy Goodies await the children of death,
Give generously shopkeepers before your last breath!!!
Ahhhhhhhhhh!
See all of you ghouls in the village tonight!

SCMP, Oct 29, '16, CITY WEEKEND section:
Lamma Fun Day reaches 16th year as island's 'raw' community spirit continues to flourish
"Annual music festival is staffed by volunteers to raise money for education projects in Nepal."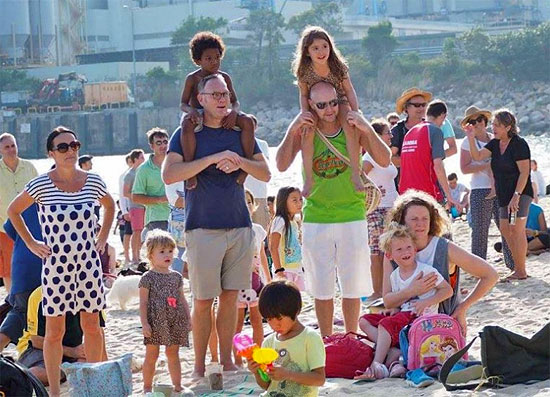 "'It is kind of raw; Lamma has an organic community who really think they should go the extra mile to make it a better place,' says Zein Williams, chief executive of the Child Welfare Scheme and chief organiser of the island's 16th annual fun day, organised in aid of schools in Nepal.
'The [islanders] are really laid back and the value of community is important to them,' she says."
---
For more details on Lamma Fun Day 2016...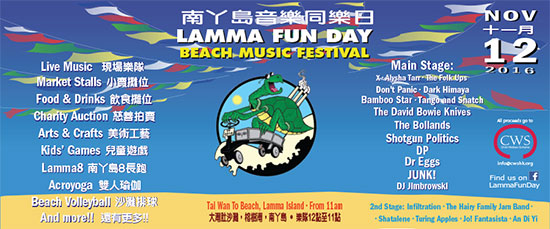 Plus a sneak peak at next year's Lamma Calendar becoming available for charity at the Fun Day! Notice the logo I paid for on the back cover of the calendar. My photo is gracing the July page, one of 12 winners of the photo contest. Click for details: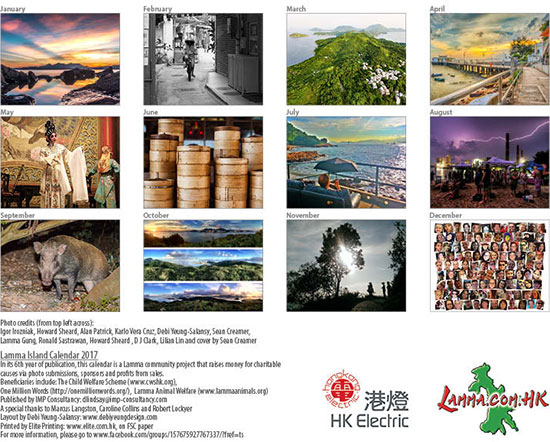 Halloween starts early on Lamma. After the Halloween Kids charity party in the Lamma Grill last Wednesday, the festivities continue today, in The Island Bar, Hans Andersen Club, YSW Plaza, etc.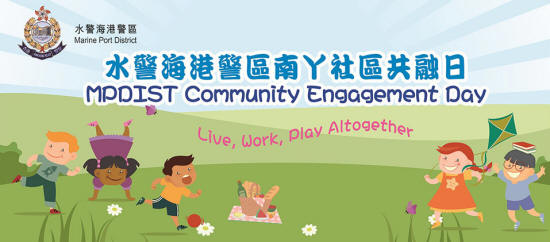 One famous local bar place even changed their logo for the occasion! Take a deep bow, Josh Sellers! He's been doing their excellent posters and the new temporary logo: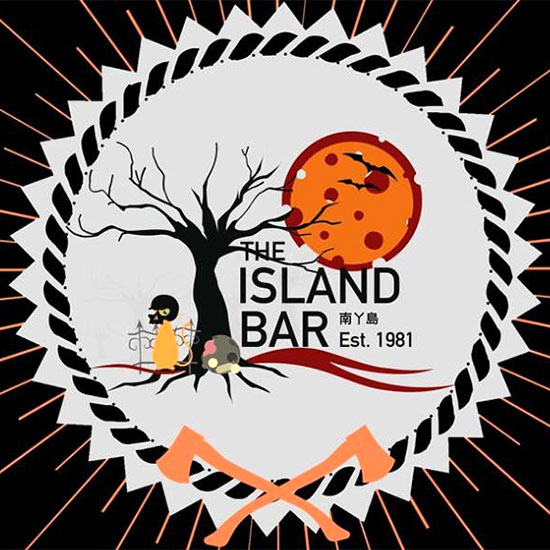 Oliver, one the new Island Bar co-owners, writes:
"We just thought we'd do our bit and "brighten" the place up for the Halloween Season. The kids absolutely love it and it has gained a great deal of exposure for the bar which is great.
This Saturday we are hosting a party night at the IB. Absolutely everyone is welcome. There is no need to dress up or make a fuss. Just drop in.
There will be a DJ, special cocktails, even more decorations and other silly stuff going on. We also have happy hour prices all weekend till Monday.
With all the trick-or-treating going on in the village the IB is the logical go-to place for the whole family over the Halloween holiday. Hope to see you there!"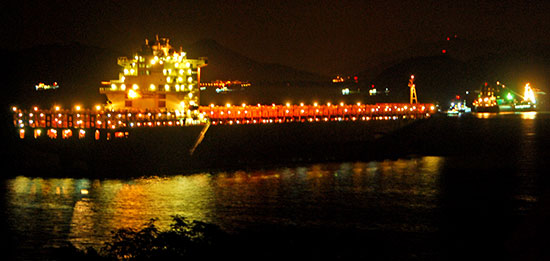 Walking past my living room window last night, I suddenly noticed this sight very close by the Pak Kok coast...
WHOAAH! All lit up and moored, but so much closer (see the beach trees at the bottom) than all the huge container ships going through the East Lamma Channel we like to watch from the rooftop. Neighbour Enid Tsui promptly investigated: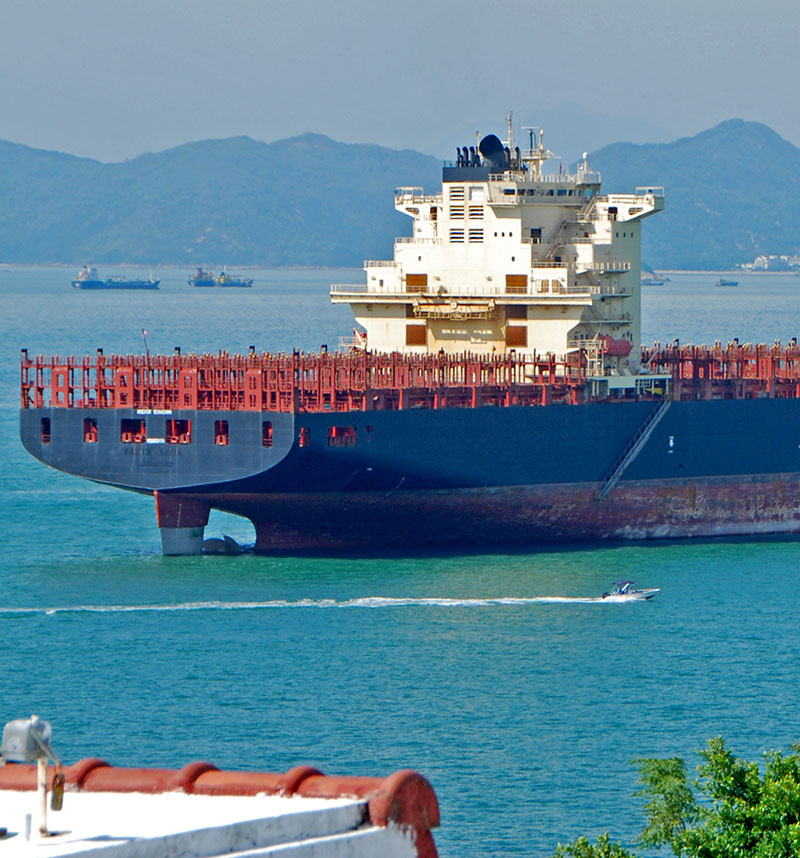 "Just spoke to Marine Traffic Control (Tel: 22337801).
A Mr Wong explained that Santa Livia is having its bottom checked and will not be loading. It needs to be in calm waters for the scuba divers so they've picked that spot.
Says generally they try and avoid putting any ship so near us as the (un)loading can be very noisy.
Another number he gave me is 2385 2791 or 2385 2792 for the people who go and monitor moored ships. Eric reckons more people should bug them about this, so they won't do it again."
P.S. Still looks nice this morning, still so close, but not quite as impressive as it looks at night...
But the sunrises are still amazing these days, definitely worth jumping out of bed for shortly after 6am! Today:

P.S. 100+ Likes and quite a number of Shares on Facebook!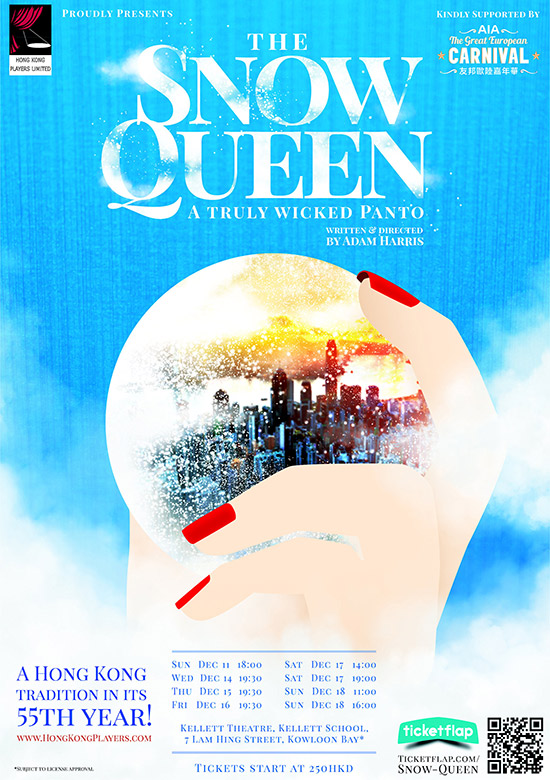 I've interviewed Adam Harris, the writer/director and two of the junior actors, Max & Kitty (all Lammaites), with my questions like:
"How to win the Golden Ticket!?"
"A queen, trolls, a curse... did this panto feel like acting in Lord of the Rings or some fantasy movie?"
"How did you prepare for this "Truly Wicked Panto" at home? Being Truly Wicked to each other?"
Read their fun and informative replies...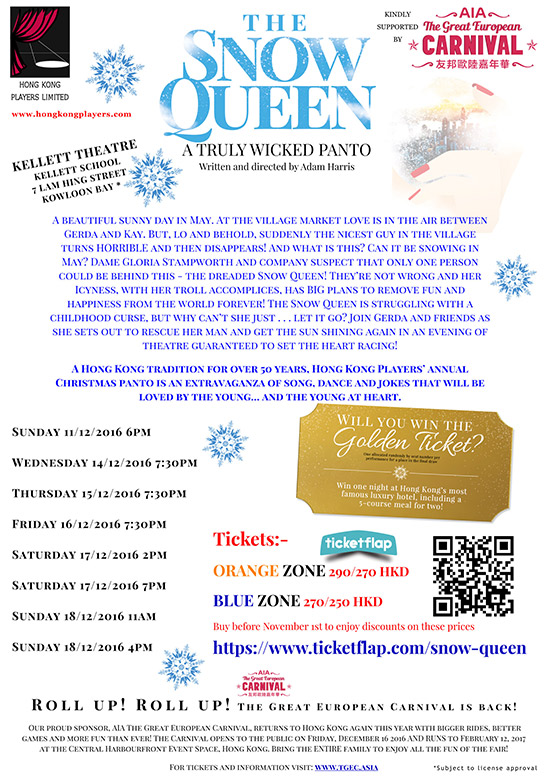 Buy tickets before Nov 1 to enjoy discounts!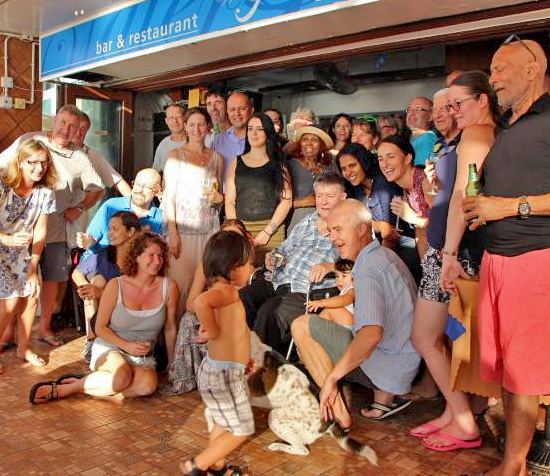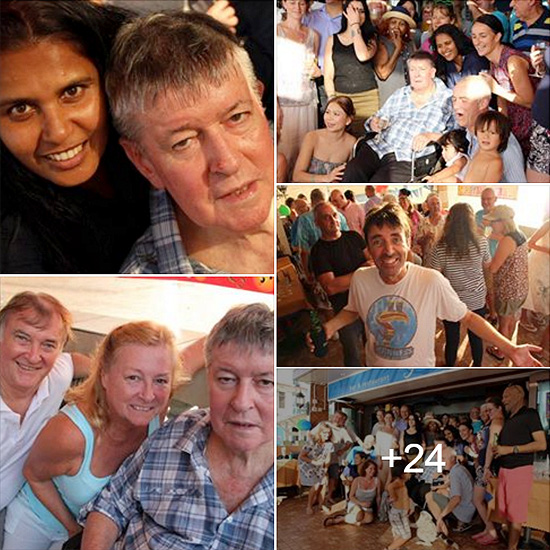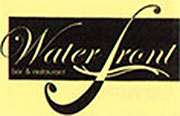 80th Birthday party of Peter Berry, owner of The Waterfront Bar & Restaurant on Sat afternoon, Oct 20! Sincere congratulations!
Great photo album by Ewa Wilkinson...

Rising Lamma Artist Tanya aka Pirate writes:
"Never in my dreams as an aspiring illustrator, did I think that I would one day walk into a store to see my work, or an article about my work, in four magazines on the shelf!
Thank you so much Prestige Hong Kong, Time Out Hong Kong, Hong Kong Tatler and Hashtag Legend for believing in me and making my little artist heart so happy :)
October issues, out now."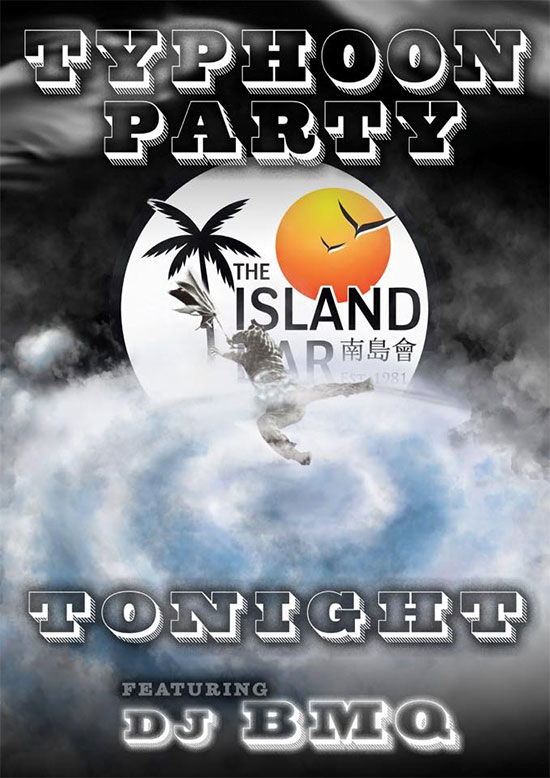 This time-honoured Lamma tradition happened last night, Thursday. Today, Friday, a T8 signal has been raised (Tropical Cyclone Warning) at 6:10am, well before we island dwellers got to catch the LAST YSW-Central ferries at 7am (no ferries all over HK this morning).
So the Typhoon Parties (and recovery from their effects) can go on! Even after spending almost half of my life in HK, this might be the first time ever that a typhoon's timing was so perfect, giving most of HK people a whole Friday off work. HK is so well-built and prepared overall these days, even major typhoons (hurricanes) don't cause any big damages, flooding, evacuations or deaths anymore. Instead of fear, most people cheer when typhoon signals are raised.
But for us home office workers, we'll be more busy than ever, telecommuting our work (including this blog entry posted after 7am), all the while feeding and entertaining a mightily cheerful, off-work Lamma-Por today...
For typhoon updates, just click on the left side of this website, HK Weather Info - Typhoon Warnings, plus ferry schedule news from the 3 companies serving Lamma:
HKKF, Tsui Wah and Chuen Kee Ferry.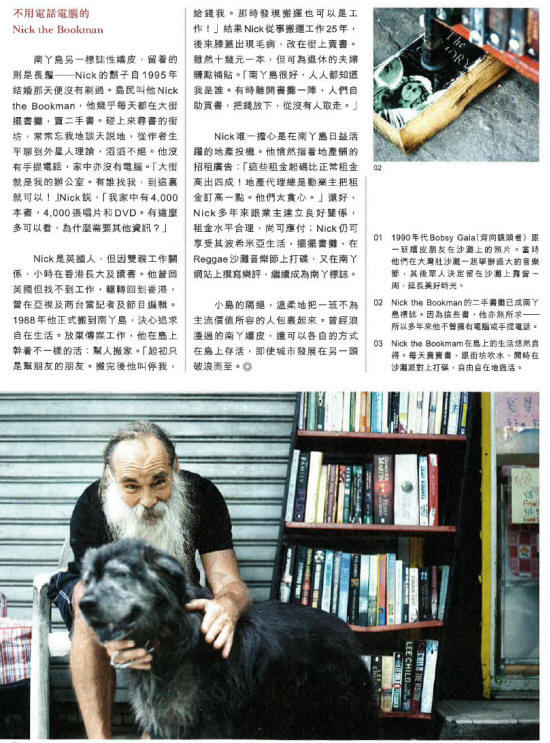 More about the Hip & Happy Hippy:
"Where barren and lifeless hills once stood, a living eco-system now thrives."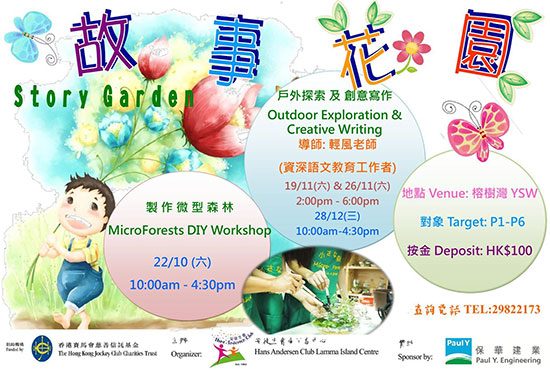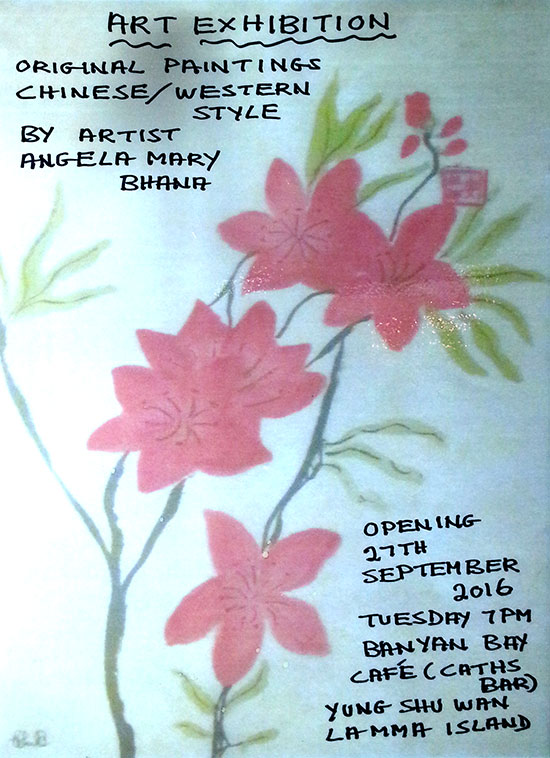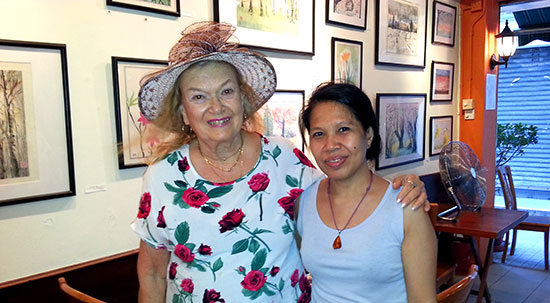 Another edition of our weekly Lamma-zine photo/video showcase, featuring some of the very best of Lamma's many very creative & talented people: Lamma Spotlights III.
Check out my former Spotlights I and II.
Send me your photo/video/multimedia for free publicity!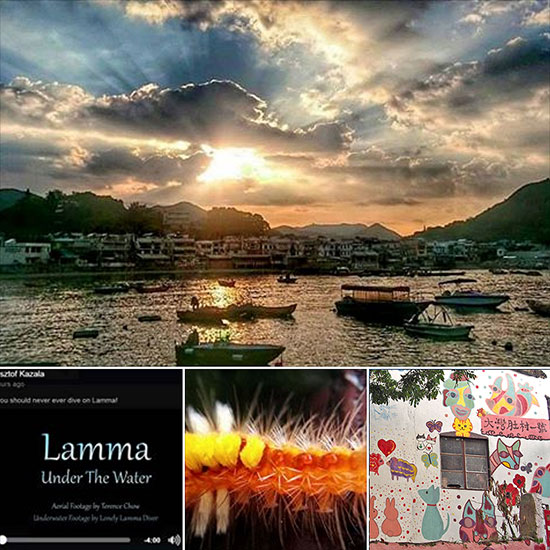 Lamma Spotlights of the Week, Oct 17, '16:
| | | |
| --- | --- | --- |
| PHOTO | | by |
| VIDEO | Flying over & diving under the sea | by Terence Chow & Lonely Lamma Diver |
| WILDLIFE | | by Lamma-Gung |
| BIRD | Afternoon Tea (YSW Harbour) | by Lew Cassia |
| ARTWORK | Artsy House (close to the Tofu Shop) | by Lee Fion |
See former Spotlights ~ Submit your best Lamma photos/videos!

Quite a number of first-time-ever Fun Day events this year! A dog talent show, a charity run and Acro Yoga lessons!
The old, always popular events, like the Beach Volleyball Tournament, will continue this year.
More Lamma Fun Day events to come, I'm sure...
Click on the posters for details and how to join us on Sat, Nov 12!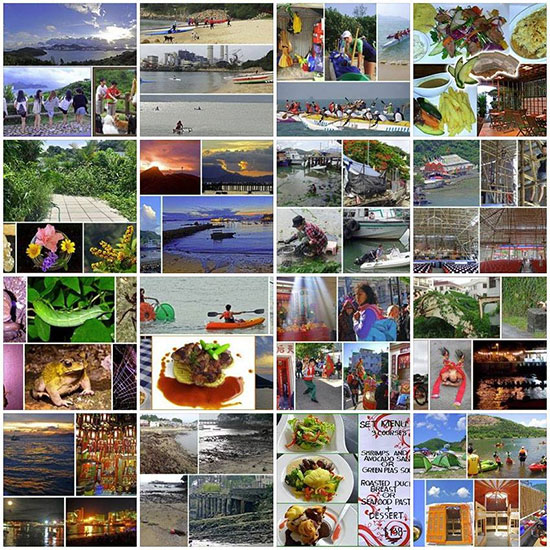 A few of my collages of my best Lamma-zine photo collages:
1 year of life on Lamma. Click for photo album.

Just a little walk during and after sunset yesterday through Lamma's close neighbour, Aberdeen in South HK Island.

Let me present a new edition of our weekly Lamma-zine photo/video showcase, featuring some of the very best of Lamma's many very creative & talented people of 70+ nationalities: Lamma Spotlights III.
Send me your photo/video/multimedia for free publicity!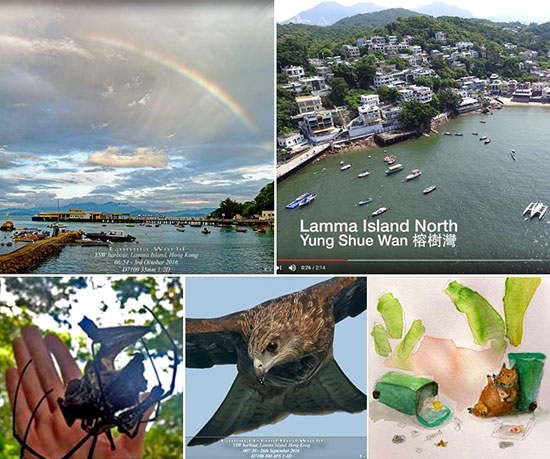 Lamma Spotlights of the Week, Oct 13, '16:
| | | |
| --- | --- | --- |
| PHOTO | | by Guy R.H. Miller |
| VIDEO | | by Mike Chau |
| WILDLIFE | | by Nick Shearman |
| BIRD | | by Guy R.H. Miller |
| ARTWORK | | by Luna Orchid |
See former Spotlights ~ Submit your best Lamma photos/videos!
Archives: Lamma Spotlights of the Week I ~ Spotlights II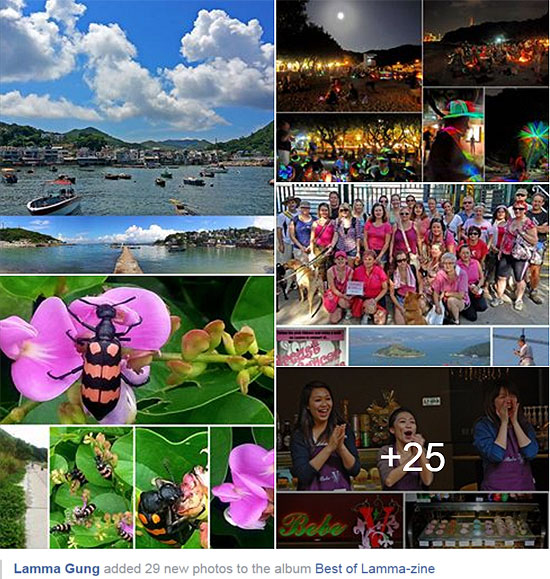 Best of Lamma-zine photos, submitted to the Lamma Calendar for consideration 3 years ago. The first picture (YSW Harbour) made it onto the Jan page, titled "Home".
One of my new photos is on the shortlist for the Calendar 2017!
Wish me luck!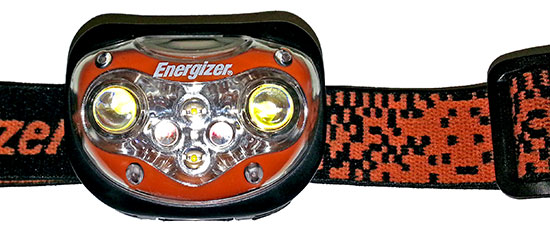 It's often the cheap or even free, small things in life that give us the most pleasure in life, be it a kind word or just a little gimmick we found in one of our favourite shops.
Case in point: This new LED light from YSW's Bike Lady, with "5 Light Modes": Spot, Flood, Full, Strobe, Night Vision (red).
So you'll notice me on my bike at night, no excuses not to jump off the path and saving yourself when you see me approaching at crazy speed! I've never hit anyone so far and want to keep it that way!
I WILL NOT DISMOUNT, especially not downhill on steep ramps!! But anywhere uphill and steep, I'll happily dismount...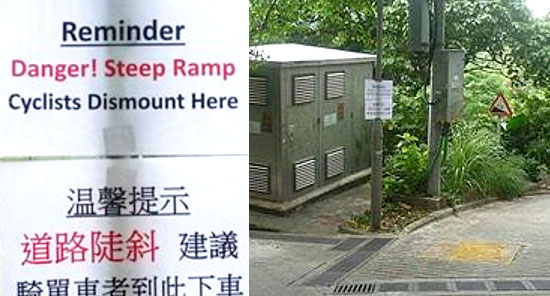 Alan writes: "Anyone know who put these signs up at the entrance to Tai Peng a couple of days ago, and why? The whole point of having a bike in Tai Peng is to enjoy rolling down the hill. It's not like the "steep ramp" wasn't there for the last 3,000 years."
A heated discussion ensued in our new Facebook group Lamma Island Hong Kong. We found out there has been a nasty bike accident a few weeks ago. The male cyclist was unconscious with a huge gash in his head, after hitting the wall of the house by the bend before the big, standalone Eucalyptus trees.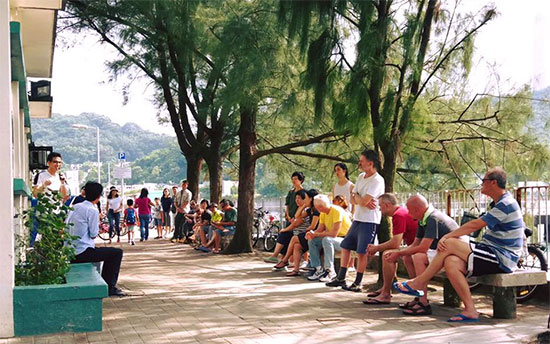 Kendy writes: "Eddie Chu, the newly elected Legislative Councillor, has been visiting YSW today, Sunday 9 Oct, to thank Lammaites for the support. Eddie got 24.6% of the total valid votes (Geographical Constituency -- New Territories West) at Lamma. He will arrive at 11am and an open forum will be conducted outside the YSW Library 1330-1500."
Alan reviewed: "They discussed things like waste disposal, recycling, home broadband, transparency, food waste, Lamma development and ecology, public facilities (drinking water fountain, primary education).
About 20 people attended. Eddie said he will be back regularly, every month or two. He asked locals to organise to collect information and give him background on issues:"
Lamma Community Concern Facebook group. Wikipedia
Photos of the Open Forum, by Chu Hoi Dick.

Southside HK magazine, Oct 5 issue, cover story:
"The hiking season is upon us. Over the next few months as the weather cools down, this is the best time to get out and enjoy Hong Kong's vast array of hiking routes. Our selection is by no means exhaustive, but whether you're looking for an easy hike for visitors or a challenging thigh-burner of a climb, we've got you covered. Plus, expert tips and places to get your gear."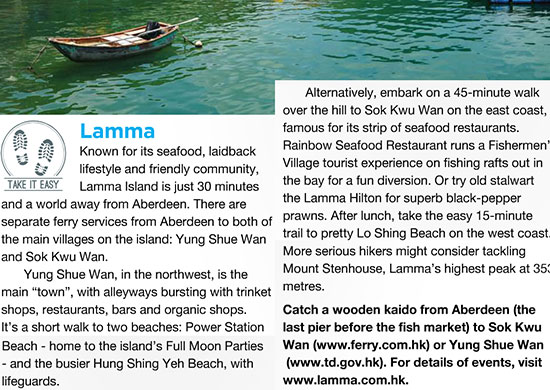 A 2nd top-ten spot is reserved for Po Toi Island, our sister island.
Love their little plug for this website at the end of their cover story above this month, thank you! This website is still the ONLY place to learn comprehensively about public Lamma events, with details I collect from many on- and offline sources.

Lammaites love sunsets, like so many people around the world. As island dwellers, some of us are lucky to live in places where sunrise/sunset/rainbow-watching can be a daily, free pastime, mostly during summertime.
Mid-Autumn Festival well behind us, I didn't expect these beauties in recent days, attracting loads of Facebook Likes and Loves for Lamma Gung and Lamma Island Hong Kong (which I co-administrate, NOT the much older Lamma Residents group.):
Oct 3 Rainbow (76), Oct 1 (below), Oct 3 collage (127) and today (bottom, 138):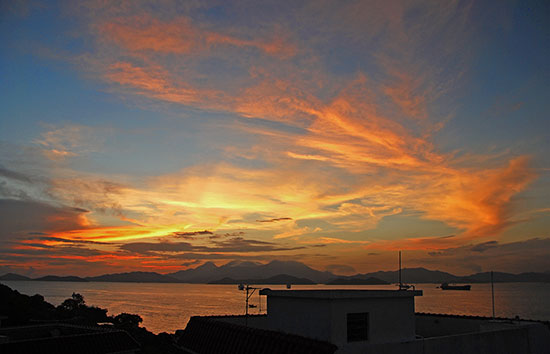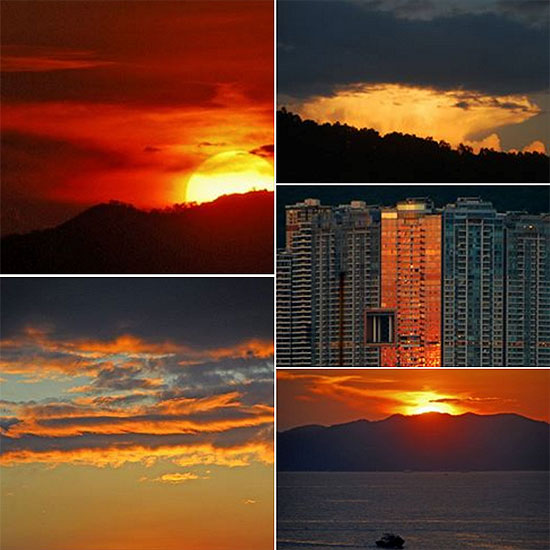 Creating an eye-catching poster for Lamma's walls is tricky. There are so many posters competing for the eyeballs of only-mildly-interested passersby, rushing ferry commuters and oblivious tourists. Here we have a successful example: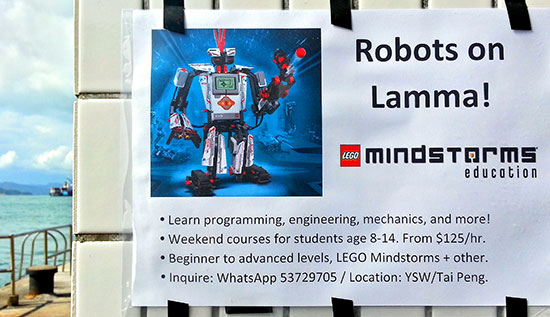 After several recent blockbuster movies where giant robots clash and destroy big parts of HK (Transformers, Battleship,...), this is definitely an eye-catching poster.
Having grown up loving LEGO, I was eager to check out these classes, but I might be a little bit over the age limit, just a little bit...

Jean the Silver-Age Model writes: [Bold colours added by Editor]
"I HEREBY GIVE MY PERMISSION to the Police, the NSA, the FBI and CIA, the Swiss Guard, the Priory of Scion, the inhabitants of Middle Earth, Agents Mulder and Scully, the Goonies, ALL the Storm Troopers and Darth Vader, the Mad Hatter, Chuck Norris, S.H.I.E.L.D, The Avengers, The Illuminati, The Men in Black, X-Men, Ghost Busters, The Justice League, Gandalf and Dumbledore, Santa Claus, The Easter Bunny, The Great Pumpkin, The Flying Spaghetti Monster, The Tooth Fairy, The Krampus, and all the members of the Aqua Teen Hunger Force, Black Sabbath, Voltron, The Groovy Ghoulies, the Thunder Cats, Dr. Who, Hart to Hart, Mystery inc. (Scooby Doo), James Garner, Angela Landsbury, the WWF, the EPA,
and even Magnum P.I., He-Man, Jay and Silent Bob, Cheech & Chong, Neo, Blade, the NHL, MLB, and the Boondock Saints AND The Flying Spaghetti Monster AND Brad, Jacques, Paul and Fraser, Nancy, Anayara, Tatjana and Rebecca to view all the amazing and interesting things I publish on Facebook.
I'm aware that my privacy ended the very day that I created a profile on Facebook. I know that whatever I post can (and usually does) get shared, tagged, copied, and posted elsewhere because I'm THAT fascinating.
If I don't want anyone else to have it, then I don't post it!"
(R)amen!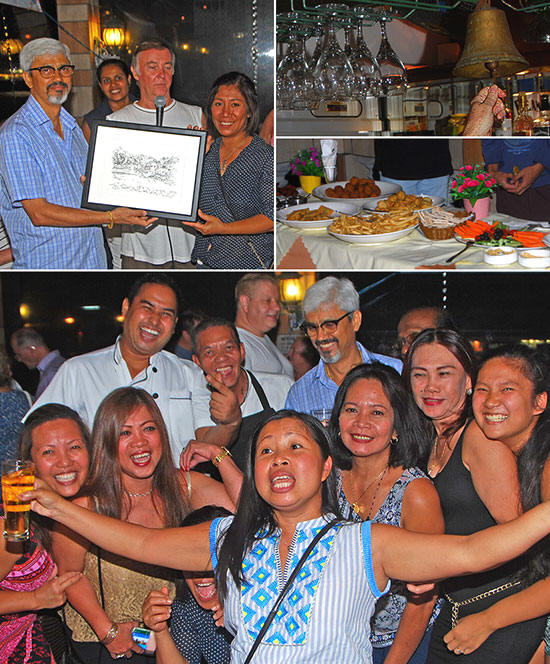 More farewelling fun & silly shenanigans in The Waterfront Bar & Restaurant on Thursday, Sep 29, '16.
P.S. Oct 5: Just in from the Island Bar, breaking news:
Official handover from old to new owners. Congrats to Brad, Dan and all their partners!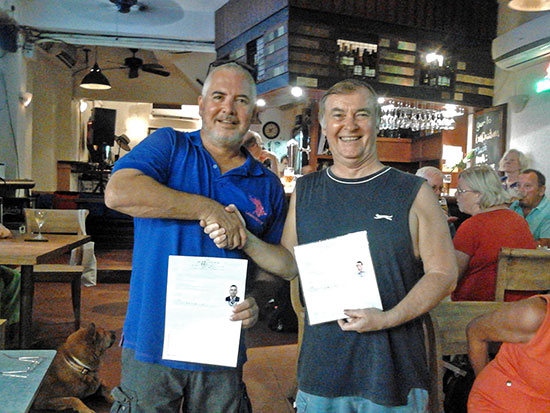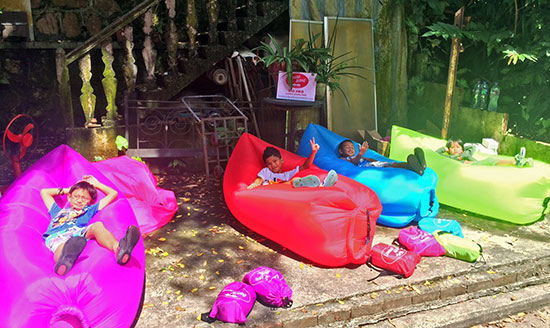 A very nice, local initiative!
The potential for puns is so great, so many "airbags" living here, full of hot air, shaped like inflatable airbags, lying on the beach, balcony or rooftop when other people are working hard in town...
This might become a new local, popular smear: "You Lamma Airbag!"
Su & French Elliot above are right, just a gust of wind or a little fan is enough to inflate this cleverly designed airbags. No need for a pump or any additional equipment.
Very comfy as well, testing them myself opposite the Bike Shop the other day. So easy to get in, needs a little practice to get out of, rolling out or like getting out of a low bed or futon. ;~}
I've already preordered one for my cover-less, furniture-free rooftop, being a "Lamma Airbag" myself, and proud of it!
Click for more info & on-going Q&A.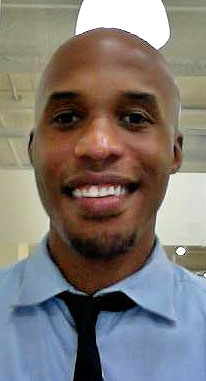 Mr. Illmatical is looking for a room to stay on Lamma. He writes:
"I'm In Love With Lamma - Writer Needs Long Term Room
As I made my way to Lamma for the first time yesterday, a resident on the ferry made a comment indicating that I'd probably want to stay. I don't recall the name... Was it Billy or was it Mike?
In any event, my host is awesome, but I'm only at his house for a week or so. I'd really like to find someone who has a SPARE room, and would like a roommate and understands how to live with another adult. (Question: Do real adults need roommates?)
In any event, I'd like to move in sometime next week. I'm not particularly fancy, but here is some information about me:
... NEEDS: Wifi, Full or Queen bed, a shelf in your fridge to store my veggies and a girlfriend ASAP (Preferably Hong Kongese)."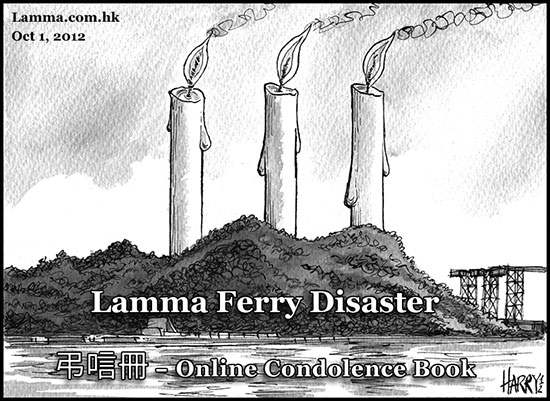 "Four years on, still no report into ferry deaths" (SCMP)
---