| | | | |
| --- | --- | --- | --- |
| | Nov 20 - YSW ferry pier, an ancient bike magnet-fished out of the harbour. | | Nov 19 - "I still enjoy reading your Lamma news every week." |
| | | | |
| --- | --- | --- | --- |
| | Nov 18 - Mute Planet: "November never fails to bring us extraordinary sunsets in this part of the world." | | Nov 17 - "Fantastic day exploring abandoned villages of Mo Tat Wan and Hoi Ha on a photo tour." |
Nov 16 - Close-up, "zooming in": Yung Shue Wan panorama
Photos by Hana Ripley.

Nov 15 - Pak Kok ferry pier construction is making good progress.
| | | | |
| --- | --- | --- | --- |
| | | | Nov 13 - "Wind down for the weekend with Friday night food and drinks in the village" |
| | | | |
| --- | --- | --- | --- |
| | Nov 2 - News, Events, Lamma-zine, Stories, Pictures, Forums, Classifieds.... | | Nov 1 - "Taste the traditional flavours of Hong Kong on this easy hike." |
<!/tr>

Nov 20: Aquabike For Sale?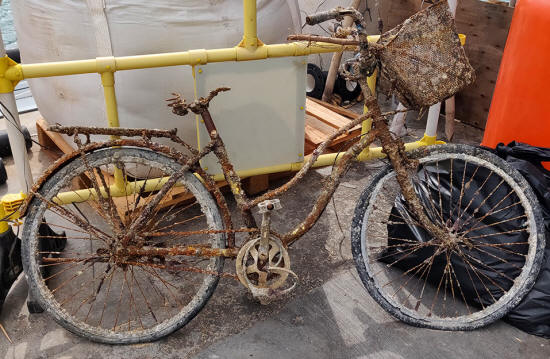 YSW ferry pier, an ancient bike magnet-fished out of the harbour by Alex Summerson:
"I caught that magnet fishing, so technically, going off the mandatory law every human follows 'finder's keepers' then, that's my bike you're selling.
90% of the time it's just scrap metal or rebar. A few things that weren't:
Electric hand saw, old trolley, bottle tops, fishing gear.
The above bike is the best thing so far, we thought the same as Mike Soares, be a great garden ornament and talking point, haha!
Don't do it expecting to find anything of note, it's just great fun.
Few beers, some mates, my son repeatedly saying 'You've caught another magnet, Dad' every time it comes up blank.
A few people have said we should keep what we find and show it off but didn't think anyone would be bothered and it really is mostly scrap metal. We had an audience when we found that bike though which they seemed to enjoy.
I need stronger magnets, loads of things down there I can't lift as they're just too heavy for the ones I have. So, anyone got any super powerful magnets, hit me up!"
Loads of great comments on this picture...

Nov 19: Greetings From an Ex-Lammaite
"Even though I don't live on Lamma anymore and haven't visited for over a year, I still enjoy reading your Lamma news every week.
Greetings from Canada, where it was already freezing last night, -3 C."
Remember Marckq? Building a boat from scratch with friends, launching it on Powerstation Beach: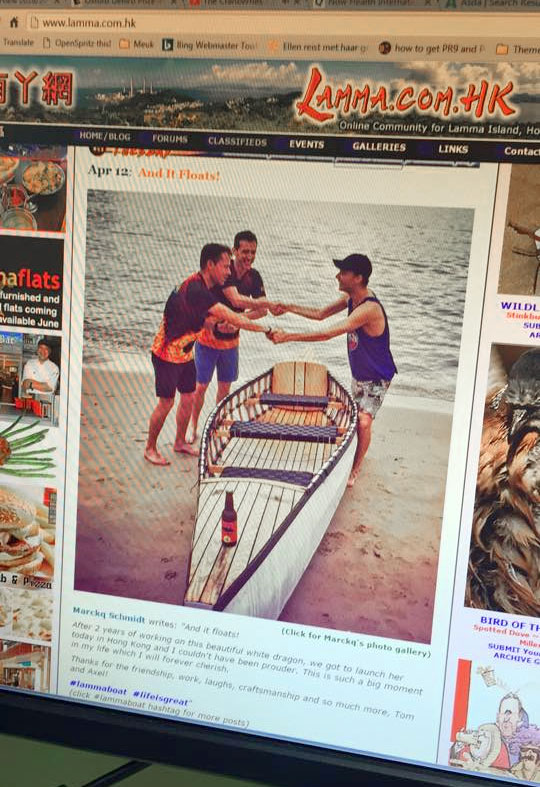 Nov 18: November Sunset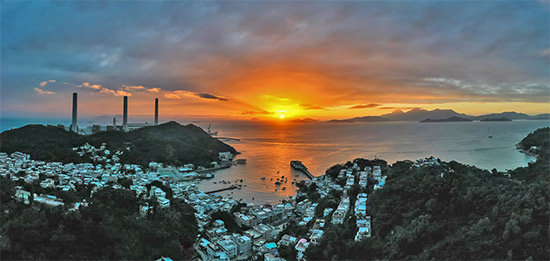 Mute Planet writes:
"November never fails to bring us extraordinary sunsets in this part of the world. #lammaisland #sunset #muteplanet"

Nov 17: Exploring South Lamma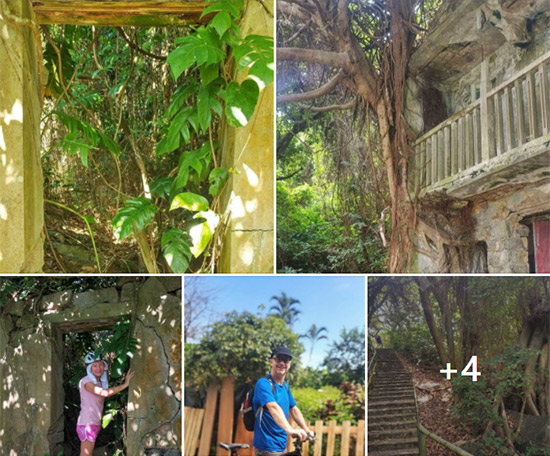 Photos by Ewa Wilkinson. She writes:
"Fantastic day exploring abandoned villages of Mo Tat Wan and Hoi Ha on a photo tour. With each strong typhoon these abandoned structures are deteriorating further, thus severing the visual connection to the past."

Nov 16: Lamma Viewed From The Peak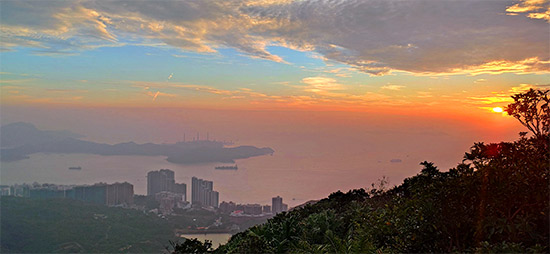 Close-up, "zooming in": Yung Shue Wan panorama
Photos by Hana Ripley.

Nov 15: Home Sweet Ferry Pier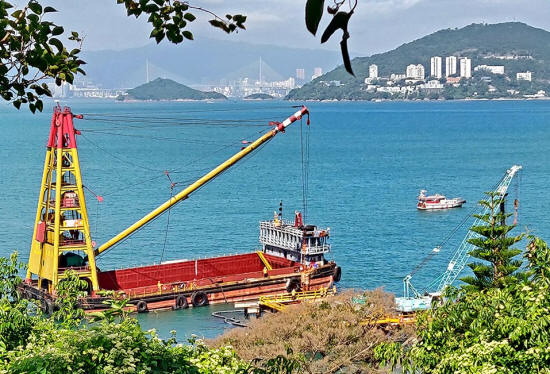 Pak Kok ferry pier construction is making good progress
(viewed from coastal path from YSW)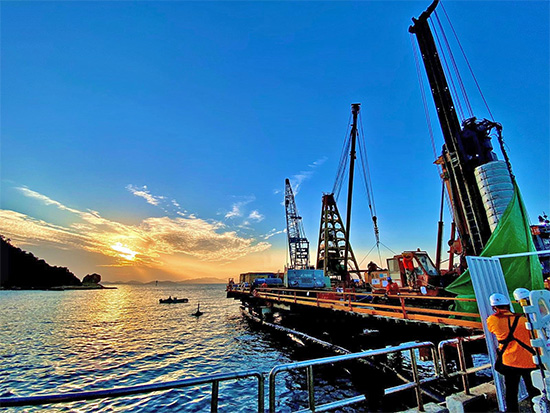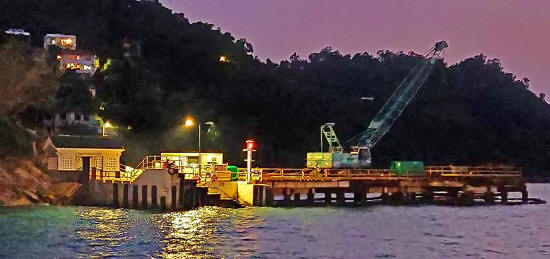 Nov 14: Coffee Philharmonic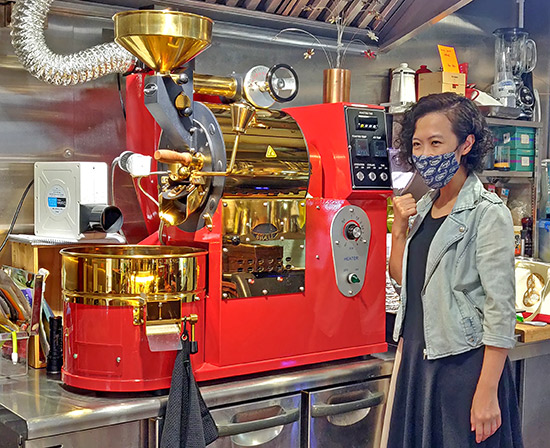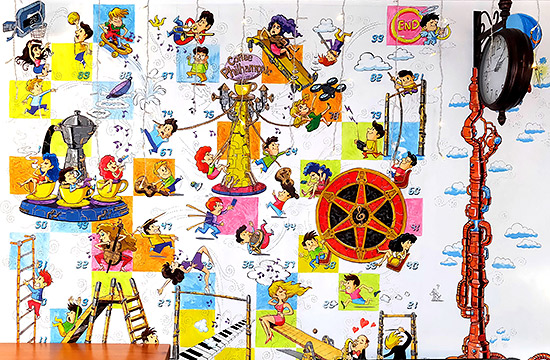 Original wall painting by Freddy Law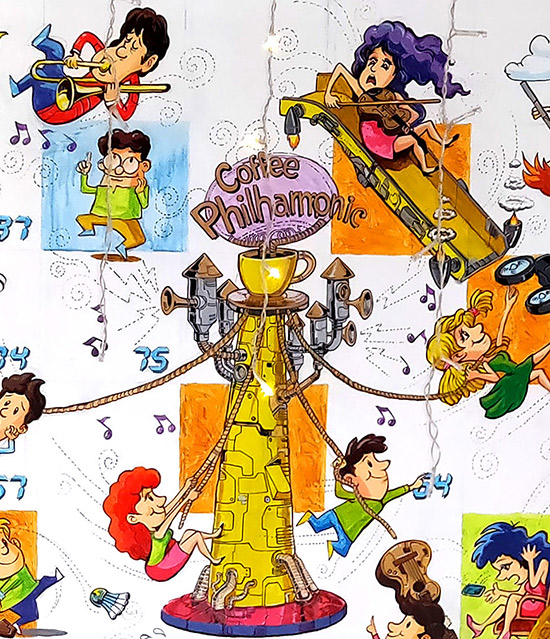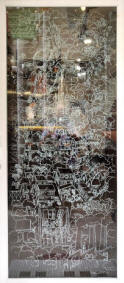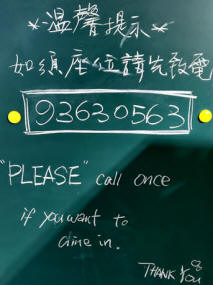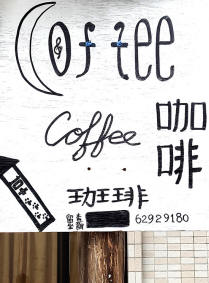 Their door, decorated by the same artist ~
Take-away only, give phone # before drinking inside (Covid) ~
Follow this little sign from opposite the Lamma Clinic

Nov 13: Happy Friday, Lammaites!
Restaurants in Yung Shue Wan are awakening from their long Covid-19-induced slumber!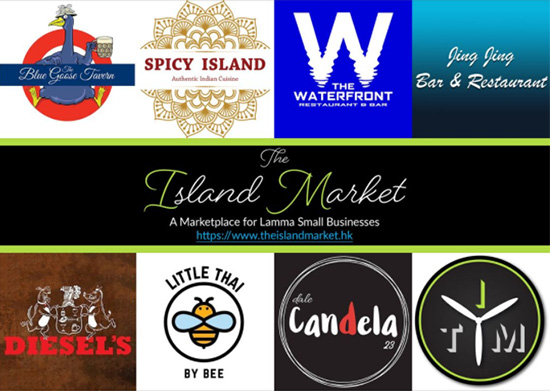 The Island Market HK writes:
"Happy Friday, Lammaites! Wind down for the weekend with Friday night food and drinks in the village:
Enjoy the milder weather and sea view on The Blue Goose Tavern patio!
Celebrate Diwali with some live music and a FREE buffet (only pay for drinks) at Spicy Island Restaurant & Bar!
Waterfront Restaurant & Bar hosts their regular Friday night Steak Night, only $110 including a standard drink!
Cool down in Jing Jings with a freshly prepared meal from Chef Marlon, followed by a nightcap across the road at Diesel's Bar & Restaurant!
Craving some Thai? Look no further than the brand new location of Little Thai opposite Granny Chan's (12A Taiwan New Village)!
Socialise with a sundowner and some authentic Spanish cuisine at Dale Candela!"

Nov 10: HK Electric to Freeze 2021 Tariff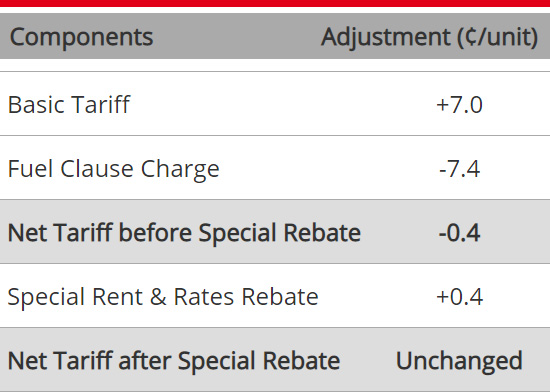 Great news from HK Electric, sole power supplier for HK and Lamma Islands:
"Mr. Wan Chi-tin, Managing Director of HK Electric, attributed the adjustment of the Basic Tariff to an increase in capital expenditure, required for the "coal-to-gas" transition in electricity generation to support Government's environmental policy, the reinforcement of transmission and distribution systems, as well as the installation of smart meters to help transform Hong Kong into a Smart City....
On the other hand, a significant drop in electricity sales brought about by COVID-19 and the prevailing economic downturn has put pressure on tariff....
HK Electric will continue to provide relief measures and energy-saving programmes including the distribution of dining coupons to underprivileged households, as well as programmes like NGO Catering Subsidy, SDU Electricity Charges Relief and other energy conservation initiatives....
HK Electric has achieved good progress with the "coal-to-gas" transition to combat climate change and improve Hong Kong's air quality. With the commissioning of the new gas-fired unit L10 early this year, the proportion of the Company's gas-fired generation has reached about 50% of the overall electricity generation, and various emissions have been reduced significantly....
When the other two new gas-fired units and the offshore liquefied natural gas terminal currently under construction are commissioned in the next few years, the proportion of our gas-fired generation will rise further to about 70% with corresponding reductions in emissions."

Nov 3: Election Day Panic Watch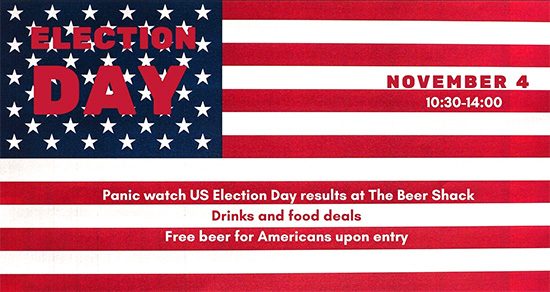 The Beer Shack writes:
"Come panic watch the US Election results at The Beer Shack! We will have food, coffee + beer deals. Free beer for Americans upon arrival.
Depending on the outcome, there will be a champagne toast and/or high ABV beers to get you through the rest of your day (and the next four years).
* We are aiming to keep this a friendly space. Malarkey will not be tolerated. In other words, 'Will you shut up man?'"
Diesel's Bar & Restaurant writes:
"Tomorrow morning Diesel's will open at 10am to show the US election carnage. CNN on one telly and Fox (on mute) on another. Only if Biden wins will Fox be unmuted..."

Nov 2: 18-Year Lamma-zine Archive Updated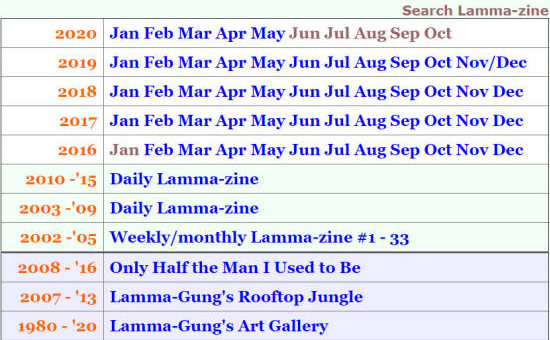 Nov 1: Discover the Family Trail
The very first website I launched and webmastered in the last millennium is still going very strong, offering HK tourist info worldwide in almost 20 languages and a growing number of social media channels: