| | | | |
| --- | --- | --- | --- |
| | Jul 20 - The glass roof and steps of the new Pak Kok ferry pier have just been installed. | | Jul 19 - "HK Electric has been organising numerous activities and competitions under its Happy Green Campaign." |
| | | | |
| --- | --- | --- | --- |
| | | | Jul 12 - Visiting Aberdeen Bus Terminus for our weekly recycling. |
| | | | |
| --- | --- | --- | --- |
| | Jul 11 - "Let's find out about your imbalances and use yoga movements to pacify them." | | |
| | | | |
| --- | --- | --- | --- |
| | Jul 4 - "A short film capturing that typhoon-spirit in our village" | | Jul 3 - Pak Kok ferry pier construction in typhoon-safe mode, no ships, no cranes. |

Jul 24: Abandoned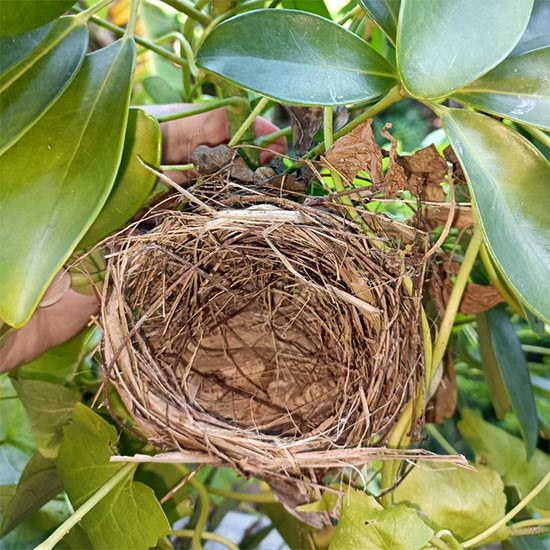 Surprise discovery while watering my Balcony Jungle:
an empty, abandoned nest!
So that's why I've often seen a Red-whiskered Bulbul flying off my balcony when I went out these last few weeks.
But I've never seen or heard the chicks?
This is a great sign that my Balcony Jungle, watered daily, is fit for birds, bugs and other wildlife, a true slice of subtropical, wild nature.

Jul 23: 20th Anniversary of My Labour of Love!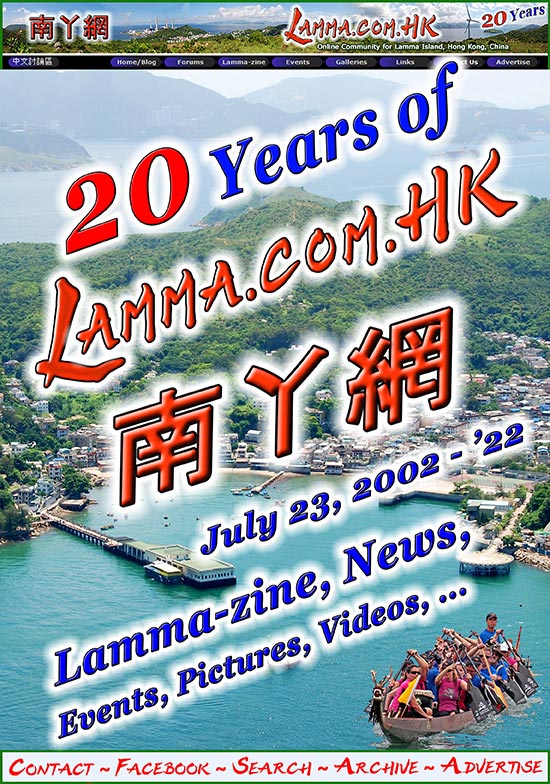 Jul 22: Sweltering Lamma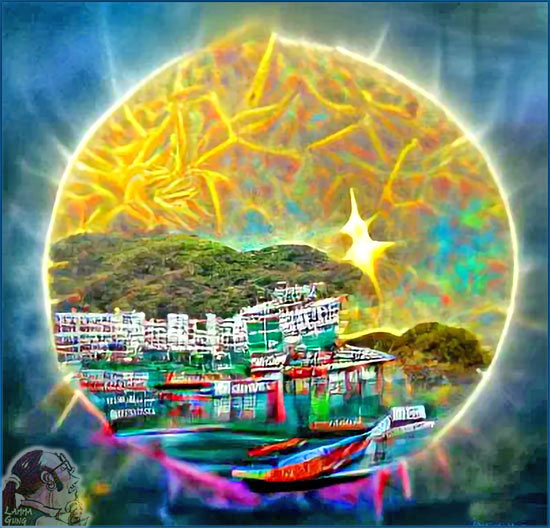 Wow, Lamma is sweltering these days!
I've generated by mixing a sun closeup satellite photo (see below) with my AI prompt: "Sun closeup over Lamma Island Hong Kong China 8k resolution holographic astral cosmic illustration mixed media by Pablo Amaringo")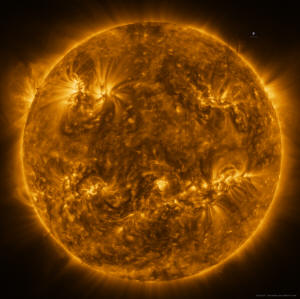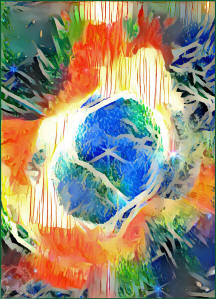 Plus another image I've generated today, see above: Earth suffering under global warming.
As input I've used one of my own old traditional watercolour paintings I did in 2006 (critiqued here by 2 Lamma celebrities):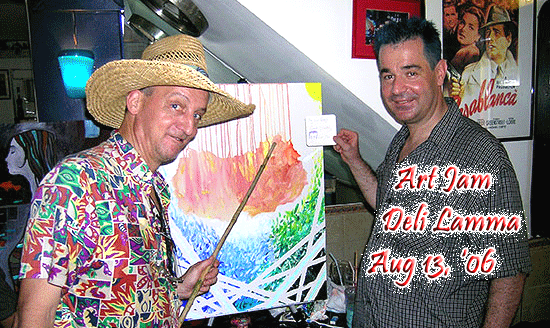 Jul 20: Ferry Pier Progress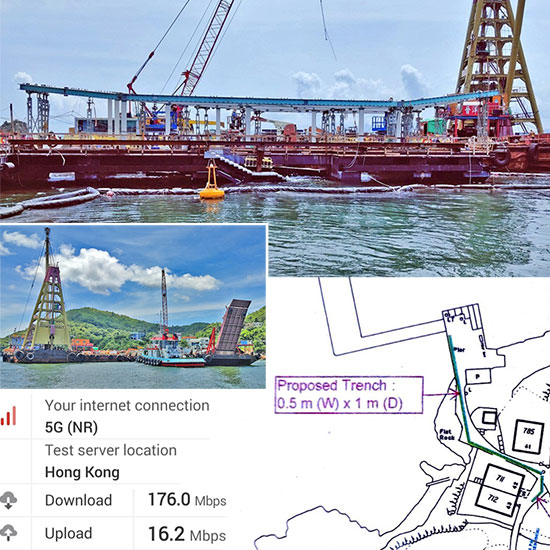 The glass roof of the new Pak Kok ferry pier just went up.

The steps down to the ferry have just been installed.

5G is blindingly fast at the pier now.

An electricity box for the pier will be built behind the shelter, jackhammering away the big rocks there now.

A wide electricity cable trench from Danny's shop to the future pier entrance will be dug up soon.

Jul 19: HK Electric's Got Talent … on Decarbonisation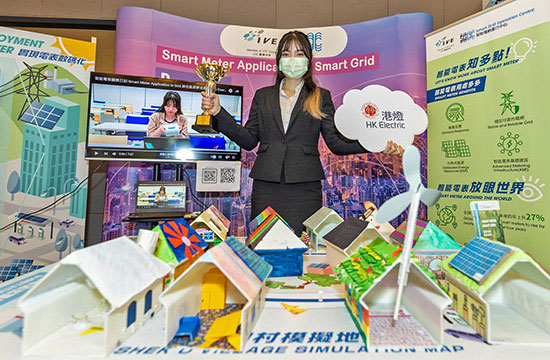 "To encourage the public to support Hong Kong's goal of achieving carbon neutrality, HK Electric has been organising numerous activities and competitions under its Happy Green Campaign along the theme of 'Decarbonisation our New Mission' since 2021. A group of green champions were selected and recognised at a prize presentation ceremony held last Saturday (9 July).
The winning project from the Civil Engineering Department of The University of Hong Kong involved the design of a bus stop with solar panels and green walls, which helped reduce the impacts of air pollution and heat island effect on the environment of roadside bus stops.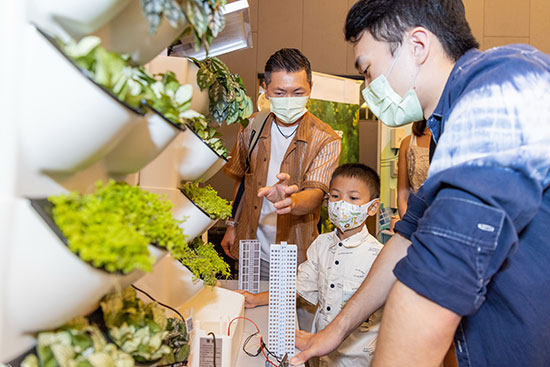 Project Titles: Innovative Green Wall Development in Urban Area
Hydrogen - A Big Step Towards Utopia
Smart Meter Application in Grid
Green Energy in Future Cities - The Utilization of Piezoelectric Power in Railways and Bridges
Cutting-edge Carbon Reduction Technology of Buildings in Hong Kong
Decarbonisation by 2050 with Green Energy
Production of ammonia by electrochemical nitrogen reduction reaction for hydrogen power." Full press release:
HK Electric's Got Talent … on Decarbonisation

Jul 15: Woaah!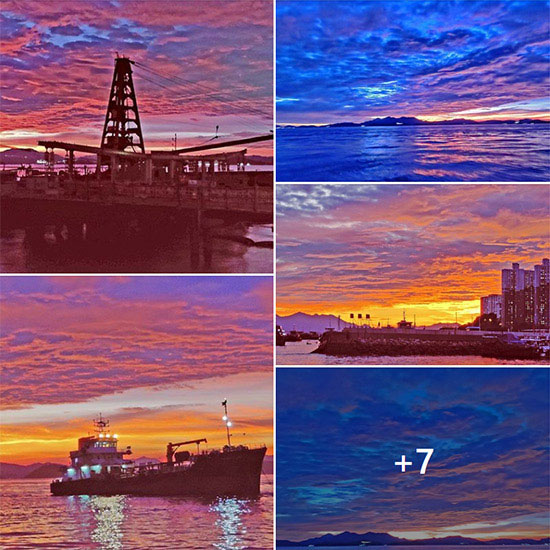 New photo album: Sunset ferry from Aberdeen to Lamma, July 14, '22

Jul 14: Supermoon Over Yung Shue Wan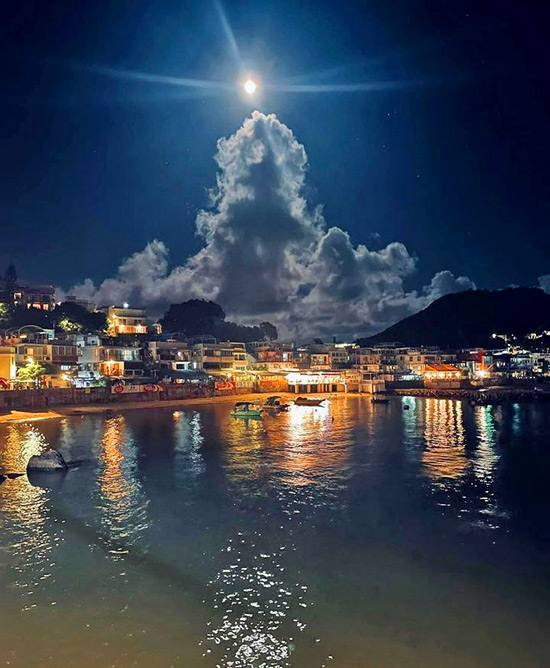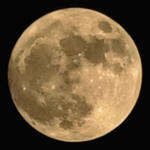 Photos by Nicky Hung. She writes:
"Tonight 8pm: Full moon night singing bowl group class ($180) with full moon bowl at Lamma Art Collective.
Pilates class ($180) at 6:30pm, 1 spot left.
All supplied by Maximon Healing."

Jul 13: ARCHIVE Update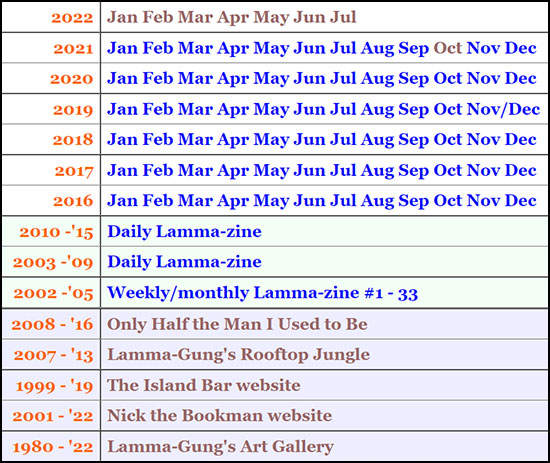 The Lamma-zine ARCHIVE has been updated. Click on ARCHIVE on the top right of every page of this website.
Our 20th anniversary is coming up on July 23. How to celebrate?
Special sections of our website, also linked from ARCHIVE, all created and maintained by L-G:
Only Half the Man I used to Be (L-G losing half of his former body weight)
L-G's Rooftop Jungle (12 years of rooftop gardening)
The Island Bar website (20 years of Lamma history)
Nick the Bookman website ("Psychedelic As Hell")
L-G's Art Gallery (42 years of digital artworks)

Jul 12: Weekly Recycling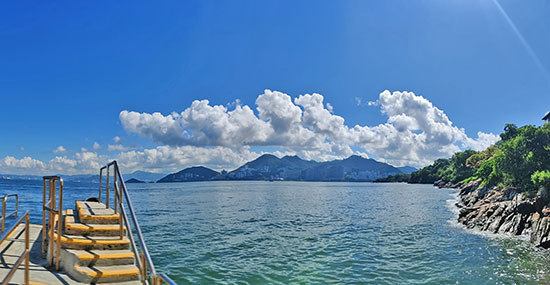 Waiting for the Pak Kok ferry on our way to Aberdeen Bus Terminus (see below) for our weekly recycling, gathering points for some nice gifts. See Lamma-zine July 8 for details

.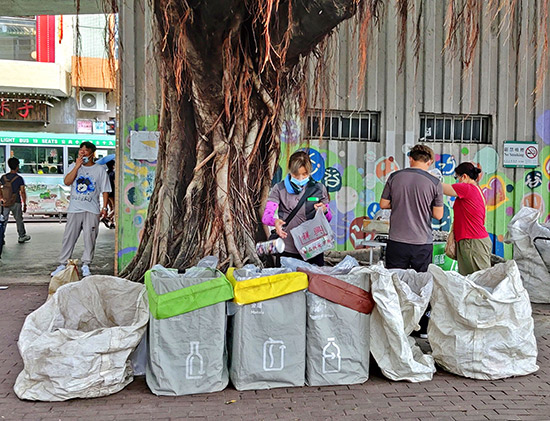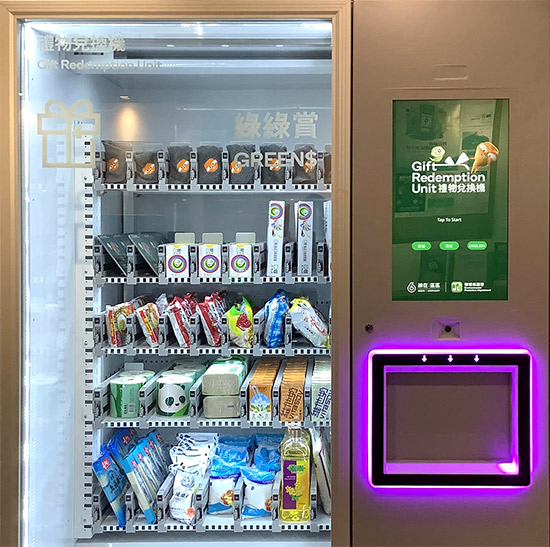 Gift Redemption Unit inside Tin Wan Recycling Store shop, 10 minutes walk or 1 minibus stop from Aberdeen's Lamma ferry pier.

Jul 11: Typically Lamma!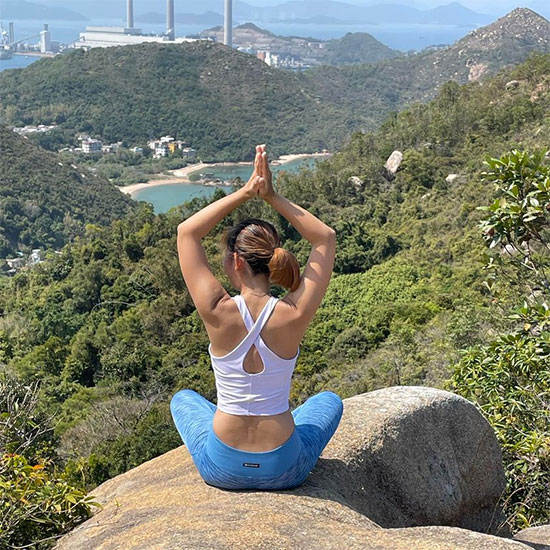 April TPE writes:
"This Friday 7:15pm at Lamma Art Collective! Let's find out about your imbalances and use yoga movements to pacify them with Ayurveda. Mats are provided @ $170.
Book via WhatsApp 6468-7681 or www.vatayogaretreat.com."
P.S. More Typically Lamma! pictures...

Jul 8: GREEN$
To encourage recycling, EPD Dept. is offering nice rewards for the following recyclables: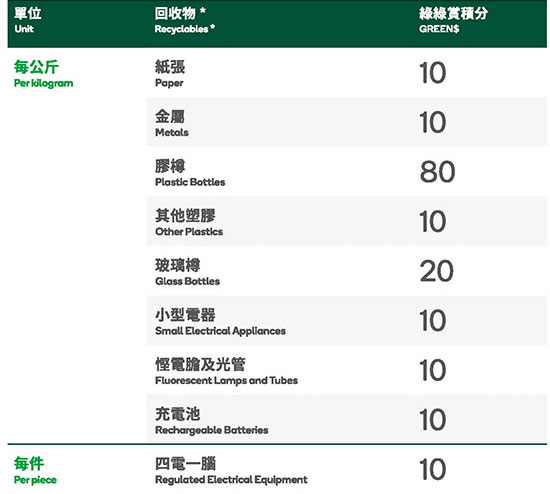 all over HK. Aberdeen might be most convenient for Lammaites, Monday afternoon at Aberdeen Centre square or Tuesday morning at the Aberdeen Bus Terminal: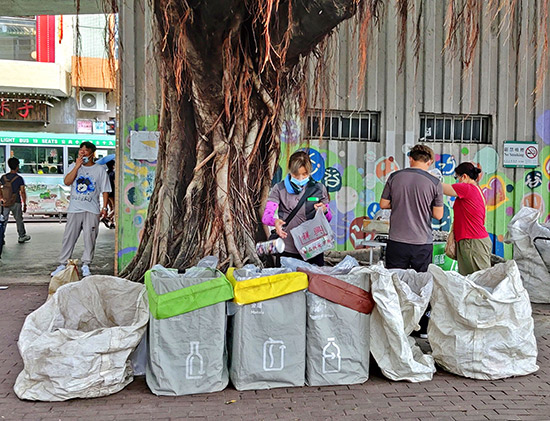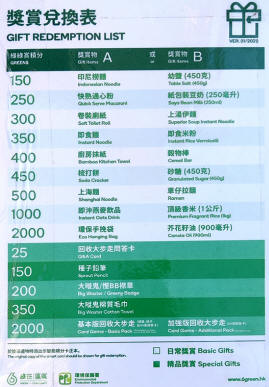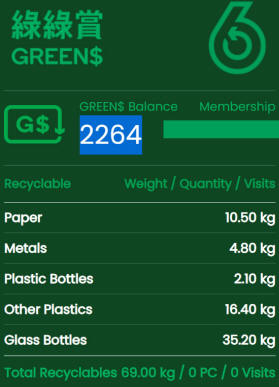 We've reached the 2,000 points top level the other day, so I've picked up this recycled recycling triple bag below which we're using now to collect and separate our household's recyclables.
Click for video: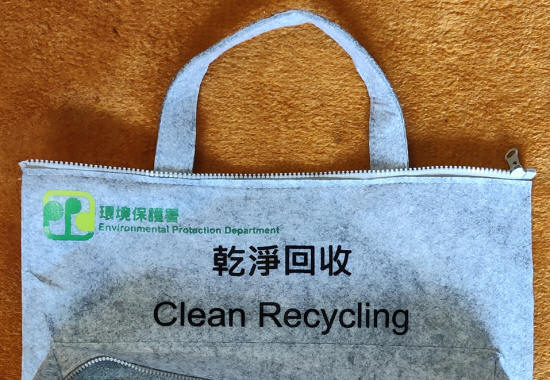 After getting your own GREEN$ card from a collection point, you can check your accumulated points anytime at https://reward.greenycoins.gov.hk/en

Jul 4: Quiet Before the Storm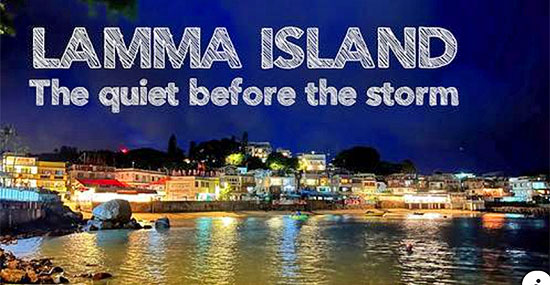 "A short film capturing that typhoon-spirit in our village as we anticipate another typhoon 8 passing over Lamma Island."
by Robert Hope-Jones

Jul 3: Ferry Pier Updates

Pak Kok ferry pier construction in typhoon-safe mode, shut down, no more boats, no more multiple cranes.
A few days earlier, June 30 morning, just before typhoon Chabra, the first T8 of this year:

The Lamma-zine started in 2002 and will be updated frequently with anything vaguely related to Lamma Island or her residents, be it news, stories, events, links, photos, artworks, videos, etc.
Contact Lamma-Gung with anything relevant to Lamma or Lammaites that you'd like to see published in the Lamma-zine, Events Calendar, Photo Galleries, Links or in our Eng. and Chin. forums!

All text, photos & graphics by Lamma-Gung, if not otherwise credited. Click on button on left for Creative Commons license.
Occasionally, the Lamma-zine Blog will be promoted via an email newsletter to all registered subscribers and forum members. Free subscription.
All former stories are stored in the Blog Archives, see below.
All materials and photos © 2022 Lamma-Gung. Some rights reserved.
---
Home/Blog | Forums | Events | Galleries | Links
Top | About | Contact Us | Poster | Ratecard |
Lamma-zine Archives