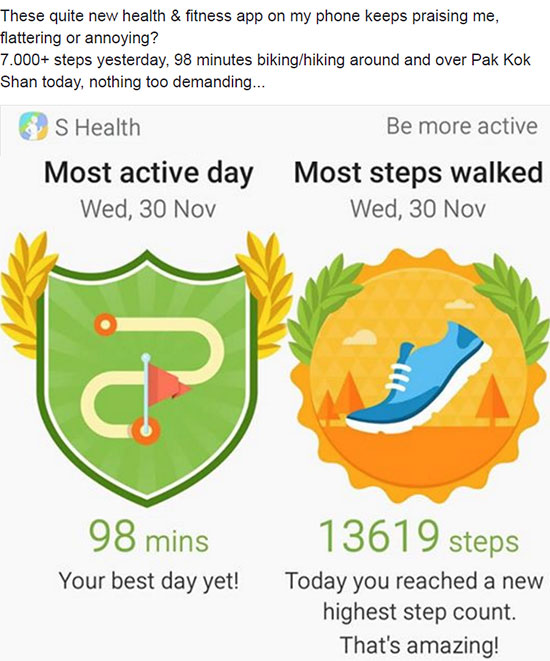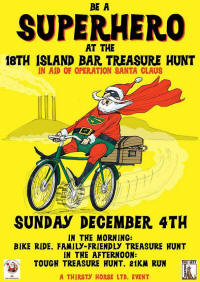 Robert Lockyer writes:
"Work on the 18th Annual Island Bar Treasure Hunt is progressing apace with a fantastic new crew laying and designing the trail and clues. It's a lot of work, with the organisers putting hearts, souls and a lot of footwork into making it happen.
So join us for the 18th Annual Island Bar Treasure Hunt, starting at 2:00 pm (duration around 2 hours) at The Island Bar, Main Street, Yung Shue Wan, Lamma Island on Sunday 4th December.
For just a $500 entry fee per team, all of which will go to Operation Santa Claus, we invite you to turn up with your team of four (or less) and be prepared to be cryptically challenged, as you wend your way through the side lanes and paths of Yung Shue Wan and its surrounds.
Prizes will be for Best dressed, Least dressed, Best team name, Fastest all men team, Fastest all women team, Fastest non-Lamma team (must be 4 non-Lamma based people), Fastest time, Youngest team (collective age), Oldest team (collective age), and a few more."
http://LammaTreasureHunt.com ~ Facebook event
Click on a few more OSC events happening this Sunday!
Family Fun Island Scavenger Hunt;
10 km Run/Walk/Hike, Half-Marathon;
Lamma Enduro 5; Sea Kayak Challenge.

New weekly edition of our Lamma-zine photo/video showcase, featuring some of the best of Lamma's many creative, talented people: Lamma Spotlights III.
Send me your photo/video/multimedia for free publicity!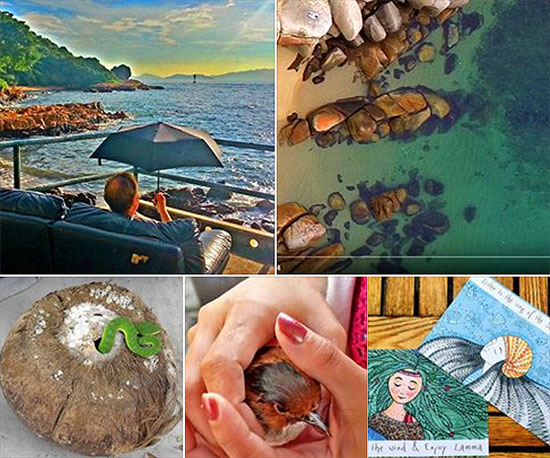 Lamma Spotlights of the Week, Nov 21, '16:
| | | |
| --- | --- | --- |
| PHOTO | | by Lamma-Gung |
| VIDEO | | by Mike Chau |
| WILDLIFE | | by Malcolm Morris |
| BIRD | | by Colin Clarke |
| ARTWORK | | by Lamma Art Jamming |
See former Spotlights ~ Submit your best Lamma photos/videos!
Archives: Lamma Spotlights of the Week I ~ Spotlights II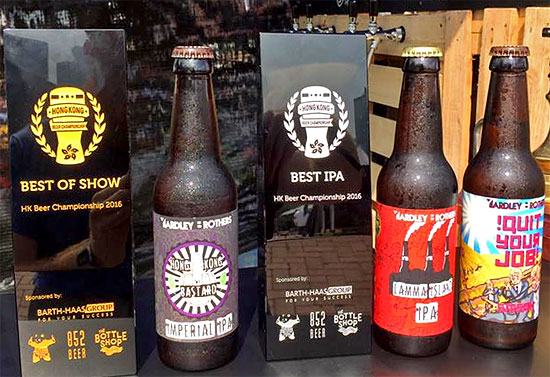 Major congratulations to Lamma's Yardley Brothers who just won TWO awards at the HK Beer Championship 2016! They were ecstatic:
"Holy shit, we just won two awards!
We make beer - Non o' that watery shite!
Hong Kong's newest & most exciting craft brewery!"
They're at Beertopia 2016 this weekend with their own Live Stage and will launch their own brewery in Kwai Hing on Dec 10!
Quite a way to go from humble beginnings brewing in the Lamma Grill. Tomorrow the world!

A deadly incident happened on the Central - YSW ferry this morning, just before noon! A person fell overboard and drowned, according to Lamma police.
Somebody on the opposite direction ferry YSW - Central saw it and called the police. A fire boat found the person who passed away. No confirmation if this was a suicide attempt or not.
The news below states that the report was made at noon by a foreigner who was onboard the YSW - Central ferry and saw a man (a not-Lamma, not-Chinese?) fall or jump overboard.
A friend reported seeing police loading one of their shiny tin caskets into the police boat at the gaido pier this afternoon around 4pm, coming from the Lamma Clinic where the person was brought first.
All the news we found so far in the English or Chin. press: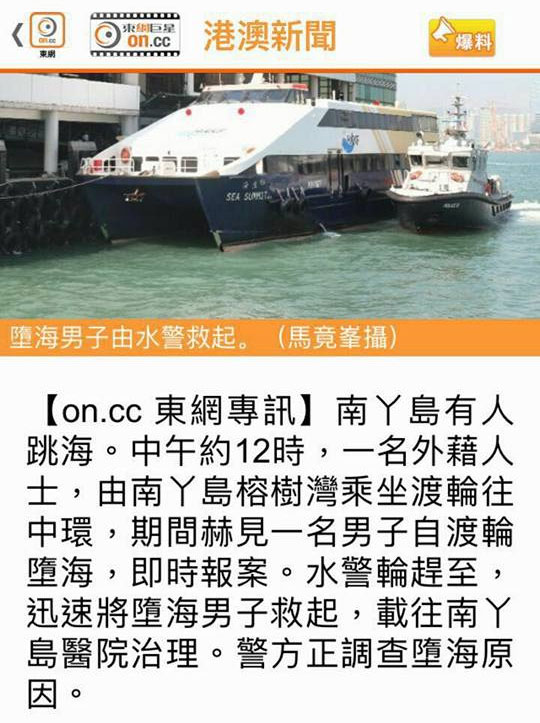 Breaking news in this police case under investigation...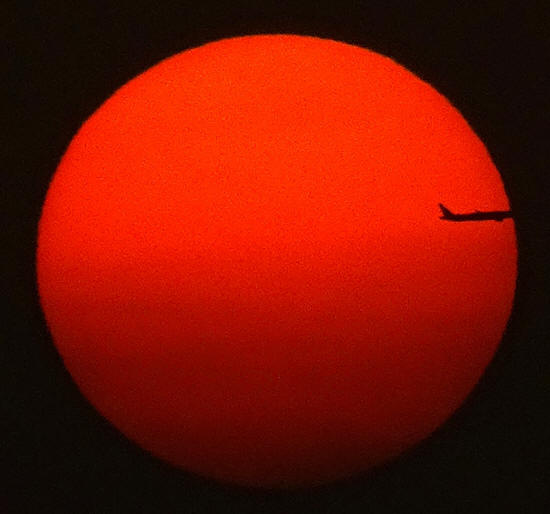 I got lucky tonight while shooting the sunset from our rooftop. *Almost* missed this shot!
124 Facebook Likes/7 Wows/4 Loves so far in less than 1 day...
Same sunset, just a few minutes earlier: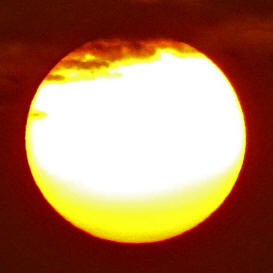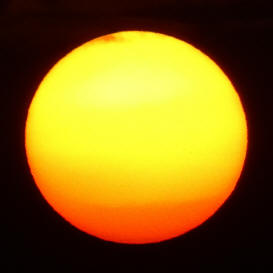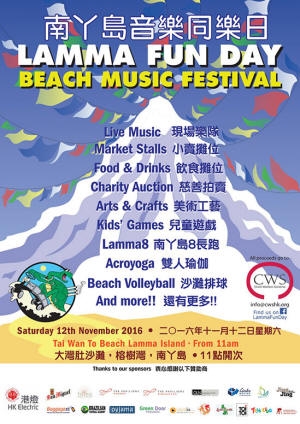 Nick the Bookman:
...The David Bowie Knives remain true to form. Always a pleasure to hear, which is why they keep getting invited to play. Killer riffs. Anthemically performed. Massive hints of fuzz outrage. One brand new song unveiled for our exclusive pleasure. Entitled "Milking It" and I leave the subject matter to your own scurrilous interpretations. Apparently, it's dedicated to someone called "Hillary". Probably because of the semi drony guitar tones and sort of falsetto vocals. They finished with "I believe in rock and roll and rock and roll believes in me". Familiar final song from earlier reviews. And always a familiar horripilatory performance.

(I've probably smashed all interweb records of articles and reviews for use of this word over the years. I'm still trying to shoehorn the word floccinaucinihilipilificators into a review. But I need the right context because if I don't get it correct, you'll all spot the slightest flaws in my logic and rationale. Ah well, perhaps another time).
Read more of Nick's excitable/excited/exciting review...

There was a discussion a little while back about the high cost of veggies on Lamma. This is what I got from Doris/Ah-Yin yesterday, outside and opposite Andy's Seafood Rest. (one of our favourite dinner places), for just $40: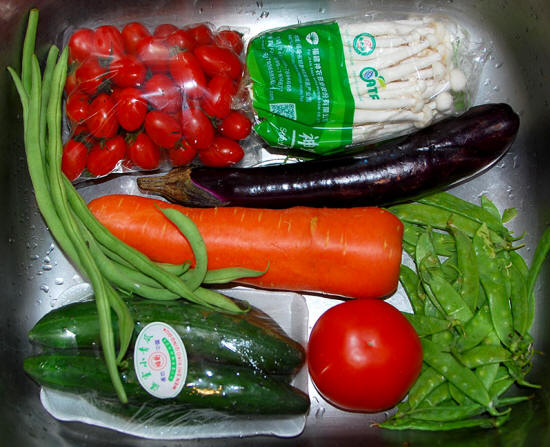 This was my tasty and satisfying breakfast today, lightly steamed, 3 dipping sauces. I'm currently on a little diet to get back to my "ideal" weight, a few pounds ago.
Summarised, this TLS diet is something like "Eat all the veggies you like, but not much else! And get off your lazy ass!"
1 single portion of protein per meal is allowed, and it's just a 21-day diet, including 1 week of "detox". But NO coffee, alcohol, sodas, dairy products or any grains at all, like bread, rice, etc. It was difficult at first, but I got (almost) used to it and feel much better than before, much more energy!
I've been full, never hungry, almost stuffed sometimes for 2+ weeks now and lost 9 pounds so far. One week to go, maybe do another voluntary week, reaching my best weight again and remain in almost perfect, medication-free health.
I'm planning to celebrate my Silver Wedding Anniversary and days later my Big Birthday atop Mt. Stenhouse, I hope. I've got to practice some more bike-hiking these amazingly beautiful and sunny days (33 degrees out now, middle of Nov!)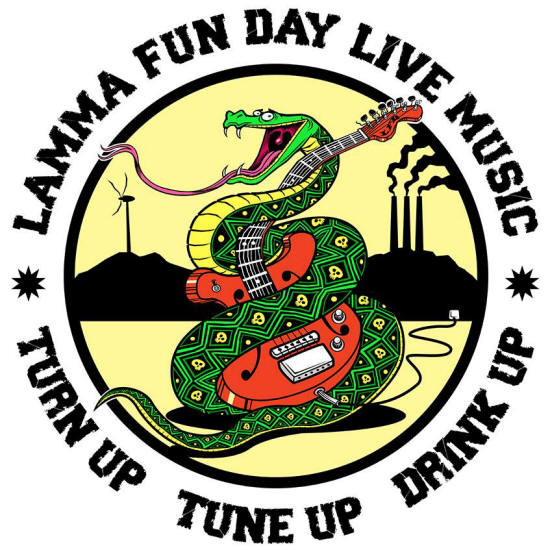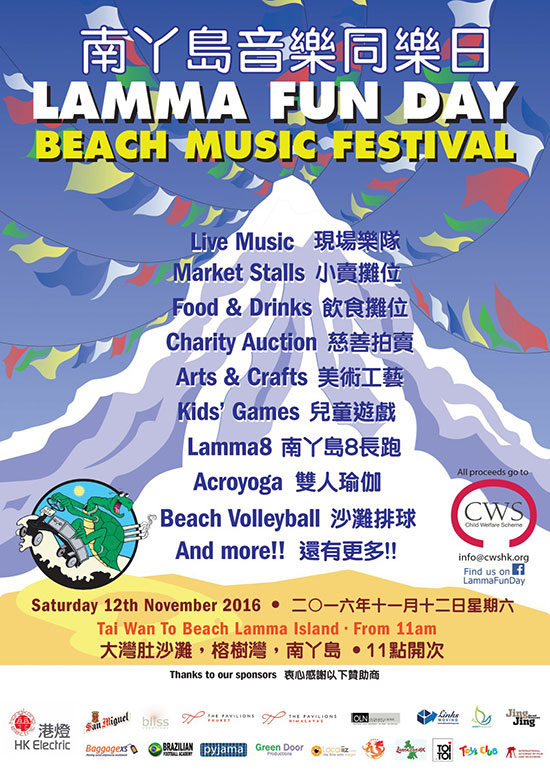 For a complete list of sponsors, including Lamma.com.hk, proud to be a Media Sponsor, like every year: Fun Day website.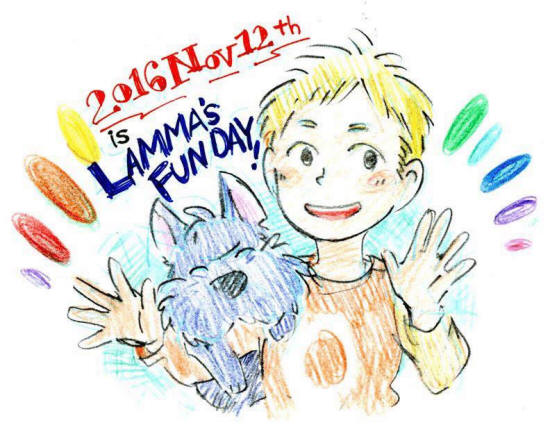 Children's book to be sold: Kids Meditation Book,
illustrations by Angela Yeung, text by Greg March.
Click for details of this book by two home-grown Lamma artists.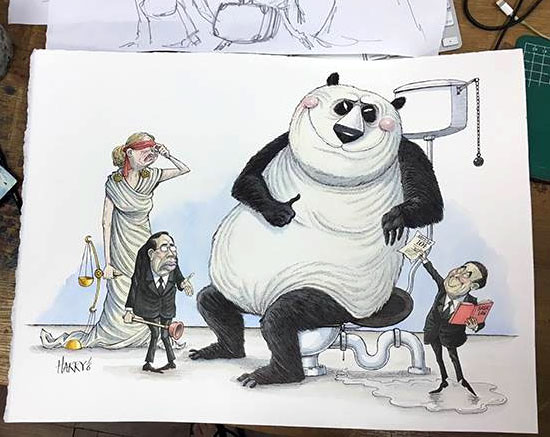 Original cartoon by Harry Harrison, to be auctioned off for charity,
minimum bid $10,000.
P.S. $19K for Harry's drawing! A new Lamma Fun Day record, I think.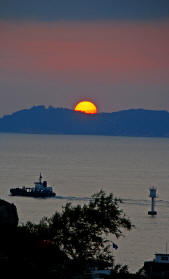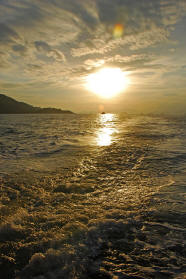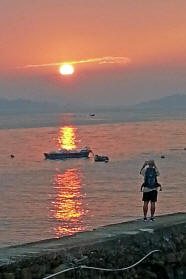 So many vantage points on Lamma to photograph the sunrise or sunset. A few assorted pics from the last few weeks:
Seen from my rooftop, Pak Kok ferry pier, onboard Aberdeen ferry and from Andy's Seafood Rest., YSW.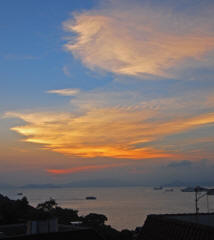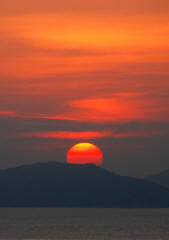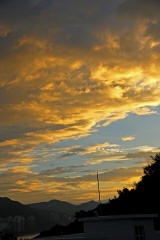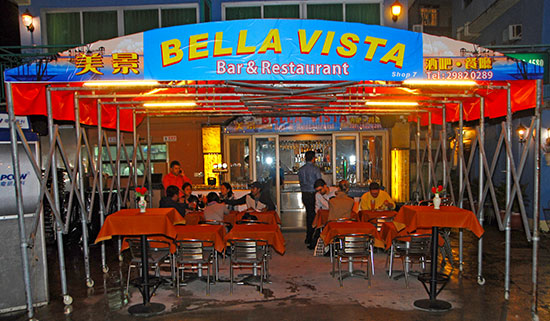 Opening of BELLA VISTA tonight, in the former Good Luck Thai, now serving Vietnamese @ Western, starting tomorrow.
Johnny: "We have the Grand Opening today, free snacks and salads, only drinks will be charged. Anybody welcome from 7-9 pm, no a la carte tonight.
We are serving Western & Vietnamese food; all-new management, cooks and staff! Run by 4 Indian partners: Azim (Best Kebab, Bombay), Operation Manager Johnny (ex-Waterfront), Deepak and Mr. Arun, all Lammaites."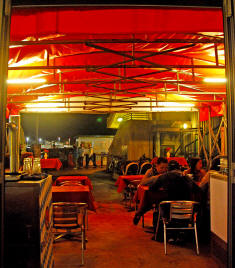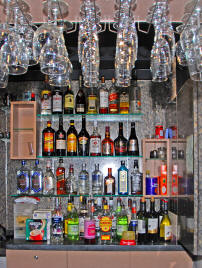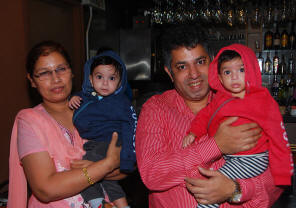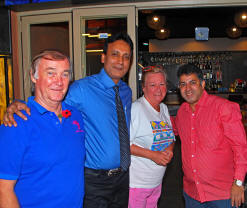 One of the 4 partners, Azim Shaikh, his wife & their boy/girl twins.
Lamma bar/restaurant celebrities, outside Bella Vista last night:
Dan & Sharon (former Island The Island Bar/Waterfront Bar & Restaurant co-owners), Johnny (ex-Waterfront, Bella Vista Operation Manager) and Azim (co-)owner of Bombay Bar & Restaurant, Best Kebab & Pizza and Bella Vista).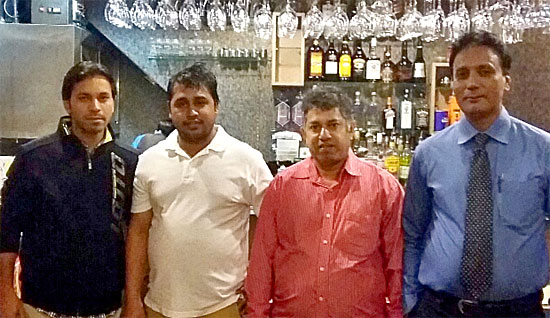 The 4 partners: Arun, Deepak, Azim & Johnny (photo).
Let us know how you liked the food!

New edition of our Lamma-zine photo/video showcase, featuring some of the best of Lamma's many very creative, talented people: Lamma Spotlights III.
Send me your photo/video/multimedia for free publicity!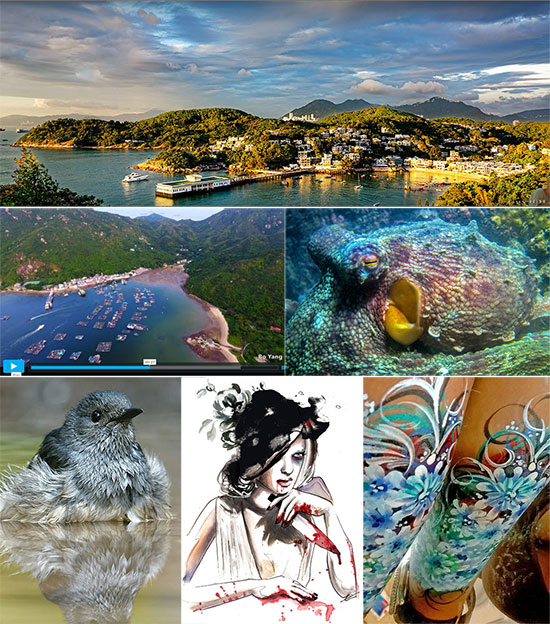 Lamma Spotlights of the Week, Nov 9, '16:
| | | |
| --- | --- | --- |
| PHOTO | | by Guy R.H. Miller |
| VIDEO | | by Bo Yang |
| WILDLIFE | | by Krzysztof Kazala |
| BIRD | | by Guy R.H. Miller |
| ARTWORK | | by Pirate |
| ARTWORK | | by Abigail Wong |
See former Spotlights ~ Submit your best Lamma photos/videos!
Archives: Lamma Spotlights of the Week I ~ Spotlights II

"Ciaran the Clown has kindly consented to clothe me, your coy cyberscribe, for this collaborative cornucopia at the Club."
Find out more in Nick's own words...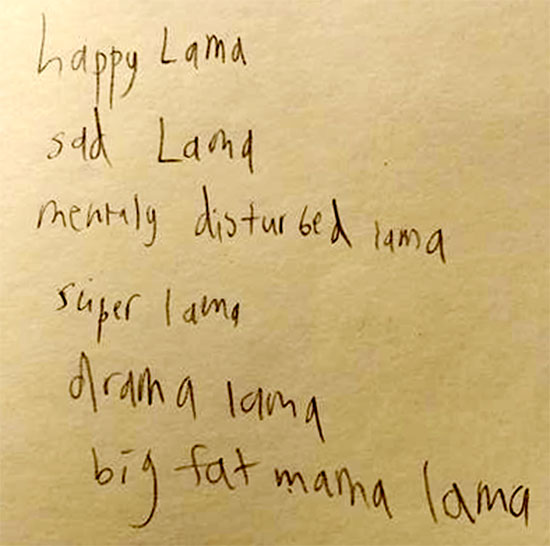 This poem was copied/adapted by an 8-year old from this extremely popular YouTube video (22.4 million views): The Llama Song, by Issa (who's got 2.6 million subscribers!)
The photo above was posted by the student's teacher Caspar Billington. This poem proved popular locally as it sums up many aspects of "Life on Lamma" pretty well.
Here's the full text and the entire catchy tune from Twaimz
(I've "corrected" the spelling):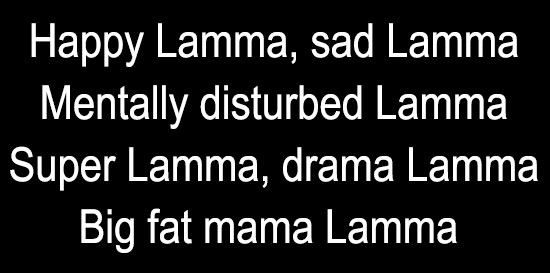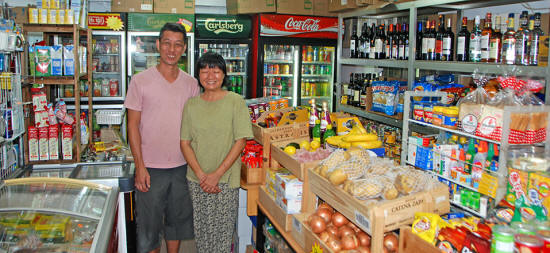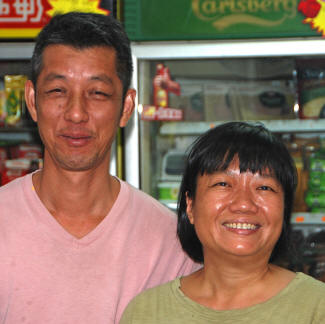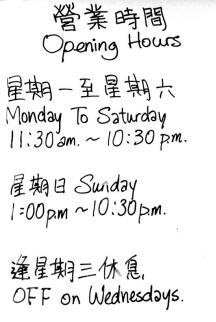 Nancy & hubby Kam running this shop now, taking over from the Village Head and his family, being ever cheerful and friendly. The goods selection seems to have been significantly upgraded as well, pretty impressive for the sole shop in the middle of an old Chinese village.
It's looking clean and nice, some fresh produce (!), fine spirits selection, some decent wines and even hardware/household shop goods usually not found in a food shop.
I like shopping there, put the goods in my bike basket and roll down the hill to Pak Kok. More Pak Kokians are discovering this convenience, according to Nancy.
As you can see below they have most of the "essentials" of surviving up in the remote wilderness of Tai Peng, even fresh produce! It's a long way to the convenience of the "big city" YSW down the hill, with many shopping opportunities (but not single supermarket, fast food or chain store). But then you have to lug it all up the hill! A close neighbourhood shop like Nancy & Kam's remains a necessity of village life, especially such a well-stocked one.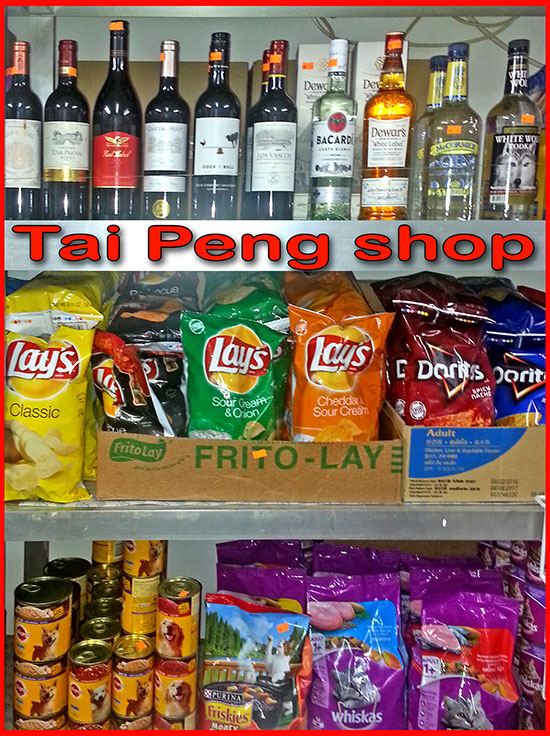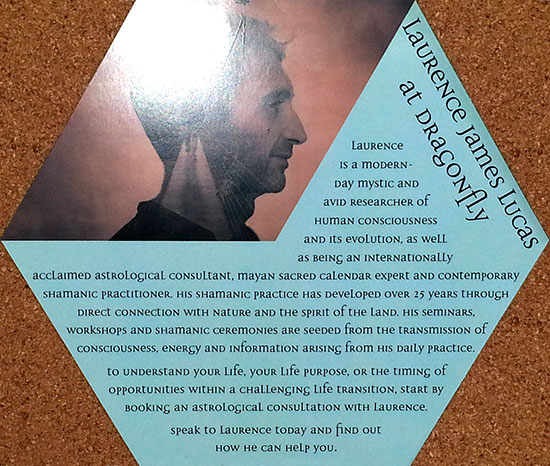 Lammaites and their influences can be found in many places all over Hong Kong and even worldwide. This photo was taken today from the wall in dragonfly, Sheung Wan, where Senior Lammaite Laurence presented a lunchtime seminar. He's a former Lamma Artist of the Month and author of '2012 and Beyond', among numerous other endeavors.
By the way, the flash location above is intentional, I tried several photos. Click on his short bio above to understand why.
Here's Laurence today in the same venue, presenting another seminar in his UFO/ET series at dragonfly: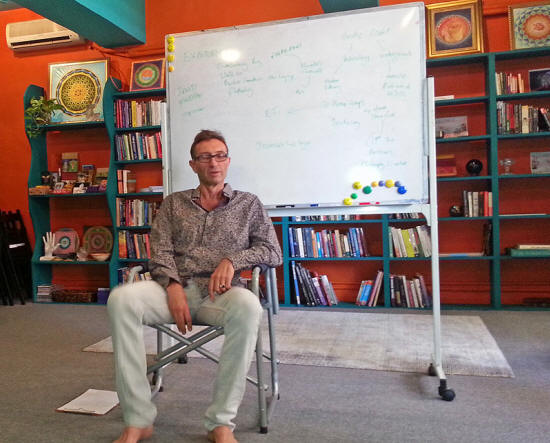 This seminar was so far beyond my own experiences and went so far above my head which contains a rationalistic brain trained for 20 years in hard sciences, I won't even try to summarise it here. But it was all very interesting...
"Laurence will go deeper and further on the Extraterrestrial Phenomena and then he'll present an overview of the Omnid-directional Cosmos and how ET's fit into a considerably larger view of reality, evolution and our future".
Communicate with Laurence directly if you're interested to learn more, or follow the social media of this "Creator at Enchantments of Life and Life Change Facilitator".
Laurence will also be presenting another fascinating seminar this Sat that might be of great interest to many pet-loving Lammaites: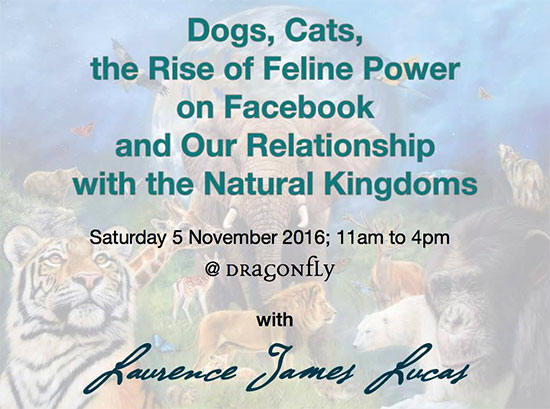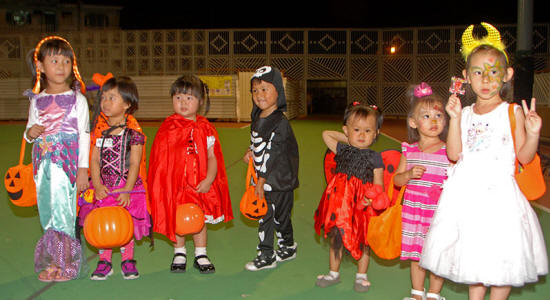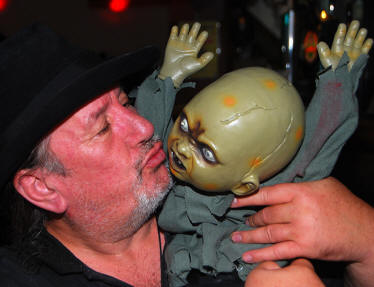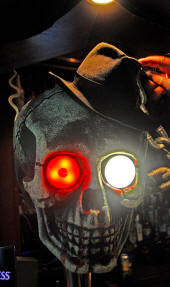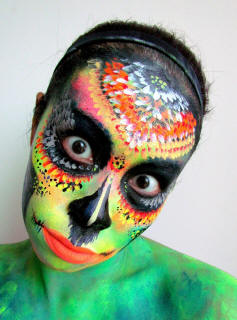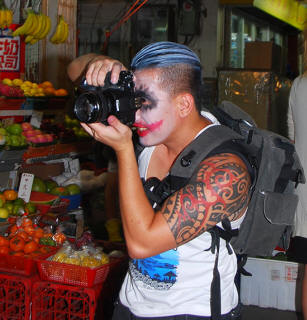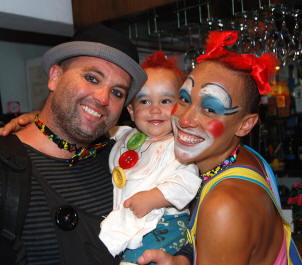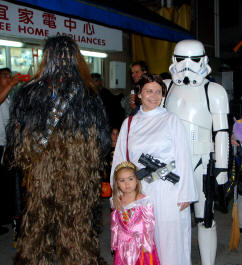 ---