| | | | |
| --- | --- | --- | --- |
| | Jan 28 - My first sunset photos of this year. More to follow, hopefully. | | |
| | | | |
| --- | --- | --- | --- |
| | Jan 27 - This is the story of Nick's peaceful life, and why he's never shaved his beard. | | |
| | | | |
| --- | --- | --- | --- |
| | Jan 25 - May all your cheesiest dreams come true. | | Jan 24 - Which Lamma places are closed over Lunar New Year? |
| | | | |
| --- | --- | --- | --- |
| | Jan 13 - Transplanting a Black Kite into a virtual-only world of highrises. | | |
| | | | |
| --- | --- | --- | --- |
| | Jan 6 - ...publicity campaign against all these electric transportation devices. | | Jan 5 - Quite comprehensive, up-to-date guide for visitors from Cathay Pacific/Dragon. |
<!/tr>

Jan 28: 1st Sunset Pics of the Year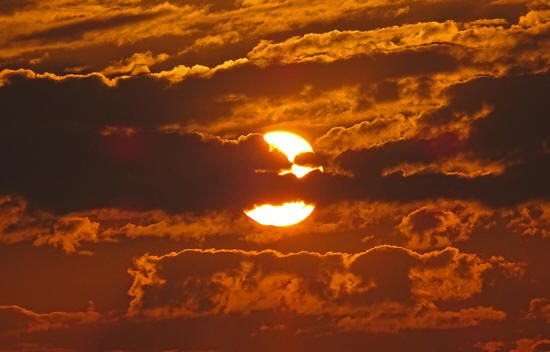 Sunset today. My first sunset photos (click above for more from today) of this year. More to follow soon, hopefully.

Jan 27: Nick the YouTube Star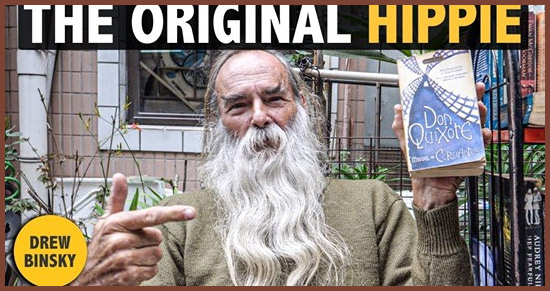 Drew Binsky writes (very popular YouTuber, 1.3 million subscribers, traveling to almost all countries in the world, almost 1 BILLION views so far):
"Nick is what many people call as the 'original hippie' on Hong Kong.
Yes, he's from Hong Kong, but not from the hectic business districts -- he's from an outer island called Lamma Island. It's a completely different world than Hong Kong Island, and it's just a 20 minute ferry ride away. I've been to Hong Kong 8 times, and this is my first time on Lamma and my mind is completely blown!
This is the story of Nick's peaceful life, and why he's never shaved his beard nor left Hong Kong since 1984. What a guy!
Follow @DrewBinsky on IG STORIES for more: https://instagram.com/drewbinsky
Facebook: https://www.facebook.com/drewbinsky/"
Feedback to this video on Facebook groups (It got 70K+ views, 3.4K Likes and 300+ comments within 1 day!):
| | | | | |
| --- | --- | --- | --- | --- |
| Facebook timeline or group | Like | Love &Wow | Comments | Shares |
| Lamma-Gung | 53 | 100 | 111 | 255 |
| Lamma Island Uncensored | 288 | 6 | 1 | 0 |
| Lamma Island Hong Kong | 300 | 1 | 0 | 3 |
| Lamma Island Residents | 211 | 111 | 4 | 0 |
Glad to see that my Facebook Timeline still has a much wider audience reach than these very popular Lamma groups.
P.S. April 28:
108,000 views, 4,200+ likes, 359 comments

Jan 26: Lunar New Year @ Tin Hau Temple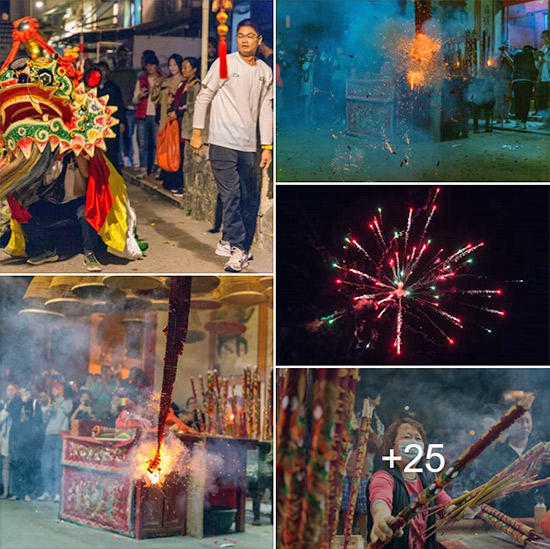 Wonderful photos from Lamma Photographer Extraordinaire David Ogg of the traditional midnight lion dance & fireworks, welcoming the Chin. Year of the Rat at the YSW Tin Hau temple this morning!
Plus some great videos of this event from Lamma's very own lion dance groupp Jing Fook Tong, performing all over Hong Kong: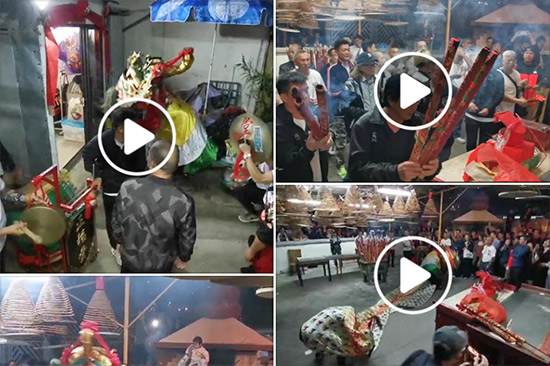 Jan 25: Happy New Year of the Rat!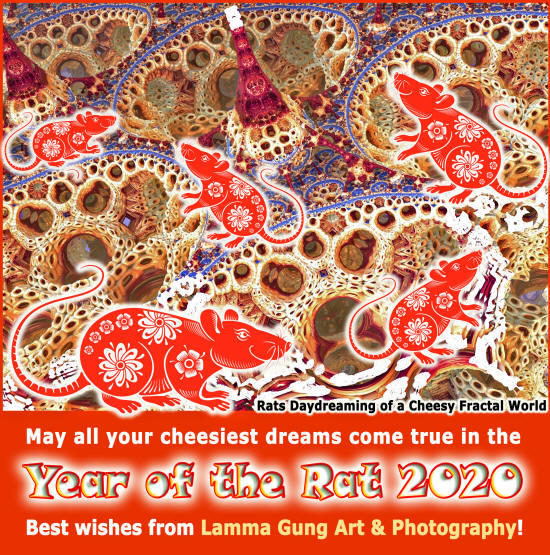 Jan 24: Opening Hours over LNY
Which Lamma places are closed over Lunar New Year?
Years ago, most restaurants and shops were closed at least on the first day, tomorrow, often for several days. But nowadays it's hard to find any local place that closes over LNY. Andy's will be open every day, even the Tai Peng store is open every day.
Who is actually closing? A few more opening hours, as far as I've seen so far:
These 2 shops are the sole shops in their villages, so they are absolutely essential for their communities. Some people would have to forego our soy/almond/barley milk in their morning tea/coffee if these shops would ever close for more than 1 day w/o ample advance warning! It would be a major disaster for home office workers like myself, affecting our alertness and productivity negatively in a most serious way!

Jan 23: Quarantine!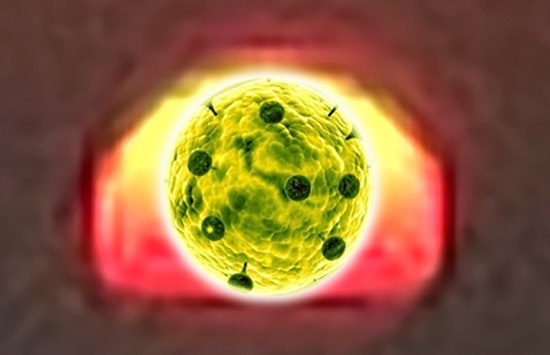 With the Coronavirus outbreak in Wuhan starting to spread across the world, quarantines have been implemented and considered in various places in China. What about HK and more specifically, Lamma?
Here's a foreboding, sickly-looking mobile phone sunset from Lamma today with a looming Coronavirus.
Brendan Sheridan (my biggest sunrise/sunset photos fan!?) writes:
"If Lamma were to be quarantined, how many days do you think we would last until complete societal collapse and abject barbarism?"
Various great answers in Lamma Island Uncensored (private group, membership required).
Best answer I've seen so far, from anon.:
"The closing of the Island Bar was the earliest sign that we were approaching the End of Days, and the continuing existence of all the pub quizzes is a clear signal that the Rapture will soon be upon us."
If you're not a LIU group member yet, you might guess some of the other replies? If booze, Internet access and other absolute essentials would ever run out, we'd have to resort to wanton piracy from our island lairs...

Jan 16: Cover Photo of 'Digital Computer Art' FB Group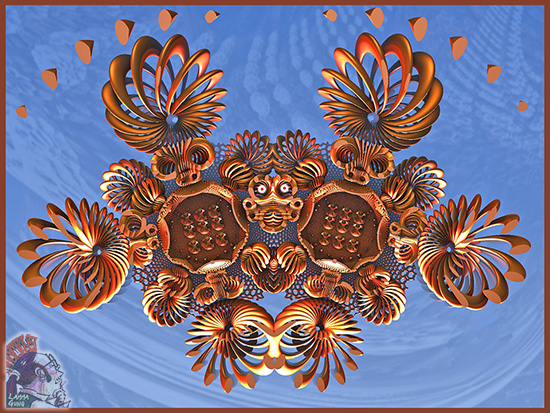 Wow, my "AI Drone Attack!" above has just been selected as cover image of the very popular Digital Computer Art Facebook group!
A great honor for a MB3D novice! My very first cover photo of a FB group NOT chosen by myself! ;~}
Friends suggested titles like "Gaia Drone", "New & Improved Lamma Insect", "Virtual Voodoo Priest", plus the predictable comments off "Some really good shit you are smoking". ;~}
More images at Lamma Gung Art & Photography.

Jan 13: Black Kite in Virtual World
Another little Creative Experiment of mine, transplanting a Black-eared Kite into a virtual-only world of highrises.
The great Black-eared Kite (very common on Lamma) photo was shot by Mark Malby from his drone flying high, Lamma Island in the background. I love the contrast of these two images: natural photo ~ artificial CG, real-life ~ computer-virtual, grey-level ~ full-color, max. 3 floors ~ highrises...

Jan 9: Rooster Dragon or Mutant Turkey?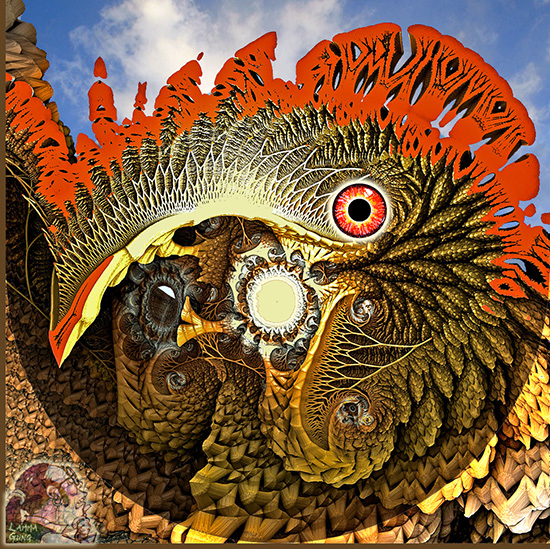 My latest Creative Experiment, just completed. Suggest a title, please. What does it look like to YOU?
Lamma-based friends suggested "Mutant Turkey", "Fucked-up Phoenix", "Phoenix Tripping", "Cock in a Feeding Frenzy", "Cuckoo Centurian" and "Dragon Rooster", my personal favourite.
Lamma harbours quite an exotic, subtropical wildlife (Lamma Birds), but I haven't come across this specific creature yet while hiking, fortunately!
Deep AI's NeuralTalk program analysed this image as "a close up of a bunch of bananas". Artificial Intelligence has a long, long way to go...

Jan 8: Past Art & Photo Exhibitions of L-G
Solo Exhibitions
Wonder, Whimsy, Weirdnes - Sarasen gallery, Lan Kwai Fong, HK Island -- Aug 15 - 31, 2008
Lamma Celebrity Cam PhotoArt - The Cyan Studio, Back Street, YSW, Lamma -- Nov 2007 (+stories on Nov 11, 12)
Computer fair, Mustermesse, Basel, Switzerland -- 1987
Grafische Computer-Fantasien - Galerie/Atelier E, Zurich, Switzerland --
Jun 5-Aug 23, 1986
Joint Exhibitions
LAZERARTI: Disc Reborn- Lamma Art Collective, YSW - Dec 6-31, '19: https://www.facebook.com/events/420347818626715/
https://www.facebook.com/Lamma.Gung.Art.Photos/posts https://www.facebook.com/Lamma.Gung.Art.Photos/photos
In Love With Lamma - photo exhibition -- Lamma Art Collective, YSW - Nov 3-17, '18
Lamma On Board-- Lamma Art Collective, YSW
HK Arts Centre -- 1990s
HK Cultural Centre lobby -- 1990s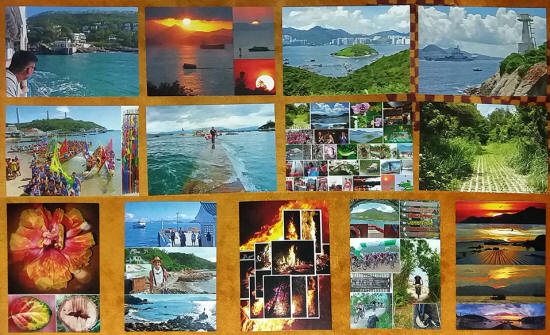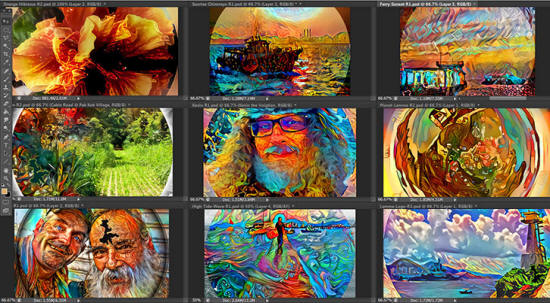 40-year art/photo gallery - Google Deep Dreamer gallery
Check out my Facebook page: Lamma Gung Art & Photography
For more info & sales: LammaGung@gmail.com

Jan 7: Balcony Garden of a 'Deep Dreamer'
No need to travel far to get fine photos when living in the Lamma jungle, here are a few photos, all taken in my Balcony Garden.
As usual, I couldn't resist to make a few "enhancements" via Google's Deep Dream Generator. Click to enlarge and view comments: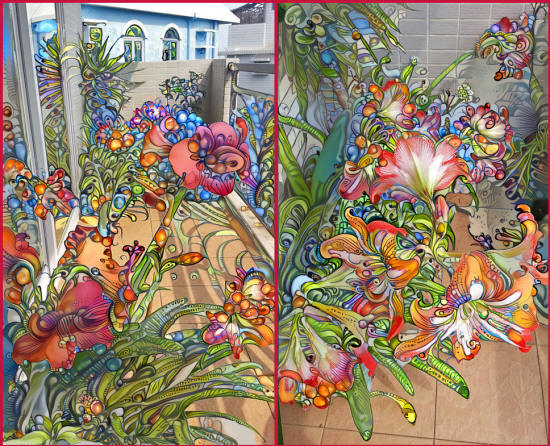 Jan 6: EMDs Are Banned!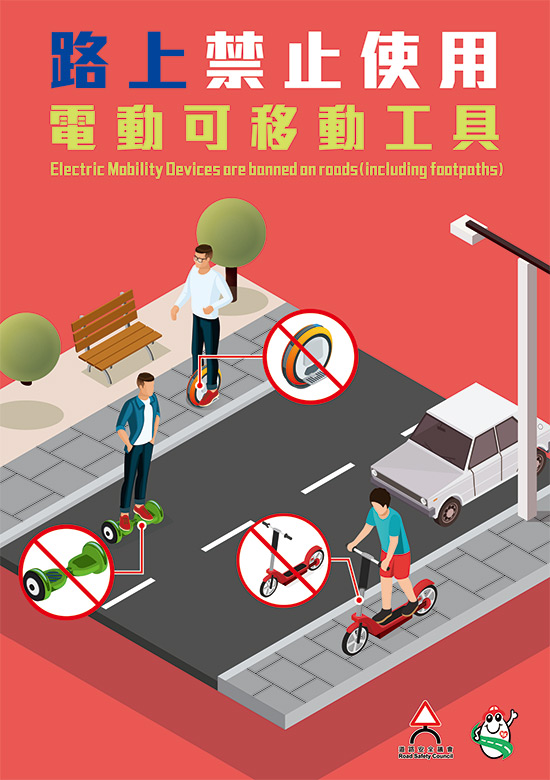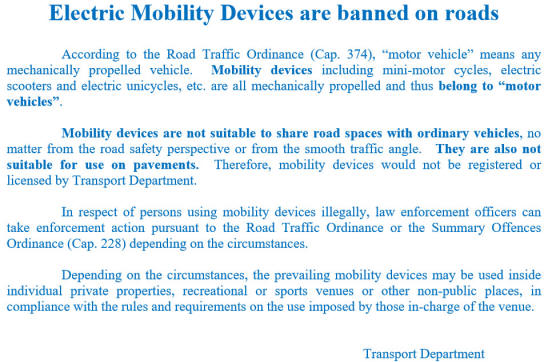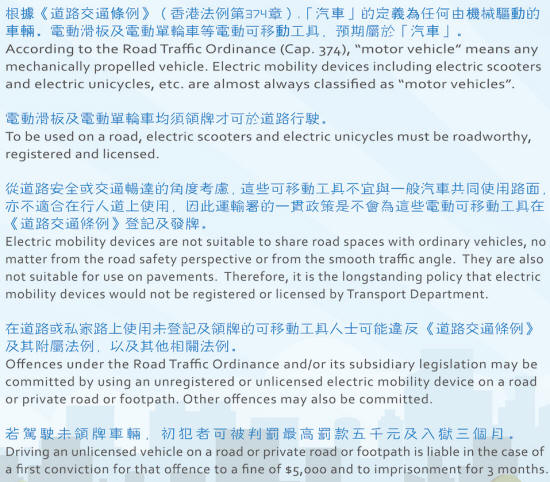 It's been 3 months of publicity campaign against all these technically-illegal electric transportation devices, except for licensed disabled people. They're illegal everywhere - on roads, paths, pavement - except private, non-public premises and no licenses will be issued.
They've become widely used on Lamma as they're the only form of motorised public or private transport available, besides VVs, emergency and HK Electric vehicles. Police warnings have been issued but no enforcement so far.
But now the police seem intent on stepping up the enforcement soon on Lamma, like on the other Outlying Islands already, I've heard? I'm holding off on getting an electric bike myself... for the time being...
P.S. What caused this stepping-up of the formerly non-existing enforcement?
http://www.thestandard.com.hk/breaking-news.php?id=137889
http://www.thestandard.com.hk/section-news.php?id=212961

Jan 5: Plan a Day Trip to Lamma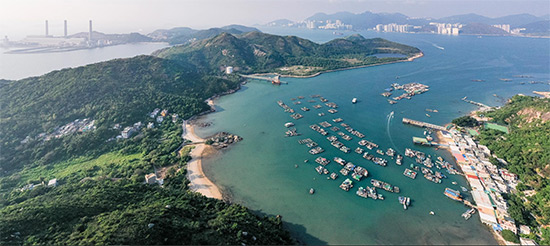 Quite comprehensive, up-to-date guide for visitors from Cathay Pacific/Dragon's inflight magazine. It's even including the brand-new Beer Shack.

Jan 4: Favourite Dishes in YSW?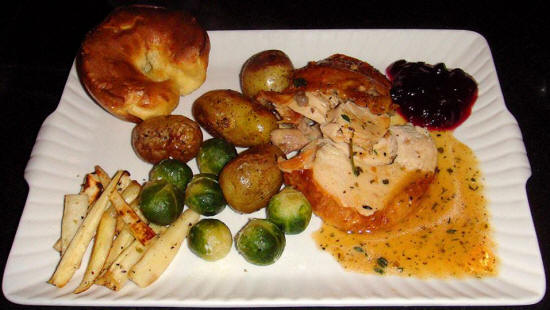 What are YOUR FAVOURITE DISHES in Yung Shue Wan? Receiving a YSW restaurants mini-review, titled "Underwhelmed and Annoyed" from the Lamma-zine's "Official Court Glutton", I made my own personal shortlist of favourite dishes in YSW restaurants.
See the traditional Christmas special from Jing Jing Restaurant above, our own yearly indulgence.
What are yours and should be added to my list, titledd "Overwhelmed and Delighted"?

Jan 3: Lamma Beach Shoes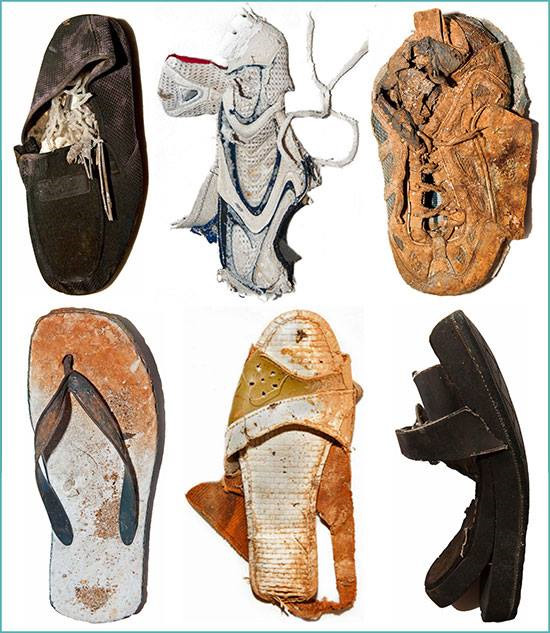 'Jimmy Shoe': Lamma Island's Beach Trash Curios
"Irish-born photographer Grainne Quinlan has spent the last few months scouring the Lamma shoreline for old footwear." - Ancient Lamma-zine story, in need for an update. Got some new photos of beach trash curios?

Jan 2: Return to Lamma Nature Photos...
...but with a twist, adding some AI neural styles and prodigious Photoshopping, hopefully improving my original photos, or not?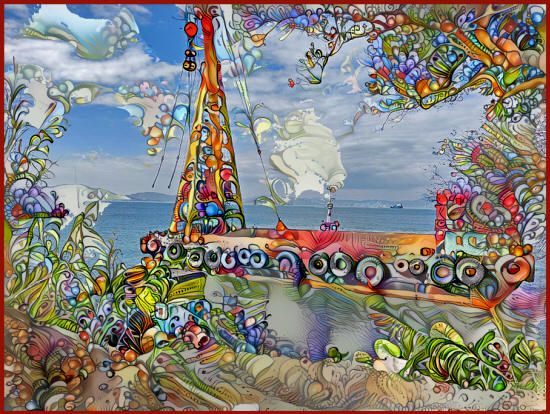 Village house building is really speeding up around Pak Kok New Village, several in progress right now. This is my DeepDreamed photo of a transport ship bringing in construction materials to a temporary pier recently.

Jan 1: Happy New Year!