| | | | |
| --- | --- | --- | --- |
| | Jan 6 - ...publicity campaign against all these electric transportation devices. | | Jan 5 - Quite comprehensive, up-to-date guide for visitors from Cathay Pacific/Dragon. |
| | | | |
| --- | --- | --- | --- |
| | Dec 31 - Last day of the Aberdeen - Cheung Chau ferry route from Tsui Wah pier. | | Dec 30 - Last day of LAZERARTI exhibition @ Lamma Art Collective: Jan 1, 2020. |
| | | | |
| --- | --- | --- | --- |
| | | | Dec 28 - I'm returning to transforming my real-life photography into wildly colourful AI Deep Dreams. |
| | | | |
| --- | --- | --- | --- |
| | | | Dec 26 - Christmas Set Menu in Jing Jing, our yearly indulgence. |
| | | | |
| --- | --- | --- | --- |
| | Dec 25 - Merry Christmas & a Very Happy New Year 2020. | | Dec 24 - If you still have some room on your Xmas tree, here are my own fractal baubles. |
| | | | |
| --- | --- | --- | --- |
| | Dec 6 - Money raised for the Lamma Fun Day charity: tba. | | |
<!/tr>

Jan 9: Rooster Dragon or Mutant Turkey?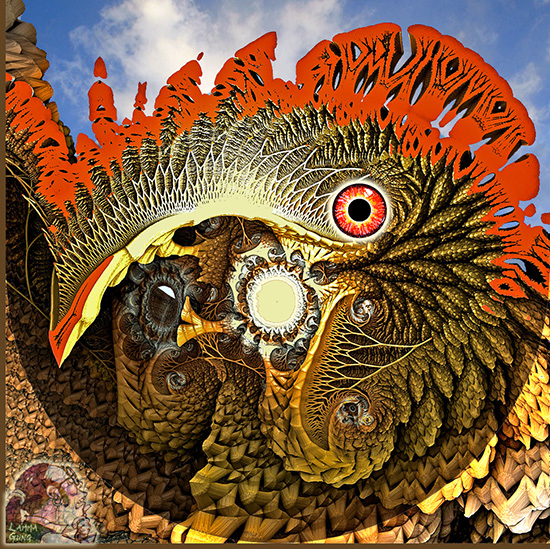 My latest Creative Experiment, just completed. Suggest a title, please. What does it look like to YOU?
Lamma-based friends suggested "Mutant Turkey", "Fucked-up Phoenix", "Phoenix Tripping", "Cock in a Feeding Frenzy", "Cuckoo Centurian" and "Dragon Rooster", my personal favourite. Lamma harbours quite an exotic, subtropical wildlife (Lamma Birds), but I haven't come across this creature yet, fortunately!
Deep AI's NeuralTalk program analysed this image as "a close up of a bunch of bananas". Artificial Intelligence has a long, long way to go....

Jan 8: Past Art & Photo Exhibitions of L-G
Solo Exhibitions
Wonder, Whimsy, Weirdness - Sarasen gallery, Lan Kwai Fong, HK Island - Aug 15 - 31, 2008
Lamma Celebrity Cam PhotoArt - The Cyan Studio, Back Street, YSW, Lamma - Nov 2007 (+stories on Nov 11, 12)
Computer fair, Musterhalle, Basel, Switzerland - 1987
Grafische Computer-Fantasien - Galerie/Atelier E, Zurich, Switzerland -
Jun 5-Aug 23, 1986
Joint Exhibitions
LAZERARTI - LazerDisc Reborn - Lamma Art Collective, YSW - Dec 6-31, '19: https://www.facebook.com/events/420347818626715/ https://www.facebook.com/Lamma.Gung.Art.Photos/posts https://www.facebook.com/Lamma.Gung.Art.Photos/photos
In Love With Lamma - photo exhibition - Lamma Art Collective, YSW -
Nov 3-17, '18
Lamma On Board - Lamma Art Collective, YSW
HK Arts Centre - 1990s
HK Cultural Centre lobby - 1990s
---
40-year art/photo gallery - Google Deep Dreamer gallery
Check out my Facebook page: Lamma Gung Art & Photography
Contact LammaGung@gmail.com

Jan 7: Balcony Garden of a 'Deep Dreamer'
No need to travel far to get fine photos when living in the Lamma jungle, here are a few photos, all taken in my Balcony Garden.
As usual, I couldn't resist to make a few "enhancements" via Google's Deep Dream Generator. Click to enlarge and view comments: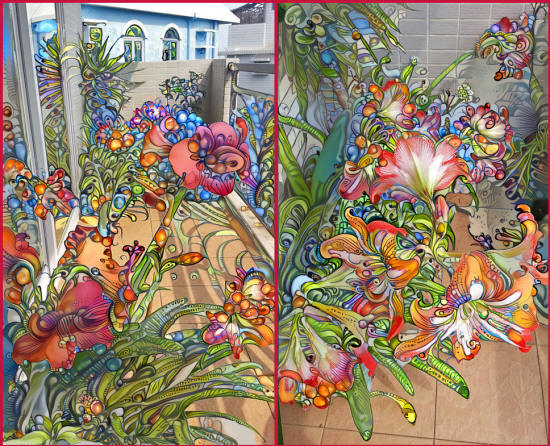 Jan 6: EMDs Are Banned!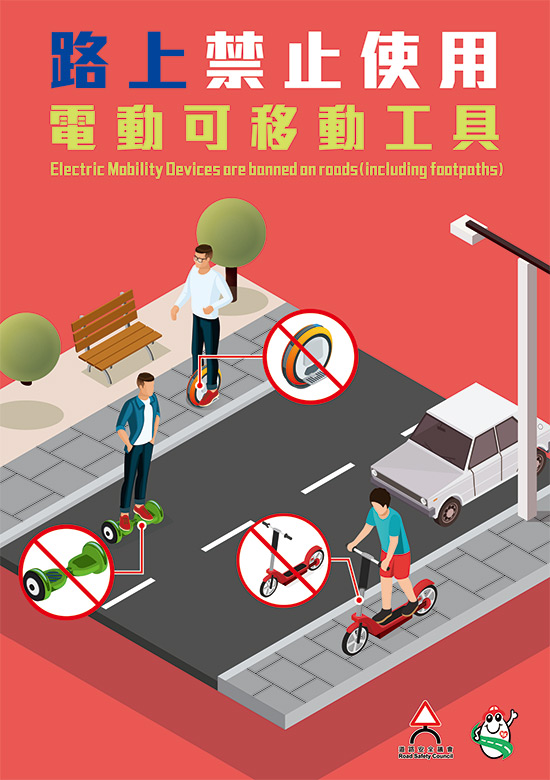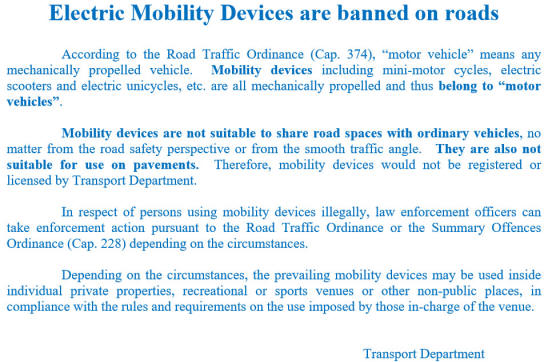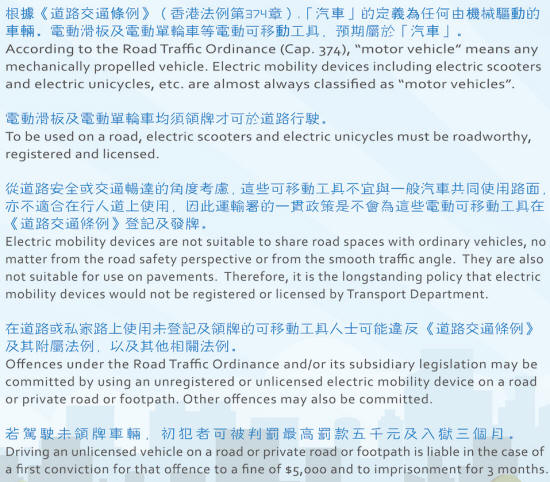 It's been 3 months of publicity campaign against all these technically-illegal electric transportation devices, except for licensed disabled people. They're illegal everywhere - on roads, paths, pavement - except private, non-public premises and no licenses will be issued.
They've become widely used on Lamma as they're the only form of motorised public or private transport available, besides VVs, emergency and HK Electric vehicles. Police warnings have been issued but no enforcement so far.
But now the police seem intent on stepping up the enforcement soon on Lamma, like on the other Outlying Islands already, I've heard? I'm holding off on getting an electric bike myself... for the time being....
P.S. What caused this stepping-up of the formerly non-existing enforcement?
http://www.thestandard.com.hk/breaking-news.php?id=137889
http://www.thestandard.com.hk/section-news.php?id=212961

Jan 5: Plan a Day Trip to Lamma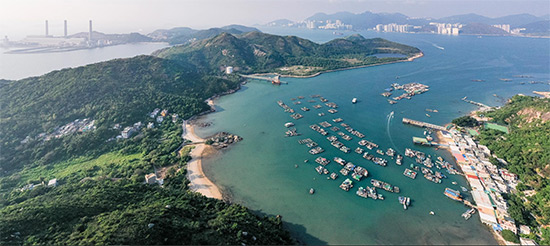 Quite comprehensive, up-to-date guide for visitors from Cathay Pacific/Dragon's inflight magazine. It's even including the brand-new Beer Shack.

Jan 4: Favourite Dishes in YSW?
What are YOUR FAVOURITE DISHES in Yung Shue Wan? Receiving a YSW restaurants mini-review, titled "Underwhelmed and Annoyed" from the Lamma-zine's "Official Court Glutton", I made my own personal shortlist of favourite dishes in YSW restaurants.
See the traditional Christmas special from Jing Jing Restaurant above, our own yearly indulgence.
What are yours and should be added to my list, titled "Overwhelmed and Delighted"?

Jan 3: Lamma Beach Shoes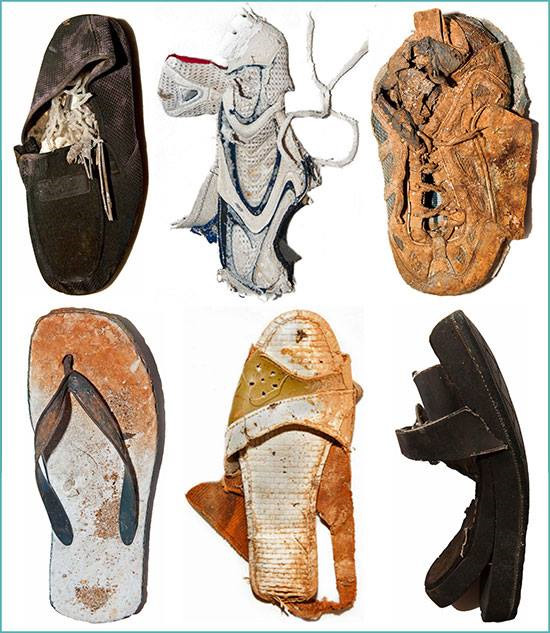 'Jimmy Shoe': Lamma Island's Beach Trash Curios
"Irish-born photographer Grainne Quinlan has spent the last few months scouring the Lamma shoreline for old footwear." - Ancient Lamma-zine story, in need for an update. Got some new photos of beach trash curios?

Jan 2: Return to Lamma Nature Photos...
...but with a twist, adding some AI neural styles and prodigious Photoshopping, hopefully improving my original photos, or not!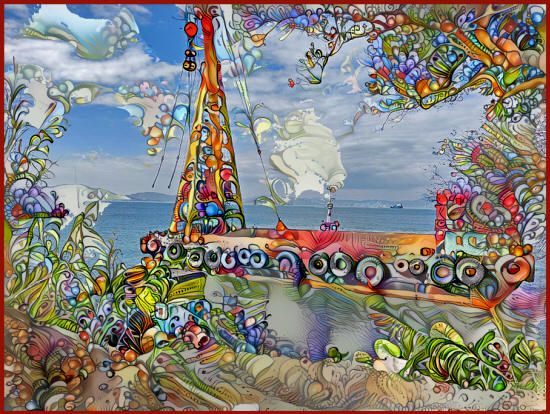 Village house building is really speeding up around Pak Kok New Village, several in progress right now. This is my DeepDreamed photo of a transport ship bringing in construction materials to a temporary pier recently.

Jan 1: Happy New Year!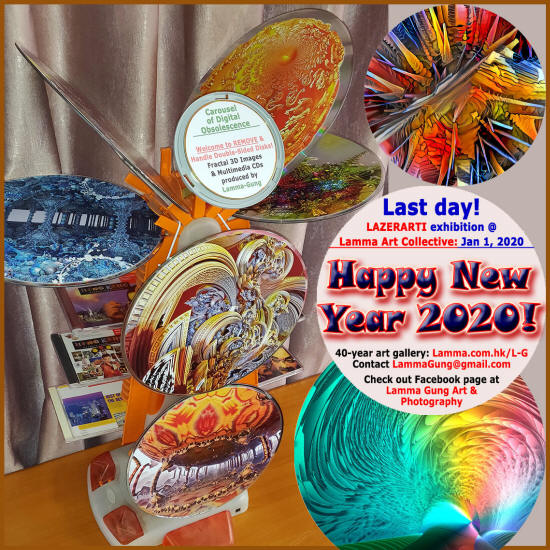 Dec 31: Last Day of Cheung Chau Ferry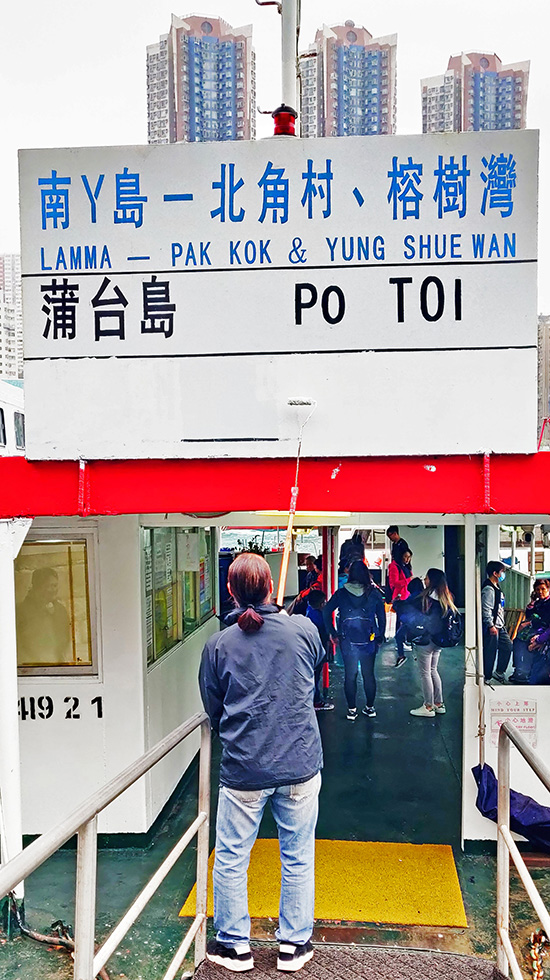 Last day of the Aberdeen - Cheung Chau ferry route from Tsui Wah pier in Aberdeen, which has been shared with Lamma - Pak Kok & YSW ferry.
Painting over the discontinued, unprofitable route at the pier entrance and replacing the banners.

Dec 30: 2020 Calendars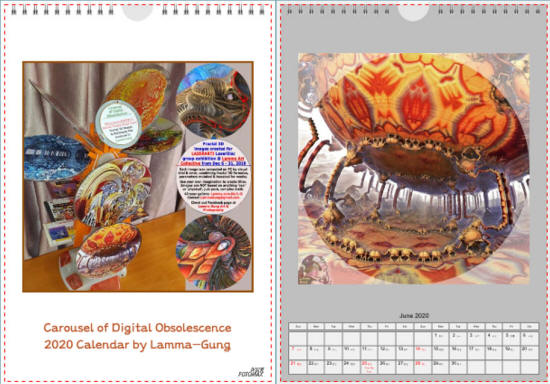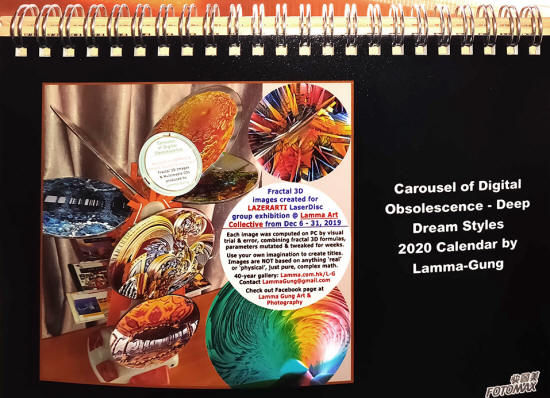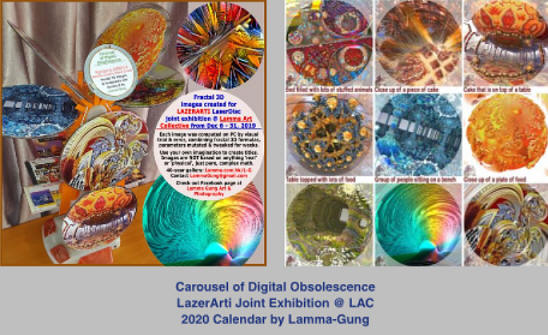 Just one handful each of these monthly calendars have been printed: A4 & A3 size wall calendars and a desktop calendar, just for friends, free or at printing cost.

Dec 29: Solar Power System on Your Rooftop?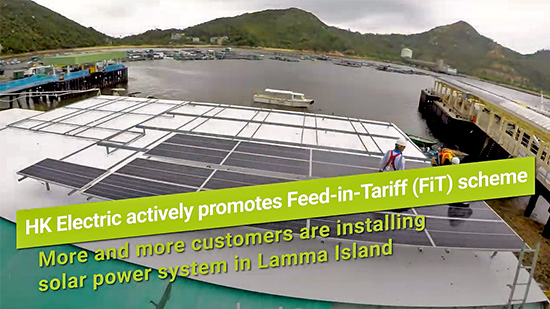 HK Electric will buy solar power generated on your rooftop, paying very high feed-in tariffs.
Installing solar cells on Lamma is done by several contractors, paid for and amortized over quite a few years by the rooftop owner.
Video interview with one of the first installations on Lamma. Scheme starting on Jan 1.

Dec 28: Balcony Jungle
I've spent so much time and effort on transforming my fractal 3D images from our LazerArti joint exhibition in LAC (ending yesterday), picking up the resulting desktop calendars today. Do you want one @ HK$98 printing cost?
Now I'm returning to transforming my real-life photography into wildly colourful AI Deep Dreams, mixing my photos with my canvas paintings and other neural styles. Let me start small, views on and from my own Balcony Jungle.
My original photos and more Deep Dreams: https://deepdreamgenerator.com/u/lammagung/account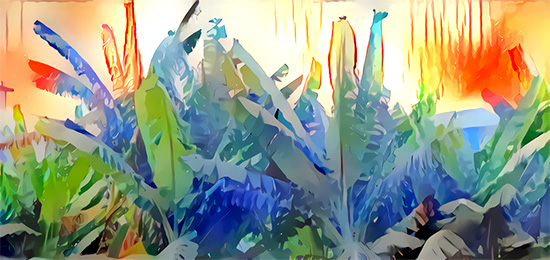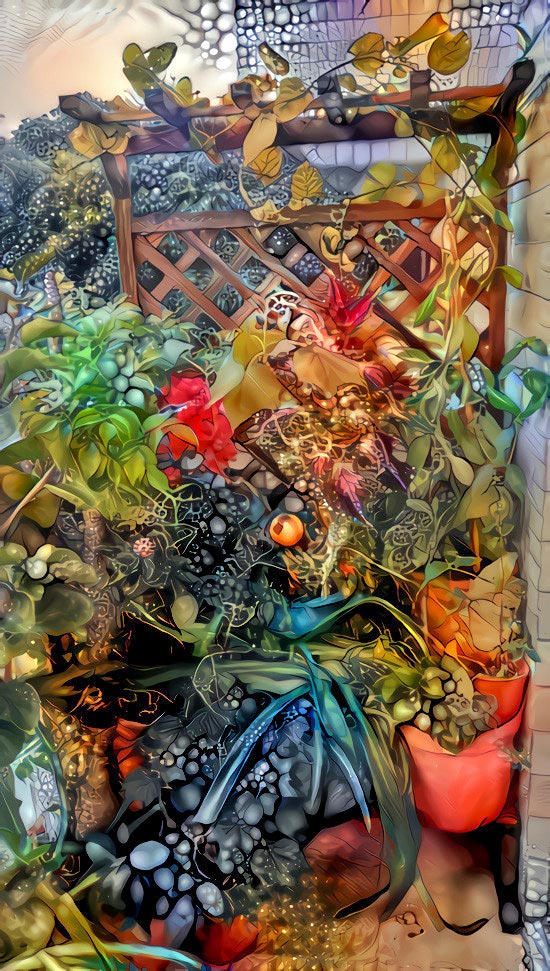 Dec 27: Xmas Presents from Landlord/Lady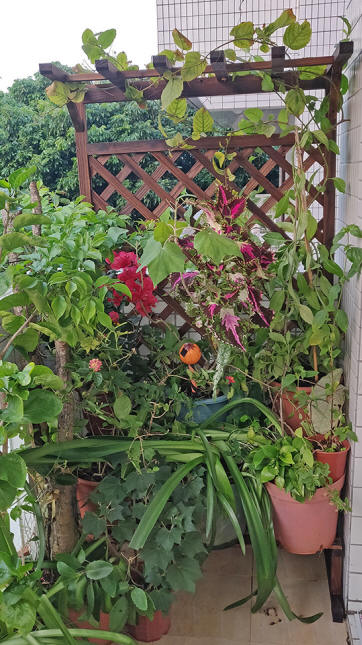 In all the years I've lived in HK - more than half of my life - we've never received an Xmas present from any landlord/lady, usually not even meeting them ever beyond contract-signing and moving in/out.
So imagine our surprise when our landlord&lady arrived yesterday from S.China, bearing gifts and even bringing along some handymen to install them for us and our downstairs neighbours.
A bottle of sparkling wine, motion sensor porch lights, additional metal fence surrounding the G/F patio, furniture for my Balcony Jungle (see above). As we've rented only a completely unfurnished flat, all these additional new and past freebies (bathroom & balcony furniture, staircase railings, mosquito screens and blinds on all windows, double curtains in the living room and, last but not least, a really fancy door) are most welcome, of course!
Thank you, great landlord & landlady!

Dec 26: Yummy!
Christmas Set Menu in Jing Jing, our yearly indulgence. We love it, their regular master chef Marlon Merlin being our favourite non-Chinese Lamma chef!
RSVP with him directly: Click his name above or email marutus15@gmail.com or call Jing Jing at 6545 2447.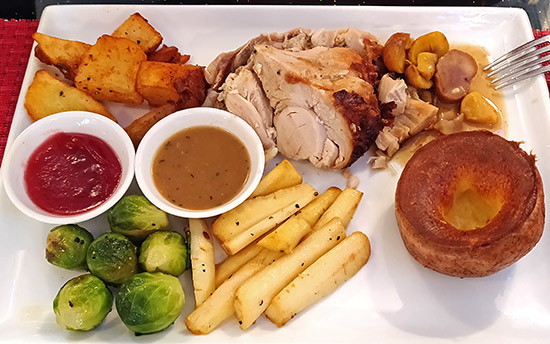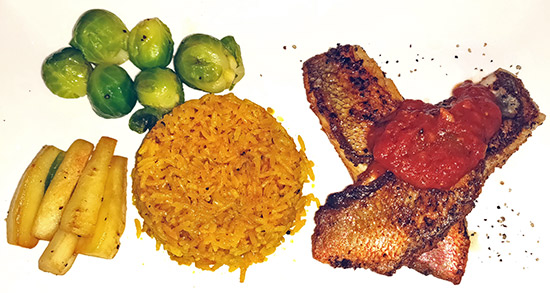 Dec 25: Very Merry!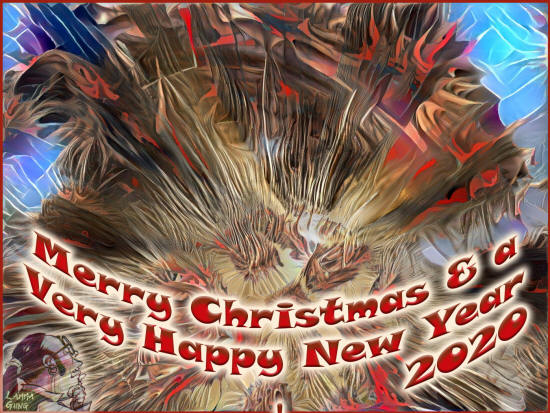 Dec 24: Fractal Baubles, Anyone?
If you still have some room on your Xmas tree, here are all my own fractal baubles (shown on LaserDiscs in the current LAZERARTI joint exhibition @ Lamma Art Collective, YSW).
You can print'em, cut'em out & decorate your tree with these unique, free baubles from Lamma Gung Art & Photography.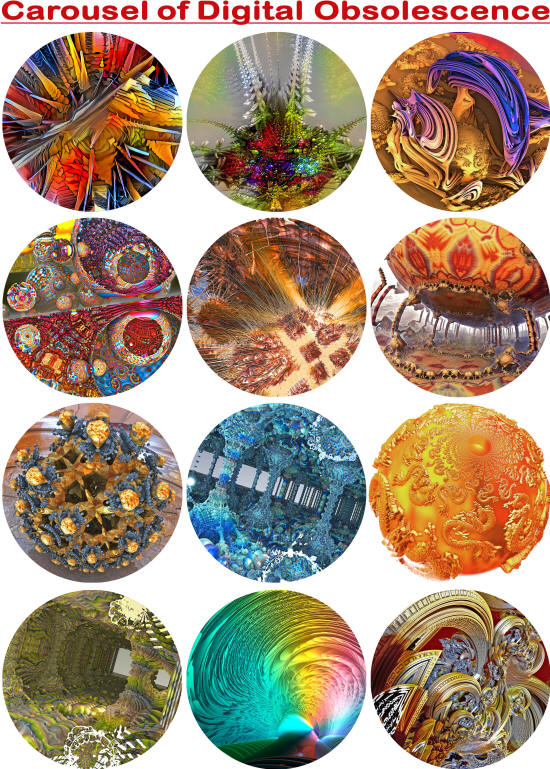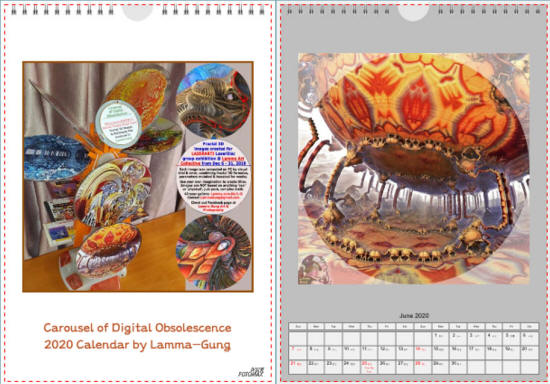 P.S. Wow, zero interest in getting my 2020 calendar at just printing cost (HK$134.40) so far, offering it here, in these 2 weeks pre-Christmas, despite being friended by 1,723 people!
Creating computer art is still an extreme minority pursuit, not really appreciated by 99%+ of the population, I'd guess?
But that won't stop me, after 40 years of doing it, I've become too stubborn to stop now as it's still too much fun to explore, discover, mutate & tweak while creating virtual worlds with digital means: http://Lamma.com.hk/L-G/
P.S. Dec 26. A friend reading my Facebook post about this "zero interest" took pity on me and ordered one, plus one more order from a friendly neighbour. Hooray!
Now if just somebody else might buy one of the 6 double-sided, signed LaserDiscs in our LazerArti group exhibition at HK$450, lasting till Thursday, Dec 31. Hint, hint!

Dec 6: Auction's Topopo Prize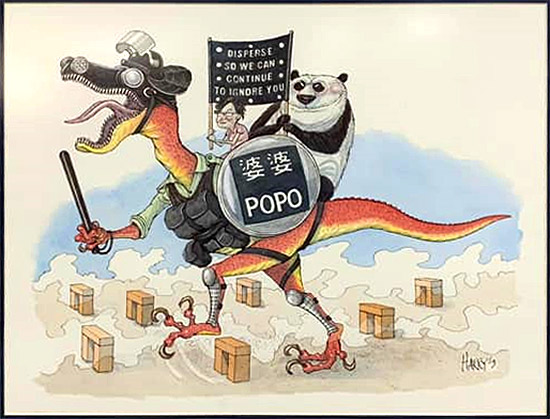 Money raised for the Lamma Fun Day charity: strong> tba

Dec 5: Fun Day!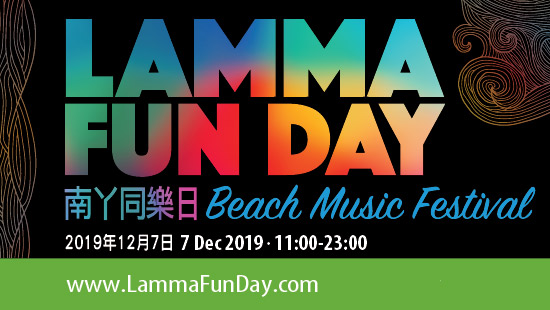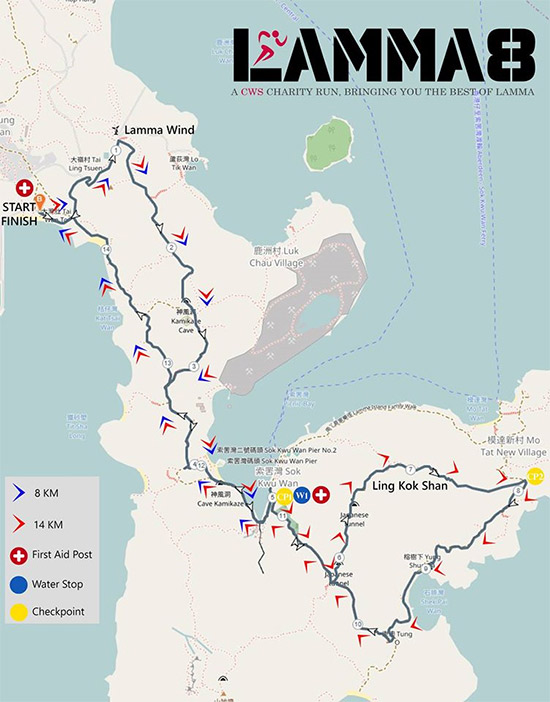 Dec 4: Carousel of Digital Obsolescence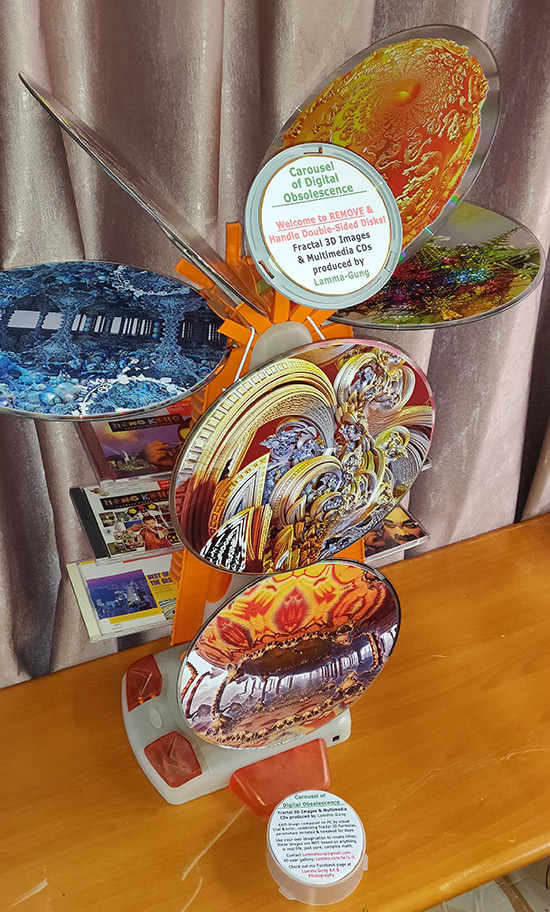 Just my ancient, electric music CD carousel, as obsolete as the LaserDiscs - plus the multimedia HK CD-ROMs I produced last millennium - decorating the carousel.
I've assembled it for the LazerArti & Party exhibition, opening this Friday, Dec 6, 7:30pm in the LAMMA ART COLLECTIVE.
To view and handle the double-sided LaserDiscs on my "Carousel of Digital Obsolescence", plus artworks by ~30 other artists - the vast majority of them Lammaites - you'll have to attend the exhibition & party afterwards in person!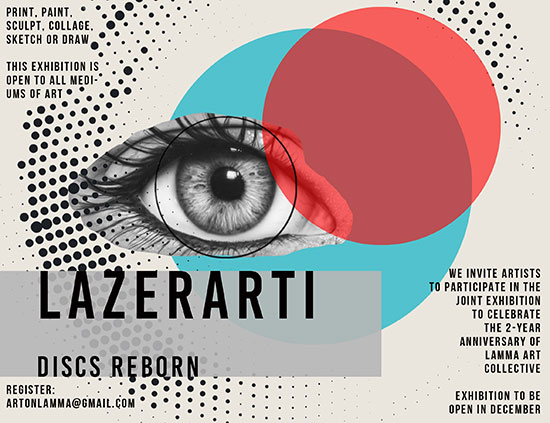 Running till end of the year, call or msg before visiting.

Nov 19: Moving to Lamma by Sampan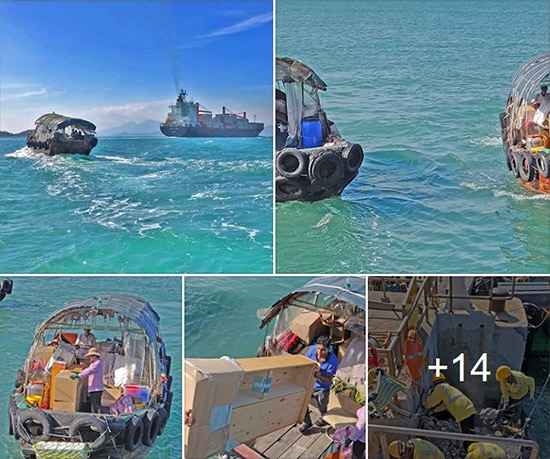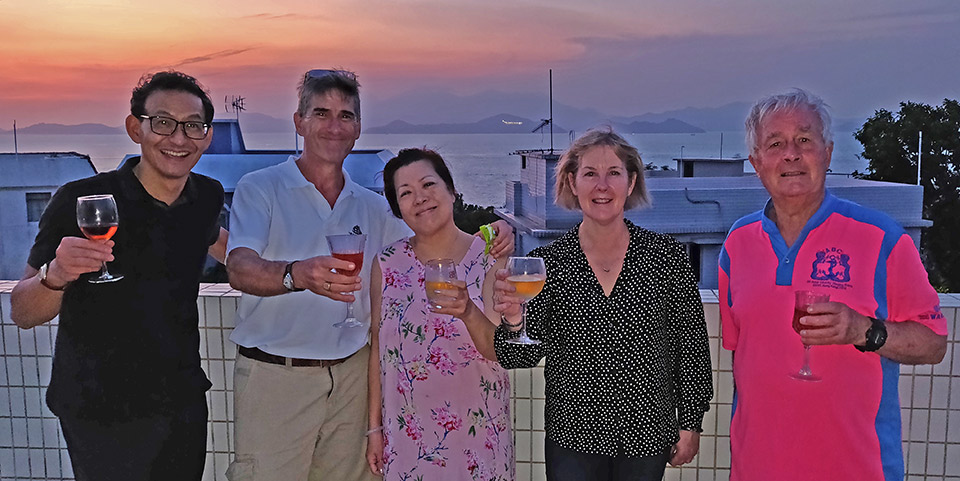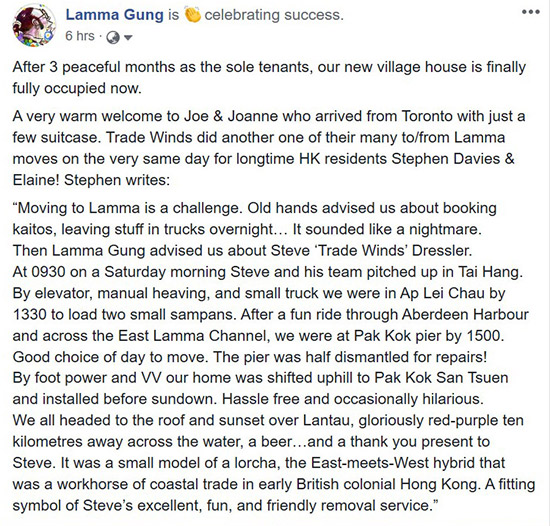 ---