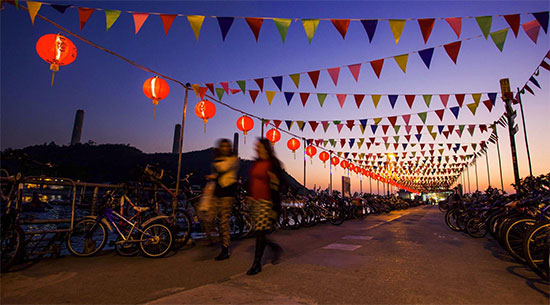 Yung Shue Wan Ferry Pier, by Sean Creamer:
"Happy Chinese New Year to all my friends and family
in Hong Kong and around the world!"
Lamma-Gung Hei Fat Choi from me and Lamma-Por, too!
This will be the last time the iconic YSW ferry pier looks like this with the bikes all lined up along the railings. By next Lunar New Year the Bike Park will be operational and all bikes supposedly forced off the pier. Lamma visitors will have to find different pretty & unique sights to photograph. They're becoming harder to find...
Close-up of the Tai Peng Man outside the Community Garden. Can you resist the temptation to push that big, new button and find out what will happen?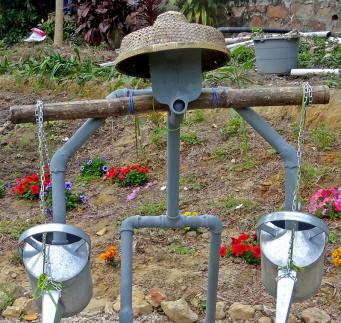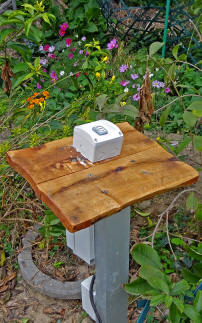 Coming off the YSW ferry this afternoon:


It's a container office for the Bike Park construction (confirmed by an indigenous Village Representative), placed outside the YSW Library (which will be rebuilt later, several years from now). The beginning of the actual Bike Park works hasn't been confirmed yet, but it won't be long now....
Discuss in our 10-year old forum topic: "Cycle Parking Platform".
Zep, our Flora & Fauna Senior Moderator, writes: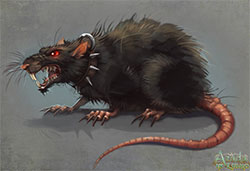 "Any tips? An intelligent and cunning rat in my flat has so far foiled all attempts at entrapment and eviction."
That he's given his new pet with cute name, even though it's unwanted and unwelcome, demonstrates the animal-loving nature of many Lammaites. His remarks almost show kind of a grudging admiration for the clever rodent who's foiling even the highly educated mind of this teacher and naturalist. If he can't catch it, maybe he'll even adopt it as a pet?
As Zep's home is located in Snake Central - as Tai Peng Village is called sometimes - maybe let nature assist his efforts! Awake one of the abundant, hungry, currently hibernating rat snakes, relocate it into his flat and let nature take its course! Just don't aggravate the snake, maybe stay out of the flat for a day or two or ten...
But then catching and releasing the well-fed snake might be a bit of a problem afterwards. Lamma's snakes can also be quite "intelligent and cunning, foiling all attempts at entrapment and eviction."
Do you want to give Zep some good (or bad or silly) advice in our forum?
Many Lammaites already did: Getting Rid of Ratty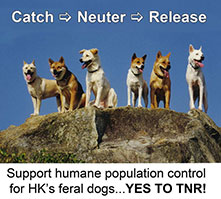 It started with a Letter to the Editors in the SCMP on Jan 20, 2014, by Adam in Lo So Shing:
Desexing scheme for strays has been
an abject failure in village
This prompted a rebuff by Lamma's well-known and respected Dr John Wedderburn on Jan 22:
Inaction by officials added to dog problem
This started another heated discussion in the Lamma Dog Owners Facebook group, which is still reeling from the lack of progress in the recent dog poisoning cases.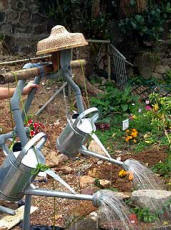 Carole of LammaFlats.com (Fully furnished 700 sf flat -1 Mar) introduces the new gardener, guardian, and good luck mascot of the Tai Peng Community Garden (Hippeastrum for sale):

"P.S. Have you passed by the Tai Peng garden recently?
We have a new addition to the garden called Tai Peng Man. He stands at the edge of the front pond and you can push the button to activate his watering cans.
Chris Corke's latest creation and a tribute to Lamma farmers. Tai Ping man was popular over the weekend with passing tourists."

Keeping a close eye on many Lamma activities, including the increasingly popular Geocaching activities on Lamma (What is geocaching?), I got this automatic notification the other day:
"sthlm greystones couldn't find Lamma Island - Mt Stenhouse (Traditional Cache):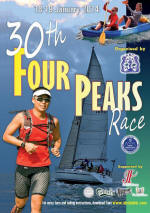 I was so looking forward to log this one but my luck and ability failed me. GPS was pointing me in a direction which didn't match the hint, and on top of that a big camping family was all over the place making a thorough search impossible. I sadly noticed all the trash and toilet paper and continued my hike Eastwards."
This was the same Sunday as the Four Peaks Race of the Aberdeen Boat Club. Mt. Stenhouse is one of the Four Peaks. There was a checkpoint camp up there with staff OVERNIGHT at 11 degrees. This is most likely what this hiker encountered.
It looks like Mt. Stenhouse is becoming a bit too popular, with different interest groups clashing up there?
Aberdeen Coat Club finally replied to my query:
"The Mt Stenhouse check point was done by the Scout team whose leader had been doing this for years. Our club has never received any complaints from any authority or citizens from any of the peak check points.
The scouts are supervised by leaders and they are fully aware of the environmental issues and will remove rubbish of their own but also those left by others. We have full trust in them."
---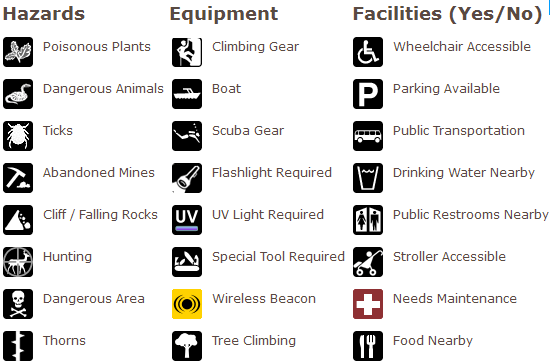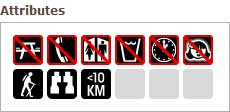 These are just a selected few of the numerous "Attributes" of Geocaching locations worldwide. Most of the Hazards above apply to the Mt. Stenhouse hike, you might need most of the Equipment, and you'll find NONE of the above Facilities up there! See the basic warnings for hiking/geocaching Mt. Stenhouse: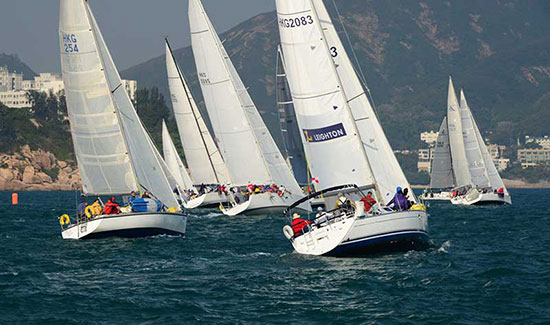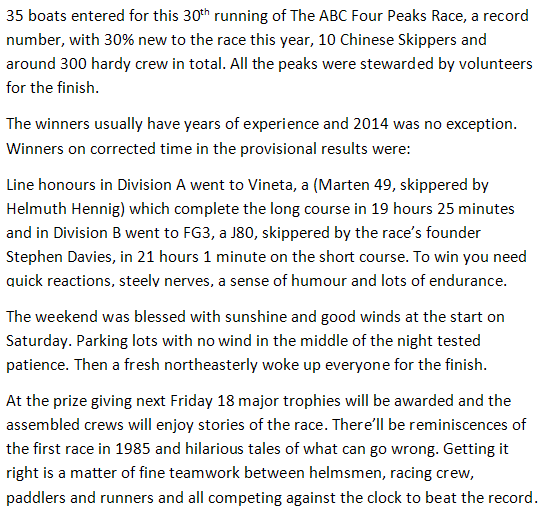 One of the four peaks is Lamma's Mt. Stenhouse. Find out this year's times to get from the boat anchored off South Lamma to the beach, run up Mt. Stenhouse (!), check in with their peak camp, run downhill and get back on the boat to continue to the next island's peak. 52 minutes was last year's record, 55 minutes this year!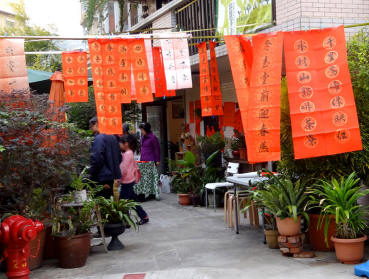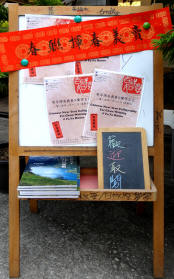 Chinese Calligraphy @ Fa Fa House, YSW Back Street - Lamma-Gung Residence: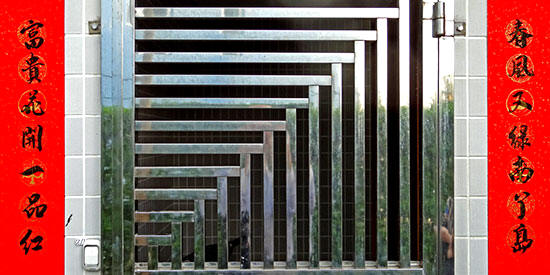 Yearly tour by our Gardening Forum moderator: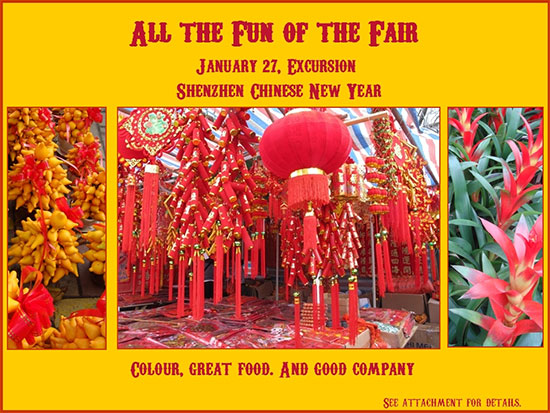 Let's update our Bilingual Yellow Pages for Lamma!
There are so many local business contacts in our forum already, but many are quite out-of-date. Anybody wants to add their best local contacts, shops and services to our Lamma Yellow Pages?
A basic text listing with contacts and name card is free for all local businesses and services, including handymen, movers, VV drivers, speedboats, etc.
Prominent listings with picture and promotions are also available (rate card).
Just add the contacts you know and like to this forum, in Eng. and Chinese (if available) and I'll add them to the official, bilingual Lamma Yellow Pages. These pages will be prominently linked from the left side of the home page and other prominent locations around this entire website: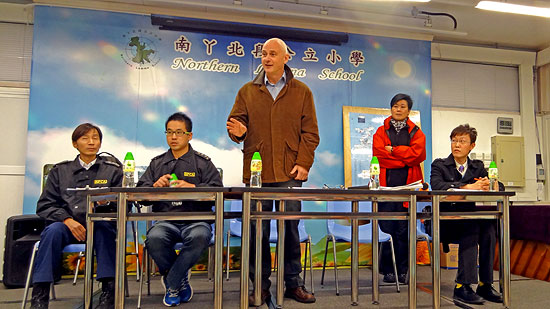 North Lamma Primary School, Wed, Jan 15, 7-9pm (from left to right):
2 SPCA officers - John F. Cameron, Police Superintendent - Joyce Wong, Lamma Police Chief - interpreter.
For recording and feedback on this meeting: Lamma Dog Owners on Facebook.
For the bilingual police handout ("Dos and Don'ts for the Public - Suspected Dog Poisoning Cases") and the police map: Dog Poisoning forum.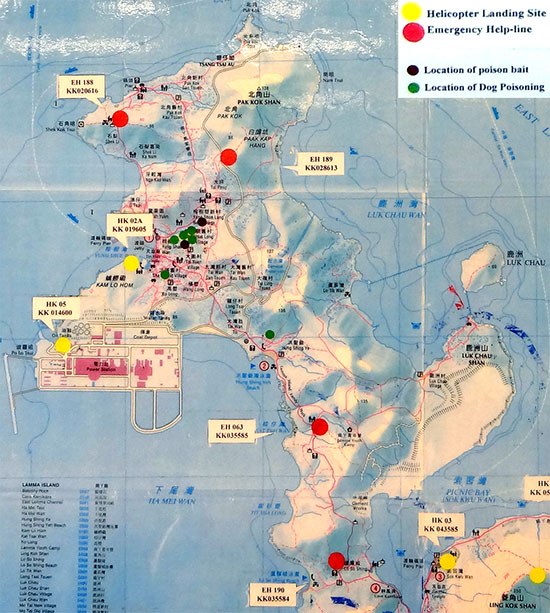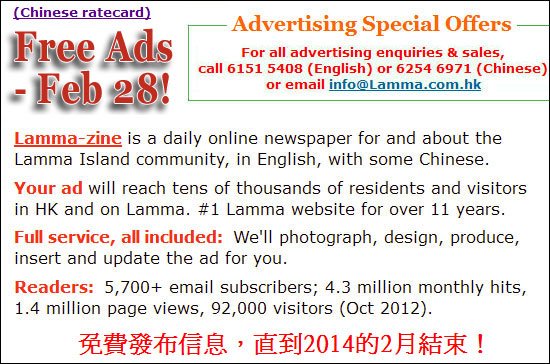 All digital marketing will be free for new and returning Lamma-zine advertisers, from banner ads, advertorials & mini-websites, to email campaigns, Facebook marketing, SEO consulting & our bilingual Yellow Pages.
Special promotional offer only till end of Feb! Contact us in English or Chinese!
Postponed to 7pm, due to popular demand!
Winner for the most creative entry in the RTHK/SCMP short story competition, written by Lamma's The Lady in the Pink Hat:
"My name is Pebbles, though for much of my existence I was without a name.
That was before the lady with the pink hat came along. I like the name. It suits
me. It's something to aspire to. The P. K. stands for Pak Kok, a name of place
rather than character.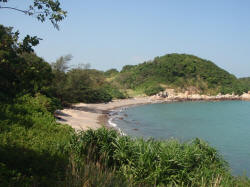 I came into being 6,000 years ago, give or take. My "birth" was not so much a
big bang, but a gradual shifting of forces molded by destiny. My mother sat
200 kilometres south of here at the edge of a vast plain until the sea levels
rose and obscured her, allowing me to make an appearance on the world.
And here I am. Pretty cool, eh?
The first few thousand years were magnificent – a series of skies, seas and
mountain vistas. Yet after so long looking at it, I found it a bit dull. Sure, there
were some pretty amazing sunsets, squally weather that got me all of a quiver
and some lovely bugs, birds and the occasional beasty to gaze upon, but not
much else. I was spoilt. I didn't realize what I had - nature's canvass at its
best laid out just for me.
Then one day, I saw something I never had before. Of course, I'd seen
creatures leap out of the water or fly across the sky. My mum had witnessed
some that after a few thousand years evolved and moved from their watery
home onto the land. Pretty amazing that – growing some legs and learning to
breathe in air instead of water! There were similar changes going on in front of
me, I suppose, but at the time these made me yawn. It was soooo slow. Then
suddenly I saw something new and exciting.
People."
Read more and find out who's The Lady in the Pink Hat...

Howard Sheard, our Official Court Birdographer, has submitted these photos, taken with a long & huge birdwatcher's lens, a heavy & huge bird of the mechanical kind catching his expert's eye. These birds of the GFS species (Govt. Flying Services) are usually grey, seen many times per week medevacing people to hospital from the YSW Helipad. But I'd never noticed a red-white one on Lamma before, I think.
Howard writes:
"Incoming... I hope noone is badly injured and needing a ride. Nope, loadsa peeps. Strange cameo get-up and what looks like riot hats. Off they go.
Then a short time later there's a repeat. Wonder what they were doing here?"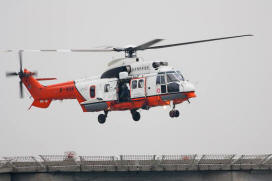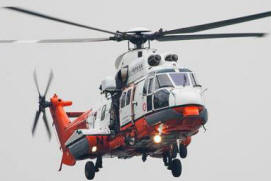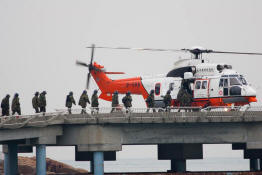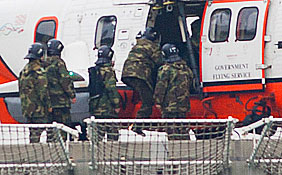 I've asked two senior marine police guys:
This was a training exercise of the tough and well-known Police Tactical Unit in North and South Lamma, involving quite a number of helicopter transfers.
They were practicing to catch the crafty and elusive incense tree poachers and smugglers in the future!
Read more about the illegal, long-term and extremely lucrative incense (heung) tree poaching operations on Lamma:
Rare and Valuable Incense Tree Vandalised
Diesel's Bar this week, the end of an era in Lamma's (bar) history
Robert Hope-Jones has been sneaking behind the tarpaulin hiding the total demolition-in-progress, to be replaced by TWO Village Houses this year.
A few more photos by Bob Davis of the Farewell Party: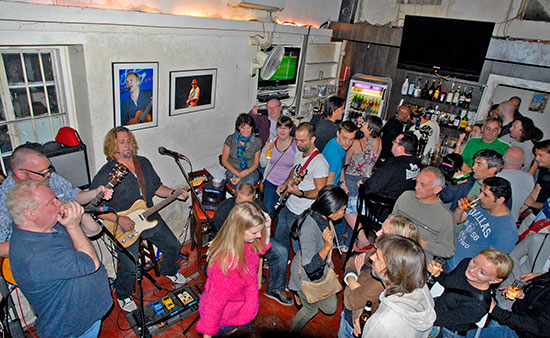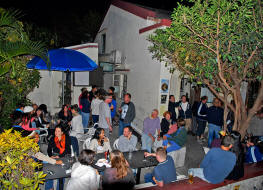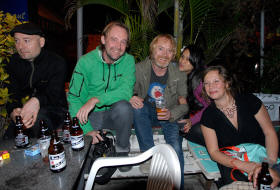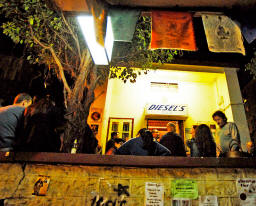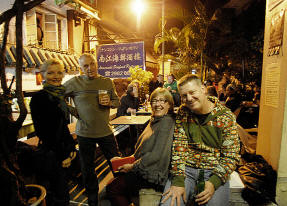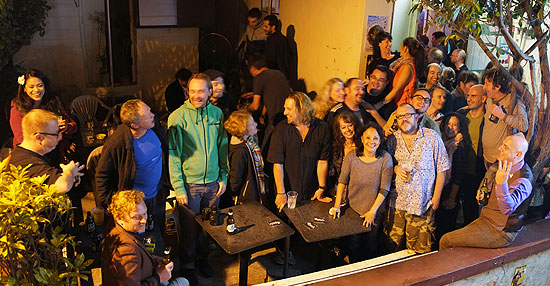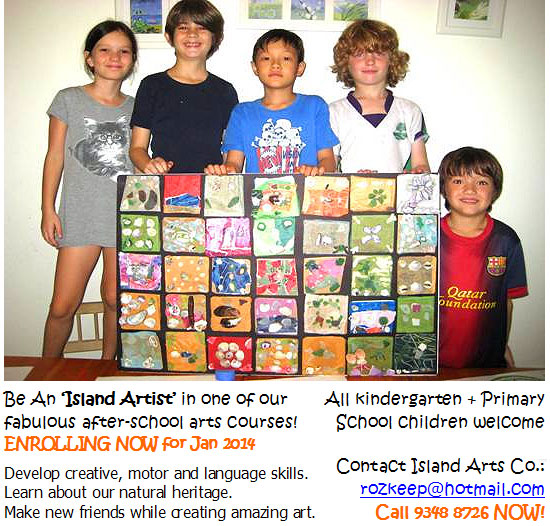 ---
To learn more about Roz's children art classes, check out these stories:
Birds & Butterflies @ Banyan Bay Bar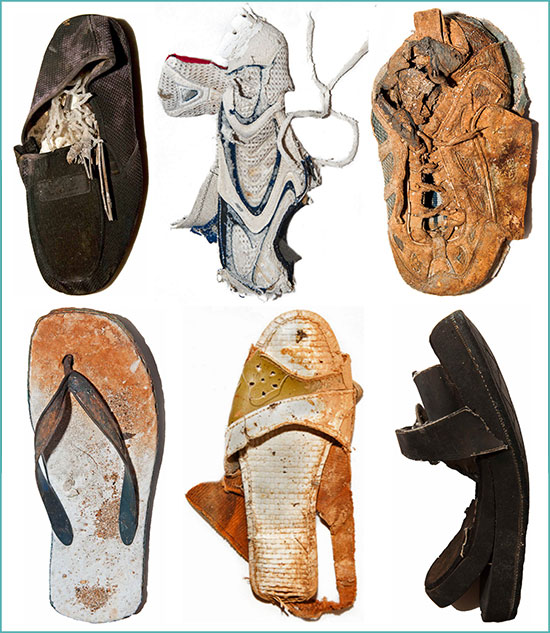 'Jimmy Shoe': Lamma Island's Beach Trash Curios
Welcome to the Lamma forum, Grainne! I saw your web pages about your recent Jimmy Shoe exhibition and was very fascinated. We're doing so many beach cleanings all over Lamma, combined with children art projects sometimes, but rarely something innovative like yours.
I love your beach shoes photos and would love to feature them in the Lamma-zine as well. OK with you? Full credits and links to your website, of course.
Grainne Quinlan in Mo Tat Wan replied:
"The shoes were collected on a secluded beach just past Mo Tat Wan Village, also some shoes were collected on Tung O beach.
These curios littering the beaches are due in part to the busy water ways of Hong Kong. Each month thousands of sea going vessels arrive and depart, churning debris, shrapnel and human remnants as they travel.
My neighbours here on Lamma weren't too perplexed by the Jimmy Shoe project as they too have an interest in environmental waste. Indeed environmental waste is frequent topic of conversation. Most residents on Lamma are concerned about our beaches and will frequently make an effort to clean up the beaches."
A little more about the clean-up efforts this weekend: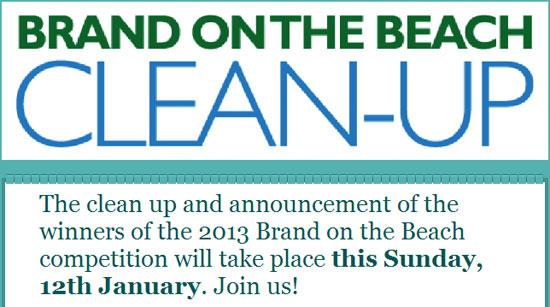 You might have been wondering why so many Village Houses all over the New Territories and the Islands look so much alike, often in the "Spanish Villa" style, usually all tiled in the same greyish/brownish colours. So it's kind of refreshing to see something very different from the boring standard, like this new, almost completed Village House high above the Pak Kok Ferry pier. Look, no tiles!
If somebody knows the (Singaporean?) owner - no luck contacting them so far - it might make an interesting interview?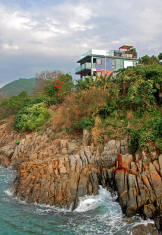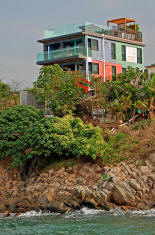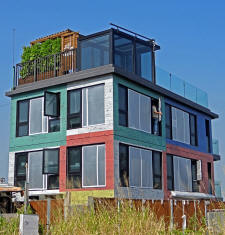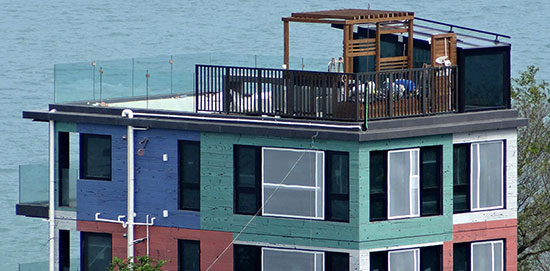 Local opinions about this design and colours vary widely, but might this start a new trend of non-conventional, colourful houses on Lamma? See this "artist's impression" from a new video about the YSW Harbor Reclamation, still tentatively scheduled to start middle of this year (click for video):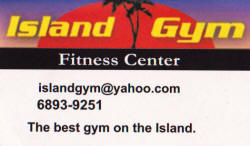 Is one of your New Year's resolutions to get fit(ter)? But do you think it's too crowded, expensive, time-consuming or inconvenient to start going to the gym?
How about a low-cost gym, open 24-7, not crowded, and located close to your home in Yung Shue Wan?
The Island Gym in Sha Po Old Village (just behind where the former, long-time gym used to be located)

has got a special promotion running right now, exclusively for Lamma-zine readers, running only till Tue, Jan 7! I've been a member for years and can warmly recommend it. Contact Sol who runs this not-for-profit place:
Island Gym promotion till Jan 7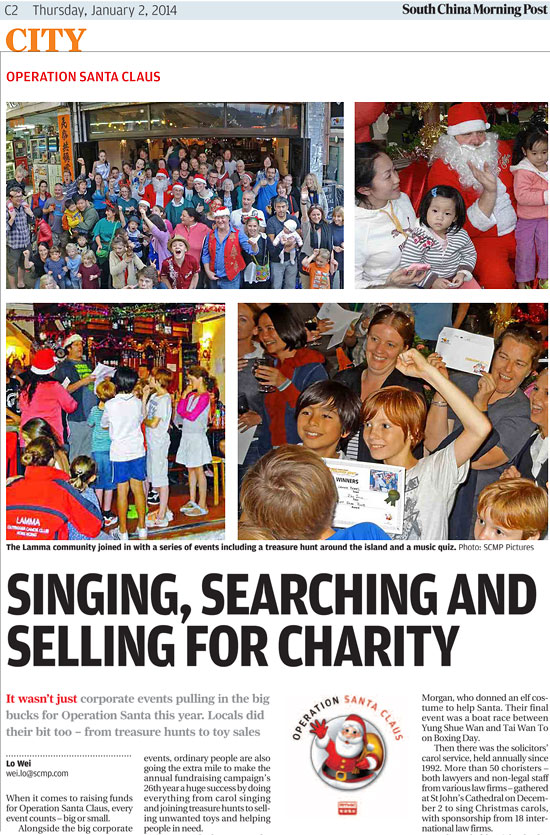 Click to read whole story...
Straight from our forum into the SCMP, 4 of my photos made it on the City-2 page today, featuring The Island Bar's Treasure Hunt.
This is great and well-deserved exposure for The Island Bar and the fantastic Treasure Hunt team and all the participants!
By sheer coincidence, I hiked to the top of Mt. Stenhouse yesterday with the winning family team pictured above...

Sign and photo by the Ed Williams family. They were just 40 minutes behind us climbing Mt. Stenhouse today. My pictures are in processing. Our group: