| | | | |
| --- | --- | --- | --- |
| | | | Aug 19 - "My garden after the rain - Lamma Island. Playing with a macro lens and flash diffuser." |
| | | | |
| --- | --- | --- | --- |
| | Aug 11 - 2 healthcare workers handing out free Covid-19 test kits. | | Aug 3 - This is probably the best, most mouth-watering bread photo I've seen recently. |
| | | | |
| --- | --- | --- | --- |
| | Aug 2 - Karen Taylor's amazing eye drawing inspired me to create a series of computer graphics "hybrids". | | Aug 1 - A safer way to wear a face mask, protecting the eyes as well, modelled on our very own catwalk, Main Street! |
<!/tr>

Aug 31: Shovel in the Stone?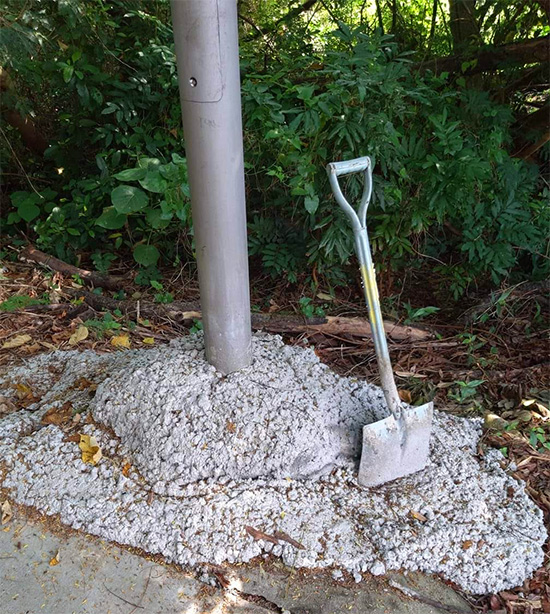 This might be the Lamma version of the Excalibur/King Arthur origin story, near Powerstation Beach, the left-overs from recent works.
Whoever can pull this sword, err, shovel out of the hardened concrete will become the legendary King/Queen of all of Lamma? (Photo by Andrew Guthrie).
Lammaites really loved this photo and many creative comments ensued, even a poem by Gareth Dunster:
"Sometimes the construction workers on Lamma can do a shoddy job and this can make people sad. I've written a poem that I hope may help in some way:
Construction work on Lamma Island can be quite bad , I've found,
Like throwing lapsap in the trees and rods sticking up from the ground,
But the houses that we live in were made by these same lads,
So is shouting out foul language and littering really so bad?
These gallant fellows toil and sweat in tropical conditions,
It's no surprise they leave hastily after finishing their missions,
A well-earned, ice-cold Blue Girl beer would surely be no trouble,
Rather than complaints about the noise and dust and flytipping and lack of quality and rubble,
So remember, if not for them, you'd still be living in a hovel,
So think twice before you mock them for a simple misplaced shovel."
Lamma's new Official Court Poet?

Aug 30: Pak Kok Pier Reconstruction Starts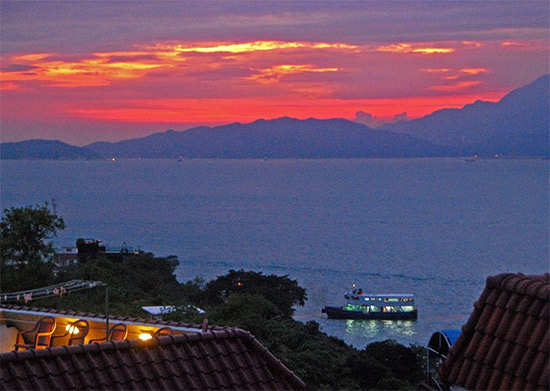 My recent photo of our familiar and trusted ferry arriving at Pak Kok ferry pier at sunset, shot from my former rooftop.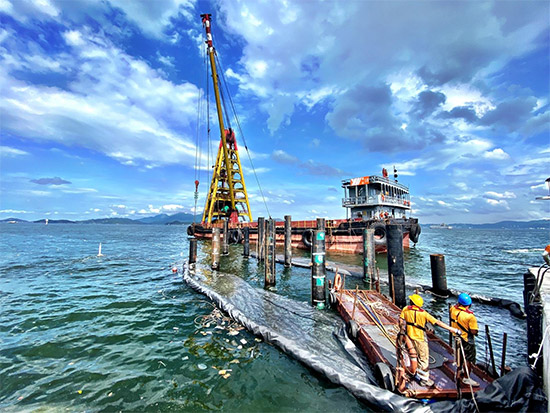 The construction of the new pier has just started. (Another iconic photo from my neighbour DJ Clark)

The pier will change from currently the above look to this layout in 2023 (Drone photo by Civil Engineering Dept.):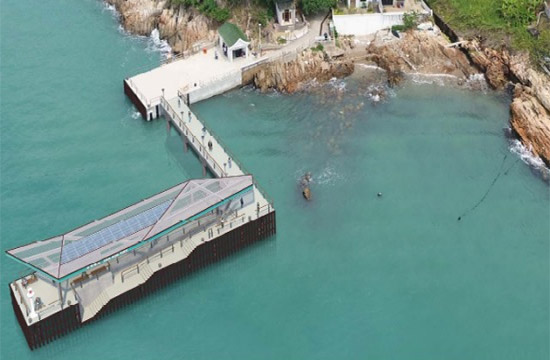 Reconstruction of Pak Kok ferry pier (LegCo paper).
It'll take 3 years and HK$72.4 millions!
We hope the inconveniences won't be too big for the daily commuters on this pier. It's our ONLY way of getting to the rest of HK Island, to "civilisation". You know, where there are any restaurants, shops, public or private transport (except VVs), entertainment venues, anything besides just a few dozen village houses and semi-wild nature like in all of Pak Kok.
We love it, but even us home office workers have to get out of our island hideaways at least occasionally.
More photos to follow, documenting the progress...

Aug 27: 5G on Lamma?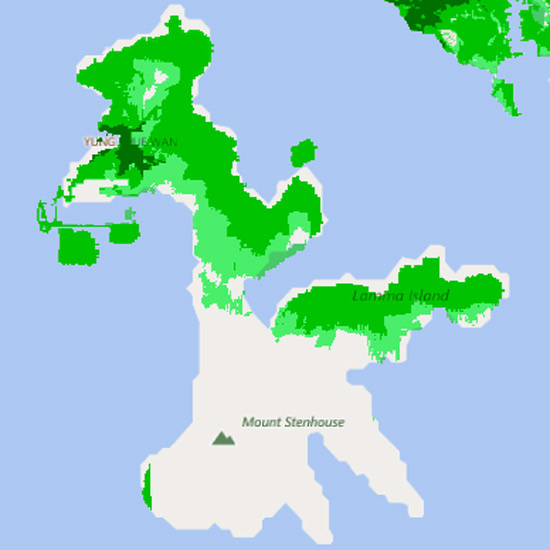 China Mobile HK writes: "The above fluorescent green area represents CMHK outdoor 5G coverage as of 17 Aug 2020."
Is this the only 5G service provider on Lamma so far? Astronomic top speeds of up to 300mbps on CMHK have been measured with a fancy 5G router setup, 100x the speed of Netvigator broadband in most of the island, 10x faster than the new, ridiculously expensive (but steady & reliable) Netvigator broadband available in just a few villages. Expect CMHK 5G speeds faster than the best 4G connections you can get right now.
An interesting discussion ensued...

Aug 21: Old-Style New-Media Gigolo
I've actively participated in various "new media" over the decades. Remember BBS, IRC, CompuServe or dial-up email? I've run/administrated/moderated/paid for the Facebook-style Lamma forums since 2002, years before Facebook was born and grew up into this all-encompassing juggernaut it has become nowadays.
In the heated Facebook discussions in the various public and private Lamma Facebook groups these days, people love to coin nicknames for each other. This hasn't changed since being called online, pre-Facebook The Other Fat Bastard and The Biggest Loser of Lamma. These nicknames were all tongue-in-cheek (I hope) and I wore them with pride. Click on the nicknames for context.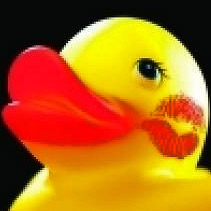 A brand-new moniker for me has just been created in one of the often tumultous, heated, controversial discussions in the private Lamma Island Uncensored group, about fake accounts at work in Lamma groups. Click if you're a member already or apply if you're a genuine, current Lamma resident and can take the "uncensored" heat.
In the meantime, I'm seriously considering adding this new job description to my namecard and maybe even to my Facebook profile!?
P.S. The gigolo graphic comes from a Timeout HK article: Hong Kong's gigolo scene

Aug 20: HK Electric Online

The HK Electric On-line newsletter (link received with our monthly electricity bills yesterday) features photos of Lamma's 2 winners of their recent Lamma Nature Photo contest:
Mark Malby & Ewa Wilkinson. Congratulations!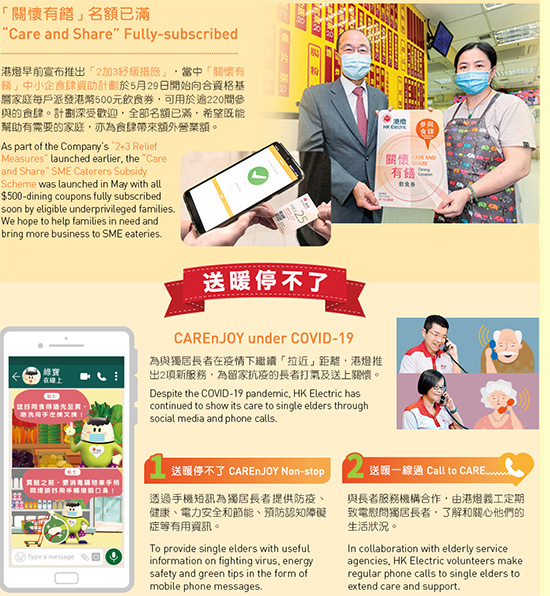 "HK Electric On-line" is their quarterly newsletter keeping customers informed of company updates and new service initiatives, for example their recent $500 dining coupons handouts valid in most N.Lamma restaurants.

Aug 19: Garden After Rain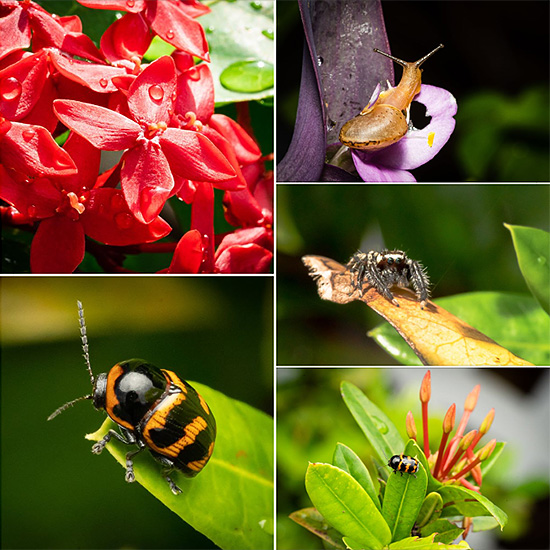 Peter Kline the Master Bird-o-grapher writes:
"My garden after the rain - Lamma Island, Hong Kong. Playing with a macro lens and flash diffuser."

Aug 11: Covid-19 Test Centre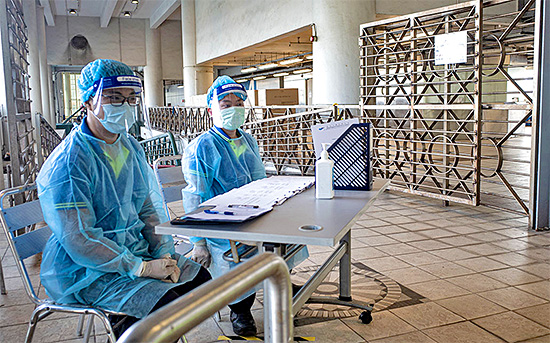 Taking the Lamma ferry from Central Pier 4 today, you might encounter this most unusual and slightly worrying sight:
2 healthcare workers handing out free Covid-19 test kits to public transport workers and taxi drivers!

Aug 3: Raisin Walnut Sourdough Boule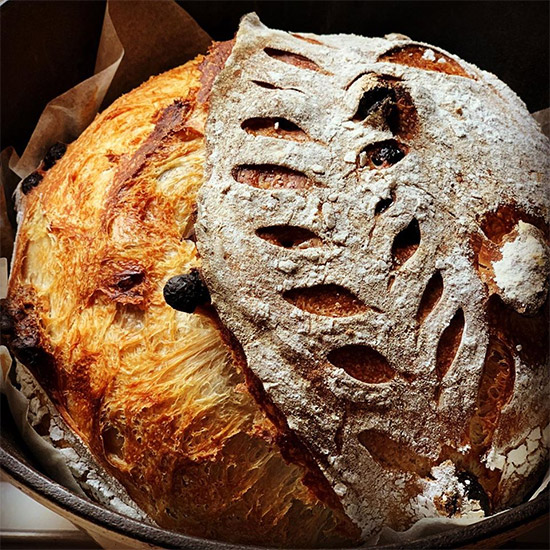 This is probably the best, most mouth-watering bread photo I've seen recently. It has been created, err, baked, for a friend by master baker Dina. She's also a well-known Lamma Artist (see her longtime exhibition in Jing Jing Rest. on YSW Main Street). She so serious about her "hobby" that she's even named her yeast starter culture!
Dina writes: "I do have enough regulars, but a few more orders, why not? I can always say no if I can't take it anymore as I want to keep it as an enjoyable hobby. WhatsApp: 9367 4649"

Aug 2: Ocular Hybridisations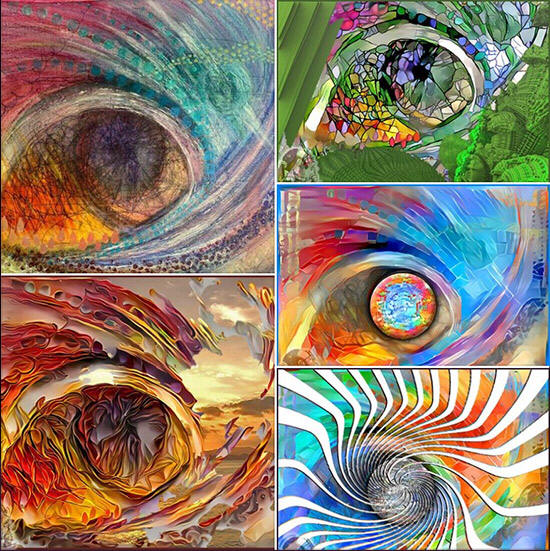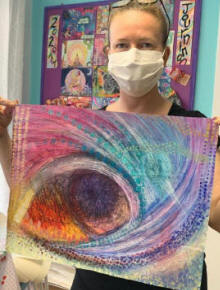 Karen Taylor's amazing eye drawing (1st picture) inspired me to create a series of computer graphics "hybrids".
I still like her original best, but it was great, inspiring fun to play around with!
She writes: "I had a lovely day off work yesterday and enjoyed a private art therapy session with the amazing Katie Flowers' Wild at Art HK workshop.
We did a 'loosening up' session, using inspirational cards, music and layering of lines, colour and quotations to create something that expresses our feelings and hopes for the future.
I can highly recommend this as a treat for the soul and also supporting local business and artists in these challenging times."

Aug 1: Lamma Fashionista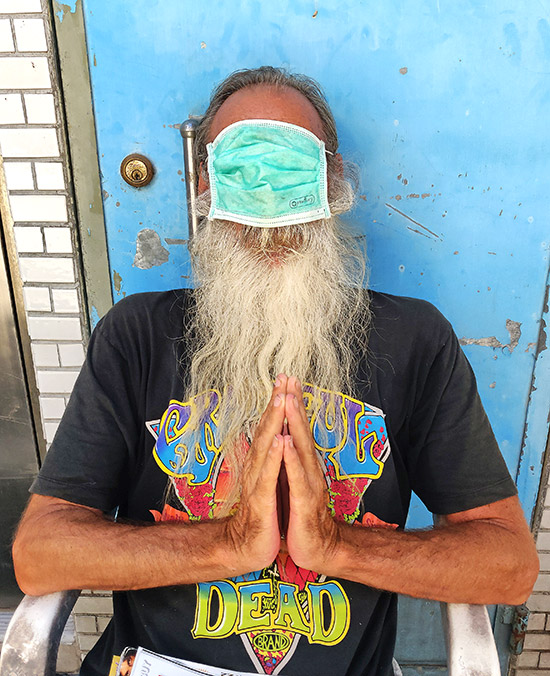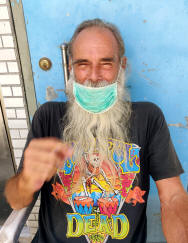 Lamma's latest fashion! A safer way to wear a face mask, protecting the eyes as well, modelled on our very own catwalk, Main Street!
While I was walking by the other day, always stopping for a chat, I reminded mask-less Nick that they are now mandatory in public.
He obliged and grabbed one from his nearby book shelf, putting it on in his own, unique style, of course, posing for my camera. My most popular photo on Facebook in a while!
Great Grateful Dead T-shirt, by the way.
One more try, see right, he'll get the mask's position correct someday, I'm sure.