| | | | |
| --- | --- | --- | --- |
| | Apr 10 - Save your bikes well before these clearances on April 15. | | Apr 9 - "With colourful paintings and Chinese calligraphy lining the walls,..." |
| | | | |
| --- | --- | --- | --- |
| | Apr 8 - 2nd shot of Comirnaty (BioNTech) vaccine done a few days ago. No side effects.... | | Apr 7 - ...very well-worn namecard I designed for Nick years ago! |
| | | | |
| --- | --- | --- | --- |
| | Apr 4 - A little sampler of my recent artworks. More at: | | Apr 3 - "People don't see me, and it makes me a good observer." |
| | | | |
| --- | --- | --- | --- |
| | Apr 2 - ...from the Lamma-zine's Balcony Garden. | | |

Apr 14: Tofu Pudding & Oyster Omelette
Celebrity chef Christian Yang visits and promotes Lamma in a new video by the HK Tourism Board. He seems to enjoy arriving and decompressing at the YSW ferry pier!
It's fun to watch the website I launched and ran worldwide in 11 languages (19 now) for years, Discover HK, promoting the island I've been promoting for almost 20 years now via my own website.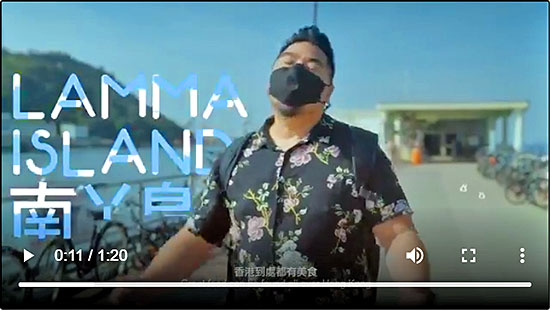 Plus a few more photos from the same website: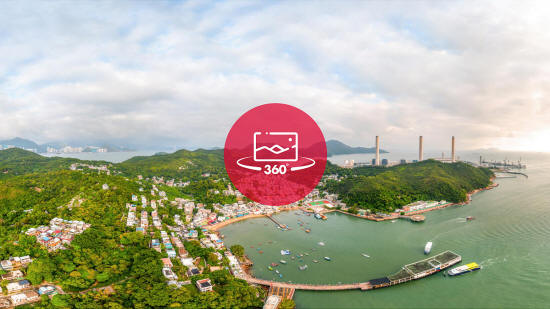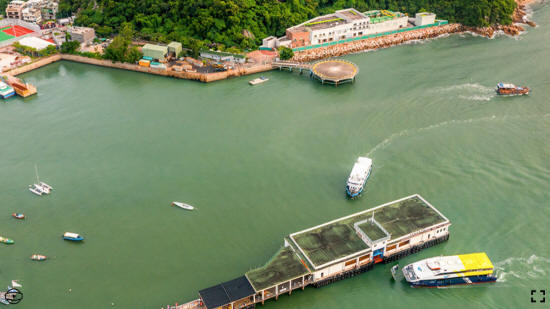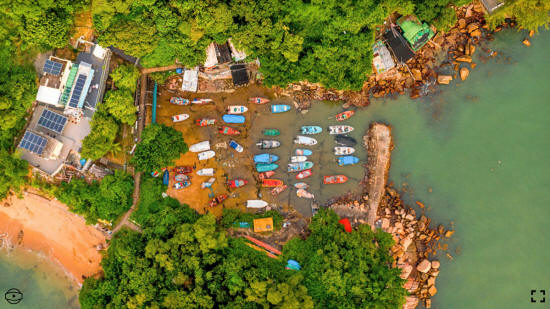 Apr 13: 'Three Paths' Exhibition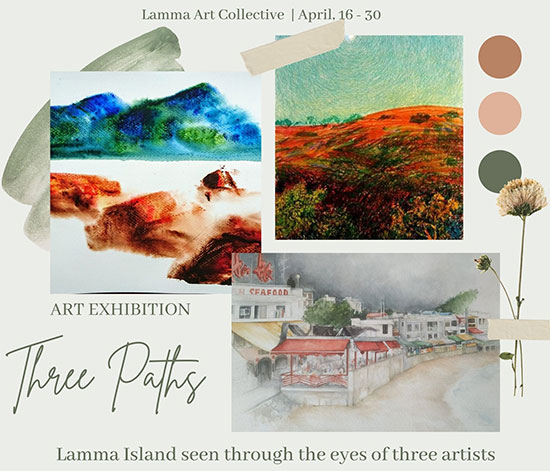 Lamma Art Collective writes:
"Welcome to Three Paths | Joint Art Exhibition
Three women artists - Debra Morris , Roz Keep and Mary Anne le Bas - who have lived on Lamma many years - have described the landscapes in their unique ways.
Watercolours, drawings and etchings.
Something for everyone. Opening: April, 16 (Friday) from 7pm onwards."
P.S. On related artsy news: Ferry Tales of Lamma, the printed Spring edition of the quarterly Ferry Brief, is out!
Get it outside HSBC in YSW this Thursday morning, 8-9:30am!

Apr 10: Another Bike Clearance
Save your bikes well before these clearances next Thursday, April 15, in locations all over North Lamma!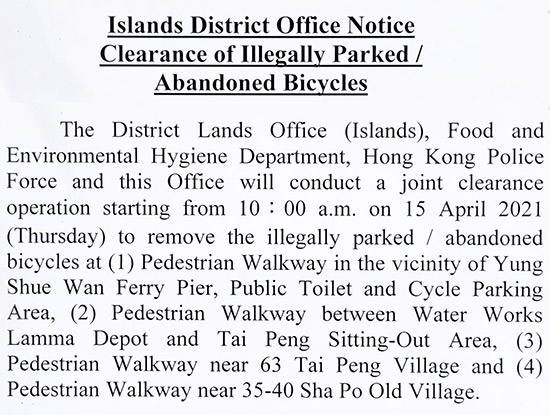 If you dare to park in any of these locations on April 15, your bike might end up here: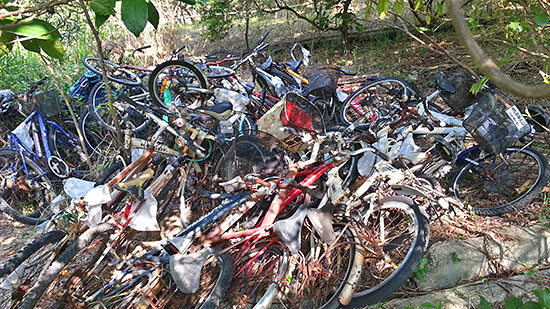 Apr 9: TANA Workshop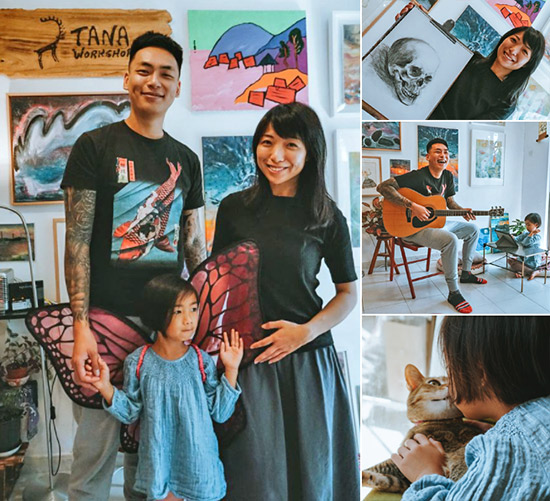 The People of Lamma Island writes:
"With colourful paintings and Chinese calligraphy lining the walls, and a balcony overlooking the greenery of Tai Peng, it is easy to see why Tai and Meevi chose their living room as the setting for their workshop. The family's three cats bask in the mid-morning sun as Charlie wearily joins her mum and dad, having just woken up.
Offering art and music classes, Tai and Meevi set up TANA Workshop 2013, which relocated with them when they moved to Lamma last year."

Apr 8: Protected!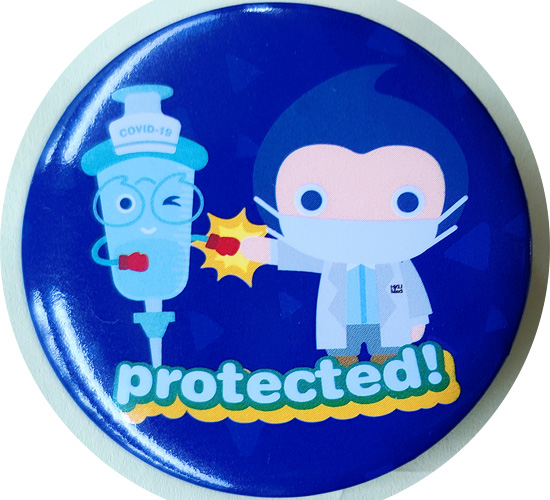 2nd shot of Comirnaty (BioNTech) vaccine done a few days ago. Very quick and easy. Zero side effects, like first shot.
So what can I do now, ANY restrictions lifted for fully vaccinated people in HK, any travel? Nothing at all? We'll have exactly the same restrictions as all the unvaccinated people. We might have to socially distance and wear a face mask for another 1+ years everywhere in public, including outdoors, despite only 0-2 daily local cases among 7.5 million people.

Apr 7: Nick's Antique Name Card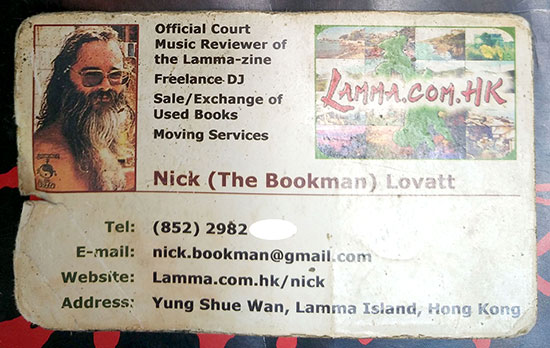 See what I just received by email:
A photo of the very well-worn namecard I designed and printed for Nick years ago! A Lamma Antique?
This might be probably the most heavily used name card of any Lammaite? Nick does never hand it out but lets the many people chatting with him at his YSW Main Street bookstall take a picture of it if they'd like his contact details.
It looks like I should print a few new name cards for him, my former "Official Court Music Reviewer"? Check out the little pro bono Psychedelic as Hell! website I've built for him.

Apr 4: Easter Sunday Sampler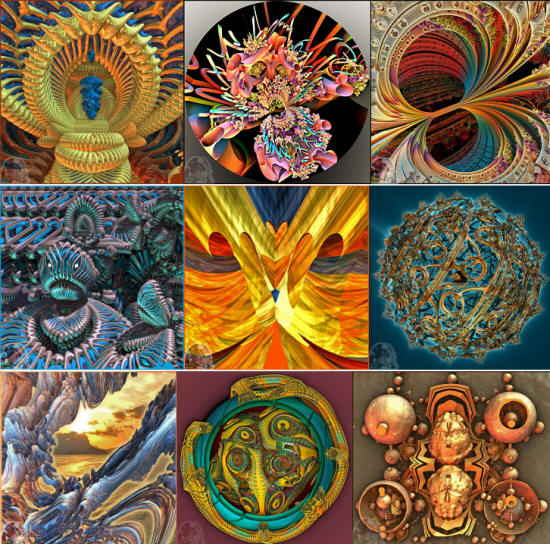 A little sampler of my recent digital artworks. More at:
Facebook: Lamma Gung and Lamma Gung Art & Photography
Art/Photography website: http://Lamma.com.hk/L-G/

Apr 3: ¡El Gran Miguelitor!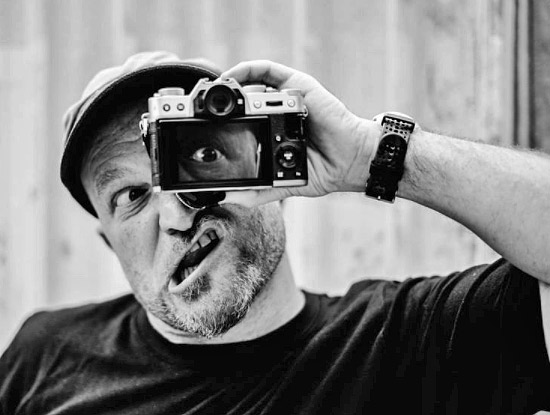 The People of Lamma Island writes:
"Taking to the winding paths of Lamma, Miguel poses opposite the camera to be photographed in his signature black and white style. In the same way he takes his own photographs, he effortlessly blends in without disturbing the natural flow of bikes, dog walkers and speeding VVs. 'I get close to the scene, but remain invisible,' Miguel explains, 'people don't see me, and it makes me a good observer.'"

Apr 2 - Good Friday: Happy Easter!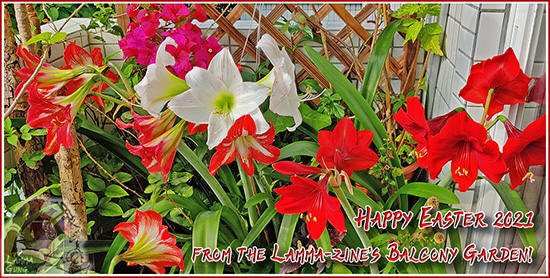 Many thanks to Geoff Smith the Master Gardener for the bulbs several years ago, blooming every year without any extra efforts from my side.

Apr 1: New 'Triangle-Route' For Lamma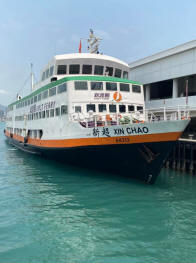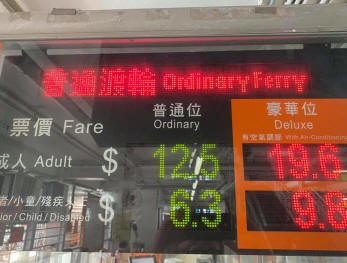 Marcus H. Langston writes:

"In a significant announcement today as part of the new ferry schedules, the Xin Chao ferry will operate a Yung Shue Wan - Discovery Bay- Central - Yung Shue Wan triangle service starting at 12:00 noon.

Formed as a joint venture service between HHKF and NWFF the new impossibly acronymed 'HKKNWFF' will see the return of egg spam noodles in the upstairs deluxe bar and fried eggs in the oily red bucket below.

With capacity for 1,645 passengers, the Xin Chao and sister ship Xin Fei will be running 'double happy' tourist services on weekends and public holidays to compliment the daily schedules. Both vessels were Lamma regulars under the Hong Kong Yaumati Ferry HYF company as Man Chiu and Man Fat.

Departure times are on the hour from each point. Ticket prices (as shown) are around half the current HKKF price for the slow boat to Lamma."
---
P.S. More ferry news, starting today: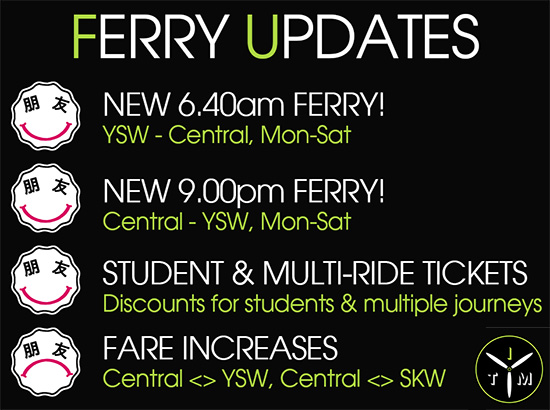 P.S. 2: April's Fool Lamma-zine stories from the past:
2020: Lamma to Host Post-COVID-19 Triathlon
2017: Yogi Brad Teaching BLOGA!
2014: Ex-Lammaite Wedding!
2013: Bauhinia Island
2012: Lamma Eco-cycles Launch
2011: Eco-Development Starting Construction
2010: Island Bar Reinvents Itself