Baffin Island, in Canada's Arctic -
March 30, 2014:
How do two ex-Lamma residents meet?
Neither Jules Meaney nor Bike Mike had ever encountered each other on Lamma. Jules, formerly of Back Street in Yung Shue Wan had been gone from Lamma 9 years when Bike Mike arrived here.
They first encountered each other through photos both had posted on the secret Lamma-zine Gay Forum.
"I knew right away Jules was the Back Street Boy of my dreams", said Bike Mike in an exclusive interview with Lamma-Gung. Jules, who had been happily married to Bonny, also formerly of Lamma, did not know that he was "of the other persuasion" until he met the verily virile Bike Mike. "It was love at first sight", said Jules.
Bonny and Jules did not part amicably. Jules barely made it out of Toronto; all he was able to salvage from his marriage with Bonny was his pink DickStock T-shirt and his denim shorts.
Travelling to Baffin Island to join Mike, the man of his dreams, was a particularly arduous and cold venture. Fortunately, Mike had just the thermal pants for Jules to slip into when he arrived.
The happy couple will soon wed. Reverend Dan The Bastard will be officiating. Nick Lovatt, AKA Nick The Book, will give away one of the brides, and Silver Maria will give the other bride away. Bike Mike's cousin Maria runs Tigra da Lua in Tai Yuen Village, Lamma's premier fashion and jewelry boutique.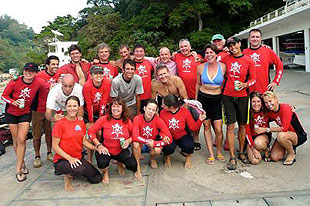 A special musical interlude at the ceremony will be sung by Lamma Dragons she-warriors: Gina Miller, Rachel Adams, and Claudia Tarr. They will be backed up by a choir of Lamma Dragons and Outrigger Canoe Club paddlers. Well-known cartoonist, song writer, singer and Bearded Ukulady Harry Harrison will perform a special solo which he has composed for the couple.
Photography will be provided by France's Fashion Photo Icon, Jean Gorguet.
"I love these guys", said Lamma Dragon Josh Sellers, "but I want everyone to know that just because I bless this sacred union doesn't mean that I steer the OC from both sides of the boat".
Wine for the reception will be the Lamma-zine house brand, Fat Bastard, supplied by famous wine baron Brad Tarr.
The wedding will take place on Baffin Island, in Canada's Arctic on April 1st. All are invited!