Our former Official Court Glutton is back! He writes:
"Right! Much like the Dr. Seuss character "the Cat in the Hat", I too am back.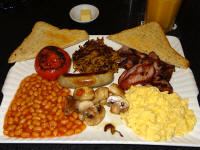 After years of not writing, but yet maintaining a level of private gluttony, I have been badgered and cajoled into writing mode again.
Who badgered and cajoled me?
I would like to say that it was friends who sought my opinions on where to eat.
But that would not be true.
The true reason is that some providers on Lamma who over a period of time have zipped, zapped, overcharged, under-delivered, or simply bummed me out.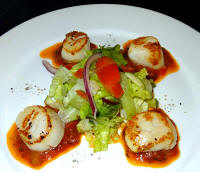 I have been living on Lamma since 1996.
During that time there have been many changes on the eating front in Yung Shue Wan.
Some places are still here, some places came and went. This is completely normal and to be expected.
When I moved to Lamma, I also set up my office in Sheung Wan. After finishing a long day, on the walk to the ferry, I would look at the menus and generally decide to wait to get to Lamma to eat.
Mostly because it was substantially cheaper to eat on Lamma and to support local eateries.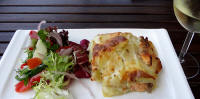 However, I have noticed in the last couple of year the price differential between HK side and Lamma is reducing.
Just before Christmas last year, I had to visit the Wan Chai tax department <shudder>, afterwards I decided to calm myself with comfort food, i.e.: fried half chicken, French fries and a pint.
Turns out that the meal was better (opinion) and cheaper than Lamma (Fact. Happy Hour price on ale).
Now I am not amused, Wan Chai cheaper than Lamma!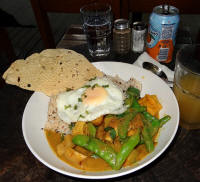 My plan for the food reviews is to try to find dishes on Lamma that represent what I feel good value.
Simply stated: good food, good quantity, in a nice environment and served at a decent price. There are a few eateries who have tried to hold the line and they should be commended for doing so.
I hope to be able to make good recommendations as these businesses deserve our support.
You can expect my first report soon. If you have complaints or suggestions, feel free to bombard Lamma-Gung, as he likes that kind of thing."
---
In the meantime, can you guess from which restaurants L-G's photos above came from? Or you could simply follow our Lamma Bar & Restaurant News...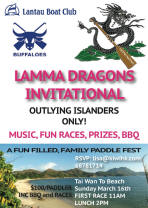 Lisa Stella writes: "What do you get when you have a beach, music, meat, 4 dragon boats and lots of friends? One hell of a party!
On Sunday Lamma Dragons hosted their first ever invitational on Sun, Mar 16. Calling it an outlying island only event we invited the Lantau crews - and they came.
The races were designed to be fun, fun, fun and different. While boats were in the water, paddlers on the beach had a chance to make up points with hysterical beach races.
Thanks to Sarah Sullivan and James Hudson - our randomly selected captains - everyone who paddled, volunteered and Lantau for sharing our day. We believe this is the first such fun race in Hong Kong for Dragonboaters and will be the start of many, many more.
Think it looks like fun? Contact c.dingle@gmail.com and come get in a boat. Oh, and big shout out to the pink crew - the winners by a small margin on the day."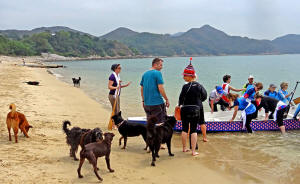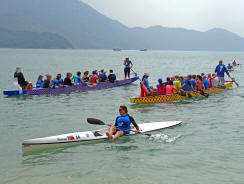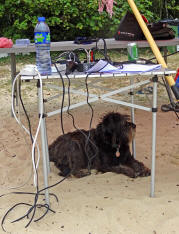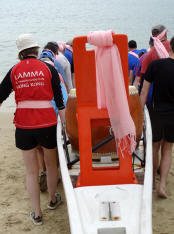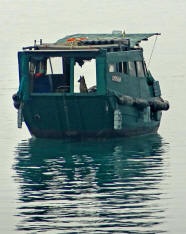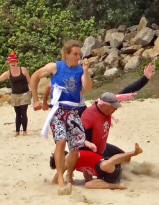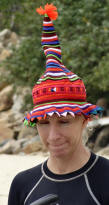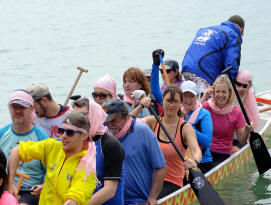 Final of the Backwards Race... including backwards prat falls (Photos by L-G)
"Day ends to great applause and lots of drinking. Yay!"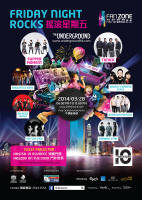 Chris B writes: "For years now, The Underground has been quietly stirring up a storm in Hong Kong's best live music venues. Now, to commemorate our 10 year anniversary, we're emerging from our home underground to bring to you our very first outdoor music extravaganza. In collaboration with Hong Kong Fan Zone, Friday Night Rocks (aka The Underground Festival), will feature many of our very favourite Hong Kong bands. Musical styles will range from indie folk to pop rock, so there'll be something to suit everybody.
For a Friday night that rocks with good music and good fun, be sure to mark your calendars for the 28th March at the New Central Harbourfront. It's going to be one of the best nights of original music Hong Kong has seen for years!

OMG!!! It's TONIGHT!!! I'm going to be NAKED on stage at the Underground Festival at HK Fan Zone. Or will I? WHO CARES!!
There's going to be 9 amazing bands on one stage - Helter Skelter Blues Band, Hey Joe Trio, Bamboo Star, noughts and exes, Shotgun Politics, ToNick, DR.EGGS and Supper Moment. OPEN AIR AT NEW CENTRAL HARBOURVIEW (right next to HK-side Star Ferry) Come COME COME!
http://undergroundhk.com/2014/03/28/the-underground-festival-fanzone"
See below, a few of my photos. Review by Nick the Bookman pending, it'll be posted in our Music forum soon.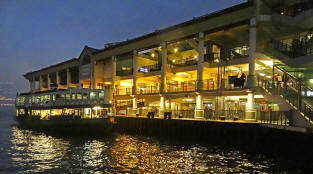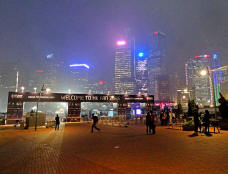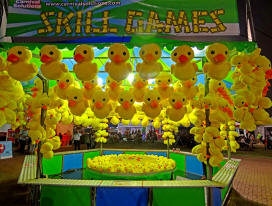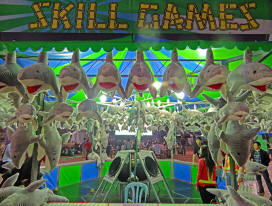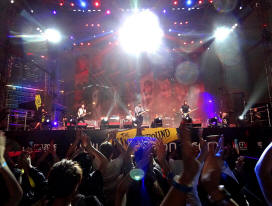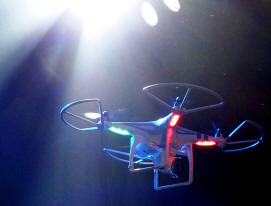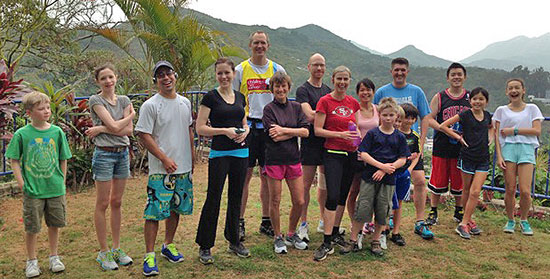 "Everyone was a winner today at LamMarathon. A heroic effort was made - especially as some of the runners had been out the night before - and HK$3,658 was raised for Children with Cancer UK, bringing the total to GBP 920 (almost half way to our target!)
We had a number of people who couldn't make it but who pledged to help out. This is the web link to give via VirginMoneyGiving!
It was so nice to have so many kids take part today too - they took off like whippets to the pagoda and back. Well done kids!" Read more...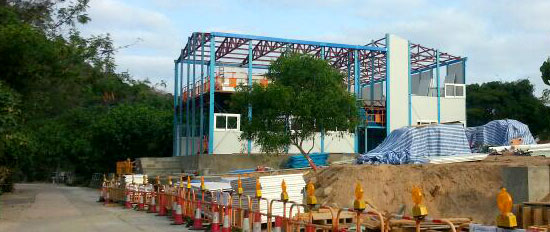 Lamma Village Sewerage Phase 2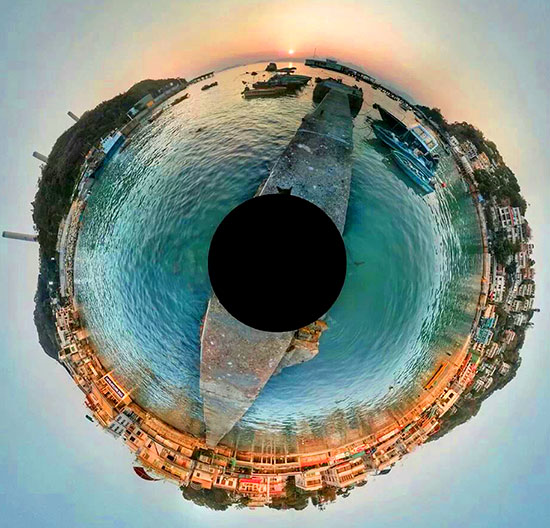 YSW Harbour seen from the Old Jetty, shot on mobile phone by Trey Menefee!
This looks like one of Lamma's famous Black Holes! But those infamous Gravity Pockets are usually located very close to YSW's bars! More photos, please!
Find out how to to do a "Stereographic Projection" by yourself: Photosphere.

Deadline for comments on the EPD's Environmental Impact Assessment study:
this Friday, Mar 21!
Have a look at a Chinese/English sample letter, draft your own and submit it by this Friday, if you'd like to comment on these housing plans which will effectively double Lamma's population after completion.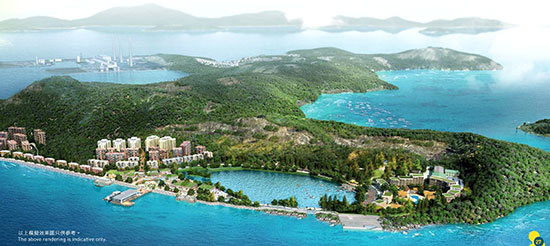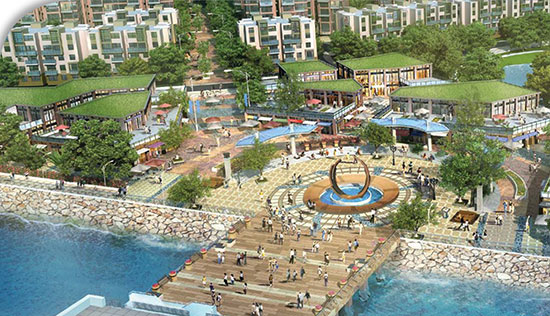 See the detailed govt. proposal and plans in the study:
http://www.ex-lammaquarry.hk/download/ELQ_CE2-Digest_FINAL_LR.pdf
http://www.ex-lammaquarry.hk/eng-TheStudy7.htm

Plus some photos on what's going on in the ex-Lamma Quarry these days:
http://www.compunicate.com/Lamma-zine/PG-3/#Ex-Lamma_Quarry_2012
http://www.lamma.com.hk/forum-OK/viewtopic.php?t=7926&start=73
The "Community Engagement" will continue till May 17, mainly a few panels from the glossy project brochure displayed on and off Lamma, plus a single public meeting on May 3 in HK City Hall, just a few days before the deadline on May 3: Community Engagement.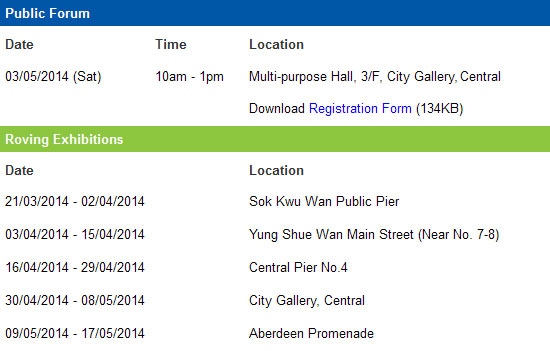 The search for a private developer to build this dBay-style suburb will probably start soon afterwards. We're still looking for a more memorable nickname!
Lamma dBay? Quarry City? Your suggestions?

This is a brand-new takeaway place in the former location of the waffle shop, just after the former Diesel's, run by Lamma Luminary Joyce, managed by Jonalyn, former cook of Jing Jing.
In case you're wondering about the mysterious name (no sign up yet), it was selected in the naming contest Joyce was running. No explanations on the winning criteria and who actually won those free drinks for one night, plus a bottle of "pineapple wine". Pineapple wine?!?
Testing The Lamma Space recently, I can highly recommend their very reasonably priced takeaways, prepared and packed with a big smile: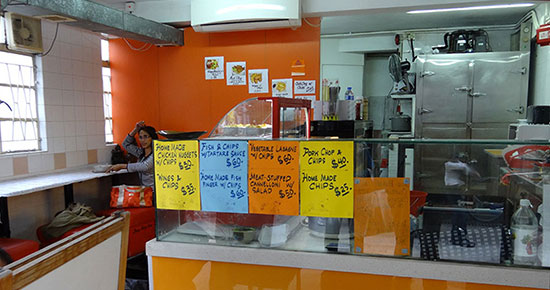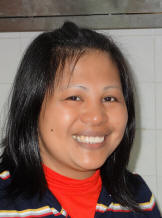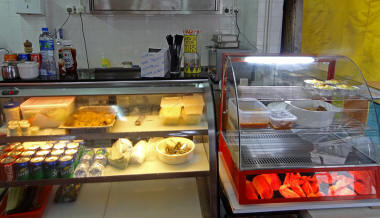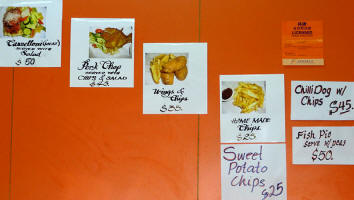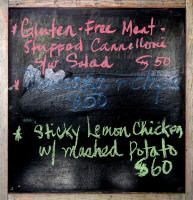 More Lamma Bar & Restaurant News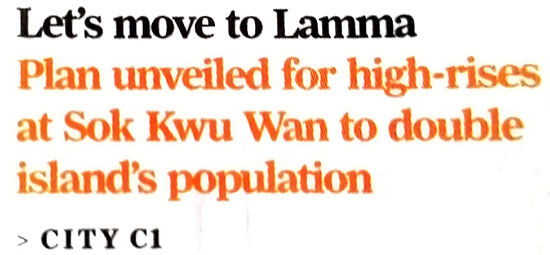 SCMP article today. Click to read and comment.
Sat, Mar 6 @ the Pavilion above Hung Shing Yeh beach (vis-a-vis the Power Station, on the Family Trail to Sok Kwu Wan):
The Conservancy Association, GreenLammaGroup, volunteers & Lammaites performing tree conservation work at the on-going Green Hong Kong Green tree planting project! Great job and many thanks to all involved!
Click on photos for gallery: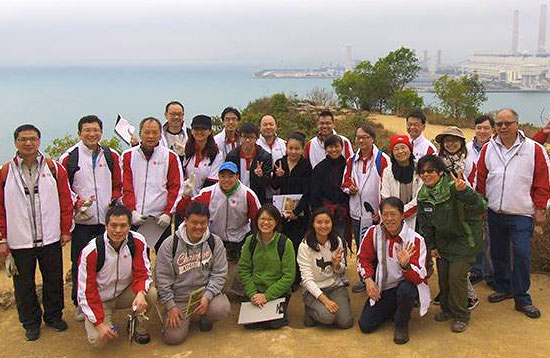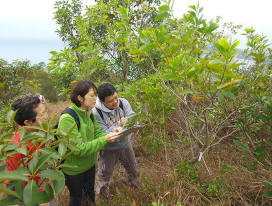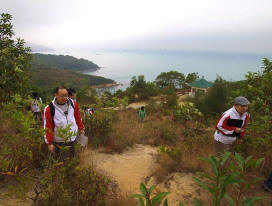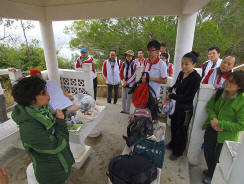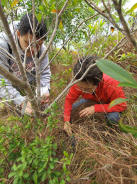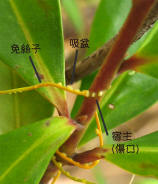 Tonight 10pm @ Open Space (Tai Ling, half way up to the windturbine, past the Catholic Kindergarten):
"Party Purpose: to drive out recently-awoken egg-layers, incl. snakes, centipedes etc., from Open Space property with the use of large 4/4 output,
(i.e. dance music)."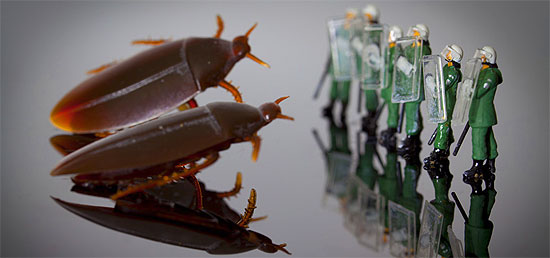 Many of us have already encountered the babies of the numerous creepy crawlies, weird bugs & nasty beasties that we share our home island with. For example the tiny, but very poisonous and aggressive centipede babies crawling all over paths, up walls and into homes via any tiny opening. I just encountered a 2-incher on the bathroom floor of our 2/F flat; no idea on how it got in, maybe through the bathroom fan or up a pipe?
Instead of panicking or trying the various, often useless prevention and extermination methods, what do the Open Space Lammaites do?
Throw a party to drive the beasties out! That's the Lamma spirit! Try the same approach in your home (but only till 11pm, please!)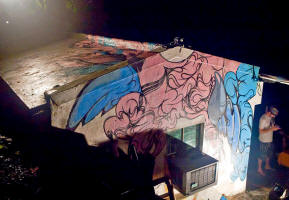 Join the party via Facebook:
"No active participation in pest-control from party-goers is expected, as the following have been tasked with the sonic-cull today:
JB - Junkt - Devlar - Rapsac
Other DJs may follow...
Bring a torch, plus healthy enthusiasm for hill-climbing.
Donations will be collected.
Drinks will be provided at the usual low prices and you may also bring your own too. (There will be an honesty box for drinks you wish to buy.)"
---
P.S. Here's the DJ lineup for the Macro-Micro party tonight, according to DJ Jimbrowski of Open Space. Click on their Macro mugshots below - looking like typical Micro Lamma Wildlife, obviously - to learn more about these DJs and their creepy habits and weird noises, click on their mugshots:
P.P.S. Who'll win this epic "sonic-cull" battle of Lammaites vs. indigenous Lamma Wildlife tonight? Bets are welcome, but my money's on the Bugs 'n' Beasties...
P.P.P.S. Very early the next morning I've been biking past Open Space:
Eerie, haunting silence, like the aftermath of a horror movie, not a soul stirring, no more sounds and noises of any kind...
It looks like the Bugs 'n' Beasties have triumphed in the end, surviving the "sonic-cull", enveloping some of the humans who couldn't flee quickly enough in white cocoons. See these 4 spooky, terrifying, all-white, cocooned corpses, some of them beheaded or their limbs torn off: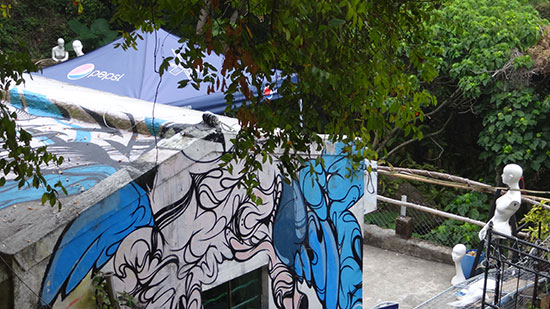 P.P.P.P.S. DJ Jimbrowski of Open Space writes:
"You must have gotten there just after the insects won a crucial battle. Music was doing well until the human side got tangled up in some sort of a silky cocoon-type-thing for the best part of a week up there. Luckily, one chap escaped and raised the alarm....
Contrary to all appearances, I believe we won in the end. OK, so there were some casualties, but all in all, not one centipede has arisen yet, (the roaches are another story.) Pictures will follow after a quick spell in the quarantine bin."